As Alex Storako watched center fielder Jayda Coleman camp under a routine fly ball, she pounded her fist toward the sky and turned to embrace catcher Kinzie Hansen.
The play marked the last out in the Sooners' 14-0 victory over then-No. 1 UCLA. Oklahoma had been demoted to No. 2 in the nation the previous week, marking the first time in over two years it didn't hold the top-ranked spot. 
With OU fresh off its lone loss of the season to Baylor one week prior, the stakes were high for a February softball game, and coach Patty Gasso looked to her newcomer — Storako — to guide the Sooners. While her complete-game shutout could've stood alone, Gasso found the way Storako navigated the pressure to deliver a crucial win for the Sooners as a precursor for success to come.
"(An) absolute game-changer for her," Gasso said of Storako's outing against the Bruins. "She was throwing well up to that point, but putting her in the limelight in front of all those fans, against the No. 1 team, and if we win are we going to be No. 1, if we lose are we going to be No. 4 — it didn't really matter. Those things we never even talked about. She handled it with grace and passion and style. 
"(She) fired up the team. And once she felt that, I feel everything has changed. She's super confident, trusting her pitches (and) I haven't seen any of this roller coaster emotion whatsoever."
The senior gave the Sooners a preview of her personality after recording a strikeout to close the first inning. The Frankfort, Illinois, native leaped into the air, pounding her fist toward the infield dirt, and ripped off her face mask as she approached Hansen toward the OU dugout.
After a celebratory high-five with Hansen, Storako immediately turned to the rest of her fielders and greeted them one by one with the energy she showcased on the mound. OU's bats responded with six runs in the next half-inning.
"She wholeheartedly backed her teammates up (and) they backed her up," Storako's high school coach Elizabeth Hyland told the OU Daily. "And I think that enthusiasm and that love of the game … is what she fed back to her teammates." 
We just wanna 𝐫𝐨𝐜𝐤 🗣️ @alexstorakoEND 1 | OU 0, UCLA 0 | @FloSoftball pic.twitter.com/Y9SKBWuXWm

— Oklahoma Softball (@OU_Softball) February 26, 2023
Storako continued to hit her stride following the win, beginning with a no-hitter during the Sooners' 18-0 victory over Kentucky in her very next appearance on March 3. Her 0.77 ERA ranks third nationally. In 20 appearances and 13 starts, only one team has scored multiple runs against her. Her 11 walks is the least amount of any pitcher with over 80 innings logged this season.
Her recent success would lead some to believe Storako's journey at OU has always been smooth sailing. It was not. Gasso recalls noticing Storako struggle initially during OU's fall intrasquad scrimmages.
"She had a tough go of it. … In the fall, because she had to face our hitters," Gasso said. "There were times when she was just like, 'I can't do this. I cannot get these guys out.' It was good for her to see how she could handle those tough times."
As her performances in the pitching circle faltered, Gasso noticed her right-hander's typically-fiery personality dwindle. As she began facing teams wearing a different logo than her, an immediate change was felt not only by Storako but her teammates.
"When the light bulb went on and everything started clicking, then you started to see her passion," Gasso said. "I think Jordy (Bahl) can bring that out of (her teammates) sometimes, but Alex has that as well. Nicole (May) is a little bit smoother. … But they all have their own signatures. And Alex really developed that. I saw that a lot as we started the season."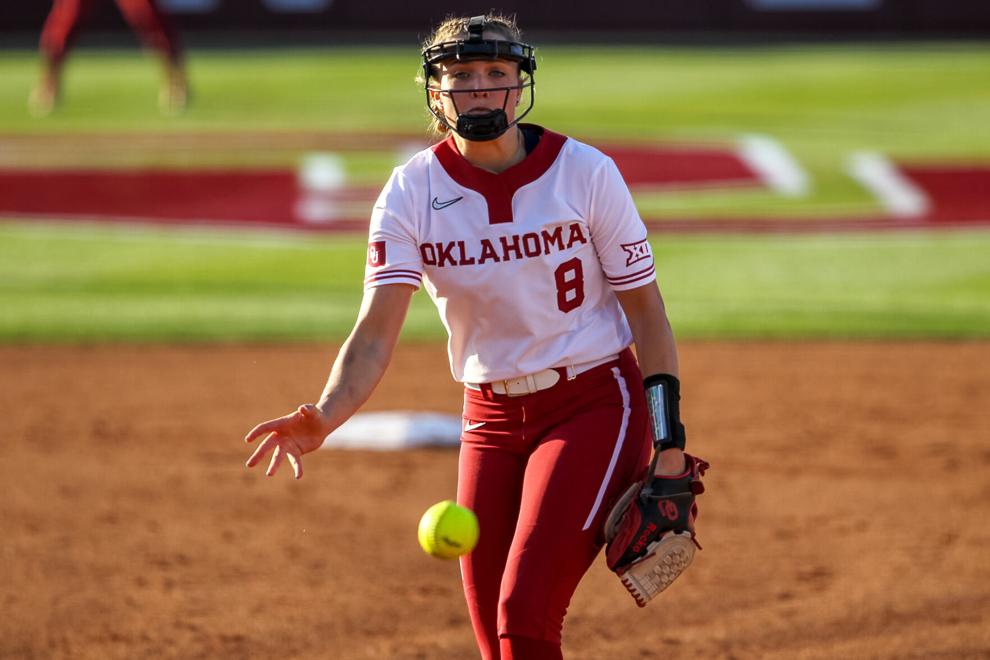 Storako's introduction to pitching began with an obstacle.
Amid a blowout during a 12U game, Storako's coach gathered her team around the pitcher's circle for a mid-game meeting.
The team's main pitchers had lost the desire to continue on the mound, leading her coach to examine his roster in an attempt to find someone to close the game. Storako, a power-hitting position player at the time, huddled around her teammates as her coach proposed a question to the group:
"Does anyone want to pitch?"
Storako had been taking pitching lessons in the months prior but lacked any in-game experience. That didn't matter. She saw it as an opportunity for playing time with the ball in her hands.
When she requested her coach put her in to pitch, he chuckled, handed the ball to her teammate, and told her to go back to her position. For Storako, the incident was nothing new.
"That's how everyone always treated her when she first started out," Storako's father, Rob, told the Daily. "'You're never going to be a pitcher. You're too awkward. You're too tall. It's not going to work. You're just a great hitter, that's all you're going to be.' She took that as a challenge and … started wanting to live and breathe pitching. She kept on hitting still, but pitching was a new challenge, and she just grew from that."
OU's 5-foot-11 starter was frequently touted as a basketball or volleyball player due to her height. Aside from a short stint on the court when she was younger, Storako has always kept softball as her main focus.
"Everyone telling her to do something else kind of fueled her fire towards softball," Rob said.
For Storako, fuel is all she needs. The passion is there. The competitiveness is there — almost to a fault. Rob recalls fielding phone calls in the middle of the day from Alex's teachers, who didn't share the same admiration for Storako's competitiveness as Gasso or Rob:
"Can you make her not be so energetic and enthusiastic about being first all the time?"
Years later, it became a defining trait of her personality.
"She's always had that competitive fire," Rob said. "It's not really far off from her personality. She's just always been that way — very competitive, even when she was in second grade coloring or doing a spelling bee, she always wanted to be first."
Rob even noted how Storako's energy has been toned down due to the fire her OU teammates already provide.
"For me personally, it just comes from a lot of passion and love for the game," Storako said. "It's really fun to just be able to share that kind of love and fun and success with other girls that are striving for the same thing. When you compound that into one team, it's really exciting.
"It's just really fun to see everything outwardly shown like that out on the field."
Her passion has been felt by her OU teammates and led to her adopting the nickname "spice" early with the Sooners.
All the pitchers on OU's staff have a nickname: fire, spice, ice and dice. It's become a signature of OU's unit, which holds the best collective ERA nationally. 
"I don't think I've ever seen a bullpen be this together," Hansen said. "Obviously in past years we've had really (tight)-knit bullpens where they're all friends, but this one is like (really close). … They're all different in their own way and I think that's what makes them so special. … There's just different dimensions of pitching that you kind of see when you're in the (catcher's) gear that nobody else really can see."
Within her staff, Gasso has seen each personality come out as the season has progressed. Junior Nicole May, the 'ice' of the group, has a more laid-back demeanor while Storako is 'always ready to rip her face mask off', according to Gasso. Sophomore Jordy Bahl serves as a happy medium between the two but teeters towards Storako's level of enthusiasm.
"It's not fake, (and) that's what's really cool about this team — it's not forced," Gasso said. "(They're) very passionate about the practice that we put out there. They love to see it kind of open itself up in-game against someone else. So when they see things starting to show up (from) what we do in practice, they love that stuff. They get fired up (for it). They're a very competitive group."
For Storako, the transition to Oklahoma has been met with heightened control on her pitches, which she claims is a direct result of the Sooners' defense. Oklahoma's 14 errors and .987 fielding percentage are both best nationally and have led Storako to concede 11 walks, the least of any pitcher with at least 80 innings logged.
"She's getting more and more confidence in her pitches and her defense that she can just throw the ball and not have to be so perfect all the time," Rob said. "She can just pitch and if they hit it you know the defense behind her can make the play regardless of where it's at. And for years we've seen (that) with Grace Lyons, Tiare Jennings and Jayda (Coleman) and everyone. … Her confidence in everyone behind her and her pitching ability, that's the main thing (that's changed).
"She just became a better pitcher overall once she came to Oklahoma."
Storako's improvement has come at a cost. As the ace of Michigan's pitching staff in 2022, she saw 200 innings of action on the mound. With OU's final regular season series she's tallied 80.1 innings this year. 
While the quantity has decreased, the quality has prevailed. A perfect 15-0 record. A sub-one ERA. The No. 1 overall pick in the 2023 Women's Professional Fastpitch Draft. And to top it all off, a National Championship pursuit that awaits.
"I'm really appreciative of everything I've gotten here at Oklahoma," Storako said. "And I'm excited to really go out with a bang."
This story was edited by Colton Sulley.