Brent Venables is so focused on OU's matchup with Kansas State Saturday that he hadn't even heard about Bedlam's discontinuation when he spoke to reporters Tuesday.
Two hours before the Oklahoma coach's weekly press conference, Action Network's Brett McMurphy reported the football rivalry series between the Sooners and Oklahoma State won't continue after OU and Texas announced plans to join the Southeastern Conference in 2025.
"Oklahoma State has shown no interest to schedule any future games in football, so we're moving on (with filling future nonconference openings)," OU Athletics Director Joe Castiglione told McMurphy.
"(Playing Oklahoma) presents logistical issues under our current (scheduling) structure," Oklahoma State Athletics Director Chad Weiberg told McMurphy. "We don't have any openings to play them. We're full. Unless there are significant undertakings to make the game happen, it can't happen."
The Bedlam series began in 1904, three years before Oklahoma officially became a state, and is the second-longest current uninterrupted rivalry in college football. OU and OSU have faced each other annually for the past 112 years — Oklahoma leads the all-time series 90-19-7 — but the Sooners' decision to leave the Big 12 made for a murky future.
Venables considers himself a college football purist and loves the sport's tradition, but similar to how he answered recent questions about College Football Playoff expansion, he didn't provide much personal opinion about Bedlam's demise.
"I like to keep things simple (and) be the last one to find out," Venables said. "That's the way it happens at my house. Sometimes that's a good thing. Sometimes it isn't. I love rivalry games for all the right reasons. If that's what they've decided to do, that's what they've decided to do. My opinion really doesn't matter.
"But I love rivalry games. For all the reasons, people have a deep genuine investment in their school and take incredible pride, and so what that does in those environments is really cool."
Oklahoma State coach Mike Gundy on the other hand, came prepared to give the media his position on the situation, reading from a sheet of notes as he spoke Tuesday. He made clear he wants to put the Bedlam chatter to rest.
Mike Gundy wrote down his thoughts about Bedlam (RIP) and shared them with media this afternoon:"Bedlam is history … because OU chose to follow Texas and the money to the SEC. It's OK. … We're having childish discussions, in my opinion, over something that's done." pic.twitter.com/V2jOAh3Xg2

— Kelly Hines (@KellyHinesTW) September 20, 2022
"Bedlam is history," Gundy said. "We all know that, because OU chose to follow Texas and the money to the SEC. It's OK. So now, we're having what I think are childish discussions, in my opinion, over something that's done, and I would like to make this my last statement I have, because I have no hard feelings.
"Oklahoma State has no part in this. We didn't have anything to do with their negotiations with the SEC. We didn't have any choice on (Oklahoma) choosing to leave the conference. They did. So everybody needs to get over it and move on and quit trying to turn the tables. It's somewhat comical that they still want to bring us into this equation."
For this season, OU is scheduled to face OSU on Nov. 19 in Norman and will also host the 2024 matchup. Oklahoma State will host the last matchup in Stillwater in 2023. And even while ending their football feuds, the schools still expect to play regularly in most other sports.
Castiglione told McMurphy the Sooners and Cowboys may play in football at some point "down the road," but he isn't optimistic about the near future. He added that future Bedlam games would likely be played in September, rather than its traditional spot near season's end.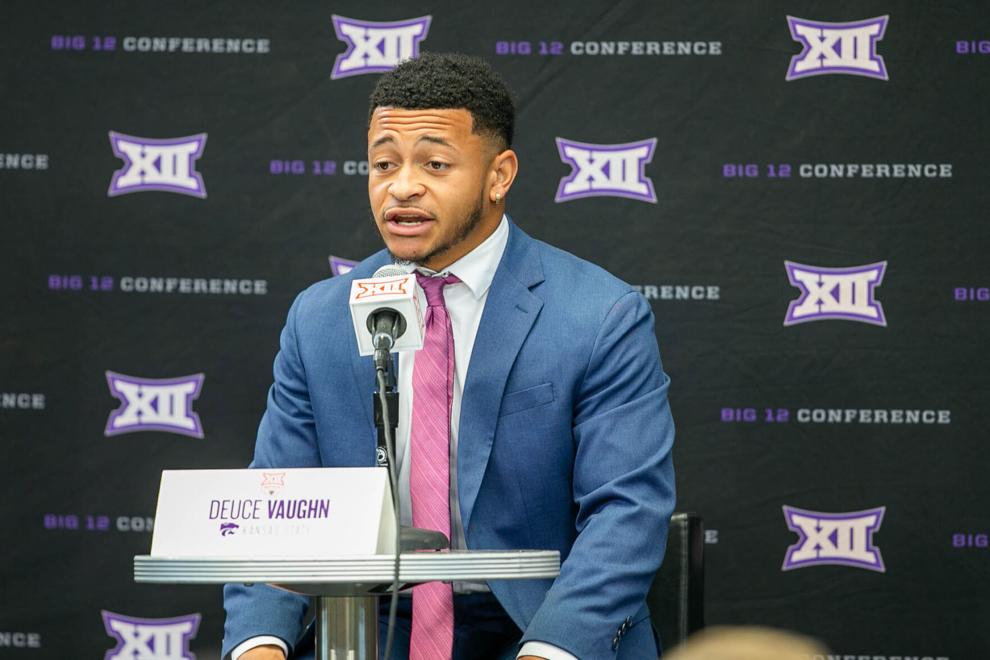 Corralling Vaughn an emphasis
Kansas State running back Deuce Vaughn is going on three years as one of the nation's most electric backfield threats.
The 5-foot-6, 176-pound running back already has 352 rushing yards and three touchdowns this season. He has also given OU trouble in past matchups, especially as a pass catcher. He recorded 10 catches for 104 yards and a touchdown last season, and made four receptions for 129 yards against the Sooners in 2020.
"You're talking about one of the nation's best running backs," OU defensive coordinator Ted Roof said Monday. "Certainly, in the run game he's got great hips and feet and vision. He's got a lot of patience too, where he'll stay back there and all of sudden wait for somebody to get nosy and jump out of their gap, and here he goes.
"And at the same time he's a weapon in the throwing game as well too. Very creative in how they get him the ball, and again, we have a lot of respect for him and he's one of the best backs in the nation and we know it's a great challenge for our guys."
However, OU has succeeded against Vaughn the rusher by holding him to 3.9 yards per carry over those two meetings and will look to pin him down again Saturday.
"He's a great player, he's a hard guy to account for, he's a hard guy to tackle," Venables said. "You could have him dead to rights and he makes plays in space and in the passing game. They do a great job with him. I've got incredible respect for him. I'd love to have a whole locker room full of Deuce Vaughns.
"The guy plays tremendously big. He makes everyone around him better and he's a lot of fun to watch. Just a very explosive, game changing kind of player."
Special teams a bright spot through 3 games
Venables has been impressed with OU's special teams unit through three weeks of play. 
OU has almost doubled its total punt return yards from a year ago with 127 so far this season compared to just 69 in 13 games in 2021. The Sooners' coach credits new senior special teams analyst Jay Nunez, who came to Norman from Eastern Michigan, for the drastic uptick in production.
"Jay is fantastic," Venables said. "He's incredibly smart, super organized and detailed. He does a great job of mapping out a really good plan. Our philosophies align. That's what I know about special teams. I created an opportunity for myself as a player at Kansas State as a special teams player and earned trust that way."
Wide receiver Marvin Mims had 60 punt return yards against Nebraska last Saturday and ranks No. 6 nationally with 19.7 yards per punt return. In addition to an increase in return yards, Oklahoma has put an emphasis on blocking in special teams.
Wide receiver Theo Wease said he's noticed a more aggressive approach to special teams this season under the new coaching regime and the players have embraced it.
"I'd definitely say the coaches have been coaching it aggressively, special teams, in and out," Wease said. "And then I'll say just like the guys, my teammates, we're actually really bought in and just believing in the coaches and just trusting that it's actually showing up on Saturday with all the hidden yardage stats and all that stuff.
"I honestly think it comes from us. All of us are being bought in and actually wanting to execute your assignment to the best of your ability. I would say it starts with the coaches and stuff but I do think it just depends on us obviously."