Pat Fields needed three extra seconds before formulating his answer.
Ahead of No. 10 Oklahoma's matchup against No. 7 Oklahoma State on Saturday, the senior safety was asked to consider a future without Bedlam, the chaotic annual showdown between the Sooners (10-1, 7-1 Big 12) and Cowboys (10-1, 7-1).
Fields still thinks back to 2018, when his former Union High School and OU teammate Tre Brown broke up OSU's 2-point conversion to win the game. He remembers 2015, when Jordan Thomas snagged two interceptions against the Pokes. Watching or playing in Bedlam every year is all Fields has known.
So, would it be strange to envision the demise of a game that's produced those memories and more?
"That'd definitely be weird," Fields finally replied. "I think there's probably a way that I'd still do it, whether it's through a nonconference game or whatever it is. But I think they've definitely gotta keep the tradition rolling. ... A lot of us guys from the state grew up watching it, and wishing and dreaming of playing it." 
Despite such hopes, OU's transition to the Southeastern Conference appears poised to dissolve a rivalry generations of Oklahomans have cherished each year since 1910, despite the big brother Sooners holding a 90-18-7 series lead over their ornery little brothers in Stillwater. 
With Oklahoma scheduled to jump conferences no later than 2025, Bedlam is in serious danger. Converting the game into an annual or semiannual nonconference matchup proves tricky, especially given complications created by conference realignment and talks of College Football Playoff expansion. And, with business trumping pageantry, hurt feelings between the schools could prohibit a resolution for the foreseeable future.
OSU President Kayse Shrum has made obvious her frustration with OU, tweeting in July that the Sooners' secret coordination with the SEC "broke the decades-long bond of trust between our universities." As the college football landscape continues to shift, upending the past and leaving the future in question, Oklahoma State head coach Mike Gundy said this week he believes Saturday's contest will be the last Bedlam in Stillwater for a while.
Former OU quarterback and GOP Congressman J.C. Watts concurs. 
"I think after this year," he told The Daily, "Bedlam is going to be on life support, if it's not dead."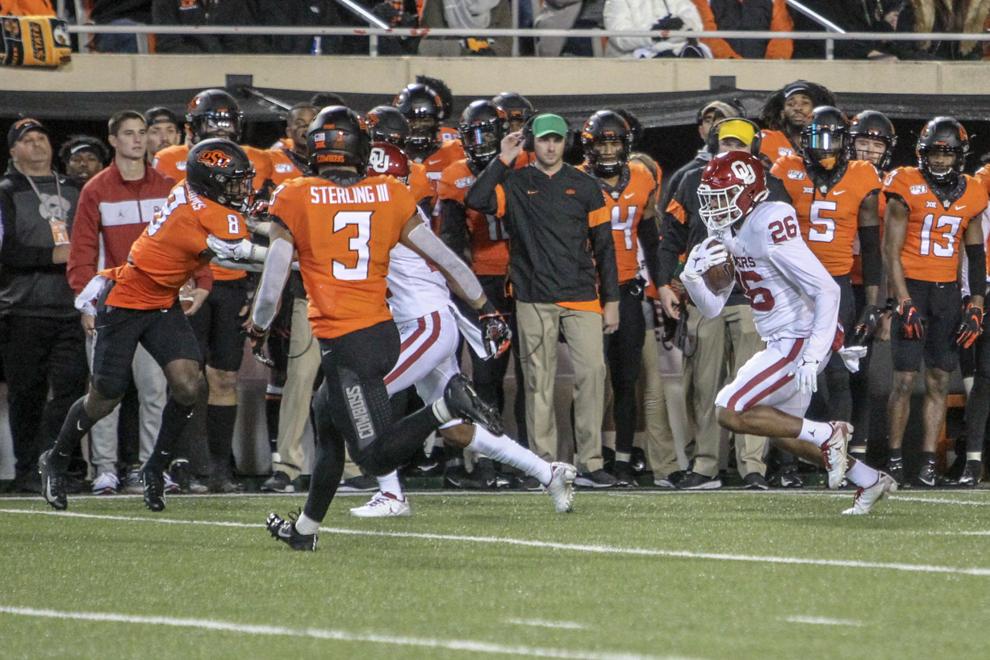 'I wouldn't be surprised if bruised egos come up'
Cody Havard won't be surprised if more Bedlam highlights than ever before are shown on Saturday night's ABC broadcast. The sports rivalry expert also anticipates analyst Kirk Herbstreit will bemoan the series' gloomy outlook, and question what might be done to preserve it.
And if OU loses? Boone Pickens Stadium will probably reverberate with chants of "SEC, SEC" like the Sooners heard when they fell 27-14 at Baylor two weeks ago.
"I wouldn't be surprised if bruised egos come up, and how they just need to put their differences aside and realize what a great game this is for the state of Oklahoma and for the conferences and for college football," said Havard, an associate professor of sport commerce at Memphis. 
Havard said he's watched enough "last rivalry games" to know that egotism is a typical talking point. He received his undergraduate degree from Texas and has since extensively studied its fragmented relationship with Texas A&M.
The Longhorns and Aggies have not played since 2011, Texas A&M's last season in the Big 12 before it joined the SEC, largely due to hurt feelings. During the latest round of conference restructuring, Texas A&M was seemingly the only school opposed to adding Texas to the SEC. 
Oklahoma faced a similar disconnect with Nebraska when the Huskers bolted for the Big Ten, and it took 11 years and the 50th anniversary of a storied matchup to reunite the Sooners and their former archrival.
Now, OU faces a similar disconnect with Oklahoma State. It's felt in the diverging messages from coaches and administrators regarding the continuation of Bedlam. 
Said Gundy on Monday: "I don't think it will (continue). ... I don't think it's a realistic thing that it's going to happen based on the business side of Power Five conference football, the Big 12 or the SEC. That's just my opinion."
Said OU head coach Lincoln Riley on Tuesday: "I'm not saying we're right or wrong, but I would say our perspective, my perspective, hasn't changed on it any. It's a lot of teams that end up at some point in different conferences and still play a rival. So, again, we all know a lot's changing in college football. Nobody can sit up here with a crystal ball and know for sure, but I would say from our perspective, nothing's changed."
Oklahoma President Joseph Harroz said in August he hopes OU can continue playing OSU annually in every sport, and athletic director Joe Castiglione reciprocated the desire to keep Bedlam intact.
They're more optimistic than Oklahoma State athletic director Chad Weiberg, who'd only been in his position 21 days when news of Oklahoma's seismic decision broke. Weiberg told The Athletic earlier this week that "it's just too early" to come to conclusions on future Bedlams, and that most Cowboys fans would prefer to cut ties with the Sooners and pause the series.
The difference in responses potentially stems from the egotism Havard has observed when similar rivalries have been extinguished.
"You look behind the scenes, and it's not too difficult to see that both schools really, really want and need it to continue," Havard said. "(But) because of administrations, because of donors, there's a lot of ego that goes into all of this, that they can't make it happen. ... It would be sad if Oklahoma and Oklahoma State went down that path. 
"And I think as far as Oklahoma State saying they don't know if it can happen, and Oklahoma saying 'we're going to do whatever we can,' I think that might be because Oklahoma State's the aggrieved party. It's like, 'well, we want to keep playing, because we weren't leaving the conference, the other team's leaving the conference.' So the other school that's leaving the conference, Oklahoma, if they say 'we're going to do everything we can,' well, maybe that's true, but it could also be that public relations perspective."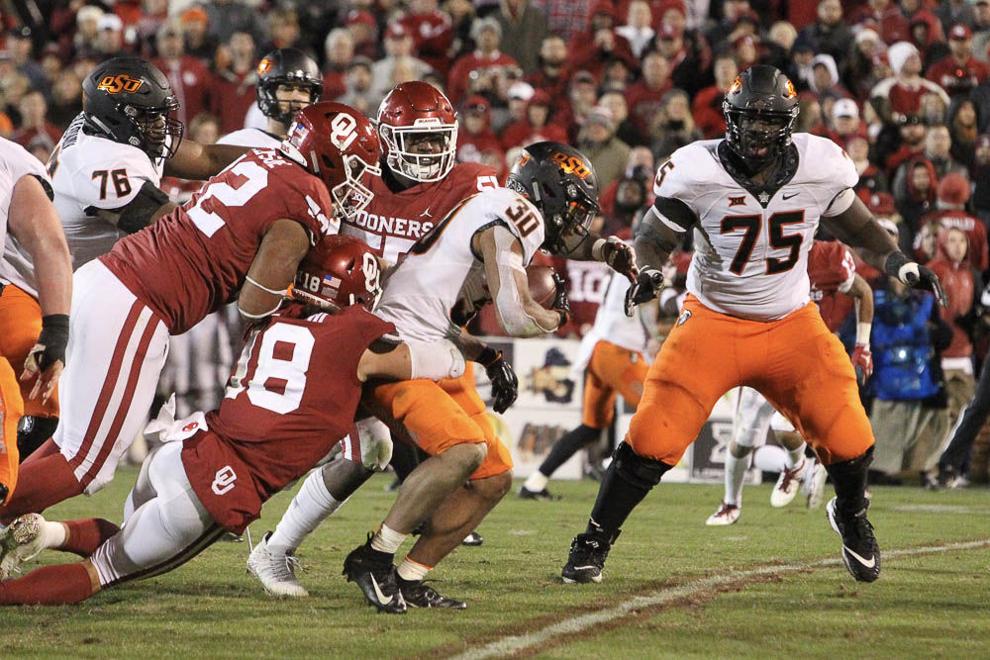 'There are a lot of roadblocks in the way'
Time will tell if OU truly intends to make good on its promise, or if OSU is willing to put aside its vexations and negotiate. If there were a shared intent to keep the rivalry alive, it's worth pondering how the schools might schedule a future matchup. 
Currently, the Big 12 plays a nine game conference schedule while the SEC plays eight. The Big 12, which recently agreed to add Cincinnati, BYU, Central Florida and Houston by 2024, appears likely to stick with nine games in subsequent years. The SEC, which expands to 16 teams by adding OU and Texas, could up its schedule to nine games. 
Both Oklahoma and Oklahoma State generally play one nonconference game against a Power Five opponent each season, giving them 10 games against Power Five foes annually. Few teams dare play 11 such games per year due to the difficulty, meaning if the SEC and Big 12 both choose nine-game schedules, OU and OSU would be wise to make each other their Power Five nonconference opponent in years they intend to play.
Doing so would require both teams to have an opening for a Power Five game on their schedule. But, through 2037, Oklahoma State has openings for such games only in 2030 and 2031. OU has no such openings through 2036. 
What's more, already scheduled opponents — Oklahoma has planned series' with Michigan, Nebraska and Clemson; Oklahoma State has set dates with Arizona State, Alabama, Oregon, Arkansas, Colorado and Nebraska — aren't easily or cheaply canceled. 
"There are a lot of roadblocks in the way," Havard said. "If you look at what happened with Texas and Texas A&M, those are all the same arguments thrown around that 'well, we were scheduled out so far that it's almost impossible to do this.' And then, because you have those hurt emotions or hurt egos ... when they were in the same conference, the negotiations were different because they knew they had to play. Now, they don't have to play.
"So, you could have Oklahoma State demanding Oklahoma pay them a million dollars to come play at Oklahoma, whereas when Oklahoma plays at Oklahoma State, maybe they're going to pay $500,000 or whatever. Maybe they could play that card to say, 'look, you're the supposed bigger brand, so if that's true, you need to share your resources with us.' ... Look at how long it took Oklahoma and Nebraska to play again."
Potentially, Oklahoma could create more openings, because many of its currently scheduled nonconference games are against SEC opponents like Georgia, LSU and Alabama. A good fit for a single Bedlam matchup would be 2031, one of OSU's lone Power Five openings that OU could fit by removing its game at Georgia. 
Yet, the possibility of expanding the College Football Playoff from four to 12 teams adds another piece to the puzzle. If anything, it likely decreases the appetite for Bedlam, where the Sooners and Cowboys would potentially endanger their postseason aspirations with a tough matchup outside conference play. 
"If you're playing a quality game outside of your conference, that's a big risk," said Watts, a Eufaula native who used to do consulting work for the Bowl Championship Subdivision. "You're willing to bet that you can get enough quality wins in your conference, and be considered from one of the eight to 12 teams as opposed to going outside your conference trying to get a quality win. Coach Riley, Coach Gundy, (Alabama coach Nick Saban), they're not looking to go outside the conference to get another quality win."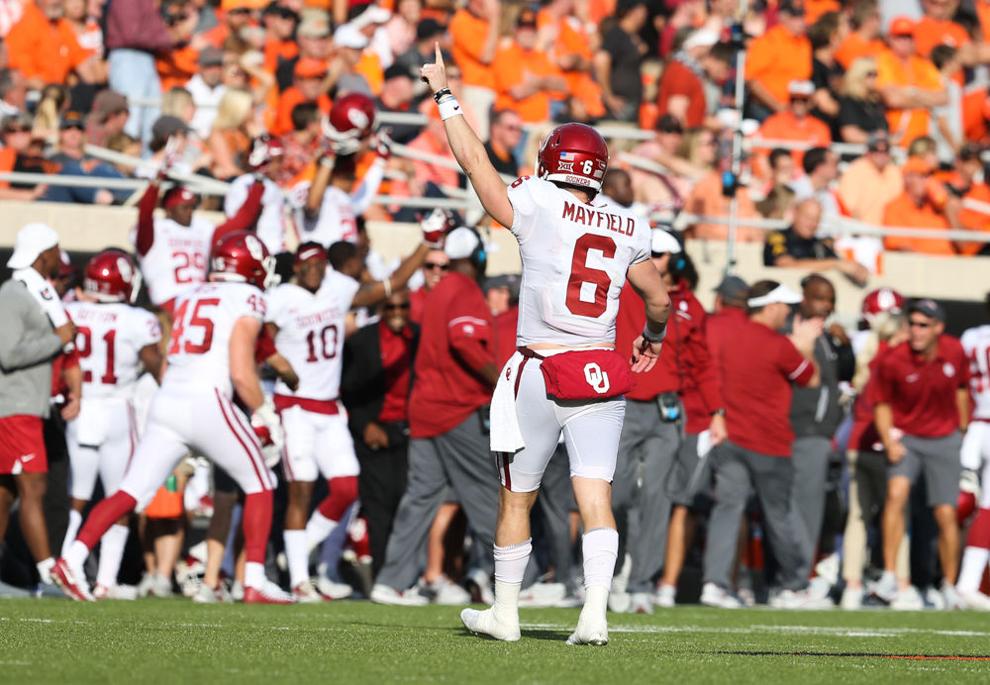 'We're not going to have that problem'
Despite a cloudy Bedlam forecast, Watts remains optimistic about Oklahoma's future. When considering it, he recalls the late '80s to mid '90s sitcom "Coach," starring Craig T. Nelson as Hayden Fox, head coach of fictional NCAA Division I-A Minnesota State.
In one episode, defensive coordinator and assistant head coach Luther Van Dam, played by comedian Jerry Van Dyke, became determined to help his football program boost its brand. To no avail, he began calling other schools, trying to coerce them into a rivalry game with his Screaming Eagles.
"We're not going to have that problem," Watts said with a chuckle. "Texas will still be in our conference, Alabama's probably still stinging from the whoopin' we laid on 'em (in the 2014 Sugar Bowl). … A rivalry is somebody that you love to hate. We're gonna have plenty of people in the SEC that are gonna love to hate Oklahoma because we're Oklahoma."
With their seven national championships, 50 conference titles and 30 bowl victories, the Sooners would be just fine without Bedlam. While some are concerned about Oklahoma State, the Cowboys have the opportunity to become the new perennial power in the Big 12 thanks in part to their 52 team national championships, one of which they claim in football. Harroz previously expressed his confidence that "OSU will continue to grow and flourish."
And while Saturday's Bedlam could be one of the last, the memories made in battles past will endure. 
"As an Oklahoman, I hate that we're losing the game, but at the same time, I totally understand the situation that the University of Oklahoma was in," said Watts, who ironically won Stillwater's Payne County during his first statewide political race. "Had I been the athletic director or the president when the SEC came calling and they showed me the numbers, I would have said 'you hold the pen, and I'll move the paper.'
"The state of Oklahoma will eventually get over it. We'll be talking about the good old days of OU-OSU rivalries 20 years from now."