Three weeks ago, the Norman City Council gathered for a public, in-person gathering following a year of back and forth between in-person and virtual meetings during the COVID-19 pandemic. The 150 seats of the City Hall chamber were filled, while crowds of faces pressed closely to its glass walls.
It was time to discuss the city's 2022 proposed fiscal year budget — an important meeting made all the more challenging by the mass controversy that followed the council approving an $865,000 decrease to the Norman Police Department's proposed budget increase a year ago.
Neighbors turned against one another after that day in June 2020. Council members were investigated by the state and ruled to have violated the Open Meetings Act, and the turmoil was resurrected in April as they re-voted on and ratified the 2021 budget.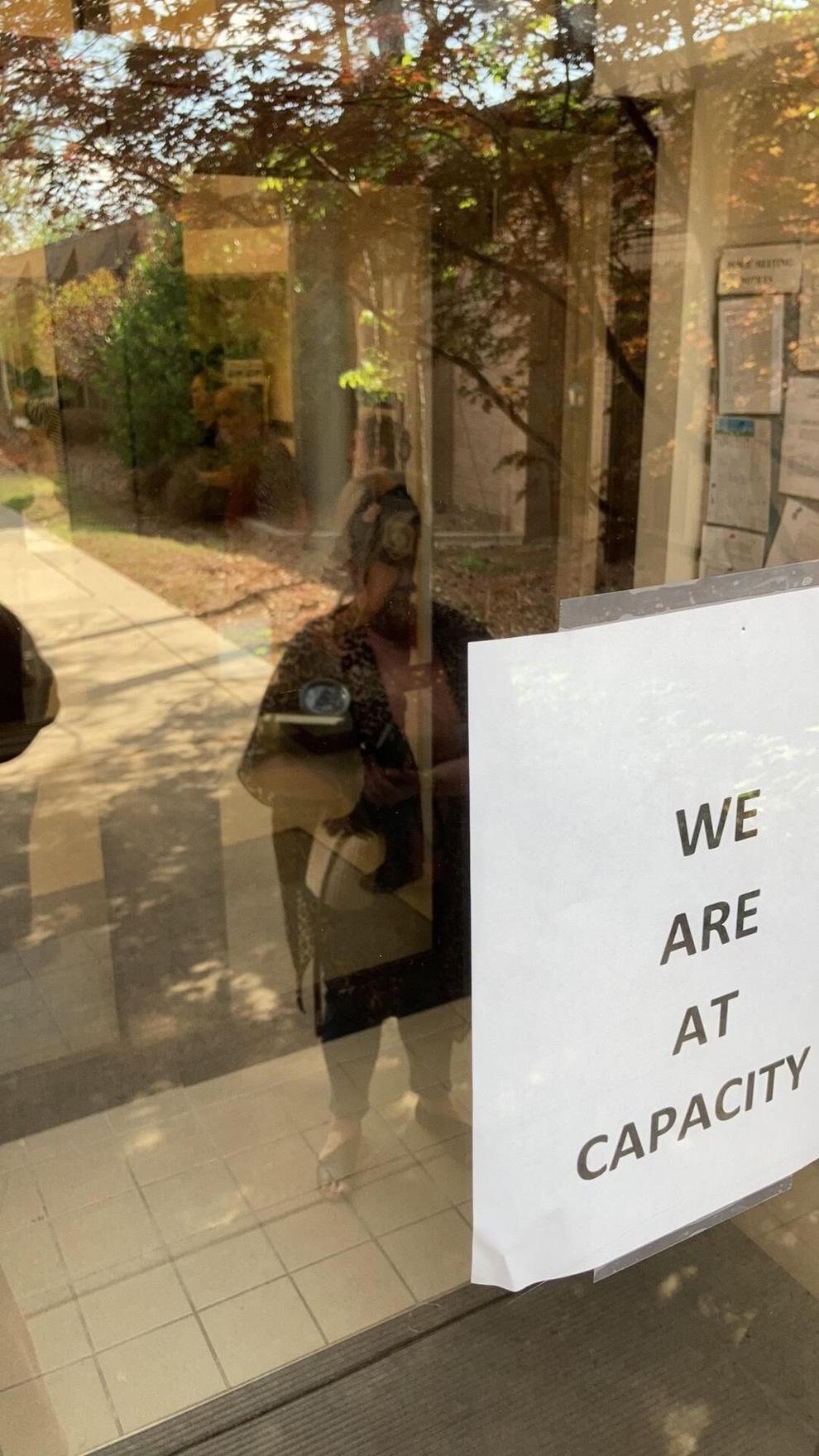 It all meant that at 6:30 p.m., June 8, the simmering pot was set to boil. City groups from all backgrounds would have the opportunity to speak on several law enforcement items, including the approval of the NPD's budget and discussion surrounding two amendments made by Ward 1 Councilmember Brandi Studley to fund an unarmed non-police mobile crisis response program.
For some, however, four words not used surrounding council meetings in recent decades would prevent them from taking the podium.
"We are at capacity."
City Hall's capacity is set to the 150 seats in the chamber and 103 in the hallways adjoining the chambers, Norman Fire Marshal Fred Henderson told The Daily. Although the capacity limits are always in place, he said the fire department doesn't usually enforce them.
That changed on June 3 at 12:49 p.m., however, when Henderson decided the June 8 meeting would require enforcement. He said he emailed Norman City Clerk Brenda Hall at this time, requesting fixed seating to keep space for a "means of egress."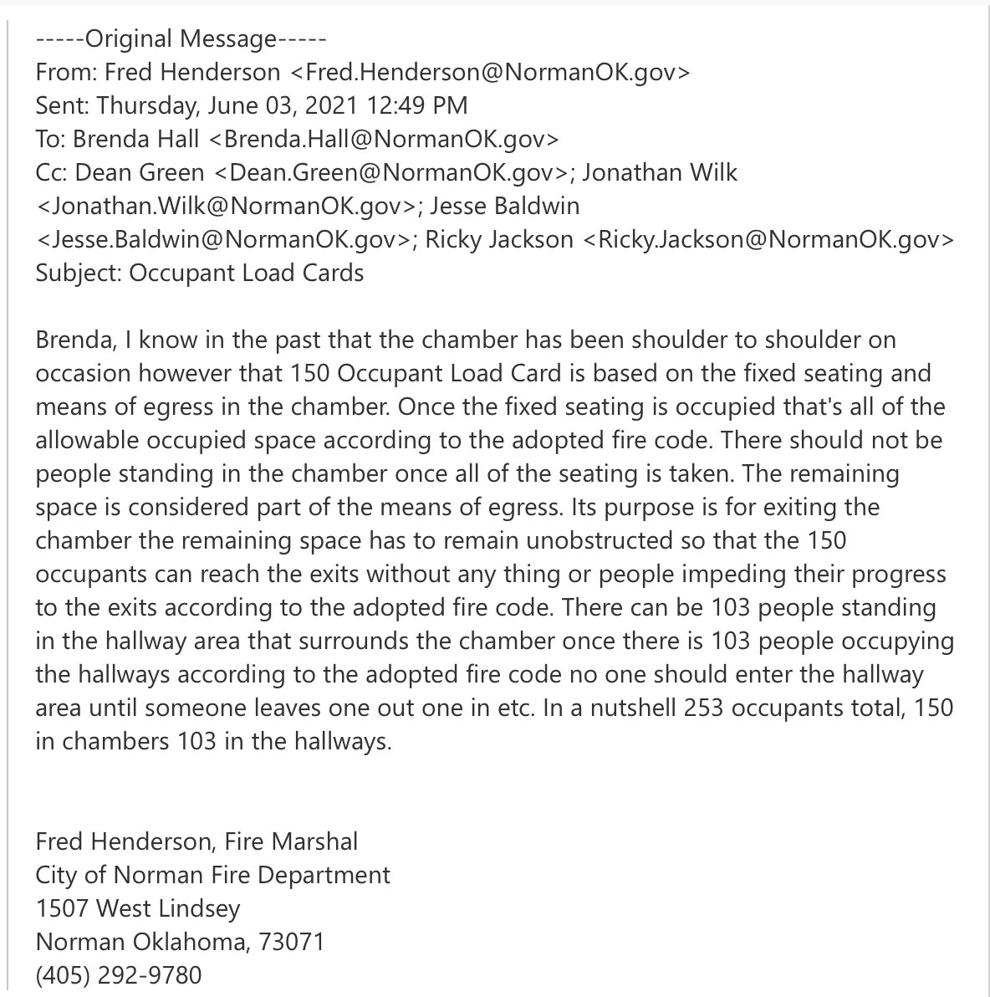 Hall responded within three minutes, agreeing to the request, so long as Henderson provided assistance from his department or NPD for the meeting to be held five days later. Henderson told The Daily he ultimately brought three people from his department to enforce the limits, and although NPD officers were present at the meeting, they were not there to help with capacity limits. He said he was also not aware of how the public or council was notified about this enforcement.
Hall wrote in an email she was also concerned about the dangers of higher attendance levels, as she knew past meetings have exceeded occupant loads and worried it would be dangerous to pack people into the chambers. She wrote she did not give anyone notice of this enforcement besides members of the city's management team who would attend the meeting.
This meant that, come June 8, interested participants who might not have been able to make it to City Hall until closer to the meeting's 6:30 p.m. start time gathered at the front of the building only to find out about the limitations via a sign on the door of City Hall.
While puzzled residents mulled over whether they would spend the night outside listening to council members through a speaker, earlier that day, members of Unite Norman were aware of the enforced limits and even called for them before the meeting, according to a June 12 Facebook post on its media outreach page written by co-founder Sassan Moghadam.
"In the spirit of protecting everyone's life (yes even including the council), we requested the building occupancy limit to be observed and the life safety codes that are in place to protect the public to be enforced," Moghadam wrote. "We showed up earlier than the anti police crazies did to get better seats. The rest was just pure heartwarming numbers of the folks wanting to show their support for their police officers."
Moghadam told The Daily he didn't recall posting this and said he did not email the city to request the enforcement of the capacity limits. Henderson confirmed this to The Daily, saying he alone — unprompted by anyone else — decided to enforce the capacity limits.
Capacity limitations on buildings are something Moghadam said he is familiar with because of the work he does as a general contractor and co-owner of Aria Development. He said he put out a request a few days before the meeting on the Unite Norman Facebook page and also on the day of the meeting on the outreach page, asking supporters to come to City Hall at 4 p.m. to give everyone enough time to gather.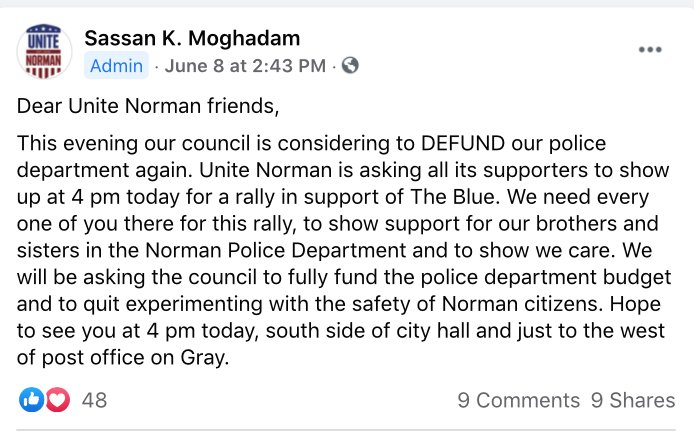 Moghadam estimates that 600 to 700 Unite Norman supporters attended the group's 4 p.m. gathering at City Hall, flooding the space outside and immediately inside with a sea of gray shirts and filling the outdoor area with U.S. flags, tents and "Back the Blue" signs. He also said the group did not reach out to the city to see if the planned gathering would be allowed.
"We didn't have any numbers to share with anybody," Moghadam told The Daily. "We just put a call out on our social media, and we never know how many people are going to show up. I was pretty proud to see that many people show up. There (were) probably (300) to 400 people that were not able to come into the building that were there as part of the Unite Norman supporters, and they actually stayed outside until probably about 12 or one o'clock as people would speak, and some would leave."
Residents found themselves hearing through social media about the filled capacity limit. Ward 7 Councilmember Stephen Holman said he received many emails following the meeting from people who were upset about the doors being blocked and not having an opportunity to sign up in person.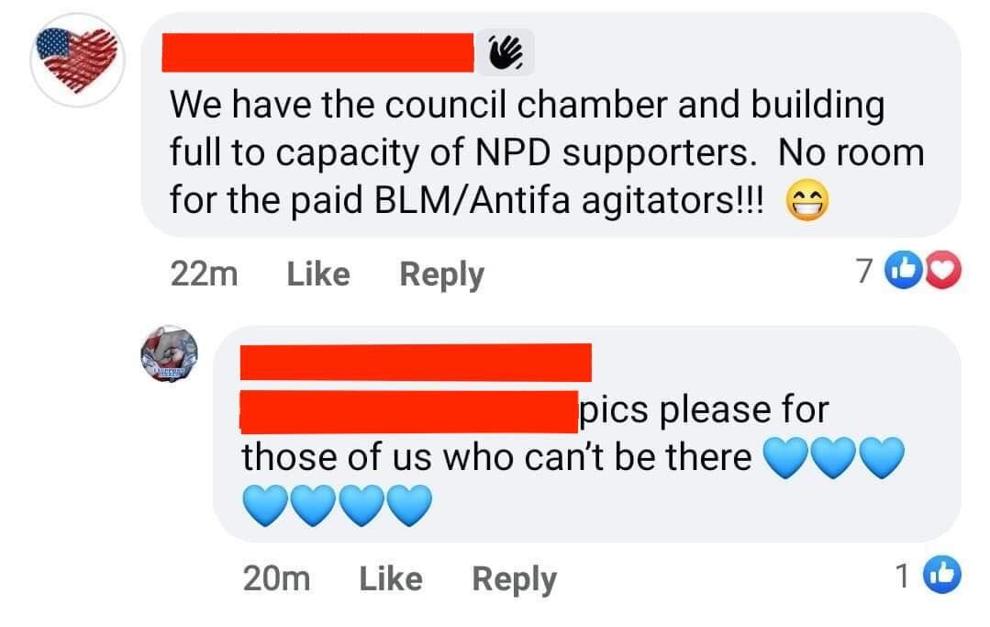 "If that decision was going to be made by the fire marshal and the clerk, then that should have been posted several days in advance," Holman said. "That should have been posted with the agenda at the very least on the Friday beforehand so that people could have planned for that (and) so that the council would have known about it. So, yeah, it was definitely not handled very well, in my opinion."
Holman said the chambers have seen larger crowds, citing the vote surrounding the Norman Forward project propositions, which he said left the lobby and sitting room full. He said, however, in his 25 years of watching council meetings, both as a resident and council member, he has never seen capacity limits enforced.
"There have been multiple meetings over the years where it's been standing room only, for sure," Holman said. "Why the fire marshal decided now is the time to start enforcing the rules, I don't know if it just has to do with what's taking place this past year, things that might have taken place in Washington, D.C., trying not to create a fire hazard. ... I don't really have an explanation on my end, as far as that goes, about why now."
Not only was this enforcement unprecedented in recent decades, but Holman also said he wasn't notified about it until around 3 p.m. via a phone call from Norman Mayor Breea Clark and an email from City Manager Darrel Pyle. He arrived at City Hall around 5 p.m. for the council's 5:30 p.m. conference, meaning there was no time to discuss moving the 6:30 p.m. meeting to a different place or time to allow more people to attend.
"It was already decided before we got there, I guess," Holman said. "I did express concerns to (the) mayor and the city clerk that locking out the public was not really acceptable, and if one group decided or thought that they were going to be able to come just by the whole building, and not allow anybody else in, that we may need to consider not having this meeting or moving it to a bigger venue. Not letting the public in is not an acceptable strategy in my mind. I still believe that."
The city offers opportunities for residents to sign up online and in person to speak, with a submission form available after the agenda is posted that usually closes at 4 p.m. the day of the meeting and clipboards in the building, available before it begins. The time limit for speakers for this particular meeting was 30 minutes per addendum, allowing 15 minutes each for pro and against sides to speak and one hour for items of "higher interest," with 30 minutes per side. Individuals were allowed three minutes to speak.
Hall wrote in the email that everyone who signed up to speak was allowed in the building, even after the occupancy load hit capacity and that she accounted for everyone, even if time didn't allow them to speak. The speaker count for those who signed up online was already figured into the occupancy calculation, and the sign-up sheet was available at the back of the chambers so people's names could be added at the end of the list to speak, time permitting.
Russell Rice, an administrator for the Social Injustice League of Norman, told The Daily in an online submission he had planned to sign up at the meeting like he had been able to in prior meetings. When he arrived at 4:50 p.m., he was denied entrance for the sake of capacity and left the premises around 7:30 p.m. because he "didn't feel safe standing outside any longer."
Rice was one of the residents who did not have an opportunity to speak because the capacity had been filled before the meeting began. Hall wrote in the email the doors were locked at 4 p.m., forcing attendees to come through the north entrance so the fire marshal could complete his count.
Moghadam told The Daily that he asked everyone who attended Unite Norman's 4 p.m. gathering to be respectful and observe any rules set in the hopes of "not repeating what happened during last year's budget meeting." He said he sees no concern or flaw in the fire marshal enforcing the codes for the safety of the public.
"Ignorance of the law is not an excuse," Moghadam told The Daily. "The council should know about the occupancy — they sure seem to know a lot of things about things we don't know a lot about. The occupancy is posted. I don't think it is the job of a police officer or the fire marshal to remind people of 'this is what the law is written, and these are the codes.' Actually, council members are supposed to know those things, and I'm shocked to know that somebody is complaining that they were not reminded of that. There's a lot of things off the boat that you don't get reminded of on a daily basis, but you're supposed to know about those things."
Outside of City Hall, Ward 4 resident Lauren Medford told The Daily in an online submission that she sat and observed the scene while the meeting occurred. She described it as a "gauntlet of Back the Blue supporters" and noted a pack of cars illegally parked in a nearby lot, barring vehicles from exiting.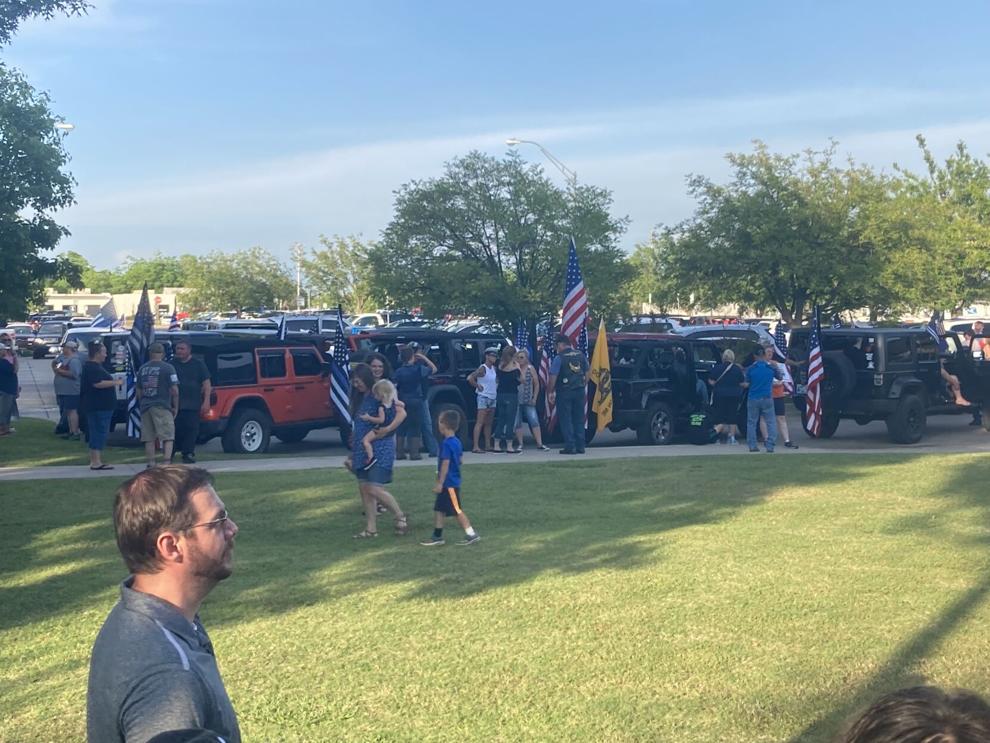 Edward, a Ward 5 resident who requested anonymity, wrote in an email that although he did not feel he was in danger during the meeting, he was concerned for members of marginalized communities who were able to sign up to speak and enter City Hall. He wrote that June 8 was "the most vivid display of innate inequality."
"A portion of our community had the total and unwavering support of law enforcement officers, and the freedom to carry themselves as they wished," Edward wrote. "They came and went from the building, and enjoyed the entire space as their own. Another segment of our community walked through a gauntlet of screaming and accusatory faces. … Inside the building, they were literally marginalized into a corner of the building, under the protection not of the police, but of those of us whose entire purpose in that building was to protect at-risk folks from the police."
Fire Marshal Henderson said the capacity limits were set to keep order and create safety measures for people who wanted to participate. Many people, however, still felt unsafe or didn't have an opportunity to take the podium.
As the council segues into another meeting this week, Holman called for the city to implement a different procedure when enforcing capacity limits on meetings, allowing for equal access.
"To just post signs on the doors of City Hall so that when people show up, they find out, 'Oh, I can't get in,' (is) really unacceptable," Holman said. "That cannot be how we do it going forward."
Hall told The Daily that in the future, the city will let residents know about when they will be enforcing capacity limits as soon as they know about or anticipate a larger crowd. She also said the city will alter its website to note meeting capacities can be limited.
"We won't be doing it in every meeting, honestly," Hall said. "When we feel like there's something on the agenda that has a large interest, and a lot of people have signed up for it, we will go ahead and do that just to be safe. If we know ahead of time that we're going to do it, we will put it up there on the website where they sign up to speak, but sometimes we will not know until, say Monday, when we get back from the weekend, and there's 100 people signed up. So, once that happens we'll try to (send) that (notice) out."