A 10 minute drive north of I-40 lies the town of Gore, Oklahoma. The town is dubbed the trout capital of the state, sitting a mile east of the Arkansas river.
Gore is home to an Oklahoma hidden gem, Emily's Tearoom & Bakery. The quaint dining spot on the north corner of Railroad and Main streets has occupied one of the town's original buildings for over two decades.
On a cloudy, winter Saturday morning, the tearoom is halfway full within thirty minutes of opening. The joyful buzz of conversation mixes with the tinging sound of porcelain cups returning to their saucers. The it is full of warm light and cheery color, and the walls are decorated with eclectic artwork.
Founder and owner Kim Barnes makes her rounds, greeting her regulars, welcoming new faces and helping everyone find a seat.
Emily's Tearoom & Bakery opened in 1996. Barnes said she started the tearoom to support and spend more time with her children.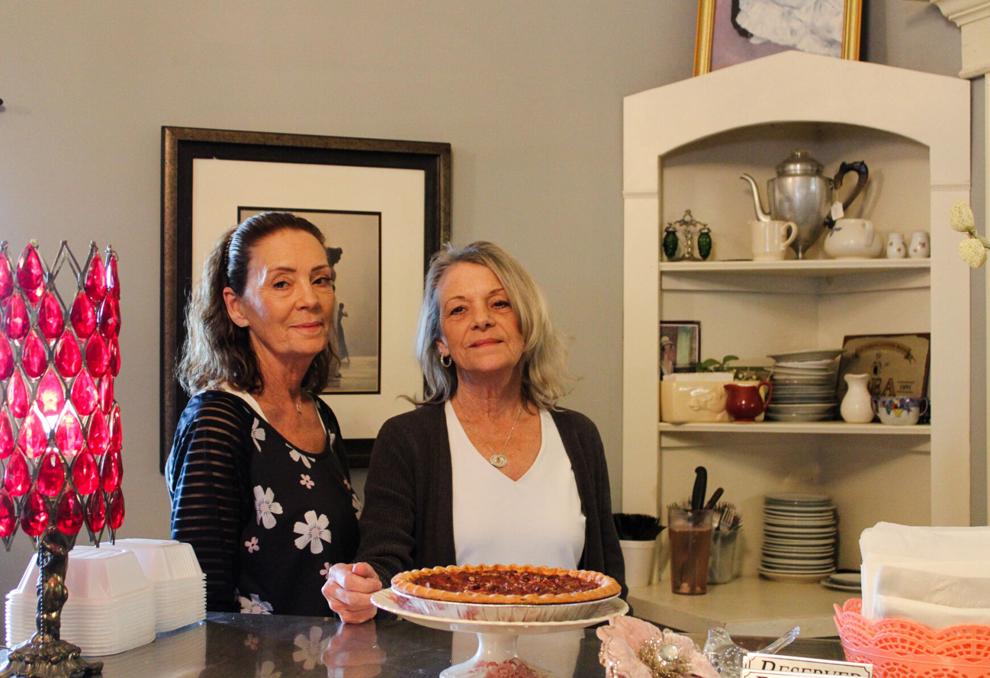 "I worked as a paramedic for years, and my kids were becoming young teenagers, so I knew it was time to come home and be with my children," Barnes said. "At first, I was just going to have a shop. I didn't have a clue what I was going to do."
An English tearoom is a rare find in rural Oklahoma. Barnes said the concept was inspired by her heritage. Her mother grew up in Wing, a town 40 miles north of London, and Barnes learned to cook classic English dishes from her aunt.  
"My love of my tearooms comes from my English heritage and being able to go to many tearooms in England," Barnes said. "I've probably been about 20 times. My mom is English, so we'd always go back and forth to England and go out to the tearooms."
Emily's Tearoom & Bakery is composed of two high-ceiling dining rooms. The front door opens into the tearoom's original dining space, and a variety shop occupies a section of the space to the right. The doorway to the second dining room is flanked with intricate wooden doors, and connects to the tearoom's kitchen. Barnes said the tearoom started small, but that the growth of the business was never her focus.
"I did all the cooking and everything by myself and now, as you can see, that can't be done. It started just for my children," Barnes said. " I had one customer the first week and four tables. I never dreamed that it would grow, I never even thought that far. That wasn't even my goal. It outgrew me."
Barnes' determination is clear in the environment of the tearoom, and has led to her creating a successful and beloved eatery in a town with just under 1,000 residents. The dining rooms reflect the aesthetic of traditional London tearooms and the eclectic décor demonstrates Barnes' resourcefulness and creativity as a businesswoman.
"The little tea rooms in England all have the little skirts on the tables and this and that. I do love my tearooms in England," Barnes said. "But this is just what I had to put together, and a lot of times it was because of my budget. If I found a table or some chairs or something at a good buy, that's what we'd get."
The walls of the tea room are decorated with paintings from Barnes' favorite artists, friends and herself. In one corner, Barnes created a ceiling-high mural of a patisserie, and she painted and waxed the floors to look like gleaning hardwood. Barnes said she created the large painting of Audrey Hepburn with the tail of a mermaid.
"I painted her when I was bored one night," Barnes said." I couldn't find anything to paint on, so I took the legs off of a table."
English tea rooms serve scones, pastries and small sandwiches. Barnes said that she began with a traditional menu but purchased a grill when she realized she needed to expand to appeal to more guests. Emily's Tearoom & Bakery serves English classics, including scones and Yorkshire pudding along with more typical American options.
"We make burgers and Reubens and patty melts. We have a nice full menu because that's how you bring the men in," Barnes said. "We do a quiche every day, that's a staple, and it's homemade. We do a different soup every day of the week."
Barnes started the tearoom on her own and still works on every aspect of the business.
"I'm an electrician, I'm a plumber, I'm the loan officer. I used to do all the cooking but that outgrew me."
One of the challenges of a small town is the ability to find employees to staff the tearoom.
"I've always been blessed, but there's been times that I would have to work in (the kitchen) for days," Barnes said. "I have osteoporosis. So it's really hard on me, but I still love cooking."
Barnes' sister, Debra Young, has worked alongside her at the tearoom for around two decades, and helps balance Barnes' workload.
"She's been here with me for years and it keeps me going," Barnes said. "Because if she sees me going towards the kitchen, she'll be like, 'Stay out, I've already been in there.' She has a good personality."
The tearoom has its fair share of regulars, but guests also travel from across the state to dine. Barnes said the community is one of her favorite things about her business.
"As far as the business goes, I love my tea room and then the friends I've made and being part of the community," Barnes said. "That community is very important to me because I've been here so many years. And they say I'm very important to them, too."
Emily's Tearoom and Bakery is open 11 a.m. to 2 p.m. Tuesday through Thursday, and 11 a.m. to 3 p.m. Saturday. Information and their menu can be found on their Facebook and website.
A 5-minute drive from Emily's Tearoom and Bakery is Marval Resort, another of Gore's hidden gems.
The town of Gore is already quiet by nature, but the resort is almost entirely secluded, being a third of a mile off the highway. The 105-acre campground is nestled into the foothills of the Oklahoma Ozarks, on the shore of the Lower Illinois river.
Winding gravel roads lead visitors from the general store at the front to a wide range of lodging, activities, amenities and the river.
Gore is dubbed the Trout Capital of Oklahoma, and the fishing access at the resort rings true to the title. The Lower Illinois is a designated fishing river, and guests can find rainbow and brown trout, record stripers, walleye, crappie, catfish, and bass in the resort's mile of riverfront.
The resort offers a variety of lodgings with prices that make the experience widely accessible. Tent campsites begin at $30 a night, and cabins with nearby restroom access begin at $81 a night. Starting at $148, cabins include their own restroom, stovetop and sink. The resort also offers larger lodges with full bathrooms and kitchens. All campsites have a picnic table and fire ring, and all cabins and lodges have a source of heat. All overnight guests have access to a bathhouse, coin laundry and free Wi-Fi.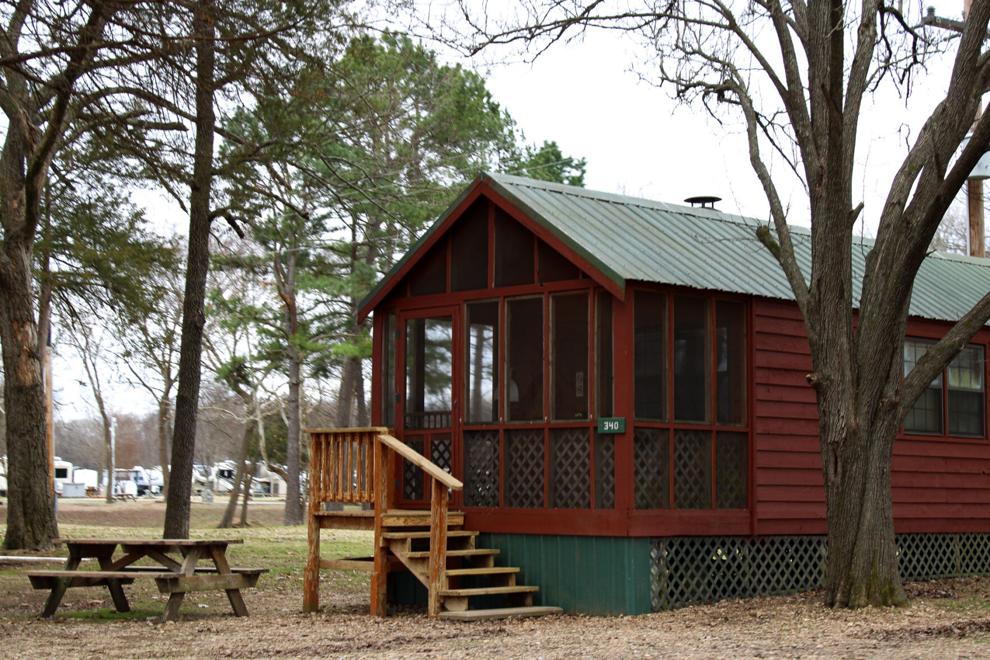 Marval Resort has a range of activities. Guests have access to mini golf, an arcade, a sand volleyball court and a trampoline pillow. The Stargazer Theater backs up to the forest, complete with bleachers and a swimming pool is open in the warmer months.
The resort hosts themed weekends throughout the year. Stacie Degraffenreid, Assistant Manager of the resort, said that her favorite is a summer event called Water Wars. The resort hosts three weekends of Water Wars due to popular demand. Participants wear red and bring their water-launching equipment to join the battle.
"The fire department comes down and sprays everybody," Degraffenreid said. "It's amazing."
The resort has themed events planned every weekend from March through Labor Day. March 10-19 is the resort's Spring Break and St. Patrick's Day celebration. Guests are encouraged to bring decorations to enter in the golf cart and bicycle decoration competition. The events also include a scavenger hunt and St. Patrick's Day parade around the property.
Degraffenreid said the resort is incredibly popular.
"It doesn't really need advertising," Degraffenreid said. "It stays so full, constantly."
Many guests bring their RVs to the resort for long-term periods. Degraffenreid said the campgrounds have a strong community environment.
"You never go hungry," Degraffenreid said. "When I go to check on things, I get asked, 'Have you eaten anything? Are you hungry?' from the little ladies outside cooking whatever."
Degraffenreid said that she has never enjoyed a job more than she does in her position at the resort. She said that all the employees enjoy being heavily involved in the property and activities.
"I'm not selling the place, I'm just telling you the real deal," Degraffenreid said. "These people love their jobs, and I understand why."
Information and updates about Marval Resort can be found on their Facebook, and a schedule of events and booking is found on the website.
---
---