Near the southeast tip of Oklahoma lies Beavers Bend State Park. It was established in 1937 and is one of the original state parks of Oklahoma. 
Despite the park including beavers on their list of residents, the furry creatures are not the origin of the park's name. The park was instead named for John T. Beavers, a Choctaw citizen by marriage to Leuvina H. Beavers, who was born in the Choctaw Nation. In 1930, the land they lived on in southeastern Oklahoma was sold to the Choctaw Lumber Company. The company, named for but not owned by the Choctaw Nation or any of its members, sold the land to local community leaders, who in turn donated it to the state, so it could become Beavers Bend State Park. 
Broken Bow Lake lies just northeast of Beavers Bend. Construction on the synthetic lake began in 1968, and it was opened to the public in 1970. Fishing, kayaking and canoeing are just a few activities available on the water. The perimeter of the lake is also very well known for camping and hiking. Broken Bow Lake is 22 miles of clear water and amazing views. 
The stereotype that Oklahoma only displays flat prairie land and dull sights is broken by the park's beautiful forests, lakes and wildlife. Taylor Nelson, spokesperson for Oklahoma Tourism and Recreation, emphasized just how important this area is to the state. 
"It's a really fun and special place because when you think about Oklahoma, you don't necessarily think about the amazing scenery that you see down in the Beavers Bend or Broken Bow Lake area," Nelson said. "It's just gorgeous."
With the spring tourism season at hand, cabins, campgrounds and lodges are quickly filling up in anticipation of incoming visitors. The prospect of spending time outdoors is tempting to many Oklahomans after December's intense temperatures. Lodging is available in the park, as well as the surrounding areas of Broken Bow, Hochatown and Broken Bow Lake. 
Some of the more popular trails offer outdoor exploration for anyone seeking adventure, or just a pleasant walk through nature. Friends Loop Trail Head is 1.5 miles long and moderate in pacing. This trail presents hikers with several fantastic lookout points, and takes about an hour and a half to complete. Other routes include the Tree Trail, which begins right next to the Beavers Bend State Park Forest Heritage Center and Museum, and the Cedar Bluff Nature Trail which offers a more relaxed hike. 
The Forest and Heritage Center is a great spot in the park for history buffs. The museum leads visitors through a circular route that features displays and works of art about the history of forestry. The museum also hosts an impressive display of wood art and is attached to a small gift and novelty shop for last-minute items before you hit the trails.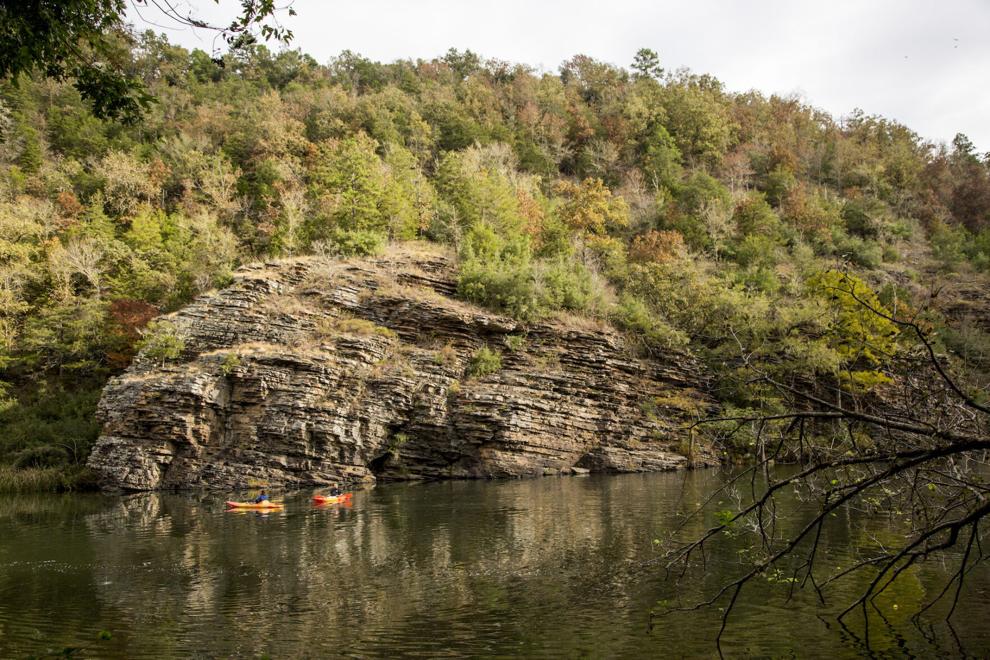 Beavers Bend State Park not only brings in Oklahoma residents, but also many tourists from the surrounding states of Texas and Arkansas who are eager to make the trip to the picture-perfect Kiamichi mountains. The local and newly official town near Beavers Bend has relied on this extra tourism in order to achieve its goal of township.
Hochatown received township status on Nov. 28, 2022. This community sits right outside the state park and offers tourists a variety of activities to explore, ranging from live music at the Hochatown Saloon, to Hochatown Bigfoot Axe Throwing, to drinking at Girls Gone Wine.
Hochatown offers a variety of dining options as well. Abendigo's and the saloon are both great options for anyone looking for musical entertainment while having a meal. The Eat Out offers seating options in its backyard surrounded by a circle of vintage campers, or at its bar lined with wooden rope swings.
With increasing tourism in the area, many small businesses have started to pop up. Hochatime is a local clothing and accessory store founded by Jessica Alkirwi and Kim Kennedy. The store has become a unique staple of the area, coining a catch phrase that captures the nature of Hochatown, "Livin' on Hochatime.''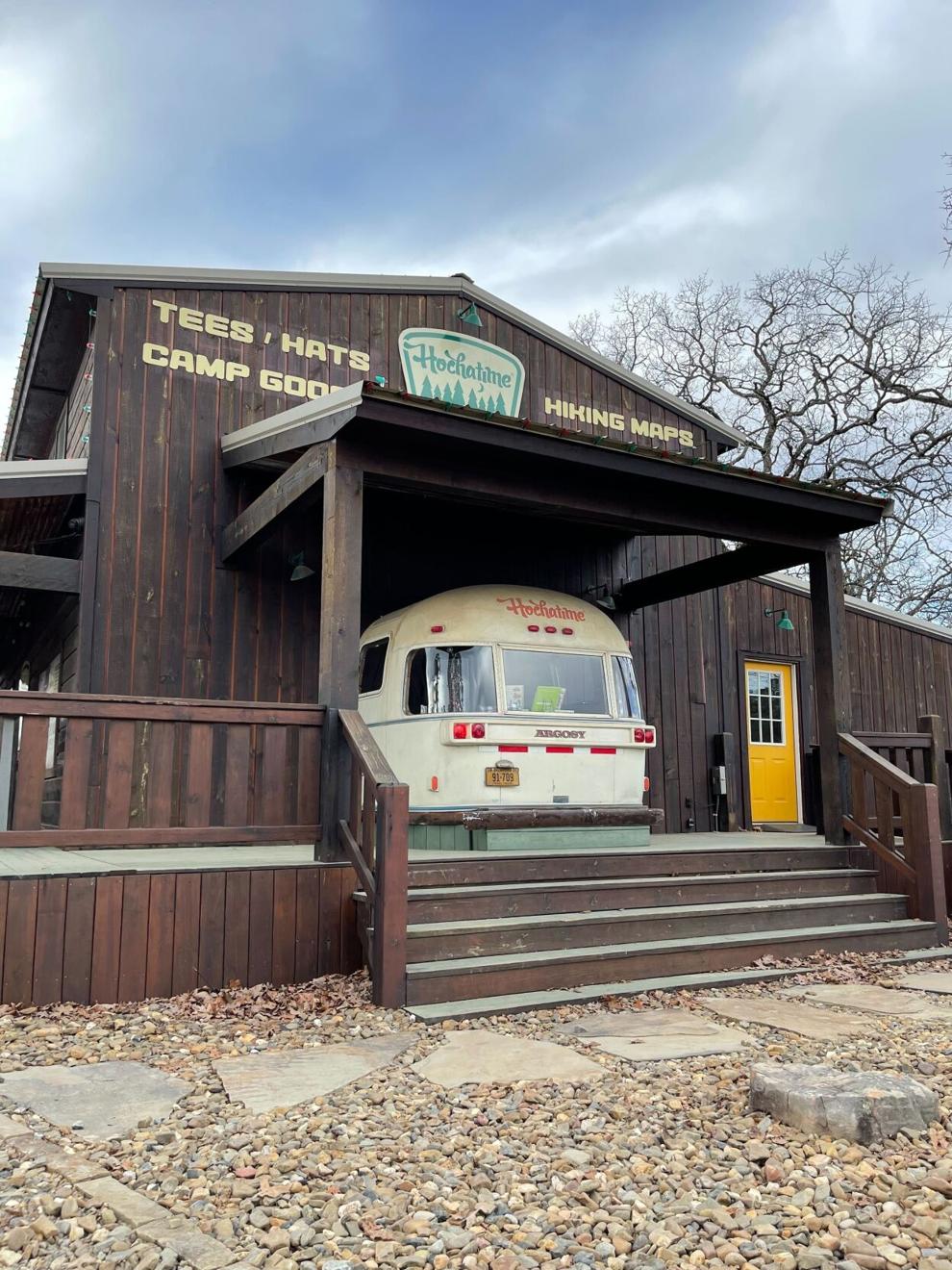 Starting out in 2015, the company originally sold out of a renovated school bus. Realizing their business might soon outgrow the traveling venue, Alkirwi and Kennedy moved the shop to a more permanent location at 9231 N. U.S. Highway in Hochatown. 
A 28-foot RV, affectionately named Betty White, was established inside the store as a nod to the original pop-up school bus. Being too long to comfortably fit inside the building, Betty White now peeks through to the outside of the store facing the highway. Customers are welcome to walk through the RV, which has now been renovated into a children's toy and clothing section of the shop. 
Kennedy said Beavers Bend and Hochatown are a gold mine for anyone with a love for being in nature. 
"I think that what this is all founded on is being in the outdoors," Kennedy said. 
Another local business that resides near the park is Rugaru Adventures, established in 2016, which offers zip lining and all-terrain vehicles. The word Rugaru comes from the French phrase loup garou, which means "werewolf" and is part of Métis, an Indigenous nation in Canada of French and Cree descent. Guests are able to enjoy stunning views and tours of the state park through unique and unforgettable experiences offered by the company.
Amanda Norman is an employee with Rugaru Adventures and has worked with the company since 2017. Norman commented on the variety of experiences the area of Beavers Bend and Hochatown have to offer.
"There are thousands, literally thousands of acres out here of forest land," Norman said. "So you can come here (Hochatown), have the resort experience, go out and eat at restaurants and stuff. But then you can go just a few miles away from here and really be in solitude if you want to be."
Norman says she has seen the most amount of growth in the area in the past five to ten years, similar to what Kennedy, co-owner and founder of Hochatime, acknowledged as well. 
Rugaru Adventures is located at 2658 Stevens Gap Road in Broken Bow. The company is open for booking from 9 a.m. to 5 p.m. and has tours that last for about two hours. Pricing varies from $85 to $95 per person depending on the type of tour booked. 
"It has grown exponentially in recent years, and that has helped the community surrounding the park to thrive," Nelson said. "It had more than two million guests visit Beavers Bend State Park in 2021 alone, and that has generated $71.6 million in spending throughout the state." Nelson said. 
Hiking, camping and other outdoor activities can be hard to find in the Norman and Oklahoma City area without taking a mini road trip. And while a three-and-a-half-hour drive might be enough to scare some people away, Beavers Bend is a rewarding trip for anyone willing to make the journey.
"It really is one of those hidden gems in Oklahoma that you wouldn't expect to find. Gorgeous scenery, a nice relaxing atmosphere, but just 10 minutes from the park or less you can enjoy a winery, zip lining, bowling, all the things that you might expect to enjoy in a big city," Nelson said.
In the digital age where many college students have started to spend a large portion of their time online between academics and social ties, it can be refreshing to embrace the outdoors for a screen break. Beavers Bend offers just that and promises more only a few hours away from campus. 
"For our kids in college who are from Oklahoma, and those who might not be from Oklahoma but have chosen to come to Oklahoma for this time in their lives, it's really important for them to get out, explore, understand the history of where they are living and where they are from, and just enjoy what is around them," Nelson said. 
Beavers Bend State Park is an iconic part of Oklahoma and is, perhaps, an area that many people are still learning about. It is a location that provides residents with fresh air and an escape from their busy day-to-day lives. From family trips to solo adventures this place has something for everyone to enjoy. 
---
---