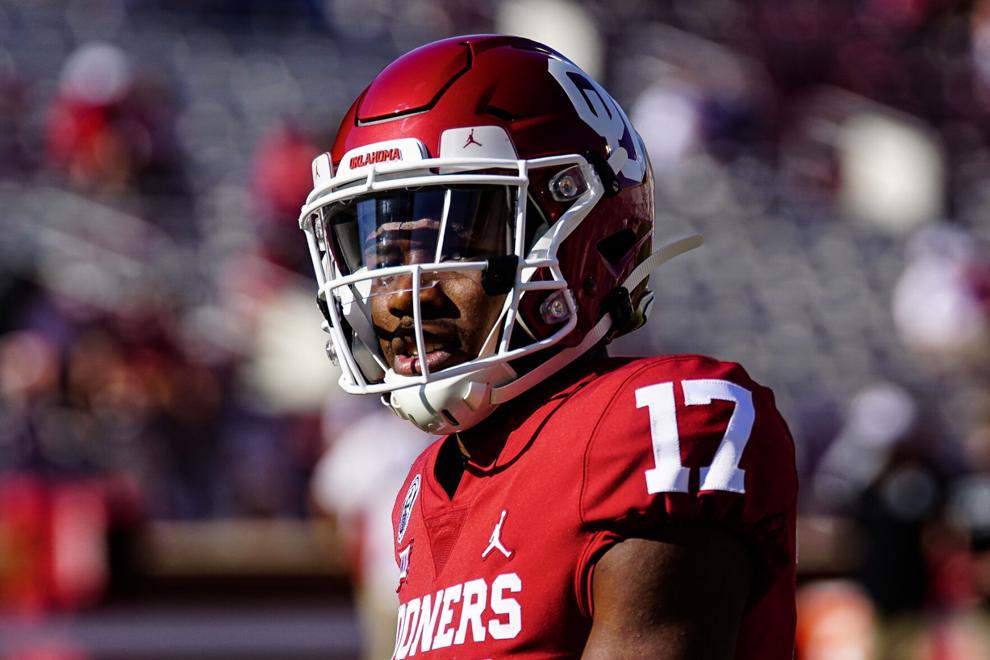 Marvin Mims and his father reached out to OU inside receivers coach Cale Gundy. The duo wanted to let Gundy know Mims was considering Oklahoma again, after committing to Stanford in August 2019. 
"Can he come early?" Gundy asked Mims Sr., whose son holds the national high school record for single-season receiving yards with 2,626 his senior year. The call came as Oklahoma would go on to lose CeeDee Lamb to the NFL, Mykel Jones to Tulane, tight end Grant Calcaterra to retirement, and Lee Morris, Nick Basquine and A.D. Miller to graduation. 
Mims Sr. agreed, and Gundy said it would help the then-incoming freshman receiver improve his body, learn OU's playbook and give him a chance to make an instant impact in the 2020 season. 
Three months later, the National Honor Society student who'd earned a full-ride offer from a 4 percent acceptance rate university in Stanford, decommitted from the Cardinal and committed to the Sooners. The commitment came a day after OU's school record 25-point come-from-behind win at Baylor on Nov. 13, 2019. 
During a conversation between former BYU standout and Mims' Dallas-area trainer Margin Hooks and OU outside receivers coach Dennis Simmons — teammates and friends at BYU — Hooks persuaded Simmons that Mims was "special."
Hooks personally drove Mims to a workout with Simmons during his recruitment. Afterward, Simmons, Hooks and Mims returned to Hooks' car where they talked about the day. Mims looked down at his phone and didn't say much, in typical fashion.
"Marvin was just laid back and chill at the camp and he's still that same way," Hooks said before recalling Simmons' thoughts. "'I guess you don't have to hoot and holler to still be a baller.'" He's different, he's special."
The Frisco, Texas, native's quiet nature fuels his fire. When he's overlooked, it motivates him, and he improves while staying calm. When the speedy weapon burst onto the scene last season, he proved he belonged at OU with 610 yards and a school-record nine touchdowns en route to being the first receiver to earn FWAA Freshman All-American status in program history. His demeanor, along with his intelligence, epitomizes what the Sooners value, according to OU head coach Lincoln Riley. 
But he's not done yet. Behind his reserved personality is a fiery competitor who aims to win the Biletnikoff, awarded to the best pass-catcher in the country. And in a season with national championship expectations for OU, Mims' silent identity paired with his loud game might be just what the Sooners need.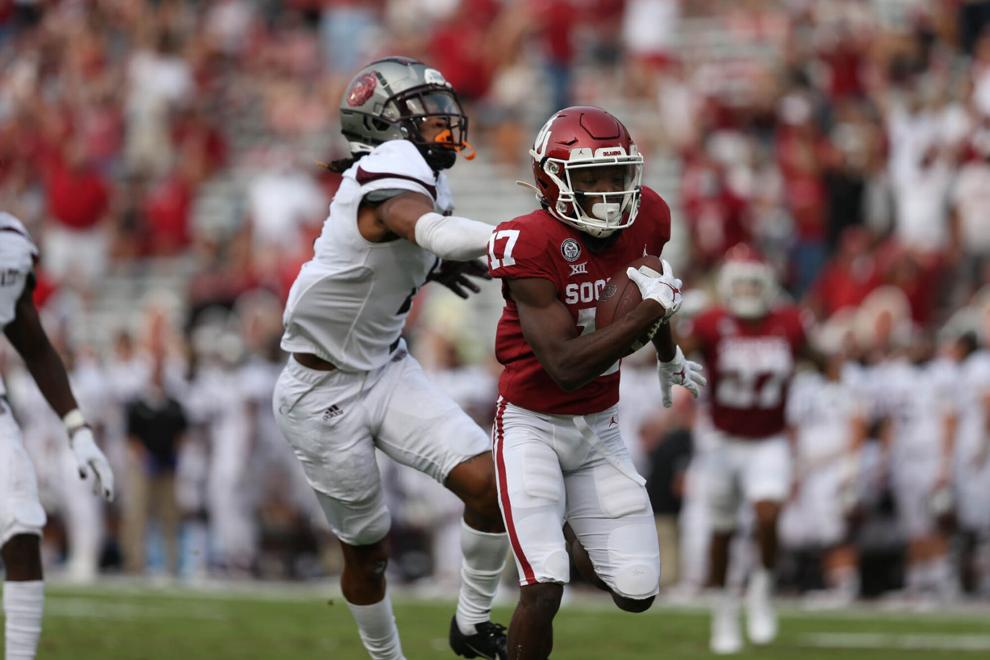 'Throw the go route to Marvin'
---
Mims wanted revenge. 
As a fourth grader, he lost a little league semifinal game against rival Billy Bowman, his longtime opponent and current freshman teammate at OU, after Mims muffed a punt that cost his team.
A year later, Mims' Frisco Packers found themselves trailing the same foe with two minutes left in the fourth quarter and a championship appearance on the line. 
"I don't know what else to do," Mims Sr., the offensive coach, recalled saying. "Throw the go route to Marvin."
Mims sprinted forward, saw the ball in the air, jumped and caught it over four defenders, racing to the end zone and punching the Packers' ticket to the championship. After defeating Bowman's Dawgs, Mims led his team to an undefeated season to win its little league championship.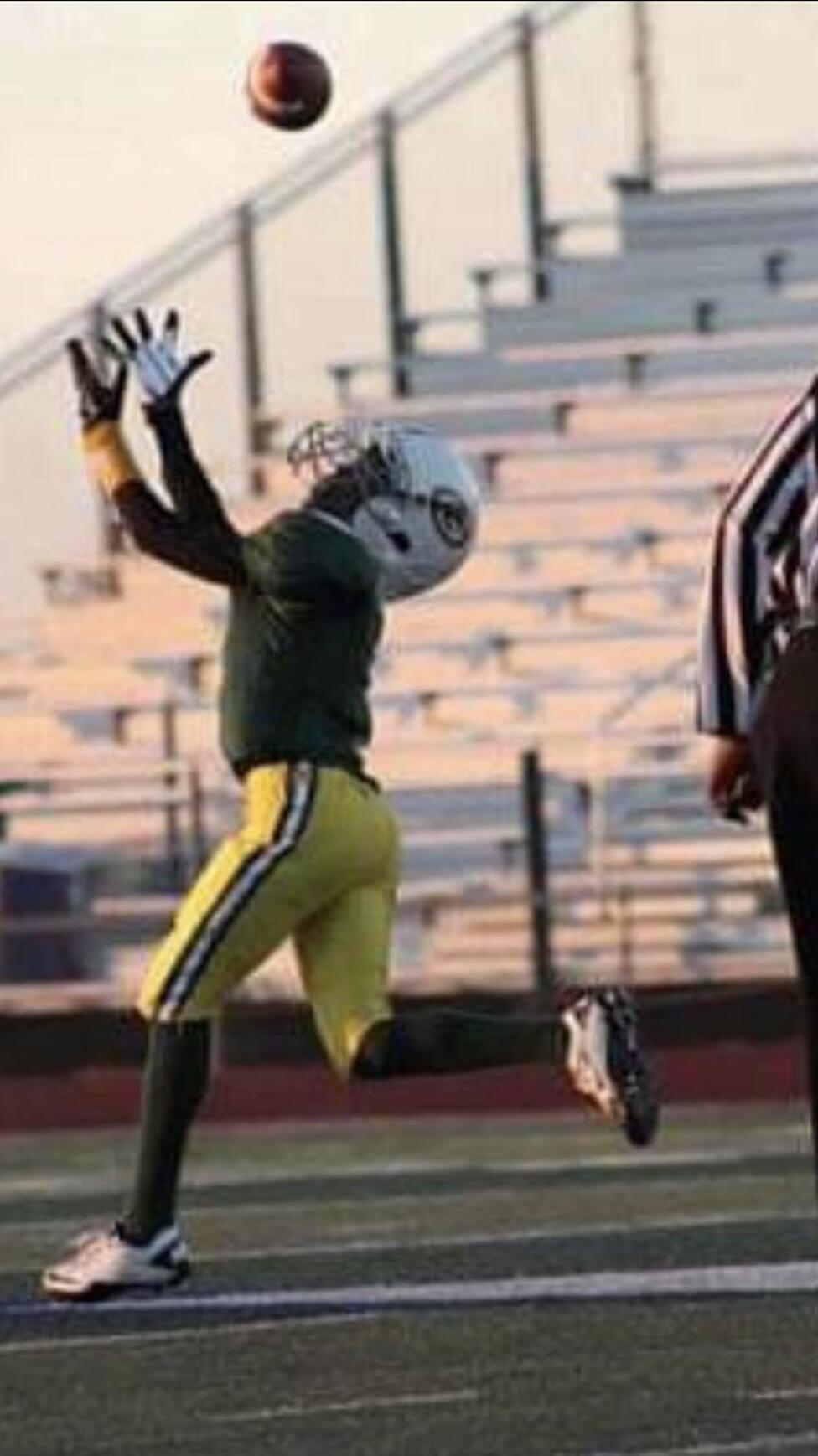 Mims and Bowman always had a mutual respect for each other, according to Mims Sr. The pair played against each other in youth before competing in high school twice. Bowman won both games with Denton Ryan during Mims' sophomore and senior seasons.
"They've always had a good relationship," Mims Sr. said. "Marvin knows when Billy's on the field and Billy knows the same thing about Marvin. (Marvin) is going to give it his all and vice versa."
But Mims focused more on basketball in his youth, and he didn't quit until after his junior year of high school. That's when he received a football offer from Illinois, which was scouting Lone Star High School quarterback MJ Rivers but noticed Mims instead. 
Mims burst onto the scene his sophomore year with 1,290 yards and 14 touchdowns as well as an average of 14.7 points per game in basketball. He followed up with 912 yards and 12 touchdowns as a junior but played three fewer games. After football season, Mims continued basketball from December to July to no avail, before he quit heading into his senior year. 
"Dad, I'm spending all this time playing basketball, but no one's really saying anything about me in basketball," Mims Sr. recalled his son saying after his junior year. He later said Mims came to him and said, "I'm going to focus on football."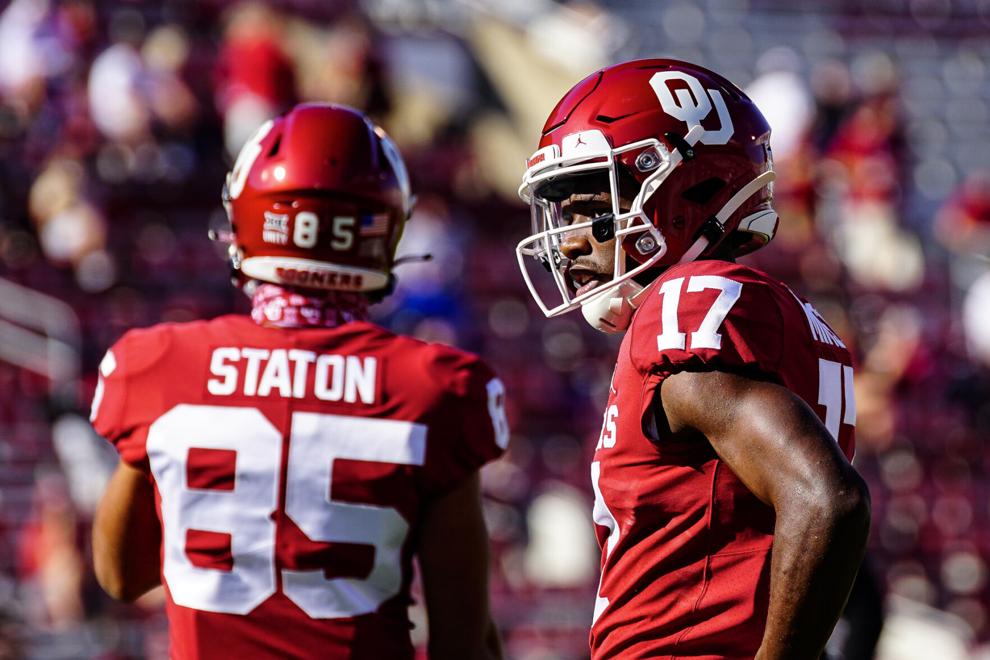 'The best high school receiver to ever play'
---
Mims walked into Lone Star High School head coach Jeff Rayburn's office before his freshman season. 
"I'm going to be the best receiver to ever come through here," Mims told his coach. 
The now 5-foot-11, 177-pound receiver was the hardest worker in the entire program, according to Rayburn.
"The intangibles, the skill set he has is obviously off the charts," Rayburn said. "He's not the tallest guy... He's obviously fast, but his intangibles, his ball skills, his intelligence and his elite competitiveness is what sets him apart."
According to Rayburn, Mims accomplished more than he could've ever imagined. The Lone Star standout eclipsed 5,485 career receiving yards, which ranks first in Texas history and No. 8 nationally, per MaxPreps. 
"He's the best high school receiver to ever play the game of football," Rayburn said. "And I think the numbers speak for themselves. It'd be one thing too if we were playing at a low-level school, but we play some of the best football in the country in (our division)."
Mims was instrumental in his illustrious senior season with the Rangers. The team finished 14-1 in 2019 with its lone loss in the state semifinals to Denton Ryan, Bowman's team. Lone Star even handed Highland Park — former OU and current TCU quarterback Chandler Morris' team — its first home loss since 1998 behind Mims' 219 yards and two touchdowns. Lone Star quarterback and Oklahoma State commit Garret Rangel had just 34 passing yards that didn't go to Mims. 
Mims' second battle with Highland Park came in the state playoffs, and Rayburn said the Scots gave Mims a ton of attention after his first performance. But Mims came up big when Lone Star needed him with a pair of touchdown catches while double-teamed.
You think Marvin Mims has Highland Park's attention? @SportsDayHS| #txhsfb pic.twitter.com/x5bYMeOzgM

— Joseph Hoyt (@JoeJHoyt) November 29, 2019
Lone Star strikes first. Garret Rangel finds Oklahoma commit Marvin Mims for the TD. It's Mims 28tg TD catch of the season. @LSHSRangers leads Highland Park 7-0. @SportsDayHS | #txhsfb pic.twitter.com/vyPyvvb4WB

— Joseph Hoyt (@JoeJHoyt) November 29, 2019
Lone Star 27, Highland Park 24 | 3:37 Q4MARVIN. MIMS. That's the tweet.@SportsDayHS | #txhsfb pic.twitter.com/W79zxdT9hG

— Mitchell Gladstone (@mpgladstone) November 30, 2019
"When it was crunch time, it didn't matter how many guys were covering him," Rayburn said. "We were going to throw him the ball because we knew he could make a play, and that's exactly what happened."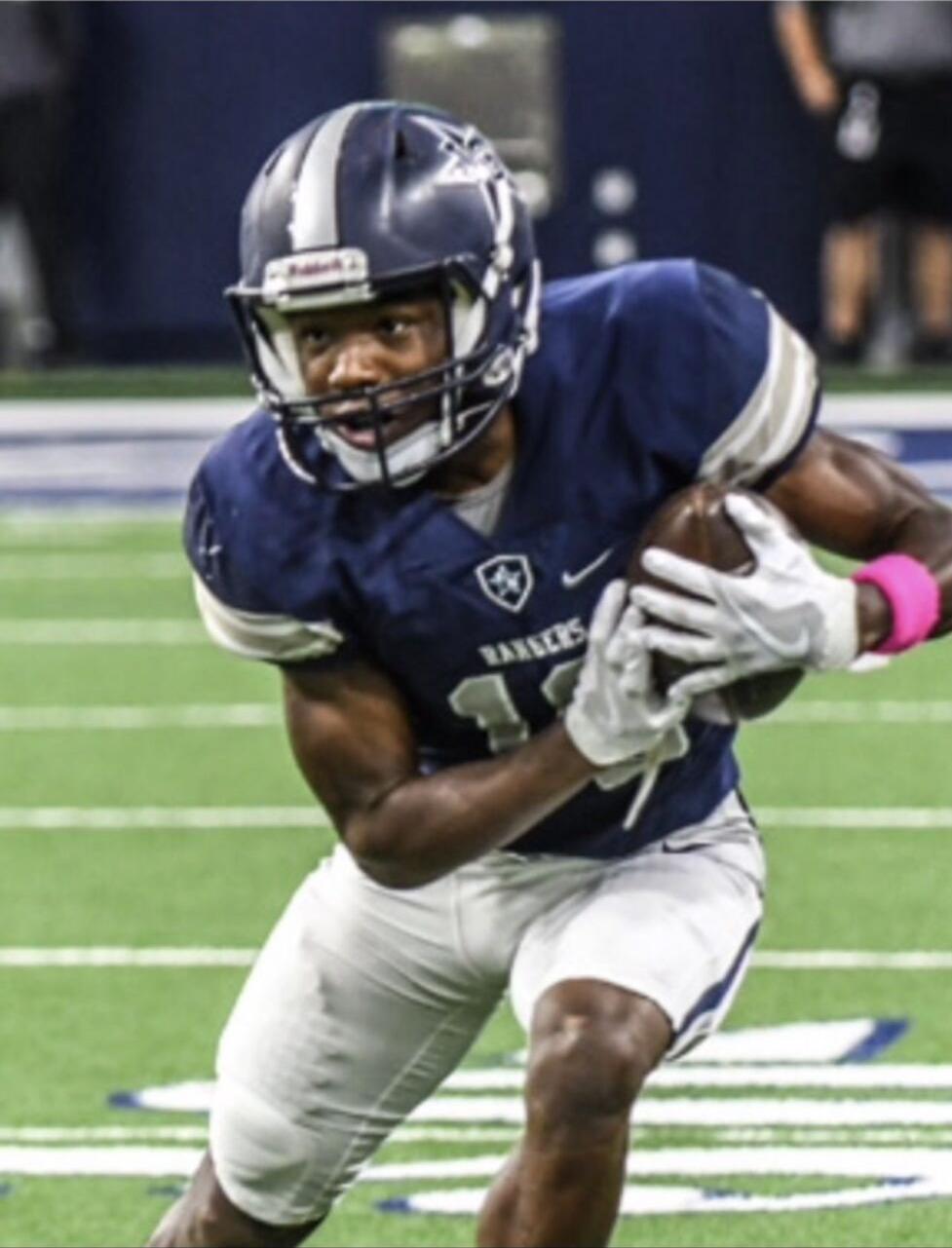 Rayburn saw Mims' maturation throughout high school and how it drove Lone Star's 2019 season. He helped set the standard for the future of the program.
"Being around Marvin, you sense the maturity (he has)," Rayburn said. "It's just his ability to affect other people. Marvin is not a man of a bunch of words, but he's always willing to help others. He's always willing to show them the way."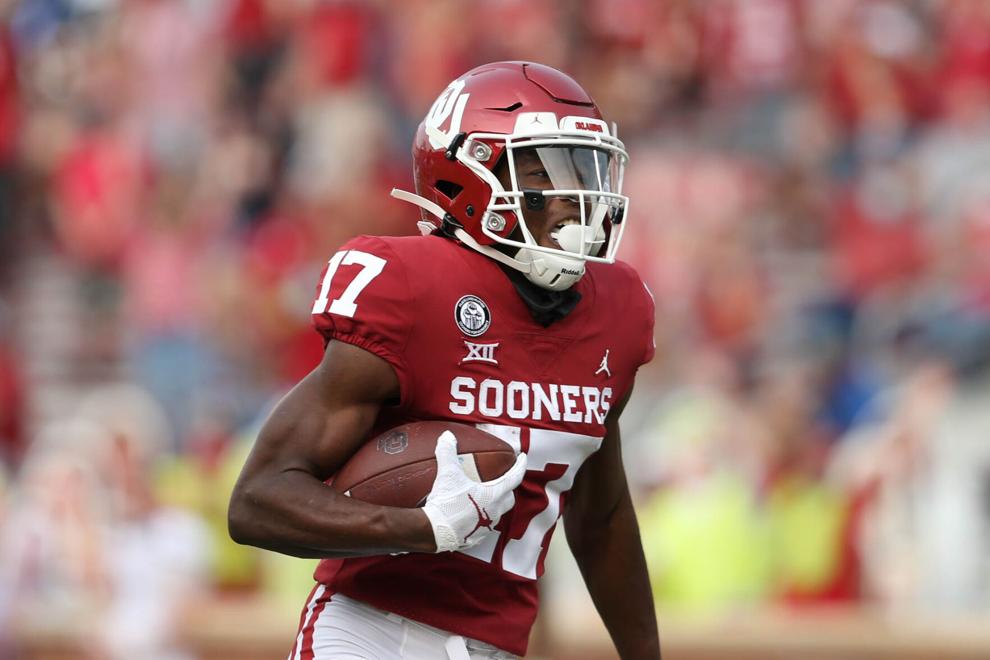 'He's not a flashy guy'
---
To those closest to him, Mims was overlooked during recruitment. The summer before his senior year, Mims attended Nike Football's The Opening — a showcase for the top high school prospects in the country.
Fresh off basketball games the two previous days, Mims Sr. knew his son was tired. But Mims decided to compete in the event anyway, clocking a lackluster 4.67-second 40-yard dash. His uneventful showing later dropped him from four stars to three on Rivals, although his stock reascended after his record-breaking senior year. 
The next spring, when the Frisco native was fresh and enrolled at OU, Gundy watched Mims clock a 4.39 40-yard time, showcasing his true blazing speed.
"We're kind of used to it," Mims Sr. said. "He's always, for whatever reason, been underrated and flies under the radar until he gets on the football field. Part of that's because he's not a flashy guy, he doesn't do a lot of talking about himself. His focus is more of letting his play do the talking."
Hooks also knew the initial uncharacteristic time was a fluke. He and Simmons have a respectful relationship laden with trust. Hooks typically finds himself referring recruits he trains to Simmons and recalls him sometimes saying he doesn't fit his system, or vice-versa, with Hooks suggesting his player shouldn't attend Oklahoma.
Oklahoma offered Mims, but Hooks said he wasn't sure Simmons was committed to him. He recalled Simmons telling him Mims didn't have fire, but Hooks knew that was just his personality.
Mims' college decision came to OU and TCU. Horned Frogs wide receivers coach Malcolm Kelly, a former OU wide receiver, also has a strong relationship with Hooks.
The Frisco native was nervous about joining the Sooners with the talent they had at receiver, which included five-stars Trejan Bridges, Theo Wease and Jadon Haselwood, fellow 2020 classmates Trevon West and Brian Darby, and transfers Theo Howard and Obi Obialo. But Hooks wasn't worried, feeling Mims was ready for the challenge.
Hooks was right, as his pupil and Simmons' receiver broke out as a freshman, leading the Sooners in receiving yards and touchdowns. 
"Stars are forgotten, but those numbers are gonna stick," Hooks said. "To me, he's the most decorated and accomplished receiver that's ever stepped foot at OU as a freshman. Name me somebody else who had national records to step in there."
Mims' eruption and new name, image and likeness powers gave him the opportunity to do something he has always wanted. 
The new ruling adopted for college athletes on July 1 allowed Mims to give back to his community rather than profit from exposure. The standout held a football camp for 6-12-year-olds on Aug. 1 at the Sports Academy in his hometown of Frisco just under three hours from Norman. 
Mims was focused on showing that his accomplishments were possible for younger kids growing up with similar backgrounds in the area. He even donated a portion of the camp's proceeds to the Boys and Girls Club of Collin County. 
Thank you to everyone that came to the camp and to the people that helped make it possible! @SkysTheLimitWR @CoachJRayburn @TayoAdewon @uzairlodhi20 pic.twitter.com/GBZkqlPARG

— Marvin Mims Jr. (@marvindmims) August 2, 2021
Mims' Twitter profile is mostly retweets of his teammates or those in his inner circle but hardly any of himself. In a tweet from Fox College Football, fans voted Rattler and Mims the top returning tandem in the nation. Mims' response was to tag his fellow pass catchers instead of taking the glory. 
Dear NIL… ✍🏿Thank you for giving me the opportunity to give back to my community.#SincerelyYours, @marvindmims pic.twitter.com/bsOmzjUi2M

— UNINTERRUPTED (@uninterrupted) August 6, 2021
"He's not a huge social media guy," Mims Sr. said. "He's not a flashy guy, he's not a 'I want to be in front of the camera' type of guy, and this was more his speed to be honest. Working with kids and being able to help and give back to his community was more of his focus."
There were no reporters or cameras present at his camp, either — just Mims and his willingness to help Frisco find its next big-time athlete like himself. Among the attendees was Rayburn's third grade son, who plays on a little league team named the Sooners and dons Mims' No. 17 on the field.
First annual @marvindmims Football camp! Thank you for letting us be a part of this great camp! Always proud of @marvindmims and how he represents and impacts the community! #FAMILY #LoneStarLegend @LSHS_FBRecruits pic.twitter.com/F9HUqeAX2k

— Jeff Rayburn (@CoachJRayburn) August 1, 2021
Mims wasn't interested in just making an appearance, either, as he laced up his cleats and worked out alongside the campers. Hooks, who also taught former OU receivers Trejan Bridges and Charleston Rambo, believes his pupil is among the first college athletes to engage with campers like that. Hooks thinks Mims is special not just for his accolades on the field, but also for how he carries himself off it. 
His quiet persona fuels him. It's why he's focused on making those around him better — like the campers — instead of profiting off his success with the Sooners. 
Mims is the highest-graded returning wide receiver in the country at 88.9 according to Pro Football Focus and caught eight touchdowns over 20 yards or more — the same as 2020 Heisman Trophy winner Devonta Smith — despite receiving just 49 targets last season.
OU returned Haselwood from injury and added five-star freshman Mario Williams and healthy versions of H-back Austin Stogner and Wease in its room of pass catchers. But there lies Mims, a quiet, under-the-radar and versatile receiver who couldn't care less about the bright lights. 
But each time Mims is overlooked, he doesn't worry about it. He becomes motivated and moves on to later prove himself on the field. 
"He'll promote Spencer Rattler before he promotes himself," Hooks said. "I don't even get upset with him, that's who he is. To me, that's special in this day and time. And it wouldn't shock me if he ends up being OU's all-time leading receiver. 
"And he's going to do it quietly, and no one's going to ever talk about it. And that's probably how he wants it."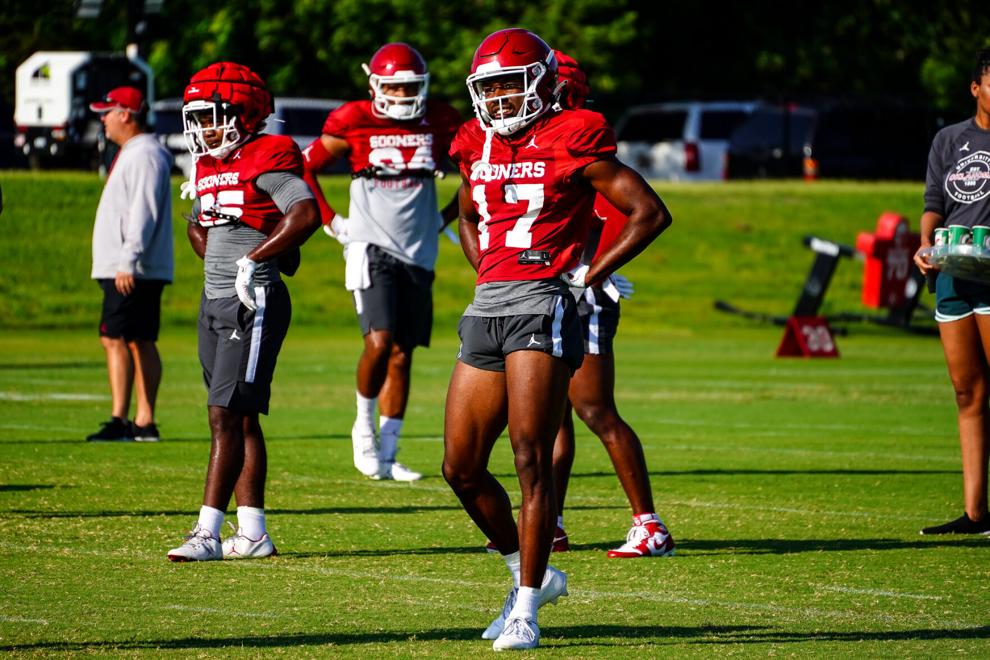 'Take that next level'
---
Mims has taken it upon himself to become a better leader this season. During the middle of his freshman season, Mims and Simmons conversed about the former becoming one that other receivers gravitated toward due to his performance. Mims' new role is drastically different, especially since he's just a sophomore. 
"It's a whole (other) mindset," Mims said early in fall camp. "I've done it for a year now. Now, I'm coming in, ready to build into the leader role. I'm talking up my other teammates. There's just more excitement (coming) into this year, knowing it's a mentality thing, knowing what to expect versus last year, going in with unexpected thoughts."
Riley believes Mims' leadership development will take time to process. But he and Simmons have noticed a change in his approach around the team.
"Marvin is more of a reserved guy by nature," Simmons said during fall camp. "So when he does speak and when he does decide to say something, I think it carries more weight because guys are like, 'Woah, okay. If he's talking to you, something really must be up, and we really gotta take heed to what you're saying.'"
Mims also knew he needed to improve this offseason, as he's now a known threat to the college football world.
"We had to add a few wrinkles to his game," Hooks said about Mims' offseason. "You're not gonna be just wide open. Now, you might have to cut across the field and spin off somebody because someone's going to be there because now you're that guy."
Mims is expected to move to the slot after playing the majority of snaps outside last season. The move came this offseason after a meeting with Riley. Riley and Mims watched his biggest plays from last season, and Riley noticed most came from the inside. 
He completely embraced the move. Mims was excited about what it could do for the offense — opening looks for his teammates — with no one worried about his growing pains of playing a new position. 
"It's easy for Marvin to make those changes," Hooks said. "I mean, he was a kid that was committed to Stanford. You gotta have somebody that can flip from one side to the other. That's him."
In Mims' usual fashion, he didn't say much. He got to work with Hooks, and he expects to build upon his freshman season. Despite OU's talented offensive additions and Mims' quiet nature resulting in the college football world overlooking him, Mims just goes on about his business.
"I think he'll be the quiet leader," Hooks said. "But not the vocal one. He'll be there quietly when (OU) needs a play. I think Coach Riley will look at the offense like, 'Where's No. 17 at?'