On third-and-13, late in a game against Keller High, Joe Jon Finley made his checks.
Finley, the starting sophomore tight end, was thrust under center after Arlington High's starting quarterback left with an injury. As he went through his pre-snap reads, he noticed the opposing safeties staying deep and the linebackers clearing out of the middle.
Before his head coach and father, Mickey, could call timeout, Finley showcased the innate football understanding that years later has him climbing college football's coaching ranks. He audibled into a quarterback sneak.
And then he ran 60 yards for a touchdown.
"He's got a good football mind," Mickey said. "A lot of our offense, we did a lot of pairing plays, and basically giving him a menu of plays to pick from, according to what they ran on defense. That was his strong point, was dissecting the defense and picking the right plays to run against you, and making that call on the field. We very seldom called a play that wasn't his play."
After growing up in a home dictated by football, Finley played tight end for the Sooners from 2003-07. After five years in the NFL, his love for the game compelled him to coach, beginning at the high school level alongside his brother Clint. Finley has since bounced from Baylor and Missouri to Texas A&M, helping tight ends reach the NFL everywhere he's been. Following his lone season as Mississippi's tight ends coach and passing game coordinator, he's now on to his next stop. A sharp offensive mind himself, he's looking to be sharpened by another.
Nearly 14 years since he played for the Sooners and nearly eight years since he was a graduate assistant at OU, Finley is returning to Norman to coach the position group he used to run with. Head coach Lincoln Riley announced Finley as associate head coach for offense, tight ends and H-backs on Jan. 19. Finley will also work with special teams and replaces Shane Beamer, who became South Carolina's head coach in December. At some point, Finley's likely to follow in Beamer's footsteps.
Finley's return to his alma mater makes him the fifth former Oklahoma player on Riley's staff. Former head coach Bob Stoops hired Calvin Thibodeaux and Cale Gundy, and Riley added Brian Odom and DeMarco Murray. Finley's arrival is also a touchdown logistically, as the Sooners land one of the top developers and recruiters of tight end talent in the country.
During his college career, Finley was a fan favorite and the total package at tight end, providing run blocking, pass protection and a large receiving target for his quarterbacks — passers like Paul Thompson, Rhett Bomar and Heisman winners Sam Bradford and Jason White. Since joining the coaching ranks, he's instilled the same versatility in all the tight ends he's taught. The expectations won't be any different at OU, where he inherits a talented room of Jeremiah Hall, Brayden Willis, Austin Stogner and Mikey Henderson.
On-field improvements aren't the only benefit of bringing on Finley, either. While he's committed to building better football players, he's equally committed to building better men, those who know Finley well say. Previously, OU's H-backs had a strong, friendly bond with Beamer. Finley's track record suggests the same connection between the new coach and his players is imminent. Friends and family say there aren't very many people who don't like Finley. He's made strong bonds everywhere he's gone during his football journey. He's transparent and authentic, developing natural relationships with everyone he meets.
From Jermaine Gresham and Mark Andrews to Trent Smith, Keith Jackson and Steve Zabel, Oklahoma has always produced talented tight ends, Finley among them. Now his job, like the trademark beard he pares down during the offseason before letting it blossom into full follicle fury, is to transform more players with raw talent into polished products like their predecessors. Like Beamer, Finley's poised to lead a program himself someday, but for now he's here to help OU's tight ends — a big part of the offense — become even better, while learning directly from Riley.
"'I've talked to him about jobs in the past and different avenues he could go with," Mickey said. "I think when (Riley) called him, I think you could see it in his eyes. He knew that was the right thing for him."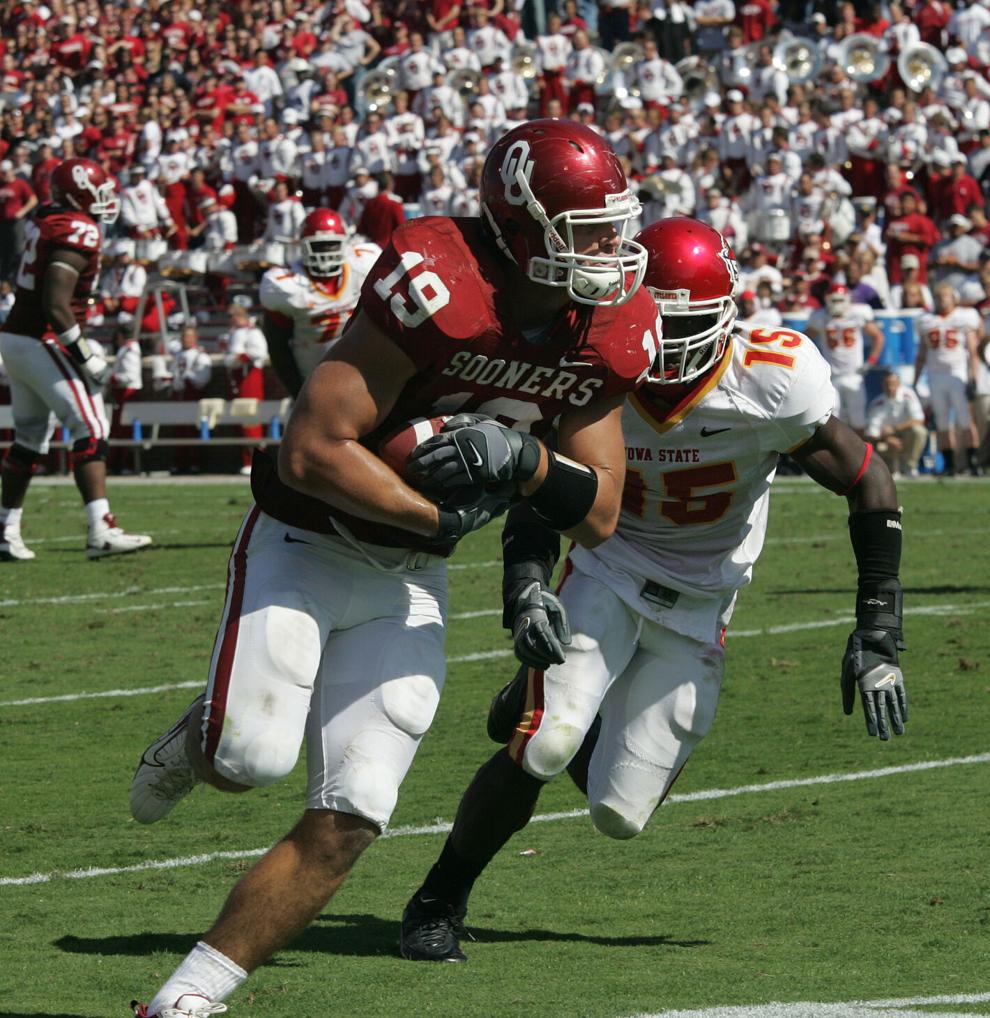 'Joe Jon did all three'
Growing up, Finley was always near football.
Mickey spent 38 years as a coach or athletic director. With stops at Texas towns Callisburg, Big Spring, Iraan, Cuero, and Arlington from 1985-2002, football dictated where the Finleys lived. Mickey said he and his wife, Patty, even chose the name "Joe Jon" because it "sounded like a football player."
Clint — who's eight years older than his brother — and Mickey recall young Joe Jon always being at the field or field house. Like a sponge, he'd soak up anything he could from his family, asking questions and learning as his father prepared for games. At Cuero, Finley was a ball boy for Mickey and Clint's team and would play games against other school's ball boys in his downtime.
"He was always right in the smack-dab middle of everything, watching and learning and imitating all the guys that he grew up watching," Clint said. "And he got to see a lot of really good players ahead of him. And he definitely made it a goal to be everything he could be, just like them."
Through junior high and high school, Mickey coached Joe Jon. As a senior quarterback, Finley threw for 1,626 yards and 12 touchdowns while running for 897 yards and nine more scores. Mickey's option offense was similar to Nebraska's under Tom Osborne and Frank Solich. Despite interest from the Cornhuskers — his brother's alma mater — Finley committed to Oklahoma as a quarterback.
But as a freshman in 2003, with White delivering Heisman football and Thompson as a steady backup, Finley's path to playing time was minute. He moved back to tight end, but weighed only 210 pounds and had to bulk up by eating constantly.
By his redshirt freshman season, Finley reached 234 pounds. In his redshirt junior year, he rose to 260. He caught just 20 passes for 244 yards and three touchdowns through his first two years of playing time, but when offensive coordinator Kevin Wilson began coaching tight ends in 2006, Finley's career took off.
He was one of the oldest in the tight end room as a redshirt junior, and also the most complete. Surrounded by underclassmen like Gresham and Brody Eldridge, he could collectively block, run routes and catch passes better than anyone else.
No contest better exemplified his multifaceted skills than Oklahoma's season opener against Alabama Birmingham in 2006.
Finley caught a 21-yard touchdown pass from Thompson that gave OU a 7-0 lead in the first quarter. Then with Oklahoma trailing 17-14 in the fourth quarter, he made the play many fans still remember him for.
Thompson swung the ball out to junior running back Adrian Peterson as UAB linebacker Orlandus King converged on the star tailback. Finley came from behind and crumpled King, springing Peterson for a 69-yard go-ahead touchdown. OU escaped, 24-17, and Finley's blocking helped Peterson run for 139 yards while Thompson threw for 227.
"I blocked, (Gresham) ran routes, and Joe Jon did all three," said Eldridge, who played for the Colts, Rams and Bears in the NFL. "When we were playing, he did a great job of that. That's why, whenever Wilson took over, we were able to do what we were able to do on offense, because Joe Jon could do all that stuff. When we had him and (Gresham) out there, they could run every formation we had because of his ability to run block and pass protect."
Finley caught 19 passes for 241 yards and three scores as a redshirt junior, then 23 passes for 290 yards and four scores as a redshirt senior team captain in 2007. His stats improved every season, and his 62 catches and 775 career receiving yards are still seventh among OU tight ends. He went on to play with the San Francisco 49ers, Detroit Lions and Carolina Panthers primarily as a special teams player.
'To be an NFL tight end'
After his playing career, Finley wanted to stay connected to football, but college coaching wasn't a certainty.
His first post-NFL job was as Clint's offensive line coach at Los Fresnos High School in 2011. Then from 2012-13, he was a graduate assistant at OU, but other college offers didn't materialize. He returned to Los Fresnos as O-line coach and strength and conditioning coordinator in 2014 at an early crossroads in his career.
"I think he pretty much kind of decided he was going to be a high school football coach, and he was fixing to start climbing that ladder," Clint said. "He had a family, and at the time, things weren't happening. Opportunities weren't happening quick enough, and he had a family to take care of. And he pretty much made a decision, I think, that 'Here we go, I'm gonna go down there with my brother and we're gonna get started with this deal.'"
As fate would have it though, Finley's second run at Los Fresnos lasted only one year. Baylor head coach Art Briles hired him as an offensive quality control analyst in 2015, rebooting his college coaching career.
He left Waco around the time the program's sexual assault scandal first broke, but those close to him insist he had no knowledge of the Bears' blight due to his role as an off-field analyst.
"He would never stand for that if he knew of any of it," Clint said. "But I can guarantee you he didn't know anything about it or he would have done what he had to do."
Ultimately, he parlayed his lone season at Baylor into a bigger coaching opportunity and the largest sample size of his success as a tight ends coach to date. Finley arrived at Missouri in 2016, where tight ends had just 33 catches for 179 yards and one touchdown the year before. Previously, the Tigers' tight ends were primarily used as blockers, lacking the route running and pass-catching talents that made Finley a complete player during his OU career.
When head coach Barry Odom — uncle of OU inside linebackers coach Brian Odom — hired Finley and picked up former OU quarterback Josh Heupel as offensive coordinator, the philosophy surrounding tight ends changed. Finley taught his players the versatility he showed as a Sooner and they became a prolific part of Missouri's offense.
In 2016, the Tigers' tight ends caught 50 passes for 566 yards and five touchdowns. In 2017, they had 40 grabs for 687 yards and an FBS-leading 15 scores. And in 2018, they made 72 snags for 707 yards and nine touchdowns.
Despite the increased proficiency at route running, Finley's position group was still strong at blocking, too. Missouri never garnered less than 193.5 rushing yards-per-game or 279.3 passing yards-per-game while Finley was in Columbia, after averaging just 115.4 on the ground and 165.5 in the air in 2015.
Tight ends Jason Reese, Kendall Blanton, Sean Culkin and Albert Okwuegbunam all made it to the NFL after playing under Finley.
"Things that I would never have known that for me now, being in year five (in the NFL), I use day to day, like this is what it is to be an NFL tight end," said Culkin, who played for Missouri from 2013-16 and has since played for the Los Angeles Chargers and Baltimore Ravens. "But he was kind of showing us then, and that was something that gave us a competitive advantage, I think. And you can see with his tight end groups, he's producing tight ends that all go to the NFL everywhere he goes, and it's pretty cool to see that."
Since leaving Missouri, Finley coached Texas A&M tight end Jalen Wydermyer, who caught 32 passes for 447 yards and a team-high six touchdowns, becoming a Freshman All-American in 2019. Then in 2020, he helped Mississippi tight end Kenny Yeboah to 27 catches for 524 yards and six touchdowns, and an SEC-leading 19.4 yards-per-catch in eight games.
Yeboah is projected as a fifth-round pick in the 2021 NFL Draft, according to NFL Mock Draft Database. Wydermyer has the potential to be a 2022 selection.
Finley also showcased a growing recruiting prowess while in Oxford. He flipped No. 1 2021 tight end prospect Hudson Wolfe the day after he decommitted from Tennessee.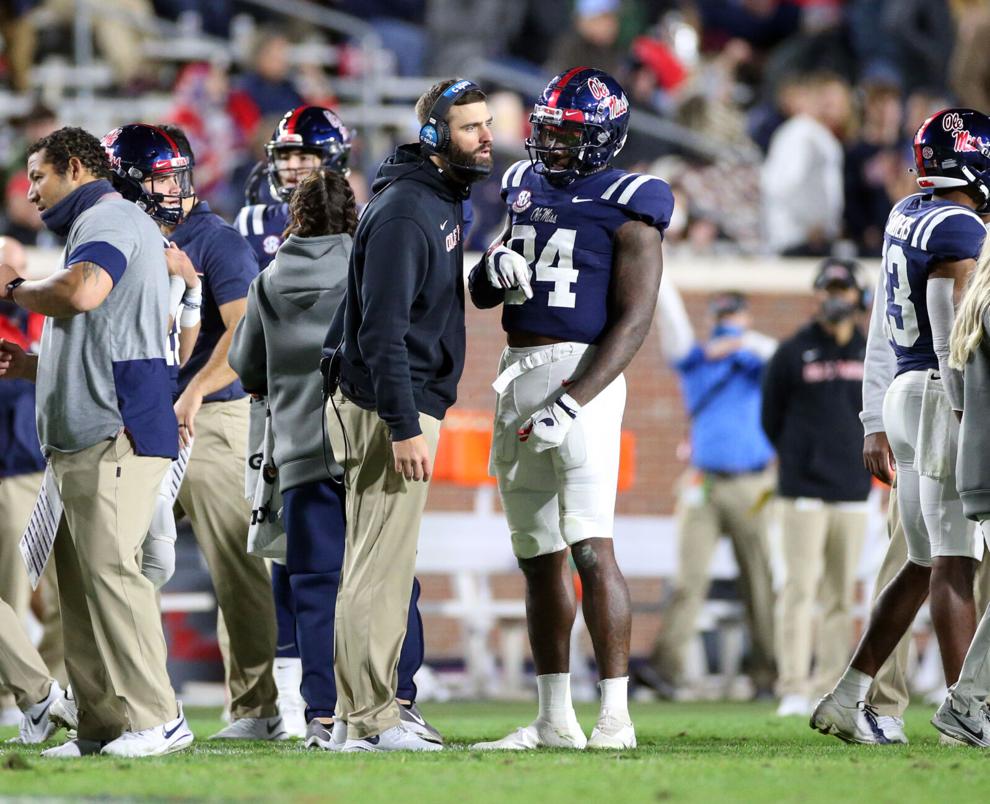 'He's gonna make you your best'
Among Finley's most notable features is that bushy beard. It accentuates the gap-toothed smile and deep Southern drawl gracing his imposing 6-foot-6 frame. 
Many with a whiskery forest like his would be heavily invested in manicuring products. But he doesn't spend much time pampering it. Those familiar with his facial hair-care regimen say it's completely natural.
At 35, Finley is the youngest coach on Riley's staff after the 32-year-old Murray. As if he were an inactive player, he often wears sweats and a hoodie on the sideline during practice, while running around and making noise to fire up his tight ends.
He pushes his players to be better in every aspect of the game. He uses football as a teaching tool to prepare his guys for life beyond football. And his experience as a tight end at the highest level makes him easily relatable to his players.
"He understands what it's like to be to be in their shoes," said Illinois defensive coordinator Ryan Walters, who played against Finley at Colorado and coached with him at OU and Missouri. "And then he holds them accountable too. He's not afraid to tell them when they're wrong, and motivate them, and he's gonna be supportive of them both on and off the field."
Though most believe he's bound to become a head coach someday, for now, Finley's looking to leave his mark at Oklahoma. He'll foster great rapport with his tight ends and special teams, and he'll do it — just like he wears his beard — naturally.
In fact, he's already gotten a head start. Less than 15 minutes after Riley's hiring of Finley was announced on Twitter, Stogner responded, welcoming his new coach and saying "Let's go to work!" Finley's response was an excited "Let's play!!!"
Let's play!!!

— Joe Jon Finley (@JOE_JON_FINLEY) January 19, 2021
Finley already made his first recruiting moves in his new job on Monday, too. Initially, he offered 2022 tight end Oscar Delp, a four-star prospect out of Georgia. Then he displayed his range, extending an invitation to 2022 three-star Nebraska tight end Kaden Helms. Finally, his third offer of the day went to 2022 four-star prospect Jaleel Skinner in South Carolina.
Beamer was near to the hearts of his H-backs. Yet, the transition to Finley should be smooth and effortless for coach and players alike. He'll help Oklahoma's tight ends become better players and men, and as Beamer was, he'll be their coach and their friend.
"You're going to feel comfortable with Joe Jon very quickly," Culkin said. "I know people that will go their whole career having resentment and hating their coach. But I would bet to say that any player that has played for Joe Jon, that never even stepped foot on the field because he wasn't good enough, probably has a ton of respect and comfortability with Joe Jon.
"Look at his track record. It's hard as a kid to not deny that, because there's gonna be a lot of coaches that maybe aren't trustworthy and are saying those things, but they can't back it up. Joe Jon's gonna be who he is and he's gonna make you your best."