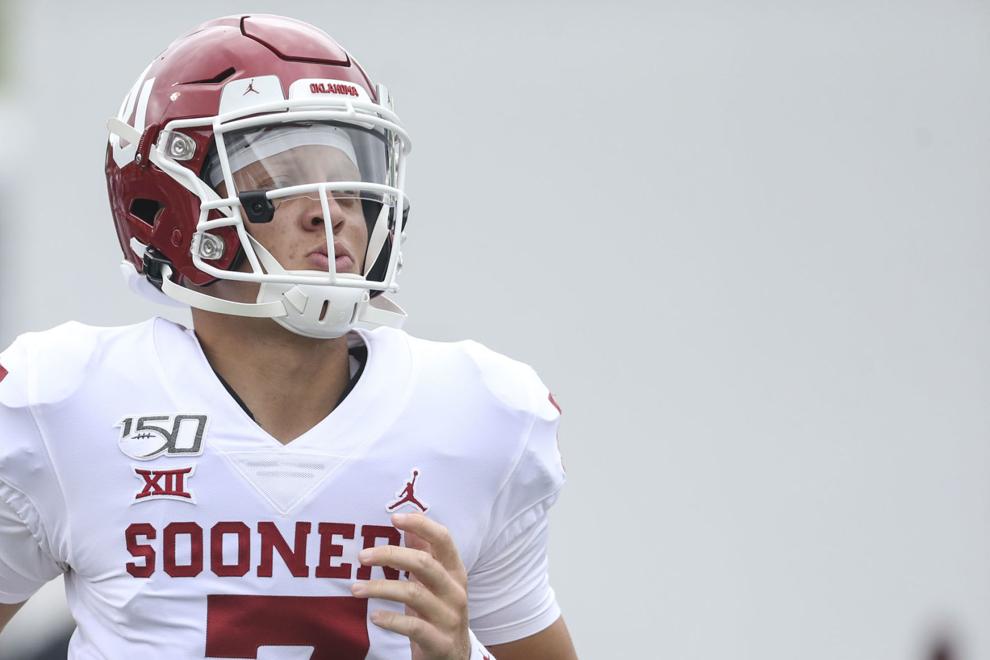 The night before returning to Norman for summer workouts ahead of the biggest season of his life, Spencer Rattler returned to his roots. 
Oklahoma's quarterback traveled 20 minutes southeast from his Phoenix home on June 4 to Scottsdale Ranch Park, where a few hundred children waited. They were all participants in "Friday Nights, Under the Lights," a recurring offseason camp of the Scottsdale Firebirds Youth Football program.
Founded in 2008, the Firebirds are a storied kids tackle organization, having won 20 state titles and several national awards while producing 65 current Division I college players. Club coordinator and coach Matt Frazier isn't shy about calling it the nation's best youth football program.
Rattler, the pride of the Firebirds from upper elementary school through junior high, has returned each of the past six summers. He coaches and encourages campers on the same field where his Firebirds career began. By Frazier's design, he pays his experience forward to players hoping to one day match his footsteps.
At this year's event, per Frazier, Rattler sat before a microphone as campers rapidly fired 10 questions in one minute to the greatest Firebird of all time. One attendee quickly addressed the elephant in the room — the Heisman Trophy, which Rattler is a frontrunner to win in December. Seven other Sooners have claimed the award for college football's most outstanding player, including Rattler's predecessors Baker Mayfield and Kyler Murray in the past four years. 
The gist of Rattler's reply? "Great, if it happens." It took another question to reveal his real prize.
"What's your goal?" another camper asked, and there was the moment of truth. 
"To win the national championship," Rattler announced. 
Then, "Describe yourself in two words." 
"Confident and committed," Rattler responded.
Frazier had seen that moxie before. It reminded him of when he approached a 12-year-old Rattler in the huddle with one minute left in their state championship game. The coach had drawn up a quarterback counter fake — a play his young passer had never run, which required him to sell the defense on a handoff before keeping the ball and running. Despite the challenge, little Rattler mustered the outsized confidence now ascribed to the likes of Mayfield and Patrick Mahomes.
"I got this, coach," he told Frazier before executing the play, scoring and winning the state title by one point, securing one of his four Arizona youth championships as a Firebird. 
Nearly nine years later, Rattler's conviction lives on in socks that read "I got this," which Frazier fashioned for all his current Firebirds. That night at Scottsdale Ranch, more football attire took on greater symbolism, as Frazier presented Rattler with a framed Firebirds jersey, and revealed the organization is retiring his No. 7. Rattler's father Michael and sister Olivia surprised him by attending the impromptu induction. While the Firebirds boast notable alumni like Arizona Cardinals receiver Christian Kirk, Rattler's number is their first retired.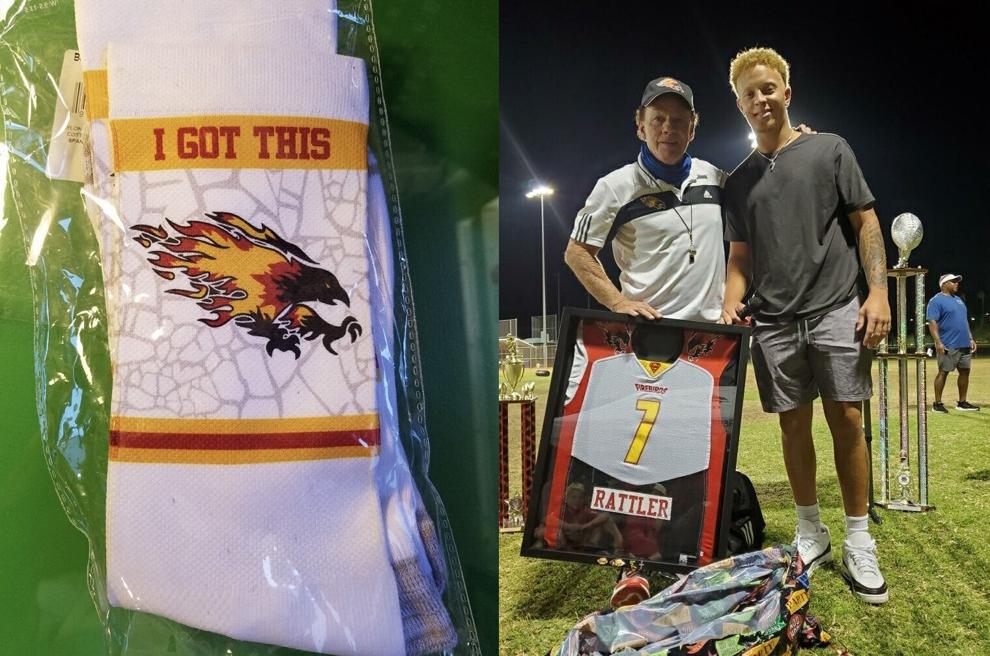 "I don't keep real detailed stats, but I know that there has never been a quarterback — probably in high school, and certainly in Arizona youth football — that accomplished what that kid did," Frazier said. "He made everybody better and he made us all proud."
After becoming 2012 United Youth Football League Player of the Year, Rattler followed his Firebirds career with four years of stardom at Pinnacle High School, where he set Arizona records for passing yards and touchdowns. He became a High School All-American and a highly coveted prospect who'd gained national attention before arriving at OU in 2019. There, he was briefly usurped from starting by graduate transfer Jalen Hurts in his first season before claiming the starting job in his second. 
Now, Rattler enters his redshirt sophomore season with enormous hype as the Heisman favorite who could be the first pick in April's NFL draft. He also stands to benefit as much as anyone in college football from new name, image and likeness powers. But more than acquiring awards and signing lucrative contracts, Rattler is committed to winning the national championship — which would be OU's eighth and first since 2000 — he and those in his inner circle say. 
Amid a crucial offseason, Rattler has trained to become, as he put it during spring practice, "the most unstoppable quarterback" in college football. From calisthenics with his adept fitness trainer to throwing sessions with his longtime quarterback guru, he has been maturing physically all summer. Rattler has always exhibited confidence, but he hasn't always held it together like the 12-year-old wunderkind fighting for a state championship. A high school suspension, a brief college benching and some regrettable screen time bear his struggles out.
Over the past eight weeks, however, eight interviews with those close to the quarterback indicate Rattler is prioritizing his mental maturity, too. He has focused on increasing his leadership at OU and looking out for others in Norman, Arizona and abroad. This is the story of Rattler's maturation in full, as he looks to put everything together and do what Heisman winners Jason White, Sam Bradford, Mayfield and Murray could not do — win the national championship for Oklahoma. If he can pull off what they couldn't, he'll not only etch his name in school history, but also provide a significant boost to the Sooners' looming entrance in the Southeastern Conference. The Heisman Trophy, heightened NIL earnings and the top selection in the 2022 NFL Draft are plausible personal rewards. 
Like the left leg tattoo Rattler has featured in recent social media posts states, "N:OW" is the time for him to prove he has "got this."
'We looked like a scout team that night'
---
From the home side at Jones AT&T Stadium in Lubbock, David Yost watched as Rattler dismantled Texas Tech's defense, making any throw from anywhere with perfect finesse and command. Then the Red Raiders' offensive coordinator, he had witnessed a similar performance from Rattler before. 
Previously, Yost spent the 2016 season as Oregon's quarterbacks coach after a three-year stint at Washington State. At the time, class of 2016 prospect and future Los Angeles Charger Justin Herbert was the Ducks' successor under center. 
Upon arriving in Eugene, Yost's charge was evaluating Herbert's heirs. He visited Arizona in January, but didn't happen upon Rattler, who'd just finished his freshman football season and begun basketball. Yost returned to the desert that spring to watch Oregon commit Ryan Kelley, a four-star 2017 recruit from Basha High. This time, he also ventured to Pinnacle for a peek at Rattler, who around that time was offered a scholarship by Lincoln Riley, then Oklahoma's offensive coordinator. 
Yost was quickly impressed by the young quarterback, two years Kelley's junior. The velocity and spin on Rattler's ball plus his footwork, athleticism and ability to throw from multiple arm angles indicated he'd be one of the nation's top passers in his class. 
A third visit solidified that notion. During Rattler's sophomore season, Yost attended a weeknight practice and was astounded. Rattler threw with pinpoint accuracy even outside the pocket, on the run and in uncomfortable positions. Yost also noted how catchable Rattler's throws were — timed perfectly, tailored to each receiver and delivered with masterful touch beyond his age. 
When defensive drills began, Rattler kept calling his receivers by name and slinging more reps as he jogged off the field. By Yost's count, Rattler made close to 300 passes that night. Only five or six fell incomplete.
"I went to watch Trevor Lawrence throw. I hung out for three days with (Tua Tagovailoa) in Hawaii when I was at Oregon," Yost said. "I've seen all these guys, and (Rattler's) probably the best I've ever seen as far as just consistently accurate, throwing such a catchable ball, and it's so easy for him."
Despite the allure, Yost never offered Rattler a scholarship. After Kelley decommitted from Oregon in May, Yost spent his remaining Ducks tenure chasing a replacement 2017 quarterback before he was fired that November.
After landing at Utah State, Yost bumped into Rattler a fourth time during his junior season while scouting a Pinnacle offensive lineman. "Yo, I don't hear from you anymore," the quarterback quipped. "You thinking about coming to Utah State?" Yost joked. Both knew the answer, but they'd meet again nonetheless.
Following two seasons with the Aggies, Yost arrived at Texas Tech in 2019, and the Red Raiders traveled to Norman that September. He reunited with Rattler on the sideline before the Sooners' backup relieved Hurts for one series in the twilight of a blowout win. By the teams' 2020 meeting Rattler was the starter, and Texas Tech's defensive plan was little more than hoping he would keep struggling like he had sporadically against Kansas State, Iowa State and Texas beforehand. OU had barely held on against the Longhorns after losses to the Wildcats and Cyclones — games in which turnovers and missed tackles were plentiful.
Instead, a rejuvenated Rattler coming off two-straight wins played possessed that evening, having told his teammates the night before, "It's time for us to go out and embarrass somebody." Bolstered by a strong running game, he deftly dotted 21-of-30 passes for 288 yards and two touchdowns, and OU blasted the Red Raiders 62-28.
"The bad thing was that it looked like that practice I was at that night where he threw all completions all the time to everybody," said Yost, who was fired by Texas Tech in December. "By the time we played (OU) where he kind of got rolling, he wasn't making any bad decisions at all. He was attacking and we looked like a scout team that night against them."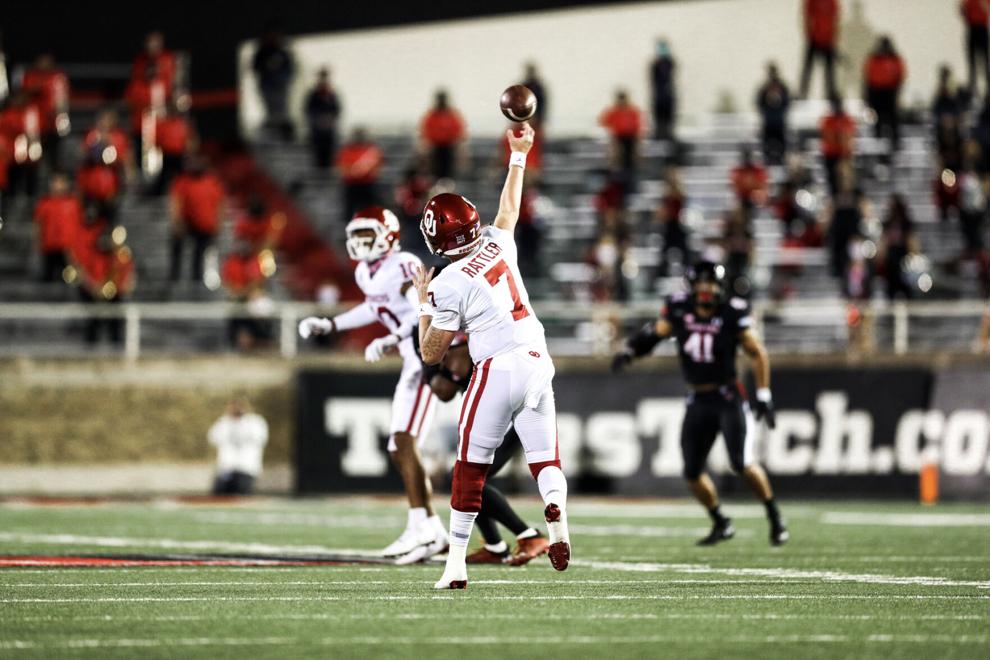 Rattler could've added two more scores had receivers not dropped a pair of precision throws. Nevertheless, one touchdown pass he completed stood out. Early in the second quarter, Rattler faked the handoff, feigned a throw to his left and rolled back to his right. Spying H-back Austin Stogner downfield, he didn't bother to set his feet before uncorking a spiraling 27-yard strike through heavy endzone traffic.
Pretty pass from @SpencerRattler 😍@OU_Football is running away with this one after taking a 35-7 lead with 12 minutes left in the first half! pic.twitter.com/ajoztpPhxa

— FOX College Football (@CFBONFOX) November 1, 2020
Former Oklahoma running back Spencer Tillman, the color analyst on that night's broadcast, quickly recognized the off-balance feat. "Most quarterbacks have to get set," he said. "Patrick Mahomes is the only other guy I know that can do this from a standing position."
It's fitting Tillman compared Rattler to the former Texas Tech gunslinger who on the same turf threw for 734 yards and five touchdowns in a 2016 duel with Mayfield. Now an NFL MVP with Kansas City, Mahomes is still the Rattler blueprint to many, including former Firebirds coach Bill Phaturos. 
"He looks like him, he walks like him (and) he throws like him," Phaturos said. "Obviously, Patrick's the highest paid player (in the NFL). He has a lot to go to live up to Patrick, but he has the ability. It's hard to compare anybody to Patrick Mahomes in college. You've gotta make your way and earn that. But I think his arm's just as good."
Phaturos noticed Rattler's throws just sounded different, emitting a faint pssss or whoosh upon release in eighth grade. It was then, during his final youth season, that Rattler easily discharged a 60-yard touchdown pass in the state championship game, hitting his receiver in the back of the end zone from beyond the 50-yard-line. Such plays weren't uncommon for Rattler, whose natural arm talent, like Mahomes', creates new pages in his team's playbook.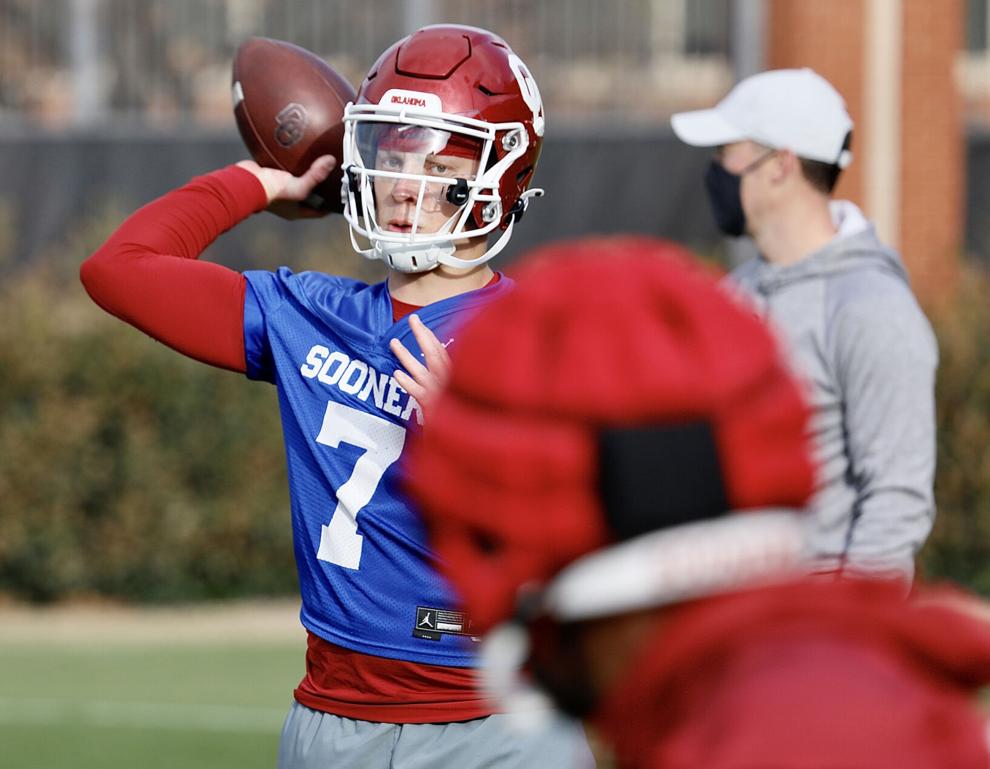 'This kid is a workhorse'
---
When Rattler was in upper elementary, Phaturos alerted his best friend Mike Giovando to the child's innate gifts. Giovando, who Firebirds coaches call "the quarterback whisperer," has been instructing quarterbacks for over 20 years, even venturing to India and Switzerland to teach. Frazier calls him "the best quarterback coach in the country" and refers all Firebirds passers to his Elev8 QB Academy. Giovando is largely responsible for Arizona's hotbed of quarterback talent, and Rattler is among his most accomplished disciples.
Our guy @SpencerRattler ready for big things this season. @elev8academy @quarterbackmag @KevinMcCabe987 @_coachduck pic.twitter.com/qNqnDxtf7F

— Mike Giovando (@Elev8QBacademy) May 22, 2021
All the while, Giovando has maintained a penchant for drills some consider unorthodox. This summer, he briefly trained incoming Minnesota freshman Athan Kaliakmanis, who during workouts told Giovando, "I've never done any of this stuff." He wasn't the first to say that.
Rattler worked out with Giovando two to three days a week this summer, reinforcing old tricks and learning new ones. First and foremost, Rattler rarely trains with his longtime coach alone. Some quarterback instructors prefer private lessons, but this summer Rattler threw next to Purdue's Jack Plummer, Cal's Kai Millner and San Diego State's William Haskell, among others, as Giovando recorded and gave feedback.
Rattler also spent a 100-degree day throwing with OU teammate Tanner Schafer to former Sooners tight end Mark Andrews, a Scottsdale native now with the Baltimore Ravens. Rattler previously trained with NFL veterans Colin Kaepernick and Tyrod Taylor as a youth.
good work today in that AZ sun with the guys today!💯 pic.twitter.com/IcEYfAvZ1h

— Spencer Rattler (@SpencerRattler) May 28, 2021
"We don't come out here and do private workouts because that's not going to help him," said Giovando, who pushed Rattler to throw with varsity passers in seventh grade. "He's got to get around the other guys, plus the energy's better when there's more guys and there's that competitive feeling. … We've always done it this way, and I just think it just creates a better vibe and it creates a competitive atmosphere."
Rattler practices deep throws to sharpen his touch in each session. While that's typical of quarterback workouts, Giovando teaches other manifestations that aren't. He puts his quarterbacks in uncomfortable positions, throwing off balance, to the receiver's back shoulder or on the run from different arm angles. It all enhances Rattler's escapability —  which some say makes him the perfect hybrid of Mayfield and Murray —  and ability to tuck the ball and run when needed.
In one drill, Giovando forces his quarterbacks to keep their non-throwing hand on their chest as they pass, increasing ball control and downfield accuracy. In another, he puts the player behind a soccer goal and has them throw over the top to emulate a high release that won't be tipped. Then they work underneath the goal, simulating intermediate throws to shallow crossing receivers.
Some throwing begins with the receiver's back turned. When the quarterback rolls out, a call is given to the receiver and he must come out of his break and find the ball. While it benefits the pass catcher, it also teaches the passer to anticipate where to hit his man without making eye contact with his target. 
In addition, Giovando teaches how to read defenses quickly, while shooting minuscule throwing windows most other quarterbacks can't hit. Since Rattler was in seventh grade, his coach has repeatedly preached one principle: "They can't defend what they can't see."
Rattler has a special knack for timing throws to when defenders turn their heads. When Texas Tech broke down Rattler's game film before their matchup, Yost noticed Rattler's able to throw the ball over the defense better than anyone.
Combined, Rattler's strengths help him stand out among other college quarterbacks. Even so, he's always looking for an additional edge. In the weight room at Elite U Training in Scottsdale, he worked tirelessly over the summer with Rube Oliver, his fitness trainer since high school.
Oliver communicates regularly with OU strength coach Bennie Wylie to keep Rattler on track for everything he hopes to accomplish in Norman. Their workouts are proprietary and paired specifically to Rattler's strengths and limitations. Oliver also provides consistent mental coaching, approaching every rep like it's third-and-14.
"This kid is a workhorse," Oliver said. "He'll work his tail off, and then he'll do extra reps. It's just a testimony to his willingness, and his effort and his focus to just be a dominant level athlete."
what's an off season? #LOCKedIN pic.twitter.com/msyF34HkB9

— Spencer Rattler (@SpencerRattler) June 2, 2021
In throwing with Giovando, Rattler focused on his lower body mechanics. Critiques of his delivery are few and far between, but he does occasionally minimize his power by lifting his back foot off the ground early. Giovando's main instruction this summer was for Rattler to fire his hips more before releasing the ball, uncoiling more full-body strength and creating better arm efficiency.
"He has such a good arm talent that sometimes he can forget about the lower half and just throw it since he's got such good control of the ball," Giovando said. "But he's always wanting to get better … he's just focused on winning games, trying to get that national championship for Oklahoma, and we always say, if you take care of that stuff on the field, then the Heisman stuff, that's gonna take care of itself."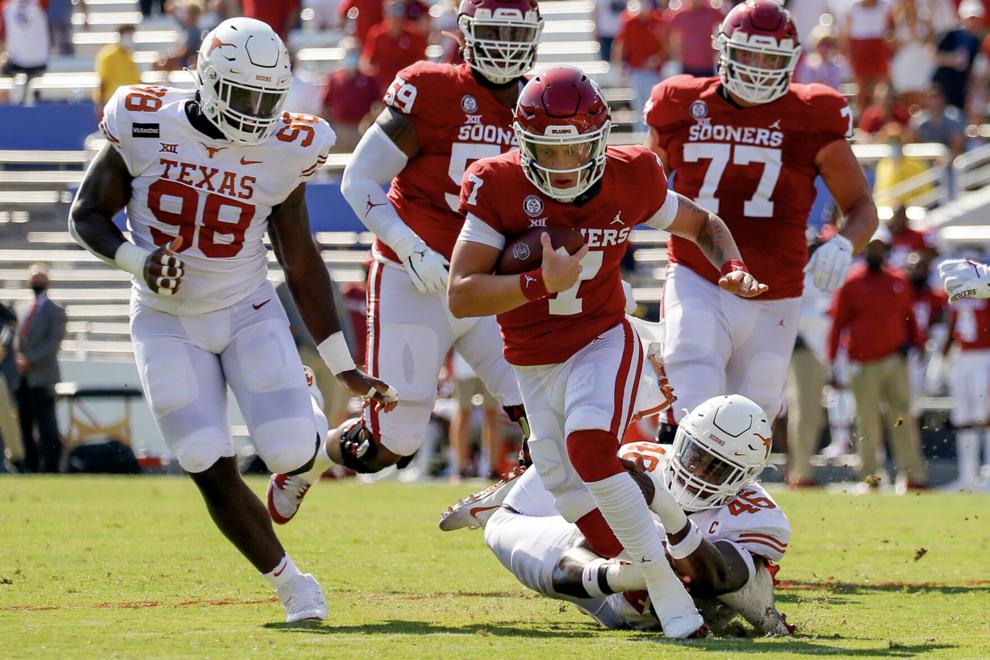 'A more mature Spencer on the field'
---
Rattler has come a long way since accepting the high school Heisman while telling OU assistant coach Cale Gundy he'd see him at practice soon. Gundy has long kept an eye on Rattler, examining tapes of his training with Giovando since his high school sophomore year. After Rattler's senior year at Pinnacle, Gundy introduced him at the 2019 National Quarterback Club Awards in Scottsdale, where he was named co-High School Quarterback of the Year.
Oklahoma's co-offensive coordinator and inside receivers coach, Gundy is a former Sooners quarterback himself. A team captain his junior and senior years at OU and a coach for 27 years, he knows plenty about leadership and maturity. While, according to Riley, Rattler didn't attend Big 12 Media Days this summer because of his youth, he's undoubtedly expected to be a crucial voice for OU this fall. 
"He's going to be one of the leaders of this team because he's a quarterback at the University of Oklahoma," Gundy said during spring practice, slipping as he spoke and hinting Rattler could be a team captain. "There's great responsibilities there. … I can see some of the change in him from last fall to this spring where he's trying to step up and take more responsibility."
When Rattler received the top high school quarterback award from Gundy, he expected to compete for OU's starting job in wake of Murray's NFL departure. Instead, Rattler spent his first college season sidelined, learning from someone else who saw him receive his national accolade. Hurts was also at the National Quarterback Club that day, splitting the college award with Alabama teammate Tagovailoa, although he'd declared his transfer to OU three days before the ceremony.
While playing in three games as a freshman, Rattler saw Hurts, the former Crimson Tide national champion, become a Heisman finalist and lead the Sooners to their fourth College Football Playoff berth in five years. That peer-to-peer mentorship was something Rattler lacked in high school, where he was forced into starting as a freshman after Pinnacle's junior quarterback quit the team.
"I think that sitting behind Jalen was definitely a positive for him," said Michael Rattler, who's in banking while his wife Susan is a teacher. "He got to see a kid who was a little older, who's probably a little more mature, and just watch how he conducted his business. … I think that he and Jalen formed a friendship that they'll have for a lifetime, and he'll have a mentor that he can call on, hopefully, at any time."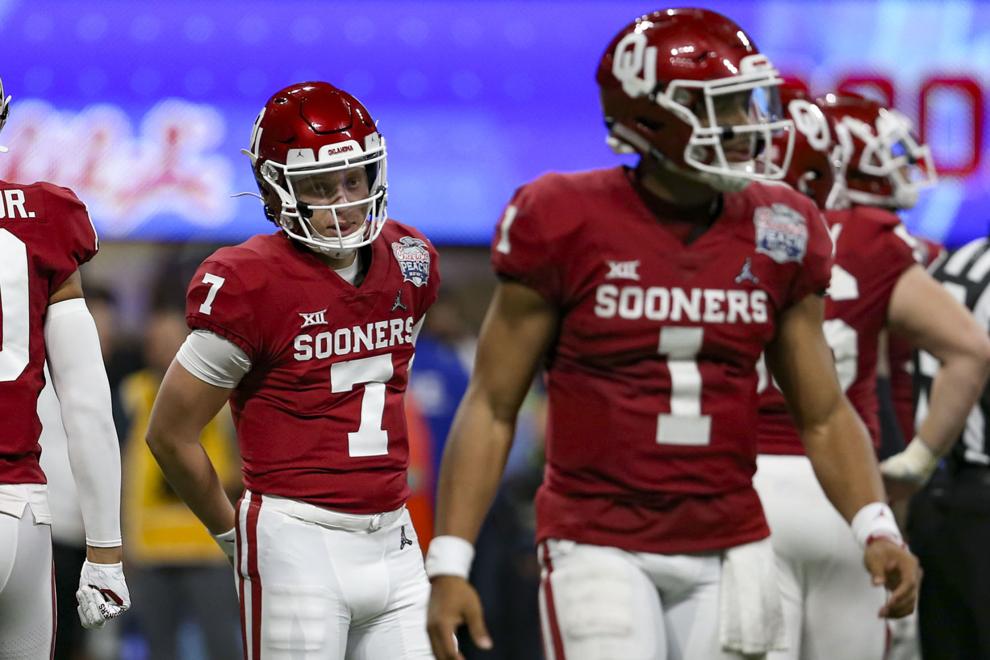 Hurts' departure for the NFL gave Rattler the keys to Riley's offense last fall, and he looked ready after throwing four touchdown passes in the first half of his first start. He unloaded for 300 yards or more each of the next two games, but he lacked the polish of Mayfield and Murray, and his mistakes proved costly. 
Rattler tossed three interceptions during Oklahoma's 38-35 loss to Kansas State as the Sooners' defense folded in the second half. One week later, frustration boiled over when he delivered the game-sealing pick in OU's 37-30 loss at Iowa State, handing the Sooners their worst conference play start since 1998.
TV cameras caught Rattler after his final throw was intercepted amid questions of a missed holding call. A prodigy become a work-in-progress, Rattler's anger toward recent struggles exacerbated into three words of rage-fueled self-questioning: 
"What the f---?"
About sums it up #Sooners pic.twitter.com/nE8TTWYyHO

— Morgan Beard (@morganbeard) October 4, 2020
Even then, Rattler hadn't reached his lowest point. One week later came the Red River Showdown, the rivalry legendary OU quarterbacks must win consistently, where Texas induced a Rattler interception and fumble on consecutive possessions in the second quarter. Riley benched his starter for three offensive series, favoring backup Tanner Mordecai, who has since transferred to SMU. In the second half, Rattler returned hungrier, sharper and more composed and led the Sooners to a classic four-overtime victory against their chief rival. An off-platform touchdown pass to Drake Stoops and a well-placed two-point ball to Theo Wease sealed Rattler's comeback.
Riley revealed nothing particular when asked what he told Rattler on the sideline, while Rattler said his coach told him to take a break and he'd be back out. Most concur it was a clear-your-head breather and not a punishing timeout, although Pinnacle coach Dana Zupke said he has his suspicions about the conversation. Rattler's current and former coaches all consider the benching and comeback a pivotal moment in his season. 
His father sees it differently, having watched him in similar situations. As a high school sophomore against border rival Horizon High, Rattler threw an interception and struggled through a scoreless third quarter before rallying to win 43-42 on the road in overtime. 
"I think people have made a big deal out of that, and I just think that I didn't even bat an eyelash because I knew that he would be able to rebound from whatever," Michael said. "That's what he's done his whole career since he was a kid, so I didn't worry about him being able to perform, and then I wasn't surprised when we came out and came back and battled and did overtime and the whole nine. He's always been best in overtime so I knew if we got to overtime, we'd win."
Regardless of how the Texas benching is perceived, Rattler was different afterward. Following six turnovers in his first four games, he made only three in the next seven contests while leading Oklahoma on an eight-game winning streak to finish the season.
"Spencer's got, as we all know, some of the most incredible moxie. It's part of what makes him so good, but it also can be a flaw at times where he thinks he can make every throw at any time," Zupke said. "I think Coach Riley's done a fantastic job of kind of reeling that in and getting him to know when it's appropriate and when it's not. Last year after that Texas game, I just saw a different Spencer, a more mature Spencer on the field."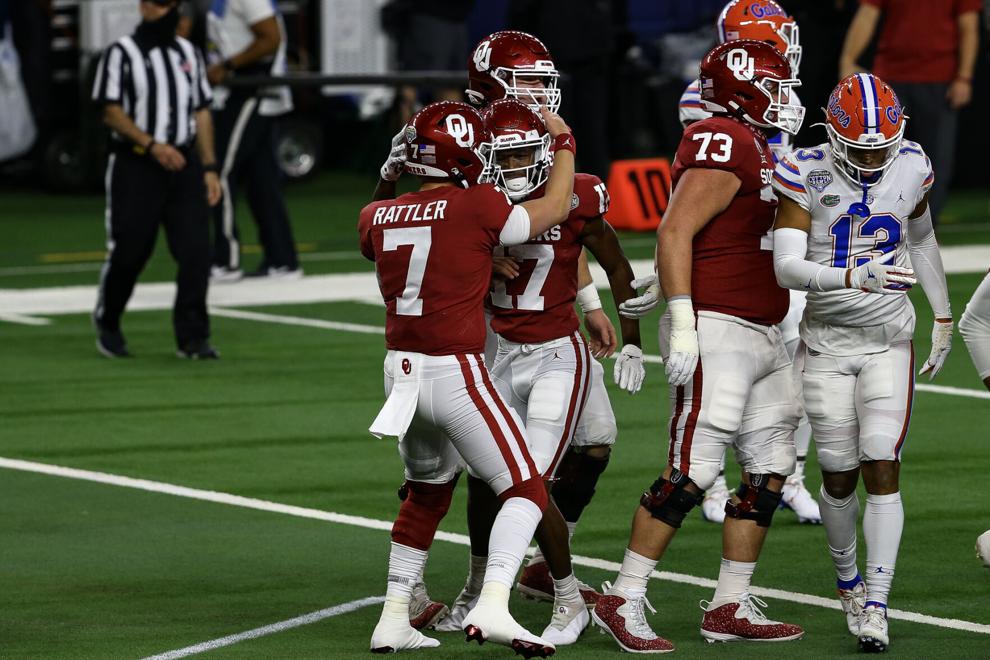 'Do you elevate the people around you?'
---
Malik Zaire has seen Rattler at some of his highest highs.
When Rattler was fresh off a junior performance of 45 touchdowns and around 4,000 passing yards, Zaire arrived in Phoenix for winter training with Giovando ahead of the 2018 NFL Draft. The former Notre Dame and Florida quarterback quickly bonded with the younger Oklahoma commit.
Their friendship led to exploits beyond quarterback training like trick shots and viral videos. During his time near Rattler, Zaire was also a host for multiplatform sports show Overtime, which featured him and Rattler in a couple episodes.
In one, Rattler navigated an obstacle course, answered questions about his personal life and recruitment and threw footballs into trash cans blindfolded, among other tasks. But the peak of his and Zaire's Overtime exploits occurred months before he came to Oklahoma on a literal mountaintop — Tempe Butte at Arizona State's main campus — where Rattler attempted to throw footballs into a trashcan 1,495 feet below. For comparison, the highest perch at OU's Gaylord Family Oklahoma-Memorial Stadium is slightly less, measuring 1,165 feet.
Rattler and Zaire expected they'd need four or five hours to accomplish their goal and hired help to retrieve footballs from the ground below. Instead, Rattler needed just 10 minutes, splashing the difficult shot on his eighth attempt.
😰🤯...#SCTOP10 @overtime @espn pic.twitter.com/P4p6PcarDN

— Spencer Rattler (@SpencerRattler) April 11, 2019
"He's a Hollywood quarterback, it's just what it is," said Zaire, who now coaches high school football in Los Angeles between appearances as a college football analyst for CBS Sports. "He's got Johnny Manziel charisma, so he's gonna toe the line. But that's why people fall in love with him just like they did (Baker Mayfield), just like they do all the edgy quarterbacks."
The mountain video has over 400,000 views on Overtime's Instagram and over 400,000 more on Rattler's Instagram and Twitter combined. Zaire still watches it often and said he thinks it should've blown up more. Regardless, the moment and the months that surrounded it showed the growth Rattler needed to make mentally to keep pace with his physical prowess.
Ahead of Rattler's senior year, the Netflix series "QB1: Beyond the Lights" went to Phoenix, following the Pioneers' star for 10 episodes. It didn't air until Rattler had already arrived at Oklahoma, but some content captured during his last high school slate wasn't flattering.
In episode four, Rattler, a team captain, blamed backup and former Michigan commit JD Johnson's lack of mental toughness after they lost a competition to the defense in practice. Rattler then missed two weeks with an ankle injury before returning against California's JSerra Catholic, a national powerhouse, in episode six.
Rattler proceeded to trash talk his JSerra opponents throughout the game before struggling in the fourth quarter of a loss. He quickly brushed it off, telling his teammates, "We're still winning state," afterward, but the season took a turn for the worse.
Zupke informed his team Rattler wouldn't play against Chaparral in an ESPNU-televised game, with Rattler later blaming an MCL sprain for his inactivity. After the Chaparral game, news broke that Rattler was suspended for the remainder of the season for an unspecified violation of the school district's code of conduct. His family has preferred to keep it a private matter, other than his father acknowledging it wouldn't appear on his record. Rattler himself called it "a childish, dumb mistake."
"When I first had my conversation with Spencer, he was devastated," Zupke said. "We all were and it was really unfortunate. I'm really big on teachable moments, and at the end of the day, that's what it ended up being. … We get so caught up on chasing championships and trophies, and there's nothing wrong with striving for those things. But we're also supposed to be learning things about life and that was a big life lesson for Spencer in particular, but it was also a life lesson for our program and for our kids."
Sidelined for the season's remaining four games, Rattler supported Johnson and his teammates. The Pioneers finished the season 11-2, losing in the state semifinals to a team they'd previously beaten. The coveted championship eluded the grasp of the player who once told his coach, "I got this."
While Rattler's punishment is his lowest low, Zaire said the response is his favorite story in the young quarterback's journey.
"I just think that situation showed that he's got enough edge and he's got enough talent where he could shake off adversity and still be able to go in and do his business," Zaire said. "I mean, he's a kid that doesn't waver too often. … He rubs some people the wrong way, but when you're playing quarterback at a high level, (confidence), in my opinion, is what you need. I always knew Spencer was going to be good based on attitude alone."
Ask anyone in Rattler's inner circle and they'll admit his confidence can be mistaken for arrogance, but none have ever questioned his character. All his coaches say he's respectful, Phaturos particularly appreciating how his former pupil kindly treated his son Zak, the Pioneers' third-string quarterback during Rattler's senior season.
Frazier believes Rattler doesn't have "an ounce of arrogance in him." That's why it has been an easy choice to bring Rattler back to camps regularly, and to retire his jersey number this summer.
"We wouldn't have done that on accomplishments alone," Frazier said. "My litmus test for an athlete is not touchdowns scored or thrown (or) how many games you win. My litmus test is, do you elevate the people around you? And that's what Spencer does."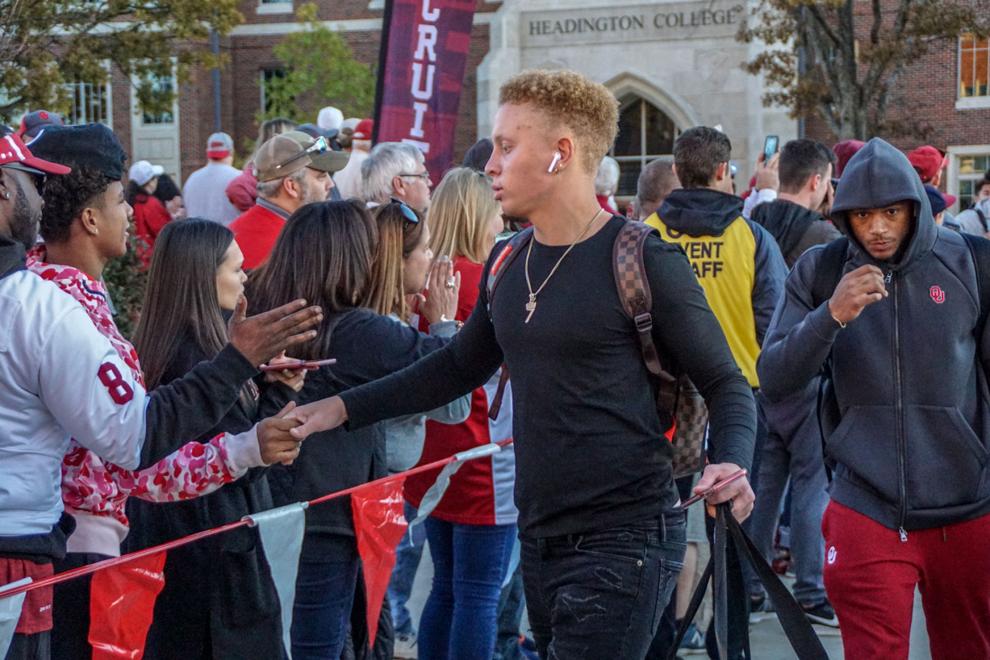 'He's always had a big heart'
---
His retirement ceremony over, a shocked Rattler lingered at Scottsdale Ranch for over an hour, taking pictures and autographing anything from water bottles and shoes to even baby carriages.
"That's where I know the maturity level is — he's not thinking about himself," Giovando said. "He's thinking about others and the other people that are there who want to at least shake his hand, or get a picture or maybe ask him a question, so there's good growth. He's always been like that, though, but that was pretty impressive, just the way he interacts with everybody. I think he's got a very level head."
In the early offseason, Rattler enjoyed considerable luxury and relaxation. He spent a few days in California with his girlfriend and also bought a dog. For a short time, his Instagram story became a search bar for material wants.
But once he returned from California, it was back to business. He called Giovando the night before he arrived in Phoenix. "See you tomorrow," he told the coach who used to see him every Sunday, even after youth games on Saturdays.
New name, image and likeness powers took effect for NCAA athletes on July 1, and Rattler capitalized immediately. He swiftly joined Cameo, a platform that allows fans to buy personalized video messages from celebrities, and began charging $125 per shoutout, having since raised his price to $177. 
A sharp social media manager, Rattler was valued at $769,300 in potential yearly NIL earnings from Twitter, Instagram and other apps by Opendorse, a company that helps athletes with their digital brands. That was in May 2020, before he had even started a game at Oklahoma, much less become the 2021 Heisman favorite and a national championship contender.
Also on July 1, Rattler announced an agreement with Chris Cabott of Leigh Steinberg Sports and Entertainment for NIL representation. The agency also represents Mahomes, whose massive 10-year, $450 million extension signed in July 2020 was negotiated by Cabott. 
Excited to partner with @chriscabott and @SteinbergSports for NIL representation. 💯 pic.twitter.com/fT6iBVaAGv

— Spencer Rattler (@SpencerRattler) July 1, 2021
On July 2, Rattler unveiled an endorsement deal with Raising Cane's Chicken Fingers and released his own merchandise line. And on July 31 he appeared at the National Sports Collectors Convention in Chicago where he charged $150 for photographs and signatures, plus $60 for inscriptions, becoming the first college athlete to profit from a big money public signing.
"But the focus remains the focus, and that's ball," Rattler said. "That's what's gonna take care of everything else."
Zupke said he knew Rattler would be a savvy businessman based on his $15 to $25 "NappyHeadz" visors and shirts — a small personal clothing line he used to sell to teammates and fans in high school. However, the announcement Rattler made before securing any NIL money, that he will donate a portion of all earnings to underserved communities, is something few college athletes have publicly declared in this new era.
"I think it's fantastic to see him immediately address his platform to do something positive like giving money to charity, and when I saw that, it just warmed my heart," Zupke said. "But I wasn't surprised by that either. I think four years ago, maybe that wouldn't have been a thought, but with Spencer Rattler now, I think it's not a question. He's always had a big heart, but I think he's kind of grown to see a bigger world than just himself."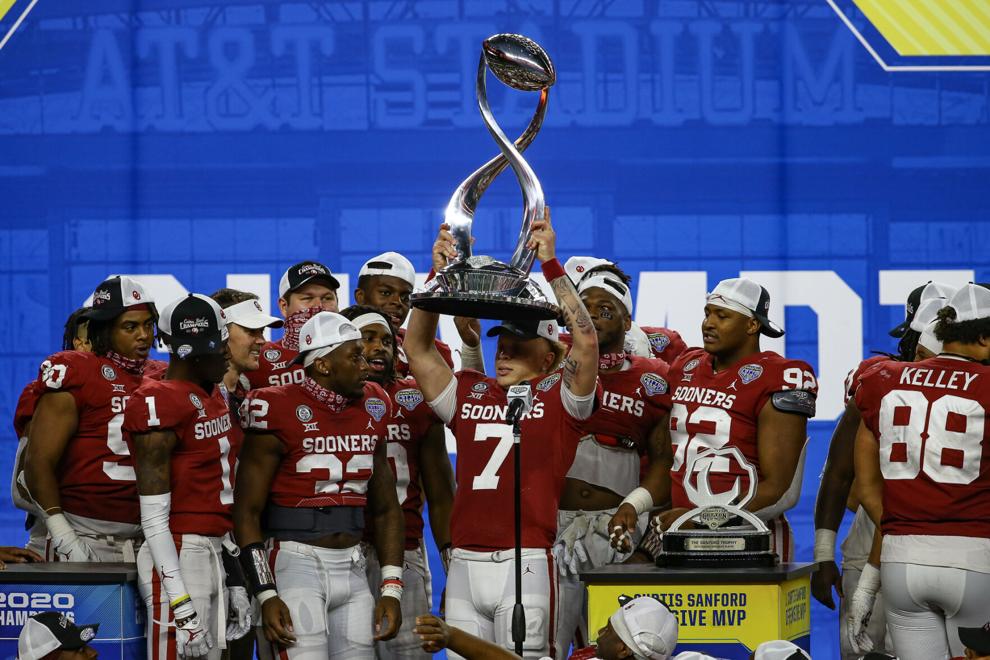 With greater perspective comes grander ambitions, and none is larger for Rattler than bringing home the Sooners' first NCAA title in 21 years. Rattler has focused on that goal all offseason, not buying into the awards hype on social media. "It's a lot of rat poison," Michael Rattler said of preseason Heisman projections, quoting one of Hurts' more memorable lines during the season in which Rattler was his understudy.
A championship would be well-timed on multiple levels for the Sooners. It would end their College Football Playoff shortcomings, elevate Riley to the OU coaching Mount Rushmore of Bud Wilkinson, Barry Switzer and Bob Stoops before him and begin his team's surge from Big 12 conquerors to would-be SEC giantslayers in the near future. A ring would also cement Rattler's place as one of OU's greatest quarterbacks.
Rattler's face might be the most visible in college football this fall, whether through social media highlights, his merchandise line, endorsements or posters on fans' walls. But when he goes home and closes his door to the world, to the noise, to the hype that surrounds him, it's another great — the greatest of all time — that's pinned above his bedroom television. 
"Confidence has no competition," reads the picture Rattler once shared on social media of heavyweight legend Muhammad Ali — robed in white, boxing gloves readied, lips pursed and prepared for battle — adorning Rattler's inner sanctum in Norman.
The next four months will tell whether Rattler will stand among Oklahoma's greatest. If he's to do so, he'll need his trademark moxie, but also the physical and mental maturity he's been honing since telling his old playcaller long ago four simple words:
"I got this, coach."