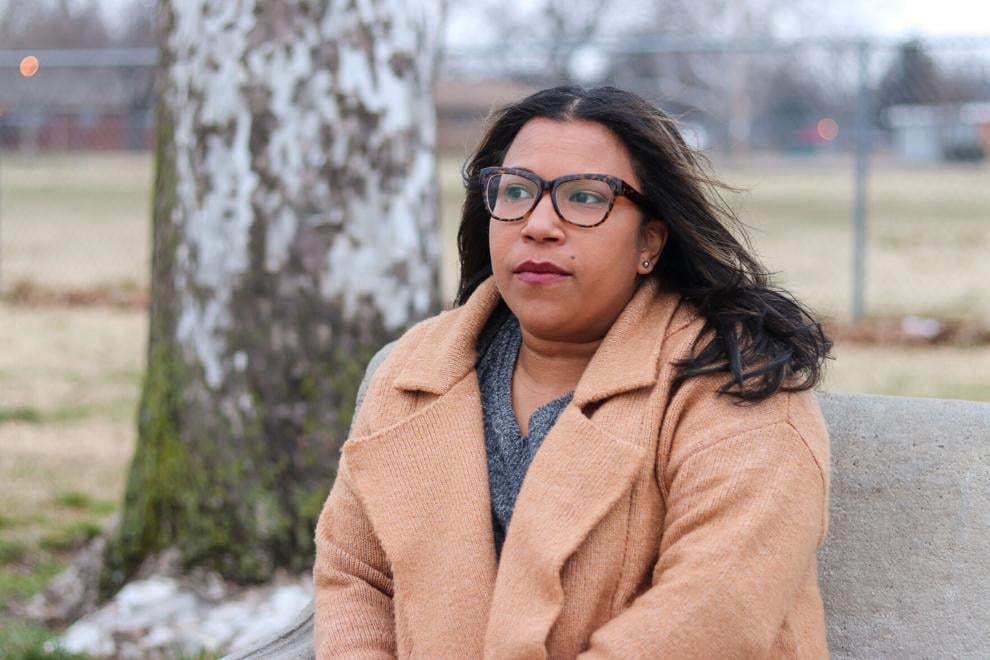 The 10-year-old boy listened intently as his mother spoke about her experiences being a woman of color in Norman.
Larla Turner said she hoped when her son, who she did not want to name due to his age, would call her or his dad when he was old enough to drive not only if he ever got pulled over — but also anytime he encountered police. 
Just to make sure someone would know if anything went wrong, she said.
"That is definitely how it will happen," her son said. "You know I'm not even comfortable getting pulled over with an officer when I'm with you."
The Turner family's fears are not unfounded in Norman: a sundown town until 1967, a town in which a Black man died in its county jail in 2018 and a town that became a flashpoint in the national police funding debate last summer.
According to The OU Daily's analysis of publicly available Norman Police Department data from 2016-19, Black people in Norman are, according to per capita rates, roughly three times more likely to be contacted, arrested or have force used against them by police than white residents. These calculations place Norman's Black residents at more risk than Black Americans nationwide, who are twice as likely to be arrested than their white counterparts, according to per capita rates from FBI and Census data from 2015-2019.
According to the NPD's city demographics, including white, Black, Native American, Asian, Hawaiian or Pacific Islander, Hispanic or Latinx and two or more races, those who were "Black alone" accounted for an average 4.2 percent of the Norman population from 2016 to 2019. Yet, they were disproportionately represented in nearly every category of NPD's data in which race was listed. Specifically, Black people were:
Contacted by police at 2.9 times their population rate, or 12 percent of police contacts.

Given traffic citations at 2.3 times their population rate, or 9.6 percent of traffic citations not including parking or animal-related matters. 

Arrested at 3.6 times their population rate, or 15 percent of all arrests.

Arrested for drug-related charges at 3.9 times their population rate, or 16 percent of drug arrests.

Arrested for assault and battery at 6 times their population rate, or 25 percent of assault and battery arrests.

Victims of use of force at 2.9 times their population rate, or 12 percent of use of force instances in Norman.
In the first two quarters of 2020, for which data is available, Black people made up 27.8 percent of use of force instances. There were 17 use of force instances involving Black people in just six months — more than the total of these instances involving Black people in any previous year.
For every one of these categories, white people were represented either at or below their population rate. The contacts data set includes arrests, and Norman Deputy Chief Ricky Jackson said it is important to note that someone could be listed as multiple contacts from one incident.
Constance Chapple, an associate professor of sociology at OU who studies the causes and consequences of crime and criminal justice contact, said these numbers indicate a troubling trend.
"The data clearly indicate that African Americans in Norman are exposed to use of force and arrest at much higher rates than we'd expect, given their proportion in the population," Chapple said. "It's apparent that a degree of racial disproportionality is occurring here in Norman policing."
These statistics come as no surprise to Rob Kenter, director of law enforcement field engagement at the Center for Policing Equity, which analyzes data from police departments across the nation to identify and reduce inequities in policing.
"The trend is, no matter who is the largest minority population, the bulk of the burdens in policing falls on the Black community," said Kenter, who spent more than 30 years as an officer of the Norfolk Police Department in Virginia and holds a doctorate in public administration.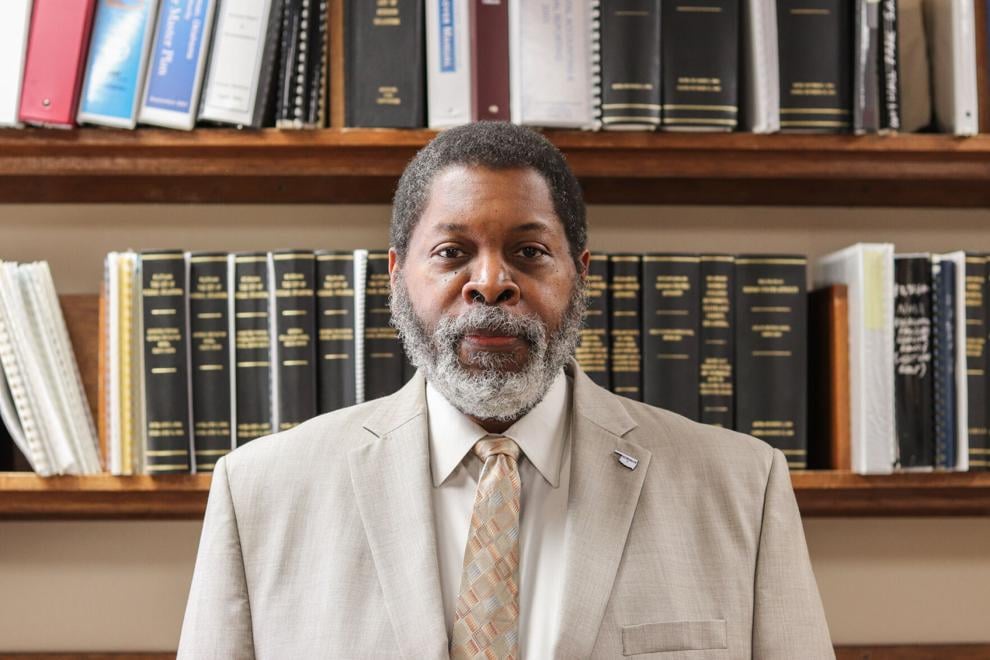 'Enormous racial divide'
---
Police bias against people of color has always been an issue in Norman, said Anthony Francisco, just not one most residents wanted to recognize.
"What happened with George Floyd is not unusual," Francisco, the city's finance director, said of the 46-year-old Black man killed by a Minneapolis police officer in May 2020. "It happens several times a day. What was unusual about that was first, that he died, but secondly, that it was captured on camera. When I watched that video, what I saw was an instance of something that I have seen happen in my lifetime, several times."
Francisco, who is from Oklahoma City, said while he and his wife don't live in Norman, they drive here every day and have both experienced being pulled over more than the average white resident. 
"My wife … she says when she wears her hair in dreads, she is inevitably going to be pulled over," Francisco said.
Norman police gave out 129,879 traffic citations from 2016 to 2019. Just over 83 percent of those were to white people, a rate 1.1 times their percentage of the population, and nearly 10 percent were to Black people, 2.2 times their percentage of the population. 
During its June 16, 2020 meeting, in response to protests against police brutality and calls for reducing police funding, the Norman City Council reallocated $865,000 from the proposed police budget increase to fund an internal city auditor and a mental health program. This resulted in the loss of nine NPD positions that were already vacant, reducing the department's approved officers from 180 to 171.
Alison Williams can't count the number of times she was sent to the office of Irving Middle School, an East Norman school just off 24th Avenue…
Opponents of reallocating or reducing police funding include the Fraternal Order of Police, a police union with whom the city of Norman has a contract. 
The Norman FOP and the city are engaged in a lawsuit in which Carter County District Judge Thomas Baldwin ruled in December that the council violated the Oklahoma Open Meeting Act when it reallocated money from the proposed NPD budget. The city appealed the ruling, but the council is now being investigated for misdemeanor violations by the Oklahoma State Bureau of Investigation. If convicted, each councilor could pay up to a $500 fine or spend up to one year in county jail.
Despite his experiences with police bias, Francisco said he was surprised by the uproar over the Norman police budget in the wake of Floyd's killing and a racial reckoning across the country. 
"We were very concerned about national happenings and, obviously, we were all concerned as individuals, and I have my own feelings and biases about that," Francisco said. "But I really didn't think it would have any impact on our budget."
Stephen Tyler Holman has been the Norman Ward 7 council member since 2013 and a resident of Norman for most of his 35 years. He said he has never seen anything cause as much division in Norman as the police budget reallocation has in his time on the council or in its recent history.
In protest, a group called Unite Norman formed and subsequently filed recall petitions for Mayor Breea Clark and Holman, as well as councilmembers from Wards 1, 3 and 5. Initially, the petitions for Clark, Ward 3 Councilmember Alison Petrone and Ward 5 Councilmember Sereta Wilson gained the required signatures, but Clark's fell short after recounts, Petrone's was deemed invalid in January and Wilson had announced her resignation shortly after the petitions began.
Amid the division, Holman said it's important for people on both sides to stop invalidating others' experiences, and Norman residents should try to intently listen to each other.
"We've got to stop talking past each other," Holman said. "I just would encourage more understanding of each other, and hopefully, we can make some positive changes that are good for the police, for their families and for the public they serve."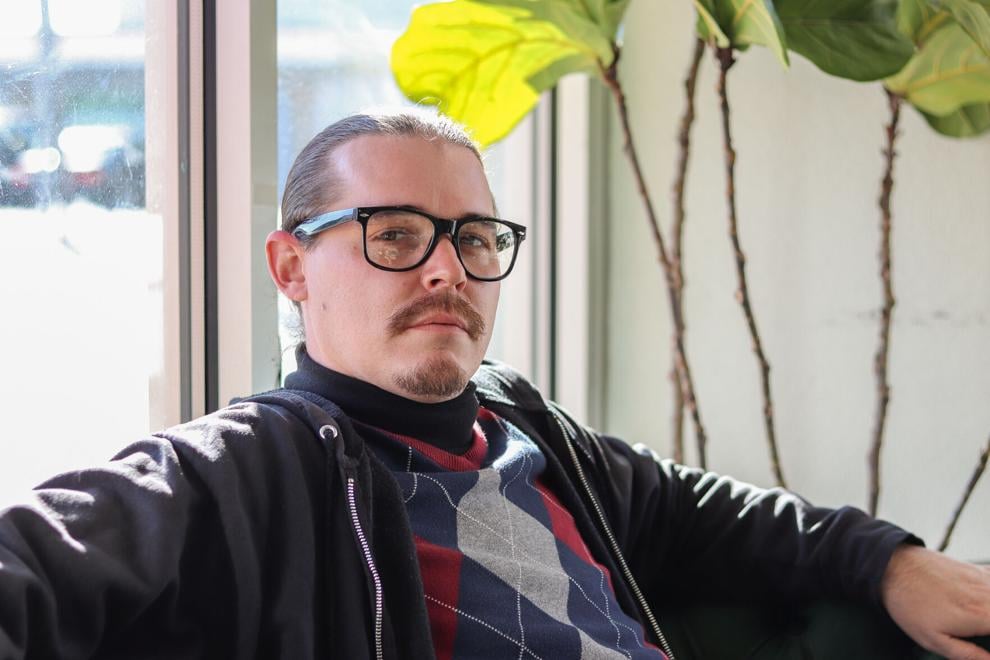 Many residents see Norman as a more diverse, progressive and open-minded city than most in the state. But it has never been immune to racism or the systems created by it, Francisco said. 
Norman became a "sundown town" in the 1890s just after its 1889 founding, and it wasn't until 1967 that Norman's first Black homeowners moved in due to extralegal restrictive covenants keeping sellers, landlords and real estate brokers from selling or renting to anyone who was Black. Black people were told by police to stay out of town after dark until at least 1969, according to OU Professor Emeritus George Henderson's memoir, "Race and the University." 
Henderson wrote it was made clear by some that he, his wife Barbara and their family were not wanted in Norman when they moved from Detroit. They received threats in many forms, and Henderson said he was stopped several times by police officers asking what he was doing in his neighborhood.
If it hadn't been for the many others who welcomed the Hendersons as they crossed the "community's enormous racial divide," the family would not have lasted in Norman, Henderson wrote.
While Norman's residents look different than they did in 1967, with minority populations slowly rising over time, the city was still 77 percent white in 2020. Residents of color are also still disproportionately encountering police — sometimes with tragic consequences.
One of the more well-known incidents in recent years transpired between NPD officers Daniel Brown and Kyle Canaan, and Marconia Kessee, a Black man experiencing homelessness and mental health challenges, on Jan. 16, 2018.
Kessee had been a patient at Norman Regional Hospital that night, before hospital employees discharged him and called police when he wouldn't leave the facility on Porter Avenue in Norman's east side. 
Lawyers for the family allege in court documents that when Canaan and Brown arrived just after 7 p.m. on a 15-degree night, Kessee displayed signs of an overdose, including struggling to communicate or walk, sweating, shaking and convulsing. Kessee told the officers multiple times that he needed to see a doctor.
In the less than 30 minutes they spent with Kessee outside the hospital, the officers made disparaging remarks toward Kessee, including comparing him to a dog, telling him to act like an adult and that he was "putting on a show," according to body camera footage. 
The officers then dragged him across the pavement twice, a total of approximately 75 feet, court documents allege, before arresting him and taking him to the Cleveland County Jail. Laughter is present in the body camera footage as officers comment on how Kessee's "bare butt" was scraping the pavement.
The incident was not reported as a use of force. Force is defined by the NPD as "the application of physical techniques or tactics, the application of a Control Device, or the presentation of a Conducted Electrical Weapon or Firearm toward another person." 
Less than two hours after Kessee was booked at the F. Dewayne Beggs Detention Center, Clayton Rickert, Turn Key Health Clinics employee and Licensed Practical Nurse, found him unconscious in his cell at 9:53 p.m. An ambulance was called at 9:55 p.m. after CPR, chest compressions and the use of a defibrillator failed. Kessee was pronounced dead at 10:37 p.m. at Norman Regional Hospital, where he had been discharged less than four hours earlier.
The next day, a sheriff's office employee examined the prescription bottles officers had removed from Kessee's pockets. All five had been prescribed to Kessee on Jan. 10, six days before his death, but were missing significant amounts of pills.
According to the medical examiner's report, Kessee died of "acute bupropion, methamphetamine, and atomoxetine toxicity." Bupropion and atomoxetine were two of the five medication bottles found.
In January 2019, Kessee's grandmother, Patricia Thompson, filed a lawsuit against the Cleveland County Sheriff's Office, the City of Norman, the Norman Police Department and the Norman Regional Hospital Authority, along with individual defendants. The case was moved to federal court a month later and is on the July 2021 docket for the U.S. District Court for the Western District of Oklahoma.
The death of Kessee and others like Martin Sanchez-Juarez — a Norman man shot by an officer in 2014 while holding a hammer and whose family alleges was in need of medical assistance — are among the driving forces behind Norman's Black Lives Matter movement and supporters of re-examining police funding, including the Norman Collective for Racial Justice.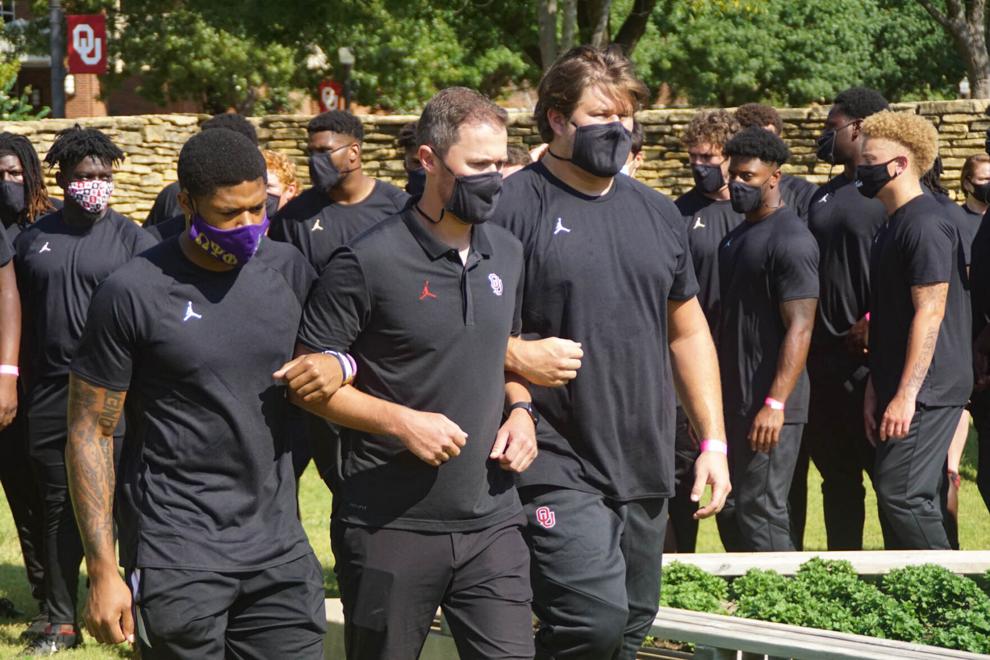 'When you were born Black, you were born with two strikes'
---
Before Larla Turner spoke on her son's potential encounters with police, and before she was one of the many marching for and demanding change in summer 2020, she was a middle school girl watching a Norman officer harass her dad. 
In 1990, Turner's dad moved her family halfway across the country from East Orange, New Jersey, after visiting Norman for work.
"He just thought it was a perfect little place to raise a family and slow life down a little bit," Turner said.
Turner said she has come to love Norman — and isn't planning on going anywhere — but has always felt the contention between the city's police and its people of color. 
This contention hit close to home early on when her father, behind on paying some traffic fines, had his license suspended and was followed repeatedly and arrested by a Norman officer.
"(The officer) would sit at the end of our street in the morning when it was time for us to go to school so that my father couldn't drive us to school," Turner said. 
Every Black parent has "the talk" with their child at some point, Turner said. Her dad told her to never show police if she was angry, to always tell officers what she was going to do before she did it and to give them no excuse to say they were scared of her. 
"My dad always told me, if you're in a situation with a cop, and whether they are right or wrong, to a certain extent, do what you got to do to get home," Turner said.
The same was true for OU cornerback Chanse Sylvie growing up in Shreveport, Louisiana, where he was always taught to steer clear of the police.
"My mom always told me, 'When you were born Black you were born with two strikes,'" said Sylvie, who graduated OU with a bachelor's in political science and is pursuing a master's in global affairs.
Sylvie said he was never surprised when he heard news about people of color like Trayvon Martin and Michael Brown killed by police. He said he saw it as a cycle that would never stop.
Sylvie has had multiple encounters with the police, whether he was being pulled over in Shreveport or being arrested twice by Norman police for unpaid traffic tickets for speeding, improper equipment, failure to stop at a stop sign and an expired tag. Even during a routine stop, Sylvie said there is always that fear of what could go wrong in the back of his mind.
Sylvie was a southeast Norman resident at the time of both his arrests. The first occurred while he was sitting outside his apartment in his 2019 Chrysler 300, reportedly playing loud music. At the time, he had three counts of municipal warrants. The second time he was arrested, he was driving down the 3000 block of Classen Boulevard and had one municipal warrant, according to police documents.
"Every time I (have been) stopped by the police, I was thinking, 'OK, I need to find a way to live from this moment, to make it home to my friends, my family,'" Sylvie said. "I feel like that's not how it should be, but that's how it was."
Data shows that the cycle Sylvie mentioned is happening, but the exact reasons for it are debated and differ from place to place.
Residential segregation is one of the most significant factors that lead to racial disparities in policing — far more than whether an individual officer has had bias training or what their own biases and behaviors are, Chapple said. The racial history of the U.S. — including Jim Crow laws, redlining and restrictive covenants — has created towns that tend to have areas that are predominantly white and areas that are predominantly people of color.
 Turner said this type of segregation is present in Norman.
"As long as I can remember, the east side has been considered the poor side, or the Black side of town," Turner said. "The west side has been considered where the richer white folks live."
Henderson confirms this in his book as well, writing that when his family arrived in 1967, "because the vast majority of the high-status people lived in west Norman, sellers, landlords and real estate brokers conspired to restrict Black renters to east Norman."
The Hendersons bought a house in west Norman, after jumping through several hoops.
'The prevailing "wisdom"'



---
Kenter, the former Virginia officer now with the Center for Policing Equity, said the lie that people of color are more likely to commit crimes is one that remains in the minds of many officers.
"I like to call it the scorched earth method," Kenter said. "They think everyone's a criminal because it's a violent crime hotspot. … They stop a bunch of cars, and they stop a bunch of people in the neighborhood that has a low amount of trust and legitimacy with the police department. And then low-level pedestrian stops turn into use of force."
Both advocates for police budget reduction and those who hope for the eventual abolition of traditional law enforcement cite policing's roots in slavery as the cause of racial bias and disparities.
Jermaine Thibodeaux, an assistant professor in the OU African and African-American Studies Department, said there's "almost no way" to get around slavery's influence on policing when it comes to the American South. Modern-day policing in the South, Thibodeaux said, emerged from slave patrols intended to surveil enslaved populations and capture any escaped slaves. 
The first formal slave patrol was founded in 1704 in the Carolina colonies, according to historian and Professor Emeritus Gary Potter with Eastern Kentucky University's School of Justice Studies.
"White men in some counties were essentially required to serve as slave patrollers because there was this widespread fear of slave insurrection or slave riots and rebellion," Thibodeaux said. "Once slavery ended in 1865, just like slavery was reimagined and became sharecropping and convict leasing, the slave patrollers ultimately became the police."
Even in the North, where slavery was abolished, anti-Blackness remained at the heart of pre-Civil War and post-Reconstruction policing, he said. The first police department in the United States was established in Boston in 1838 and soon followed by other northern cities.
The history of policing is not a foreign conversation to NPD officers, Deputy Police Chief Ricky Jackson said. 
John Stege, NPD standards administrator, said, however, that saying policing has its origins in slavery is a mischaracterization.
"Racism was a founding part of the Constitution. Marginalized communities have been screaming to be seen as human beings, (and that) took place when we had people who were enslaved," Stege said. "We didn't have police then. To make the argument that 'Hey, police are simply a continuation of slavery,' is basically saying that the police serve no function other than to be slaveholders, and that just flies in the face of reality."
The belief that Black people were more likely to be criminals has "deep, deep roots in slavery" that permeated the nation and, therefore, the systems it created to curb crime, Thibodeaux said. "This is the prevailing 'wisdom,' and I've put wisdom in quotes," he said, that largely informed law enforcement and public policy discussion in decades following the abolition of slavery.
"When you have generations of folks who enter into law enforcement being taught these things about the people that they're supposed to serve, then you end up with decades, if not centuries, of antagonisms between the Black community and police," Thibodeaux said. "These fictions, these ideas about Black people and how they move in the world, this stuff is ingrained in the national conscience."
Law enforcement members are already aware of this, Thibodeaux said, pointing to the implicit bias training that takes place after a widely publicized shooting or killing of a person of color.
"Because why do cops feel the need to shoot unarmed Black folks at a rate disproportionately higher than they shoot unarmed white folk? Overwhelmingly, the cops always say that they fear for their life," Thibodeaux said. "What's the root of that fear?"
According to the Washington Post's fatal police shooting database, Black Americans are shot and killed at more than twice the rate of white Americans. Since 2015, there have been 394 unarmed people fatally shot by police. Of those, 34 percent were Black, while Black people make up only 13.4 percent of the U.S. population.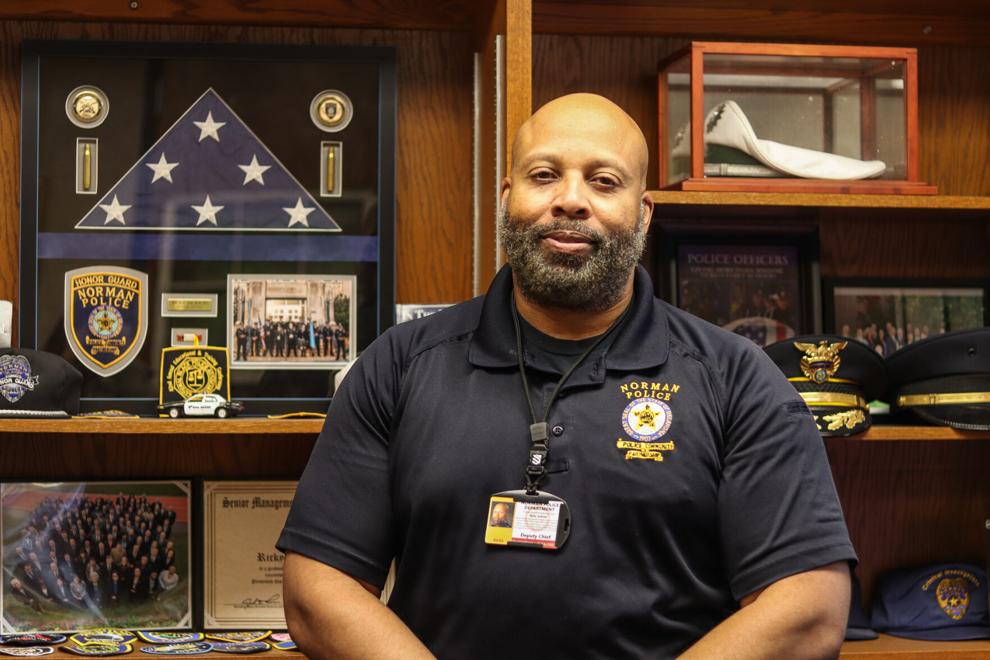 'When we no longer have work to do, then we just are not looking'

 
---
The City of Norman, alongside many other towns across the nation, is now left to wrestle with its racial past and the inequitable systems it created.
The police department recognizes it must continue to evolve and change to best serve its community, Stege said.
"The Norman Police Department is dedicated, and has been, to continue to try to serve all of the communities in Norman the best way we can," Stege said. "We have work to do. But I guess, when we no longer have work to do, then we just are not looking, is what I say. Because we should always be looking at a better way to provide service."
Acknowledging a need to do better isn't new. In 2011, the department hired its first Black chief. A wave of change began during Keith Humphrey's time leading the force before he left in 2019, Deputy Chief Ricky Jackson said.
Of the 201 sworn NPD officers in 2010, the year before Humphrey became chief, 185 were white, seven were Black, six were Native American, one was Asian, and two were Hispanic. In 2020 there were 163 sworn officers, and 145 were white, seven were Black, two were Native American, six were Asian/Pacific Islander and three were Hispanic or Latinx.
Some of the initiatives Humphrey started or encouraged include the creation of NPD's Open Data Portal through involvement in the Police Data Initiative, the re-emphasis on community policing and the resolve for more transparency between the department and the community it's sworn to protect.
"It takes the department head to recognize these things and then help make that cultural shift," Jackson said. "Where the leader goes, the rest follow."
The NPD is still the only department in Oklahoma to participate in the Police Data Initiative, which has more than 130 U.S. law enforcement agencies that have joined in publicizing data they deem important to their communities. Norman publishes data on its website quarterly on contacts, arrests, citations, hate crimes, use of force, complaints/inquiries against the department and community engagement. 
The department also participates in the Center for Policing Equity's National Justice Database, America's first database for "tracking national statistics on police behavior, standardizing data collection practices, and spurring data-driven reforms in participating departments," according to the center's website.
Once a department submits its data, the center produces analyses that help them understand the level of equity in its practices and what it can do better. The data is private, but Kenter said it will hopefully become more open soon.
The department's latest effort is a partnership between the NPD and OU's School of Social Work. With associate professor and former police detective David McLeod leading the charge, McLeod and other professors — including Chapple — and students will dig into NPD data on traffic enforcement, the SRO program and mental health-related contacts.
The goal is to determine what disparities are present, analyze their causes and suggest policy changes for positive change, McLeod said. 
"One study or even a couple of years' worth of studies with the police department certainly doesn't fix the problem," McLeod said. "First we need to identify what the problems are. But it gives us the chance to start moving in a different direction."
While publishing raw data for anyone to access is a move most police departments have yet to take, Jackson said this analysis is an important next step in using that data.
"Not all contact is negative contact," Jackson said. "It's not telling us what we did with them. It's not telling that we got them help. But you can interpret it any way you want to interpret unless you drill down into the data."
The partnership will start as a pro bono research service, but McLeod said there is the opportunity for grants once the researchers have gathered initial findings. With all of the attention that events of 2020 created, not just in Norman but also nationally, McLeod said he is encouraged by the NPD's willingness to address issues and desire to do better.
"The willingness of the police department to partner with a school of social work for this specific data is unheard of," McLeod said. "They're really stepping up to do their part. Now, what are we going to do as a community to make that successful?"'
Jackson said the department is additionally excited about the creation of a Diversity and Equity Committee, which will essentially consist of a group of officers serving as "liaisons" to community members who want to have honest discussions about policing in Norman and across the nation.
"With the number of discussions we've had here in the hallways, these guys got their heads together to say, 'Let's create a safe space for people to ask these types of questions,'" Jackson said. "'Let's create a space where they have a factual, consistent answer that helped them as they muddled through these questions.'"
Jackson said he wished council members received more of the department's input before reallocating the police budget.
One of the reasons police have become so involved in mental health service calls, Jackson said, is because the state has routinely underfunded mental health programs. Police in Norman were the ones who filled in the gaps, he said, and now they have less ability to help those in need without another service in place yet.
"The answer (was not) to take money from the main people that stepped up and took on this responsibility," Jackson said. "If they had come to the table and talked to us … they would have gotten a different picture."
While the thousands of reallocated dollars are in limbo until the end of the legal battle with the FOP, Clark formed a biweekly task force in June that presented recommendations to the council in September on how to use the reallocated police funding.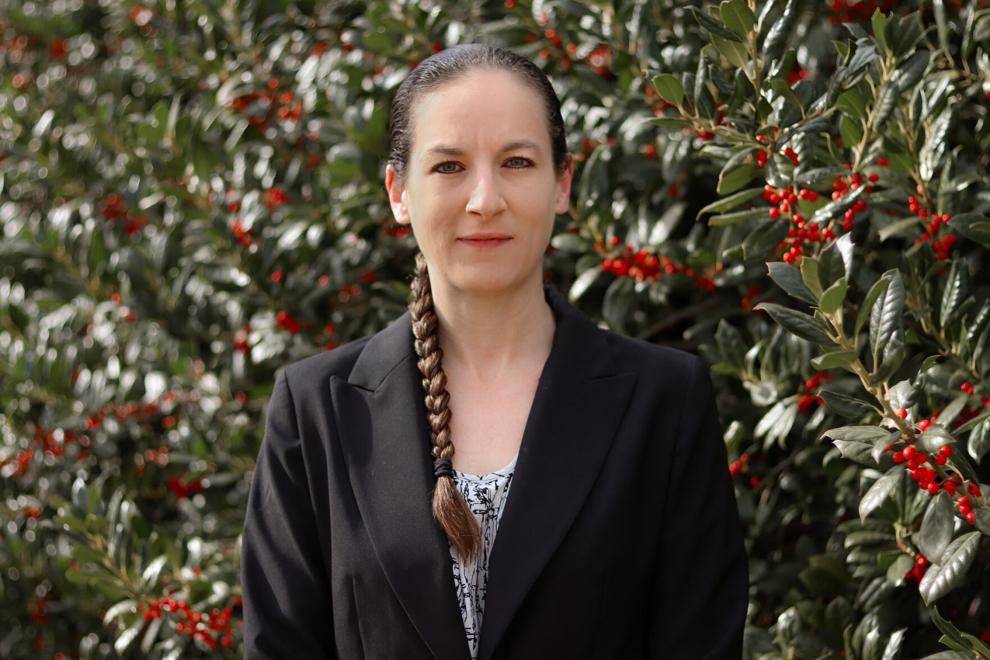 Ward 1 Councilmember Kate Bierman said her hope for that money at the time of the vote was to create a system similar to Eugene, Oregon's CAHOOTS — Crisis Assistance Helping Out On The Streets — which has been in place for nearly 30 years. CAHOOTS diverts 5-8 percent of calls from the Eugene Police Department, according to its website.
"They have a population that is about twice the size of Norman, and they run (the program) for about twice as much as the amount of money we have set aside," Bierman said. "There are a lot of factors, but to me, it seems like an attainable goal. Especially considering the community partners we have here that they don't have in Eugene, … I really feel like we have an opportunity to do a similar kind of program, but a program that fits Norman."
Bierman decided not to run for reelection and will be replaced in June by Brandi Studley, a candidate who favored the NPD budget reallocation.
Another council decision regarding NPD funding came in October when the council voted 5-4 against accepting a grant for protective police equipment for crowd management, including protective suits, helmets, shields and batons. During the meeting, Police Chief Kevin Foster said Norman depends on the Oklahoma City Police Department to provide this gear when combating violent situations.
Holman said he believes Norman has done well keeping the police department's interactions with the community peaceful. This continued harmony is why he voted against the grant and did not support the department's requests for an armored vehicle in the past.
"In Norman, we have a history of people being politically active and protests," Holman said. "But we don't have a history of violence. And I think it's always been a good image for our police department that we don't have all that stuff, and we don't respond the way that other places do."
Writing a new story
---
Sylvie, who was part of the mayor's task force, also runs the OneMindSet Foundation to address systemic racism and education issues and recently discussed ideas for police reform with State Reps. Emily Virgin, Monroe Nichols and Merelyn Bell, the first woman of color to represent Norman in the state House.
Bell said she hopes to see more criminal justice reform in this legislative session, but she feels police reform is better left to individual towns.
"Norman is very different than Noble," Bell said. "Noble is very different than Hinton. All of these communities have very different challenges."
She hopes the lengths some departments go to, especially in small towns, when it comes to giving out traffic tickets because they have such a lack of funding will become a more prominent conversation at the state level.  
In Norman, traffic citations resulting in both warnings and tickets made up 3 percent of all police encounters between 2016-2019. Fines and forfeitures overall brought in an estimated $2,180,463 to the city's general fund, a number that is projected to steadily increase over the next five years, according to the fiscal year 2021 budget book. The police department is budgeted to receive $22,601,745 from the city's general fund in FY 2021.
"(It would) be nice if we were just properly funding our law enforcement agencies so that they weren't having to make decisions that then, down the line, disproportionately affect citizens," Bell said.
As a nearly lifelong Normanite, Bell said it has been discouraging to see the discord that has taken over discussions on policing in Norman. The only way to see real change, she said, is to listen to those on the other side.
"We're calling people out, instead of calling them into a discussion," Bell said. "(It's not) until that bridge can be built (that) the acknowledgment and the reconciliation and the true moving on can be had and agreed to by both sides. Until then, we're stuck in this place."
One of the main reasons Sylvie said he wants to fight for change is for his future children. Turner also wants her son's story to be different — for him to live in a world where he won't have to be afraid because of the color of his skin or worry about his children for the same reason.
"Progress is progress, and it's always been slow for African Americans," Turner said. "But we're not giving up, and I think a lot of people are starting to hear and understand the things that we're talking about. … As long as you have another day, you have time for improvement and a chance to make things better."