Bob and Carol Bohley moved into a family-friendly neighborhood in southeast Norman on March 1, 2020, only a few weeks before OU would move online for the semester following the beginnings of the COVID-19 pandemic. 
The Bohleys said they wouldn't recommend moving somewhere during a global health crisis, as they couldn't explore their surroundings, fully furnish their house, meet their neighbors or spend time with their youngest daughter Amanda Day, who has lived in Norman for 21 years. When Christmas came, they said they also didn't have an opportunity to make any new traditions in Norman, excluding a traffic-filled night in 2020 at the Norman Christmas Parade, which operated as a drive-thru during the worst part of the pandemic. 
What Norman community members didn't know was that, during this holiday season, Bob and Carol would be invited to play Mr. Claus and the town's first Mrs. Claus after the Christmas parade's longtime and beloved Santa, Donald Mason, died in November 2020. 
Mason's 35-year career as Santa left a charismatic spirit and large pair of black boots to fill, especially as the Christmas parade returned in person after two years in pandemic purgatory. The Bohleys, however, were not ones to say no to an adventure. They were world travelers, surveyors of the stars, parents to three girls and community theater actors in their free time. 
They rode into town with a sleigh packed with gifts from parenthood, globe-traveling and a recent history of public service from remote territory. They said they were ready to give back. 
'The Letter' and a long journey
Bob and Carol met in the '60s. She was the high school girl across the street, and he was a University of Missouri chemical engineering student. 
Bob's mother insisted he call Carol and "get fixed up," but Carol wasn't too sure, as she was hung up on Bob's unusual last name, Bohley. She'd heard people call him everything from "Balling" to "Bowling" to "Hall." It seemed odd, she joked. 
When Carol went to Mizzou, Bob called and asked her out, and she said yes. Their first date was Oct. 13, 1967, at a bar in Columbia. "The Letter" by the Box Tops was playing on repeat, and it became their song. Now, they've been married for 51 years. 
"We're working on 52," Carol said. 
After they married, Bob got a job south of Houston and Carol enrolled at the University of Houston for her junior year, meaning her education was an hour away from their new home on a two-lane road. It wouldn't matter for too long, however, as results from Carol's pre-admission health screening indicated she was pregnant. 
Driving two hours a day to school while attending obstetrician and pediatrician appointments didn't seem feasible, Carol said. She tried to go back and finish her degree a few times when her children were younger, but life kept her occupied. She gave birth to her eldest daughter nine months and six days after she married Bob.
"I always joke that there must have been a chapter in our family planning handbook that I forgot to read," Carol said. 
Day, a library associate in the Norman Public Library children's department and the youngest of the three Bohley daughters, said her family differs from many in that they genuinely like one another. She attributes their bond to long car trips without TVs and their adventures overseas in the Netherlands, where Bob worked for six years in the '90s as a senior research manager at Dow Chemicals.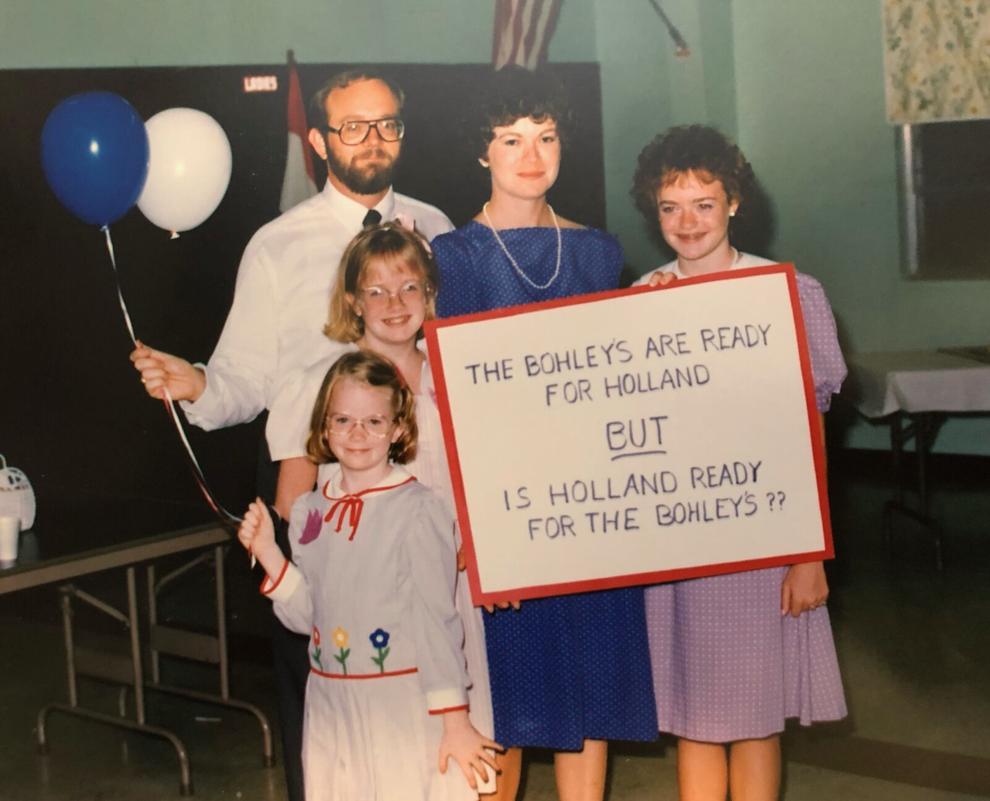 "It was always full of love and laughter, and it was a great atmosphere to grow up in," Day said. "It didn't dawn on me that not everybody grew up that way until later when I was in teaching, and I saw that I was very, very lucky." 
In 2003, Bob retired from Dow Chemicals and, within six months, was contracted by The Sinclair Group as a consultant. He and Carol went to China, Singapore, England, France, Finland, Canada, back to the Netherlands — because he speaks rudimentary Dutch — and all over the U.S. 
Five years later, during the Great Recession, Bob said he felt there were few opportunities for consulting. In the meantime, Bob and Carol wanted to add a few more ornaments to their tree. Bob told Carol he wanted to accomplish two things: ride in the MS 150 — a 150-mile, two-day bike ride from Houston to Austin — and go to the Chaco Culture National Historical Park in Northwest New Mexico. 
Bob, an amateur astronomer, said he read the park was seeking volunteers with experience in astronomy to participate in one- to three-month assignments. Access to a 24-inch diameter telescope sealed the deal for Bob, but Carol wasn't too convinced that their North Star pointed to New Mexico. 
"It's 17 miles on a dirt road, and then there's a town that's 70 miles away," Carol said. "I said, 'Over my dead body.'"
Both of the Bohleys would come to love the national park for the very reason Carol was initially deterred — its seclusion. Carol said the national park possessed a certain spirituality in its ruins, and while Bob volunteered, she participated in archeological digs in Chaco Canyon.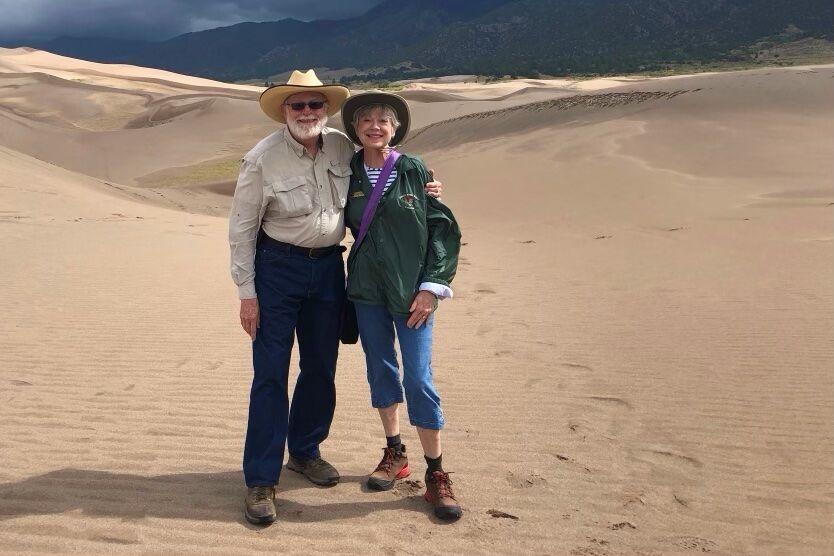 The couple also spent time in the Great Sand Dunes National Park, where Bob compiled a 74-page application over four years to the International Dark Sky Association, which catalogs protected land that possesses an "exceptional or distinguished quality of starry nights." He helped the Great Sand Dunes National Park receive its designation as an International Dark Sky Park in 2019. 
Although Carol said it didn't seem to be a sensible move, they bought a cabin in the Sangre de Cristo Mountains so they could spend their summers in Colorado. Months later, in 2020, Bob received a volunteer of the year award for the intermountain region of national parks.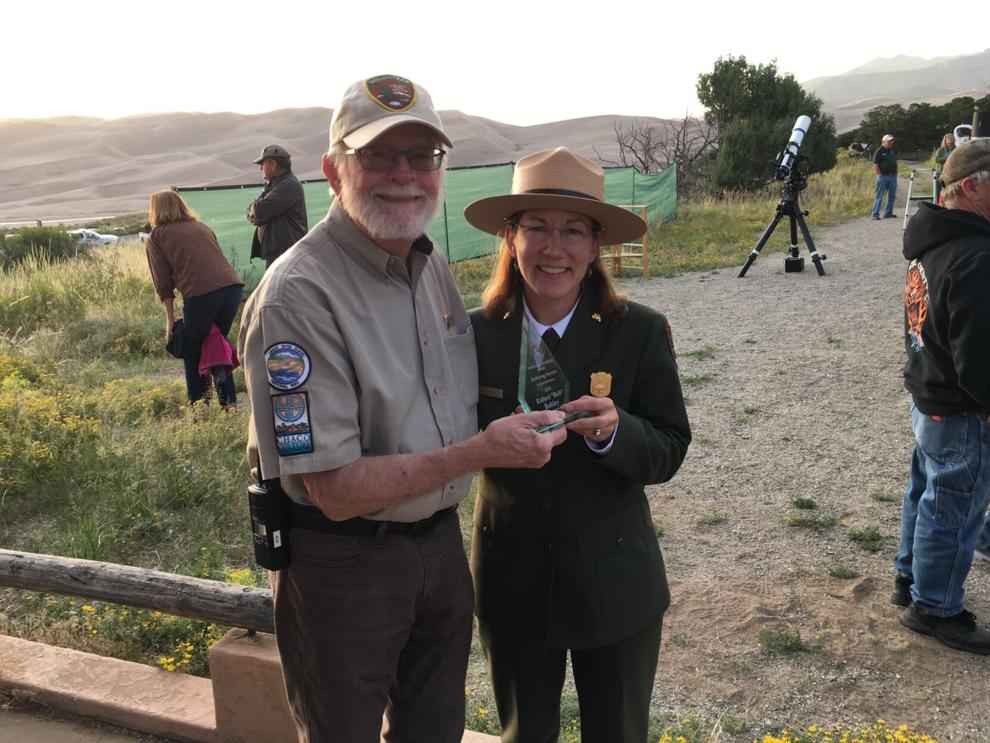 "People said, 'Why did you work so hard to do that?' I said, 'It's a labor of love. It's a way I could give back to the park,'" Bob said. 
In the same year, the Bohleys bought a house in Norman. The town became their family's North Star, as it was a one-day drive to their 50-year-old daughter in Houston, their 48-year-old daughter in Zionsville, Indiana and their new cabin. 
Gingerbread and Sinterklaas 
The Netherlands is where the Bohleys' unique love for Christmas was iced together in learning how to make homemade gingerbread dough for gingerbread houses. They took on the traditions of Sinterklaas, a version of Santa Claus from the Netherlands, and left chocolate letters by the fireplace for each child. 
Day said she would wait at the top of their stairs every Christmas morning so the family could go down at the same time to open presents. She said Carol would always walk slowly down the stairs to build anticipation at the dismay of her eager daughters.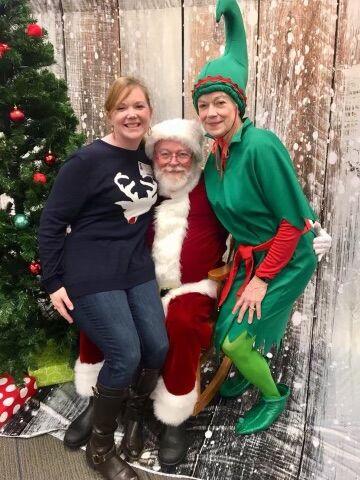 Bob's holiday resume dates to about five years ago when Day asked if he would serve as Washington Elementary's Santa. The Bohleys obliged and got him a Santa costume 50 percent off at Frankel's Costume Company, a Houston costume outfit that closed in 2018 after almost 70 years of business. At the time, Carol said she wasn't the Mrs. Claus type, so she purchased an elf costume.
"It was the elf from 'A Christmas Story,'" Bob said. "You know, the mean elf. The one that kicks children down the slide." 
For years, Bob and Carol would travel more than 400 miles from Houston to southeast Norman to dress up, meet with 500 kids and take pictures as a parent-teacher association fundraising activity. The only thing the Bohleys asked was that every child at the school — which this year has a 52 percent poverty rate — had a chance to sit on Santa's lap, even if they couldn't pay for a picture.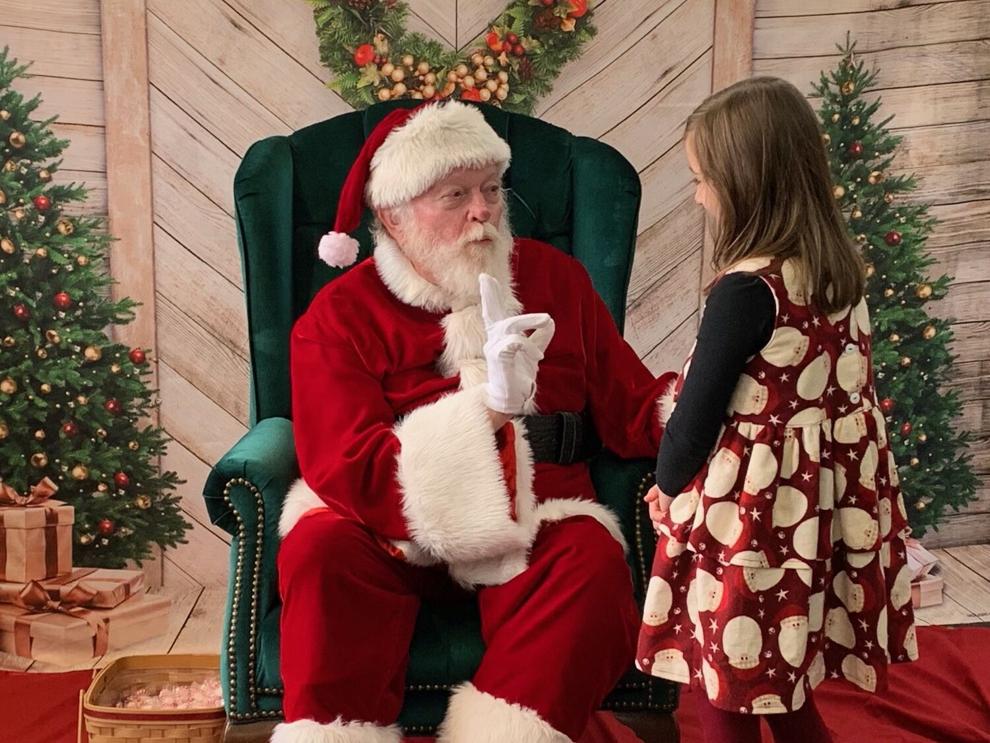 Food and Shelter Executive Director April Heiple had seen pictures of Bob and Carol as Mr. and Mrs. Claus on Day's Facebook. Three weeks before this year's Norman Christmas Parade, Heiple asked Day if Bob and Carol would be interested in being Mr. and Mrs. Claus. They said they were delighted to be chosen.  
Norman Christmas Parade Chair and Canadian River Cruisers Car Club Member Terry O'Dea said the couple rode in a 1955 red and white Chevrolet convertible in the Dec. 4 parade down Main Street. The car is owned by car club member Charlie Lunsford, who named the vehicle after his wife, who died in 2018. She is memorialized on the license plate's bracket, which reads "Marty's car, 60th Wedding Anniversary."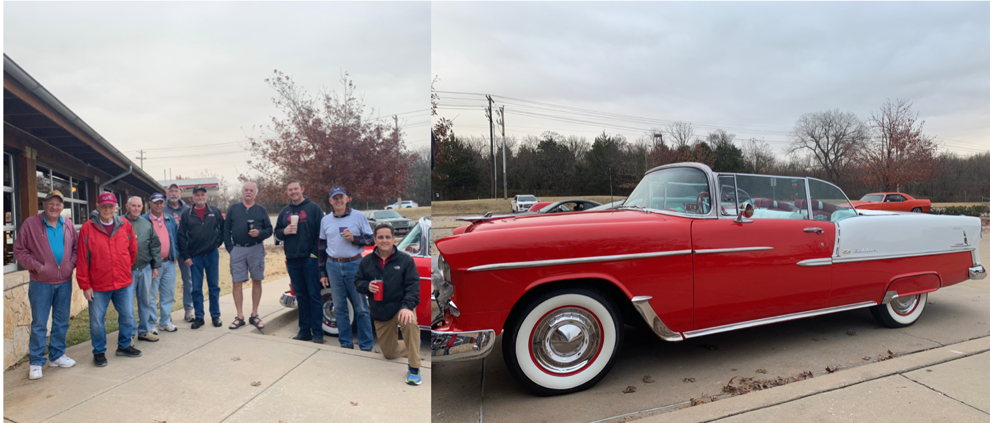 The car club participates in Norman's Christmas festivities each year by driving its vehicles in the town parade and hosting an annual party. O'Dea said he was happy the Bohleys were excited to drive in one of the club's vehicles. 
"It's really something we look forward to each year … (and) I think they're the perfect fit for the roles," O'Dea said. 
Although Carol and Bob's daughters are raising their five grandchildren, the couple — Bob, 74, and Carol, 72 — is still young at heart and encourages youth to see older individuals beyond their silver hair. 
For 35 years, Carol has cultivated relationships with youth during the holidays, not by dressing up as Mrs. Claus, but by pretending to be a witch during Halloween. She became infamous for her cacophonous cackle, which she would greet children with when they were trick-or-treating. A background in theater meant she didn't even need makeup to be successful. It was all in the posture, she said. 
"In our (Texas) neighborhood where we lived for 29 years, it got to be where young adults would bring their children (to our house on Halloween) because Carol had scared the crap out of them when they were children, and they wanted their children to be scared by her," Bob said. 
The Bohleys brought this tradition to Norman, and now, Day and Carol tag team as witches on Halloween. Although the couple has instilled a multi-generational fear in some Texas residents, they have also left immeasurable impacts. 
After six years in the Netherlands, Bob and Carol moved their family of three girls back to a little street of 10 houses in Lake Jackson, Texas. The strip was home to families of boys and one 4-year-old girl named Mallory, who Day said was so excited to have girls on her street. 
Mallory became one of many adopted grandchildren the Bohleys welcomed into their family, Day said. She would tell everyone she was a "Bohley girl," and that title quickly transitioned from honorary to official — she was a Bohley sister, Day said. 
Bob and Carol's daughters included Mallory in their wedding parties, and when Mallory got engaged, she asked Bob to officiate her wedding. She wanted someone who knew her well, like her adopted grampy from across the street.
"We were her bonus family," Day said. "Everybody needs other people outside of their family that they can trust and love and my parents are that for a lot of people."
The Bohleys' spirit of giving is present even in their third generation, as Day's 11-year-old daughter Evie has spent OU football home games behind the counter of a lemonade stand to raise money for Food and Shelter. In her first year of service, Evie ended up raising $600. 
Day said she attributes that kindness to the good examples Evie has had in her life. 
"There's no words to say how proud you are of your kids when you see them being fabulous and kind to others. … They see it from their grandparents, and they see it from (their dad's) parents, as well," Day said.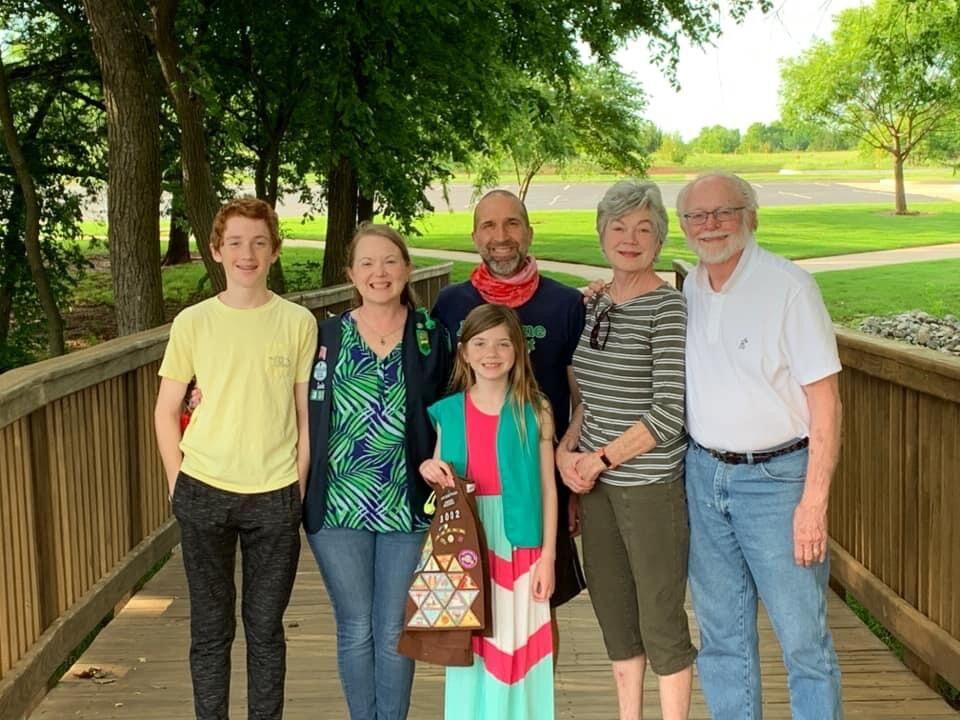 For Day, living near her parents means dinners every Sunday, Target trips and letting her kids get to know the two people she loves the most. She said she's proud that Norman will get to know them too in their new holiday roles. 
Helping others is one of the most important things to the Bohleys, whether they are playing Mr. and Mrs. Claus, giving introductions to the stars or volunteering. Being Santa is not about a character, Bob said. It means representing that spirit of giving to every child that sits on his lap on Christmas. 
"What," Bob said, "can be more real than that."