Jalen Hurts stood on a field in Atlanta, eyeing Houston Texans quarterback Deshaun Watson.
The former Clemson standout was going through drills alone, as he typically does, with quarterback coach Quincy Avery in June at the "QB Takeover" camp. After a few minutes of intensely watching, Hurts joined him.
"You could see he wasn't just attentive to his reps, but Deshaun's as well," said Avery, who has trained hundreds of collegiate and NFL quarterbacks. "What's he working on? Why does he do that? How's he getting better?"
That's how Hurts works, those who know him say. He's like a sponge, soaking everything up before he throws himself into a situation. He watches, listens and then gives it a try.
Last season at Alabama, Hurts did the most watching and listening he's ever done in his football career, sitting behind Tua Tagovailoa. He didn't have much of a chance, leading him to Norman to join Lincoln Riley's high-powered offense that has produced back-to-back Heisman Trophy winners and No. 1 overall NFL draft picks.
Thus the narrative entering Hurts' lone season with the Sooners is that he's a good quarterback with an average arm. He's a run-first guy who's not going to beat you through the air.
But through Hurts' first two games, according to Pro Football Focus, he's rated the No. 1 quarterback in the country with a clean passer rating — a measure to determine a quarterback's performance when given a clean pocket — of 158.3. He has an 82.4 completion percentage, which is far better than both Kyler Murray (63.6) and Baker Mayfield (58.3) had in their first two games at Oklahoma. And he's thrown six touchdowns and just seven incompletions in 41 attempts.
So, what gives?
The answer isn't as simple as it may seem. In fact, there are three answers: his technique, his play-caller and his experience.
"His fluidity as a passer — the way he looks throwing now, is so much more fluid than he looked (four years ago)," Avery said. "He's a true passer now. He's always been a quarterback, a guy that could make plays. But the way he throws now ...
"He looks like a guy that could play in the NFL."
Technique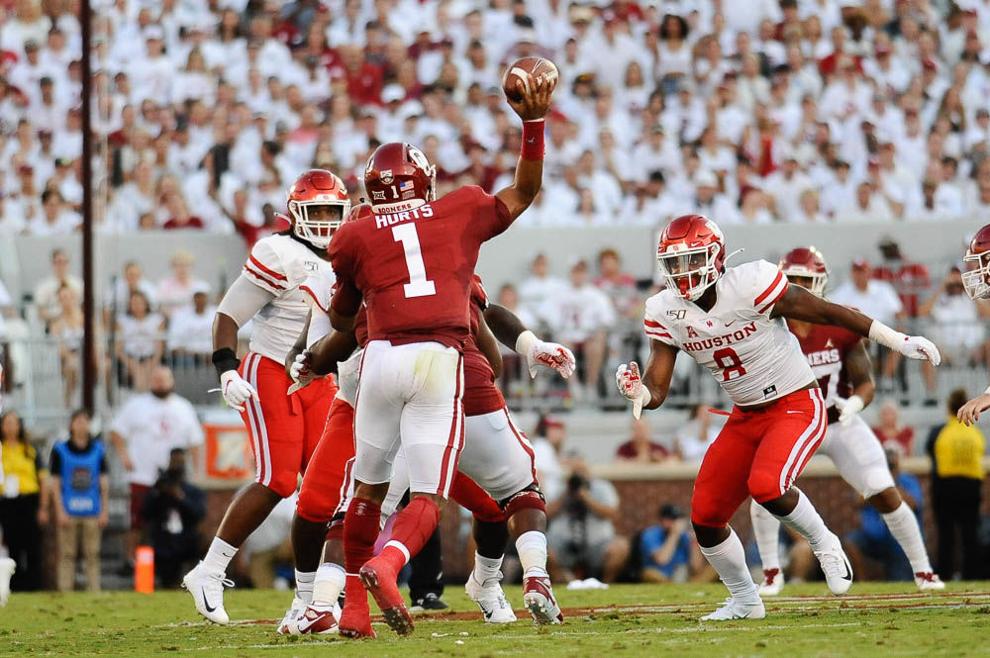 Hurts has attended a variety of quarterback camps throughout his career, most notably Elite 11.
Coming out of Channelview High School in Houston, Hurts was rated the ninth-best quarterback in his class by Rivals, earning an invite to the prestigious camp in 2015 along with guys like Michigan's Shea Patterson, Houston's D'Eriq King, SMU's Shane Buchelle and former Ohio State quarterback Dwayne Haskins.
He was a dual-threat quarterback who was built like a linebacker and could run like a running back. He seemingly had all the tools on paper, but he had one big deficiency on the field.
"If you go watch his past tape, you'll notice a clear locking of his front leg," said Joey Roberts, Elite 11's director of scouting. "When you lock out your front leg, your eyeballs basically move centimeters, inches. And an inch or centimeter is the world in keeping your head steady. He had that tendency in high school and early in college, and then he slowly but surely has gotten better at having a little give in his front leg.
"So his eyes are staying on an even plane. His pictures aren't moving, his receivers aren't moving, the defensive backs aren't moving, so that has led to him being able to control the ball better."
This can be seen during Hurts' freshman season at Alabama.
Below, in Alabama's game against Mississippi State in 2016, you can see Hurts' leg lock up before he lets go of a 43-yard pass that is eventually intercepted. His feet aren't set as he hurls his body into the throw.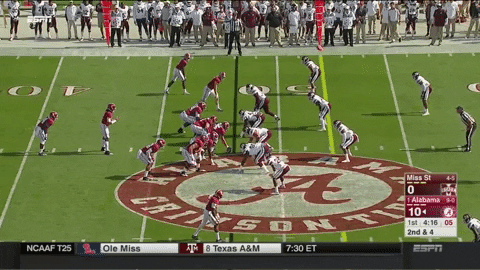 Three years later, in Oklahoma's game against South Dakota, you can see Hurts take a clean three-step drop, patiently sit in the pocket and complete a shorter throw down the field to CeeDee Lamb. He's steady and in control.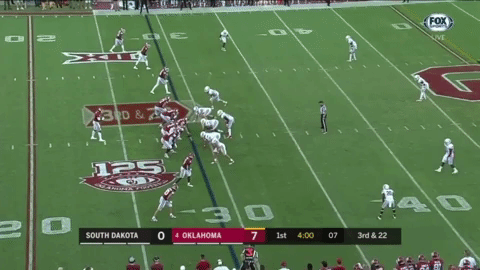 Hurts has cleaned up his throwing motion, Roberts and Avery say. He's starting to become more of a "passer" rather than a "thrower."
The difference between those two, they say, is precision. Where does he place the ball? On the receiver's facemask? Or at his feet?
"There's completions, there's accuracy and then there's precision accuracy. You've seen in person Baker Mayfield and Kyler Murray — that's as good as it gets," Roberts said. "That's where Jalen, progressing, has gotten better at ... That's been the biggest learning curve, I think, he's had from high school to Bama to now, is where to put the ball exactly and how to consistently put that ball there."
Play-calling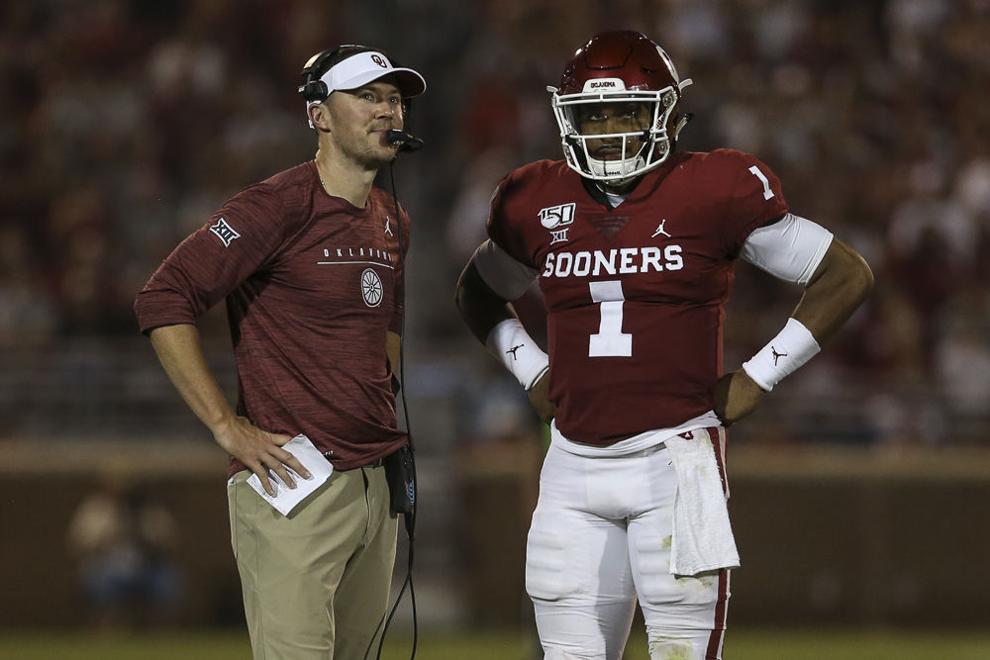 Riley is the first person who comes to mind when thinking about Hurts' immediate success in Norman. And he should be. He turned his past two quarterbacks into superstars.
But according to him, he changed nearly nothing of Hurts' technique.
"I had to do very little fundamentally with him," Riley said. "I'm not this guy that, in your drop you need to hold it three centimeters more to the right. I've never been that guy. They've got enough to think about. It's more the fundamentals of being able to execute in our system than understand how we want him to attack and doing your part to get him to a place mentally where they can just go play. If they do that, the fundamentals look pretty good.
"So I don't know what the hell that's all about. The guy can either throw it or he can't."
Riley insists it's been more of a learning curve on the mental side of things, saying Hurts was a good passer before he arrived in Norman. He's more concerned about learning the scheme and understanding the play calls. Riley has seemingly let Hurts loose in his system, which in the past has proven effective.
"I think if there's any more fluidity, it's in his mind right now. If your mind's free and you're just cutting loose and playing, then it's going to show up in the way that you play and your actions," Riley said. "Guys that play like that seem more fluid, more free flowing, more natural. That's how we've always wanted our quarterbacks to play, and I think he's showing some signs of that here."
In Hurts' freshman season, he threw the ball 382 times. In his sophomore season, the same year he was benched for Tagovailoa in the last game, he threw it 255 times. In Riley's four years before Hurts' coming to Oklahoma, his starting quarterback has averaged 384 attempts a season.
Riley has made a point this season to let Hurts show he's progressed as a passer. Charting his performances so far shows of his 41 attempts this season, 28 have been from the pocket and only four of those have fallen incomplete. In the 2018 national title game, in which he was benched at halftime, he attempted only eight passes — five of which came on the first possession — and only two from the pocket.
Riley's offense, which primarily favors a pocket passer with mobility, allows Hurts to showcase his arm.
"It's not an indictment on Alabama holding him back or anything," Roberts said. "It's just right place, right time, right coaching, right personnel, right scheme — everything has gone right for Jalen to have a great year."
It's not just the attempts Riley is giving Hurts, it's also the type of throws Riley's offense provides.
He doesn't force his quarterbacks to make NFL-caliber throws on every down. Instead, he eases them into the system, while giving them free reign to make their own checks on the field. His play-calling allows for players to run wide open, like Lamb in the Houston game, making the quarterback's job easier.
"I think Lincoln Riley is one of the most creative play designers in college football," Avery said. "He does a lot of things that puts Jalen in ideal situations. He makes things very simple for quarterbacks, but at the same time allowing them that option to make it their own."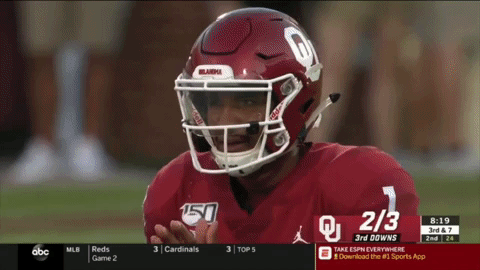 Riley won't take any credit for his quarterbacks' past or future successes. But it's clear to anyone who's watched Oklahoma since he arrived in 2015 that he has a hand in elevating his quarterbacks' talent.
"Lincoln is on the Mount Rushmore of coaches that can make average good, and good great," Roberts said. "It's teaching, it's the philosophy, it's making things simplified but complex at the same time."
Experience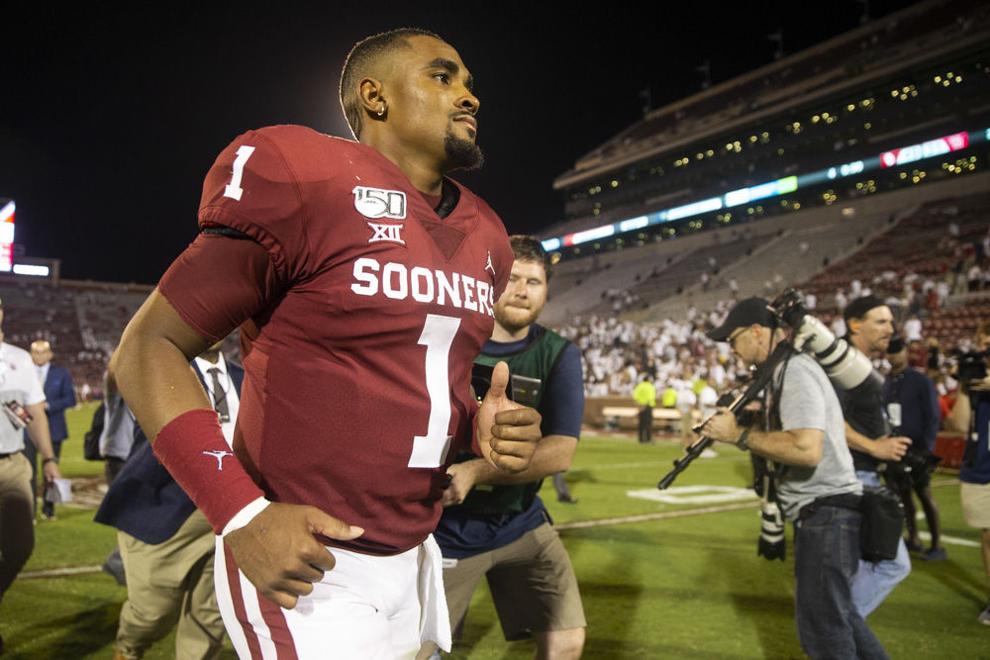 There's nothing more important than experience when it comes to being an elite passer. Quarterback is a repetition-based position. The more reps you get, the better you'll be, say Roberts and Avery.
With a 26-2 record as a starter at Alabama and three College Football Playoff appearances, Hurts has seen it all.
"He's got over thousands of reps playing football at a bigtime school against bigtime opponents. So his mental process is at a higher accelerated pace than when you throw in the true freshman behind him, Spencer Rattler," Roberts said. "Now, (Jalen's) probably sitting there in the driver's seat saying, 'I've seen every coverage, I've seen every scheme, I've seen every front, I've seen basically everything a college coordinator can throw at me.'"
Still, Hurts has a ways to go before proving he's become an elite passer. The best opponent he's faced so far, Houston, finished 119th in total defense a year ago.
But his experiences against the Georgias and Clemsons of the world will surely help him when the Sooners face Texas or any other team that stands between them and a third-straight College Football Playoff berth.
If the last eight months are any indication, Hurts is only going to get better from here. He understands his ability to be a better passer is a small element in the grand scheme of things. And at the end of the day, all he cares about is the score of the game.
"I enjoy winning," he said this week after being asked if he enjoys throwing the deep ball.
And that's what makes Hurts an elite quarterback. He's willing to do whatever it takes — whether it's training with a former opponent who beat him in the national title game his freshman year or bending his leg a few inches to keep his eyes level and his passes more precise.
He's never satisfied and never will be.
"Just how serious he is. It's unique. It's a talent," Avery said. "I think it's allowed him to be very, very successful because he doesn't take anything for granted ...
"He's singularly focused on improvement."