Nearing midnight, Jahmal Fenner's phone buzzed with a new text message.
When the Lyndon B. Johnson High School head coach picked it up, he wasn't surprised to see the notification was from his team's star player, Latrell McCutchin. In the time Fenner coached the 6-foot-1 cornerback, McCutchin had a late-night habit of sending him game film of opposing teams the Jaguars would soon play.
"He'd say, 'Coach, what do you think about this?'" Fenner said. "He always put in extra time. In the film room, in the weight room. … He's passionate about the game, so he puts in the time to study it. He just wants to leave his own imprint on the game. That's what set him apart from a lot of kids at the high school level, and now you're going to see him separate himself at the collegiate level as well."
McCutchin's drive for the game allowed him to help lead LBJ to the Texas Class 4A Division I semifinals in his senior season, as he tallied 40 tackles, including four for loss, three interceptions, a forced fumble, two fumble recoveries and eight pass breakups. The Jaguars ended the year 9-3, registering their most wins in a season during McCutchin's career.
Now, McCutchin has totaled six tackles and a forced fumble in his first five games at Oklahoma ahead of this weekend's matchup against his hometown team, Texas. OU defensive coordinator Alex Grinch's tendency to heavily rotate his personnel has limited snaps for the freshman defender, a four-star prospect in the 2021 recruiting class, but has allowed him to contribute right away — the exact reason why he committed to the Sooners.
Fenner, who played defensive back at UTEP from 2001-04, was actively involved in McCutchin's recruiting process, but only as an adviser. As is his guidance with all his players, Fenner wanted McCutchin to find the program that fit him best. After he decommitted from Alabama in March 2020 — roughly seven months after his commitment — McCutchin committed to OU that July and went on to enroll at the university on Feb. 2.
"I think they may have swayed him a little to Oklahoma because they had a need for long defensive backs," Fenner said. "Now, from my perspective, he's playing within (Grinch's) scheme of what they need him to do, and I'm seeing him show up. At moments when plays come his way, he's making plays. … He's making an impact at his position and in his role."
OU head coach Lincoln Riley believes McCutchin will be a vital piece for the Sooners' defense moving forward. He has highlighted McCutchin's forced fumble during the team's 16-13 win over West Virginia as a flash of his playmaking potential. 
Freshman Latrell McCutchin with the impressive strip, but West Virginia falls on the ball. pic.twitter.com/8DlGAwwBpA

— Sooner Gridiron (@soonergridiron) September 26, 2021
"He's developed well, (and) he plays with confidence," Riley said. "He plays with a little bit of an edge and attitude out there, which you love to see from any player, especially a young player. He's definitely one of our more talented guys in the secondary, so I'm excited about the way he's playing. He's got to continue to work, he's got to continue to improve, but he's off to a good start.
"I think he's gaining confidence, and we're gaining confidence in him as we go."
Riley's high expectations for McCutchin are shared by OU's upperclassmen. Senior linebacker DaShaun White, who said McCutchin's maturity level is far above that of an average freshman, believes the former Jaguars standout is close to finding the same success with the Sooners.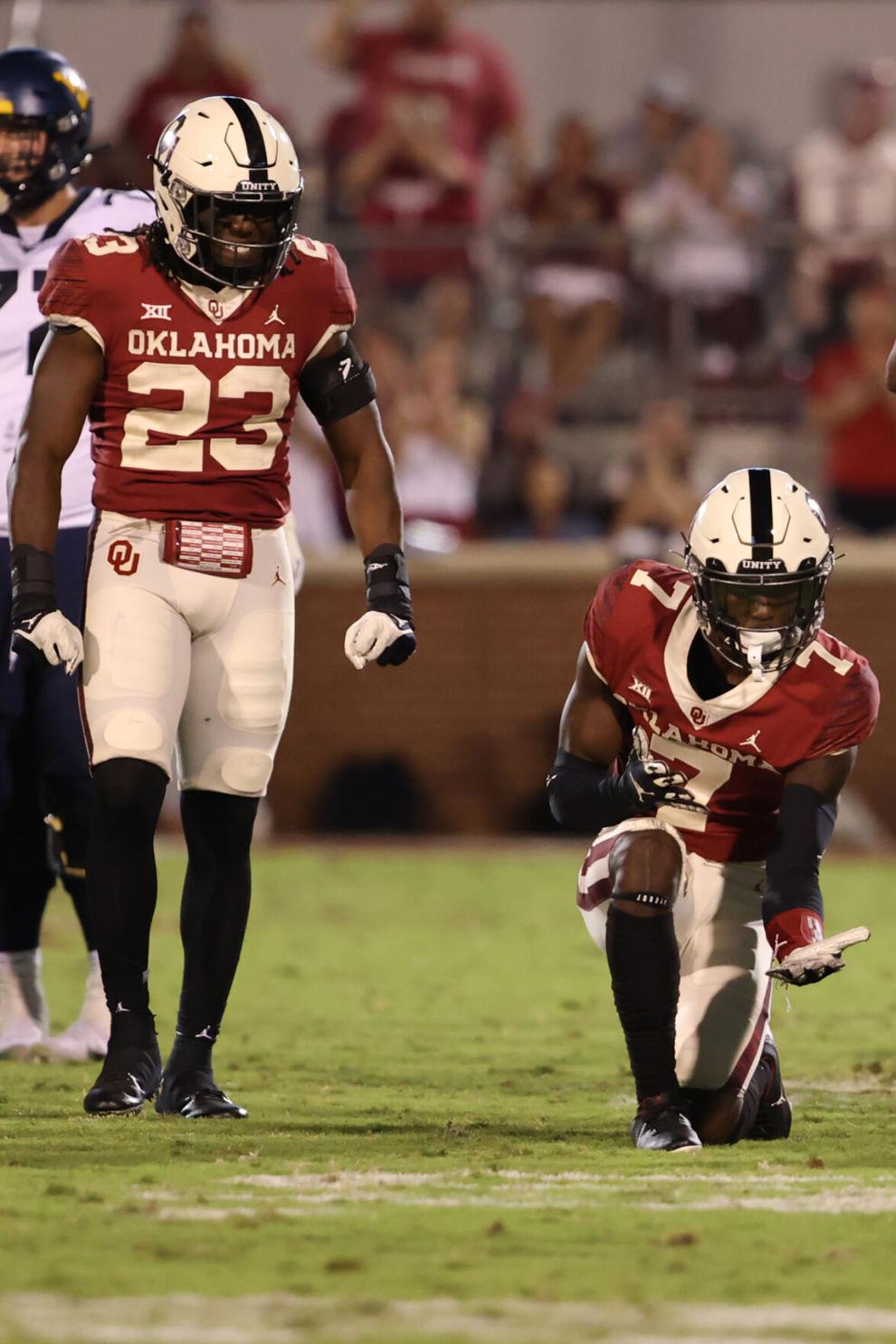 "He really gets it. I think he understands what it takes to be a good player at this level," White said. "He's figuring out his own ways to be able to execute the things that he needs to do to be the best player that he can be. He's not perfect, none of us are, but I think that the important thing is he continues to intentionally try to get better. I think that's a big thing."
Paired with McCutchin's maturity, redshirt senior Isaiah Thomas said the underclassman's strong presence and energy impacts the entire team — a trait Fenner first noticed while coaching him. McCutchin makes sure he and his teammates are enjoying themselves, Thomas said, but when it's time for film study or when kickoff rolls around, McCutchin wants everybody locked in.
In fact, when Thomas first met him at a team workout, he was taken back by McCutchin's veteran-like demeanor.
"I asked him, 'What position do you play?' and he said, 'I can play any position in the secondary,'" Thomas said. "I was like, 'Wow, all right. Not cocky, but confident. I love it.' And he displays that out there on the field."
Confidence will be needed for Oklahoma when it faces Texas at the Cotton Bowl in Dallas on Saturday, which could be the Sooners' toughest defensive test all season. The Longhorns' offense features running back Bijan Robinson, who has the nation's second highest rushing total with 652 yards, and is commanded by play-caller and first-year head coach Steve Sarkisian.
For McCutchin, an Austin native, the game also marks a chance to face the university that sits 10 minutes away from LBJ High School.
"It's huge," Fenner said of McCutchin playing in his first OU-Texas game. "It's a homecoming. It's a rivalry game against the school in his hometown. I think it's big for him, but at the same time, he has to stay focused and not get caught up in all the hype. (He has to) just go out and play his game, do what his coaches ask him to do and just make plays when he gets the opportunity."
McCutchin had an interest in playing for Texas early in his high school career, but the then-Longhorn staff wasn't quick to reciprocate those feelings. UT offered McCutchin a scholarship in June 2019, a month after Oklahoma and Alabama had already done so.
"That was one of the things that kind of rubbed him the wrong way," Fenner said. "Instead of them being the first to (recruit) the hometown, backyard kid, they were kind of the last. It took other schools to offer him before they came. That's not always a great thing."
Like Fenner, Riley warns his players not to become too caught up in the pageantry of the Red River Showdown, but he also acknowledges how much the rivalry matchup means for both teams. After all, that was something he had to learn first hand. The Sooners fell to the Longhorns 24-17 in Riley's first season as Oklahoma's offensive coordinator in 2015.
Regardless of who comes out on top in this season's installment of OU-Texas, Fenner believes McCutchin's journey with the Sooners will be one that ensures the rivalry will remain a must watch. 
"I think he has the potential to make his mark at OU and at the collegiate level to propel himself into the NFL," Fenner said. "He's focused, and he's taking care of business. That's a great combination when you're talking about a student-athlete or somebody that wants to be great. 
"I can see him being an (All-Big 12) player by next year and then becoming one of the top defensive backs in the NCAA by his junior or senior year. Who's to say (he can't be) the best?"