Alumni spoke about the positive impact of an OU physics and astronomy summer program aimed at introducing students to graduate school through research mentorships and leadership seminars.
The National Science Foundation funds over 800 research opportunities across the nation for undergraduate students through the Research Experiences for Undergraduates program. Students are matched with research projects where they work closely with faculty and other researchers at a variety of universities.
Formed roughly 27 years ago, the Research Experiences for Undergraduates program offers undergraduate research experiences in physics and astronomy and funds approximately eight students. Accepted students are directly involved in the ongoing research of the physics and astronomy faculty.
Michael Strauss, co-principal investigator of the Research Experiences for Undergraduates program grant, joined 12 years ago along with Brad Abbott, OU Research Experiences for Undergraduates program co-principal and physics professor who joined in 2014. 
Strauss described the admissions process as holistic and inclusive. Students submit their transcripts and research preferences through an online application.
OU usually receives over 100 applications each year and typically selects eight students from the candidate pool. According to Strauss, the program looks for "real enthusiasm for research" from students of all demographics and backgrounds.
He said OU has the ability to provide opportunities to students coming from smaller schools as a tier-one research university.
"One of our primary goals with the program is to give students who would not have an opportunity to do research at their university an opportunity to experience that and see if it's something they might want to do in graduate school," Strauss said.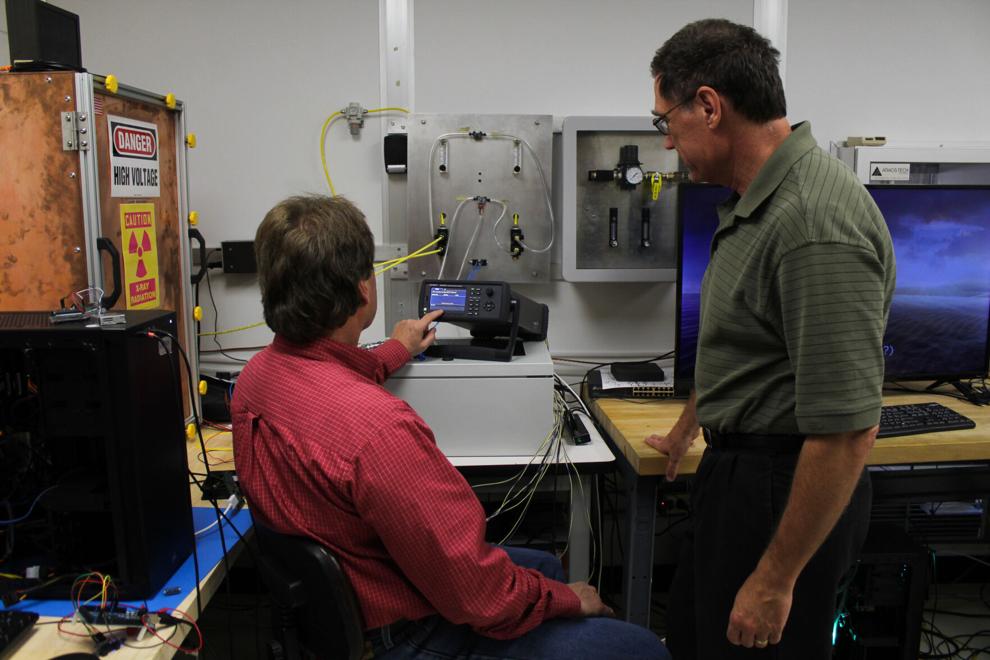 Originally from Missouri, Shania Wolf, an OU physics and astronomy graduate student, first fell in love with her fields of study after taking a general education astronomy class during her freshman year. 
Wolf participated in the 2020 Research Experiences for Undergraduates program and worked with Mukremin Kilic, an OU associate professor of astrophysics and cosmology, identifying white dwarf variable stars. She said the experience reinforced her interest to attend graduate school.
"That hands-on research experience really called to me and just made (graduate school) more fascinating," Wolf said.
Strauss said programs like the Research Experiences for Undergraduates allows for insight into their interests for their futures. 
"You can certainly decide that you may want to go to grad school or not without having research experience," Strauss said. "Even if a student comes to our REU and decides they don't want to do this, we consider that a success because it's an opportunity as a 20-year-old and 21-year-old instead of a 26-year-old to say, 'Oh, I do like research,' or 'I don't like research,' and give (them) some direction."
Aaron Richterkessing, a physics senior and participant in the 2022 program, said the program developed his research skills and helped him prepare for graduate school.
"(We) not only got hands-on experience doing research in a longer and larger capacity than we did during the school year, but we also learned a lot about following up with research, whether that be going to grad school or not … (preparing) us for whatever avenue we wanted to follow through," Richterkessing said. 
Brigham Godwin, an OU physics graduate student, first learned of the program from Abbott, who was one of his physics professors at the time. Godwin worked with Bruno Uchoa, an associate professor of condensed matter physics.
Godwin said the program allowed him to learn quickly alongside his research. 
"It was like a steroid shot of learning," Godwin said. "I don't think I've learned that much in that short amount of time as I ever have."
Through the summer, alongside their research, students also attend weekly lunch seminars with faculty, OU students and post-doctoral students to learn about professional life in science.
Richterkessing described the community, students and mentors as friendly and supportive.
"It was really nice to get to know everybody," Richterkessing said. "It was a really chill atmosphere."
For Godwin, the Research Experiences for Undergraduates program created an environment where students could take the lead in research.
"It was beneficial because it was just like, 'Here's your thing to focus on and just do it,'" Godwin said. "It's just very much the wide open thing where you can just pursue whatever you're interested in."
Richterkessing said the program taught him how to utilize his degree.
"Without these programs, I would not have as good experience and knowledge to apply to my degree going forward," Richterkessing said, "It taught us so much just about how to actually put our degrees to work … which is really invaluable."
This story was edited by Alexia Aston, Karoline Leonard and Jazz Wolfe. Francisco Gutierrez and Teegan Smith copy edited this story.