Five goslings hatched outside the Goddard Health Center Thursday under the watchful eye of their parents, a pair of Canadian geese that returned to the location for the second year in a row.
Maggie Pool, OU Health Services' clinical administrative director, said the lovebirds returned to their spot on the northeast side of the building in early March. They quickly reestablished a nest and laid six eggs on March 22. 
For the next 29 days, the goose parents guarded the area carefully. Goddard employees used their breaks to look through the nearby windows to check on their avian neighbors. As the hatching day grew closer, up to four people at a time could be seen watching over the birds, Pool said.
"It's just been kind of a boost for morale. People don't want to take the day off in case they might hatch," Pool said. "It's just something that really unifies people."
Douglas Mock, OU George Lynn Cross Research professor emeritus of biology, specializes in bird behavior. He said it's likely the pair never stray far from Oklahoma and return to campus each year because of the safety it provides from predators, as the frequent foot traffic likely wards them off.
Mock said geese are monogamous and stay with their partners for life. They are reliable parents, Mock said, as they stay with their goslings for longer than most bird species. They are also fiercely protective.
"A goose is a badass parent to have to deal with," Mock said.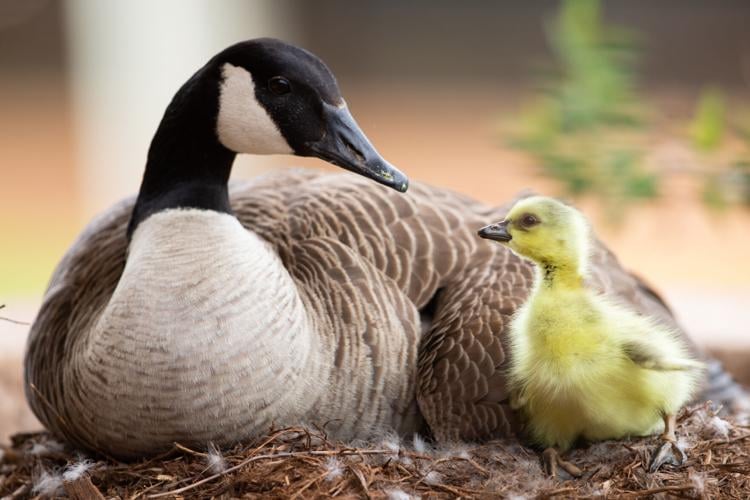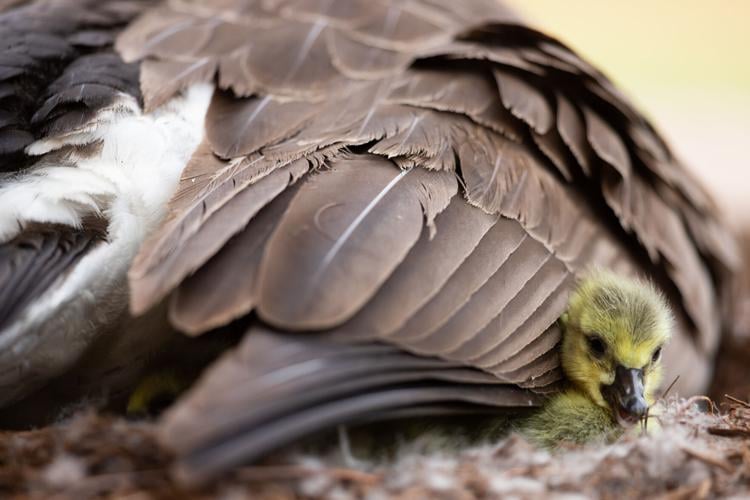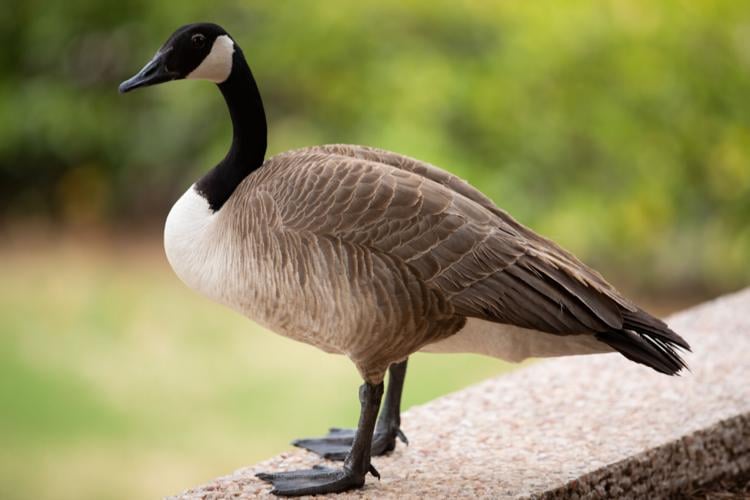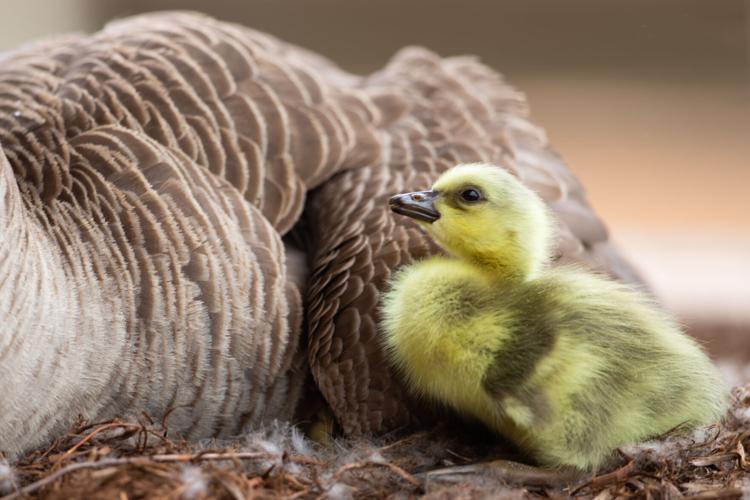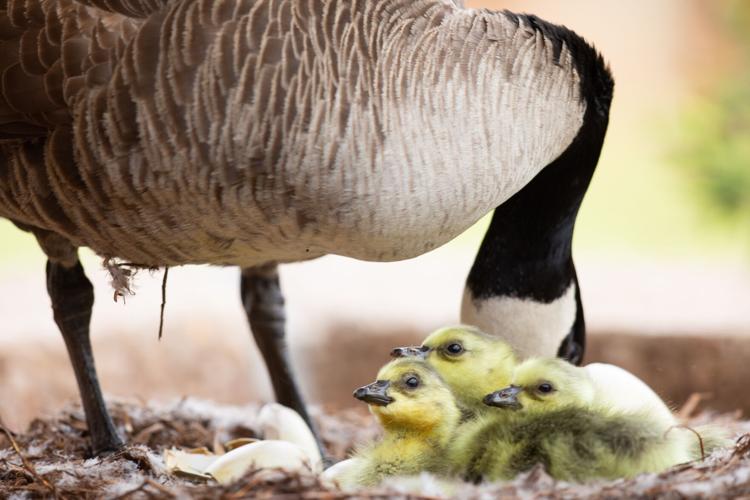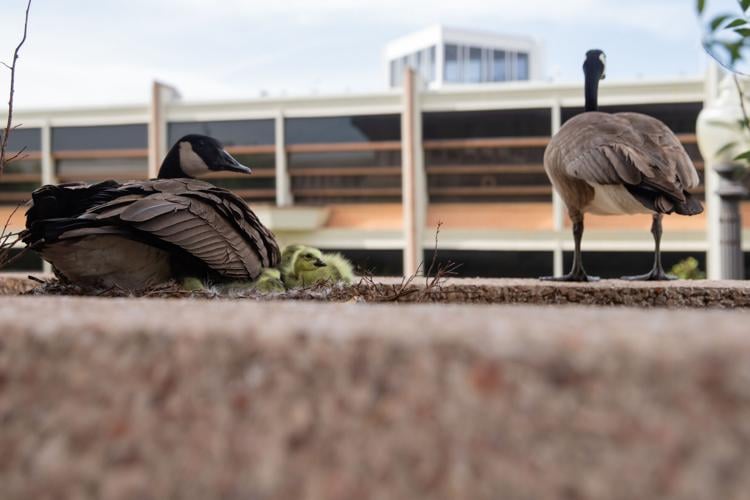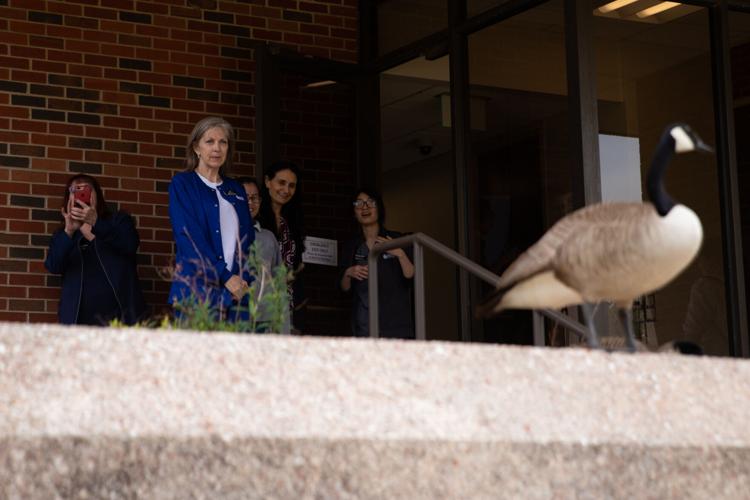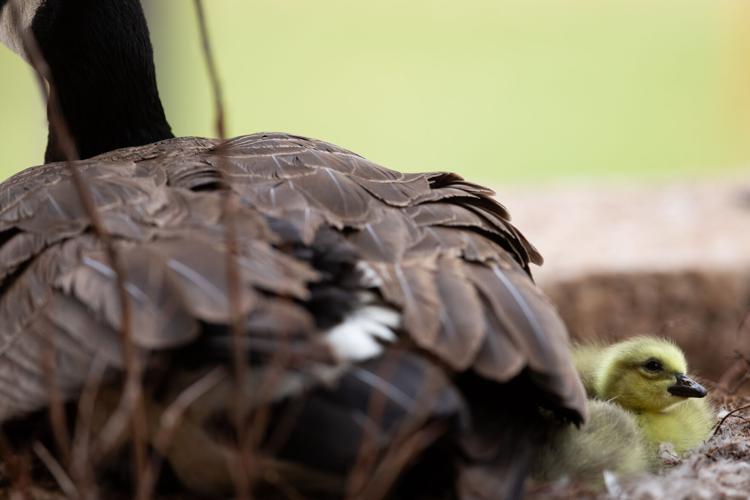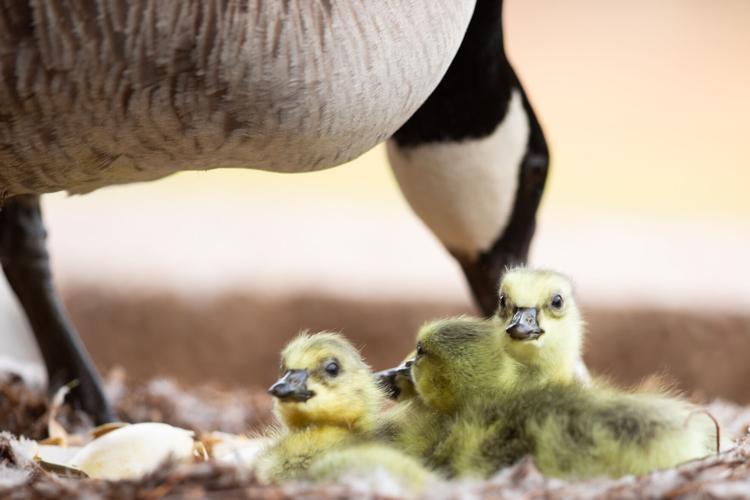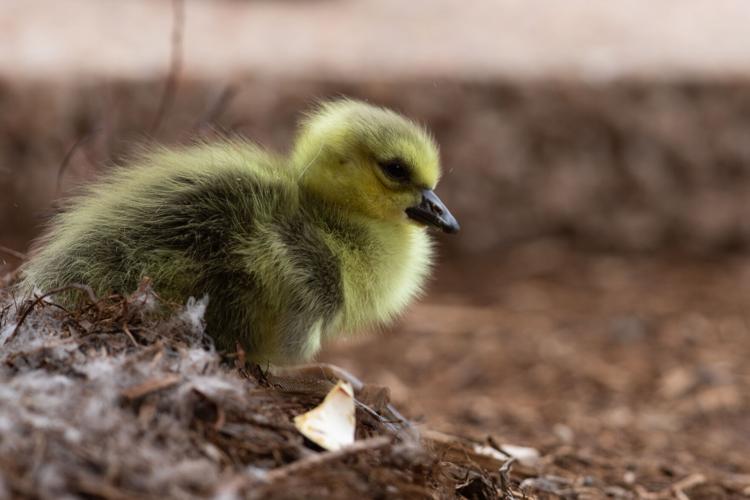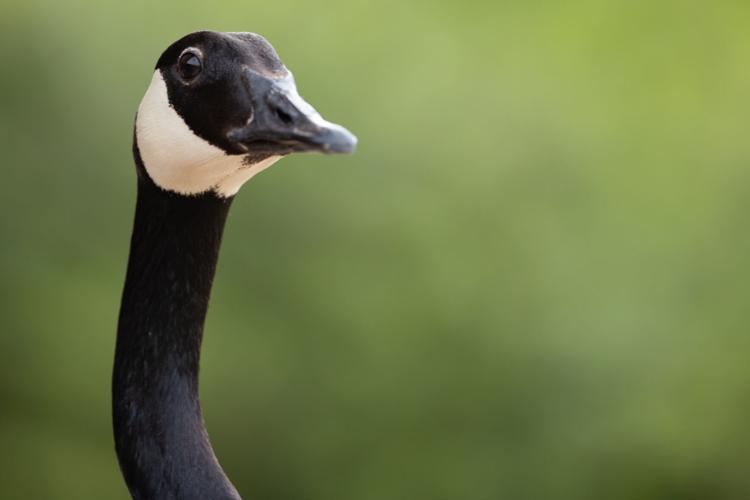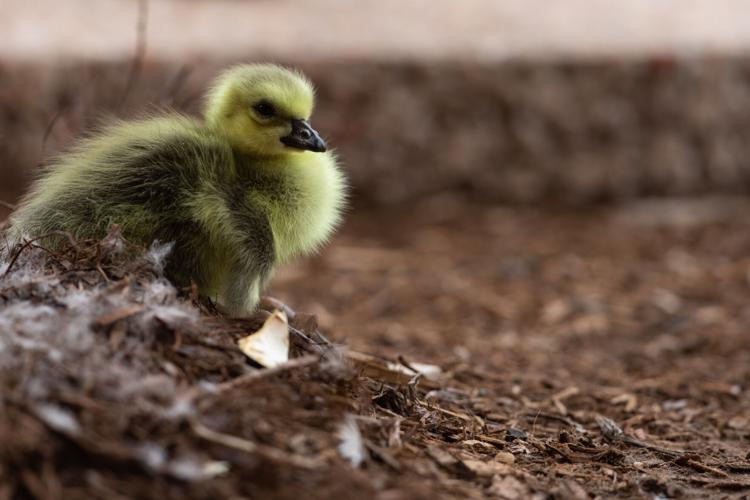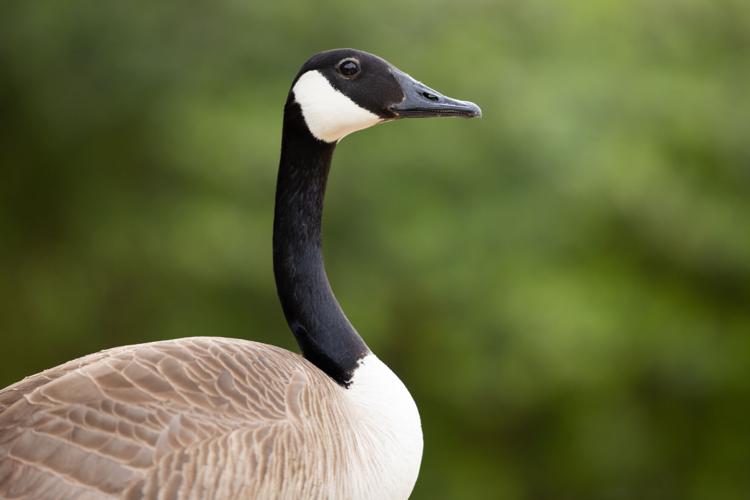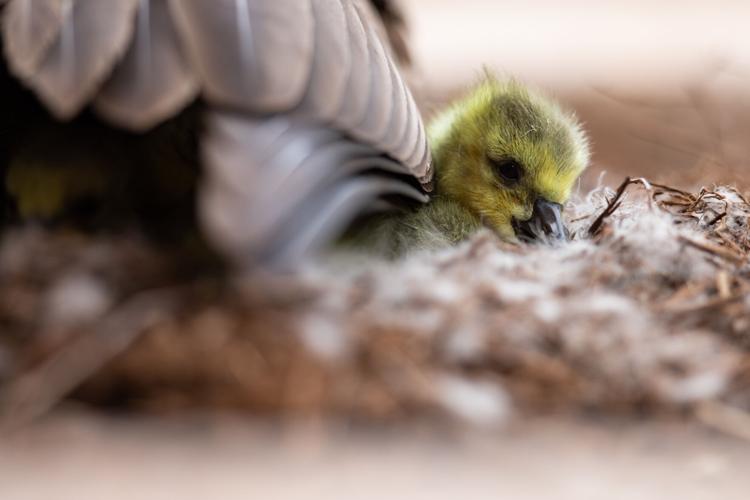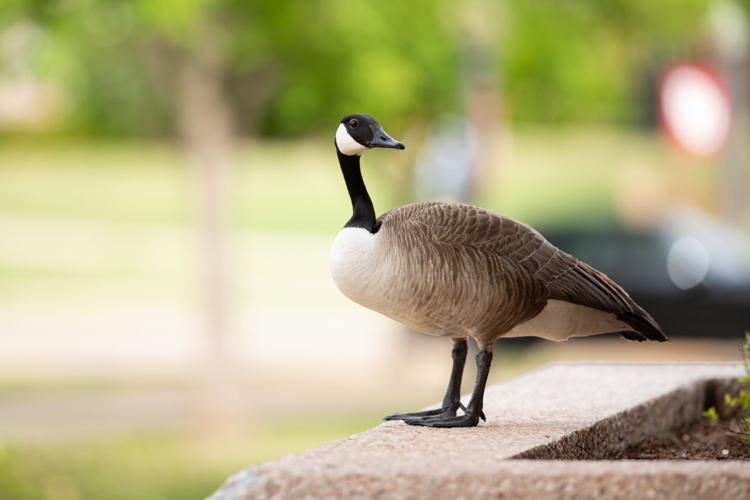 PHOTOS: Five goslings hatch outside of the Goddard Health Center
Mock said people should steer clear of the geese and avoid angering them, as they can do a lot of damage if they try to protect a nest or their partner from something they perceive as a threat.
"They will hurt you bad," Mock said. "They can peck eyes. They will do that preferentially because that's your weak spot. A goose is a formidable opponent."
However, Mock said geese are typically pleasant to have around. They eat grass and avoid ornamental shrubbery and don't typically bother passersby unless they get too close. Mock added some people will adopt a domesticated goose as a guard animal. 
"They are model citizens," Mock said. "Unless you count crapping on the sidewalk, which, you gotta crap somewhere."
Mock said the geese will likely leave the nest for a body of water shortly after the goslings hatch. Pool said they were gone the next day in 2022 and she expects them to be gone by the weekend, though they have set up a live camera feed for people to keep an eye on the birds.  
The staff at Goddard Health Center haven't picked names for the adult geese, though they did name last year's gaggle of goslings after various prescription drug names, all starting with the letter "G." However, the OU Health Services' social media team is taking name suggestions for this years' group, Pool said.
Mock said geese are an admirable bird, both because of their tenacity as partners and parents, but also because of everything else they may do in life. Migrating geese can fly hundreds to thousands of miles in a single trip. Their beaks and necks are strong, which makes them so formidable in a fight.
However, during a goose's adolescent years, it can be a bit awkward, Mock said. Young geese will be on their own after about a year under their parent's care and that is when life is the most dangerous for them.
"When they're first on their own, like OU undergraduates, they sometimes make very poor decisions," Mock said. "But once they become fully adults … they're going to be around for a while." 
This story was edited by Alexia Aston and Karoline Leonard. Ansley Chambers copy edited this story.