OU architecture students are the first to use an artificial intelligence image-generating program to aid in the design process for a proposed Native American studies building on campus.
Midjourney, created by a small, independent research lab under the same name, is an artificial intelligence program that generates images from a text prompt. It has also been used to generate AI art.
René Peralta, an architecture professor at the OU Gibbs College of Architecture, was the first to implement this technology in his studio as part of a semester-long assignment to create a proposal for a Native American studies building on campus.
For their final studio project of the Native American studies building design proposal, students used Midjourney to generate reference images about Indigenous theories of architecture, referencing ideas and terminology found in Laura Harjo's book, "Spiral to the Stars," to guide their project for the semester. 
Harjo is a Mvskoke scholar and associate professor at OU's Department of Native American studies.
Rose Arango, an architecture senior, said one of the positives of the program was that it was personalized to the user's needs. 
"It was able to provide reference images that could inspire my design, that (were) so specific to the project's needs, which is really cool to see. It's something that you can't really do without AI," Arango said. "You can look for references and other projects and precedents online, but none of them will be as specific to your project as the ones that you generate yourself through Midjourney."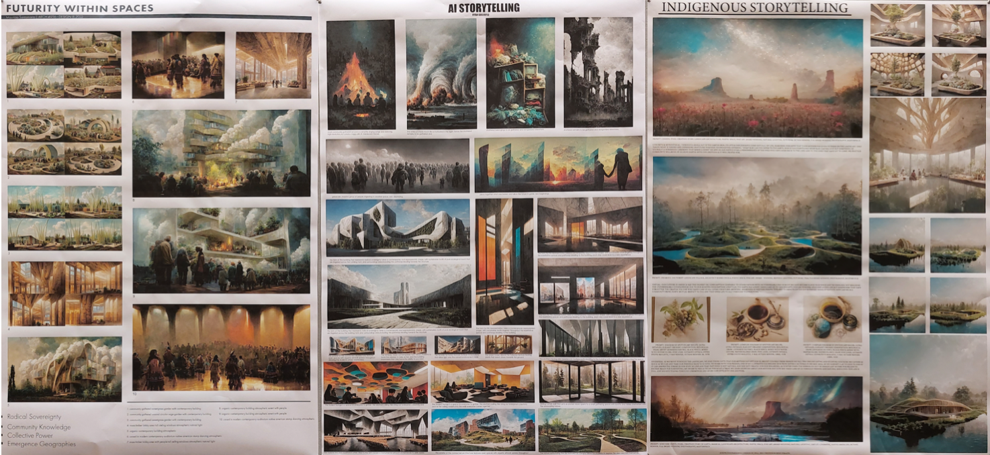 Despite the benefits of Midjourney, Arango said she feels there is a need for foundational skills, such as design and sketching, as an architect.
"If you go into using AI before you have the foundation of knowing your own design process, it can almost stump you instead of aid you," Arango said. "Knowing the basis and the theories and all that critical information behind the practice of architecture, and knowing how to apply it in technical terms, is really important before ever even touching AI as a tool." 
Davis Mountcastle, a fifth-year architecture student, said while Midjourney was useful at generating images, a difficulty he ran into was finding the precise keywords that would produce a viable image.
Another challenge students ran into was working around potential biases generated by the program. When first inputting information about a Native American studies building, stereotypical imagery of Native American people was first generated, such as tipis. Students had to improvise around this, Mountcastle said.
While most of Peralta's students ended their use of Midjourney after the initial design, Jonathan Jonnalagadda, an architecture senior, said he was invested in continuing the Midjourney experiment throughout the whole semester. He tried to utilize the program at every step.
Jonnalagadda said it is important to learn how to use programs like Midjourney because many programs, like Revit and SketchUp, have already implemented AI rendering in their software.
"AI, in general, will be implemented a lot more into software. … It could be something as simple as, 'Hey, I can easily create the form of your building or the amount of parking spaces you need,'" Jonnalagadda said. 
Jonnalagadda said AI may grow to create three-dimensional modeling components from detailed drawings in the future. 
Jonnalagadda said the new age of architecture requires fluency in AI. 
"The technology is already there. It's going to develop and get integrated, whether we like it or not," Jonnalagadda said. "Might as well learn how to use it and have the skill set rather than getting left behind." 
Jonnalagadda said he has a positive outlook on artificial intelligence's future in architecture. He believes with the utilization of programs like Midjourney the definition of an architect will shift from a designer to an author, learning the best way to communicate design. 
Peralta said he hopes artificial intelligence will continue to be positively implemented in architecture education to help students in the learning process.
"Right now, traditional education of architecture has always been a sort of arduous process. … There's this famous all-nighter that every student goes through every semester before presenting their final project," Peralta said. "I hope technology allows us to move away from that old tradition that an architecture student has to suffer in order to learn, … and we can spend more time talking about the ideas and the theory about architecture."
This article was edited by Alexia Aston, Karoline Leonard and Jazz Wolfe. Ansley Chambers and Nikkie Aisha copy edited this story.