Norman released a gap analysis last week of Cleveland County's homeless services system, the demographic of the county's residents experiencing homelessness and provided recommendations to improve the current system.
The report is in conjunction with the Norman/Cleveland County Continuum of Care and is contracted with Homebase, a national technical assistance provider that helps communities prevent and end homelessness. More than 500 community providers, local residents, people with lived experience of economic insecurity and/or homelessness and business representatives answered surveys, according to the report.
The community survey, conducted during March and April 2021, had more than 450 responses from Cleveland County residents. Many respondents were homeowners who did not work regularly with people experiencing homelessness, according to the report. 
According to the report, most respondents felt concerned either for themselves or for someone they knew about finding affordable housing. They also believed people in their community are one or two circumstances away from becoming homeless.
Currently, adults over 18 comprise 93 percent of Cleveland County's homeless population. Children under 18 years of age comprise 7 percent of the homeless population.
Nearly a third of Cleveland County's population experiences a cost burden for housing, making them vulnerable to homelessness, according to the report. White residents experience a cost burden for housing around a third of the time while Asian, American Indian or Alaskan Native residents experience it approximately 40 percent of the time. Black or African American residents experience it just over half of the time. 
According to the report, Cleveland County has a less diverse general population than Oklahoma, with 78 percent white residents in the county compared to 74 percent in Oklahoma. However, Black, African American, Native American and Alaskan Natives are two times more likely to experience homelessness than the general population, which is potential evidence of "ongoing racial inequities in the local homeless system," according to the report. 
Cleveland County's Homeless Population in 2020
The full point-in-time count in January 2020 identified 266 people experiencing homelessness in the county — a 100 percent increase from 133 in 2015. Of those in 2020, 55 percent were living unsheltered on the streets, in vehicles or in encampments, according to the report.
Women comprised 34 percent of the unsheltered homeless population in 2020 — an increase from 24 percent in 2019 — and 42 percent of Cleveland County's sheltered population in 2020 compared to 39 percent in 2019.
Men comprised 66 percent of the unsheltered homeless population in 2020 — a decrease from 76 percent in 2019 — and 58 percent of Cleveland County's sheltered population compared to 61 percent in 2019.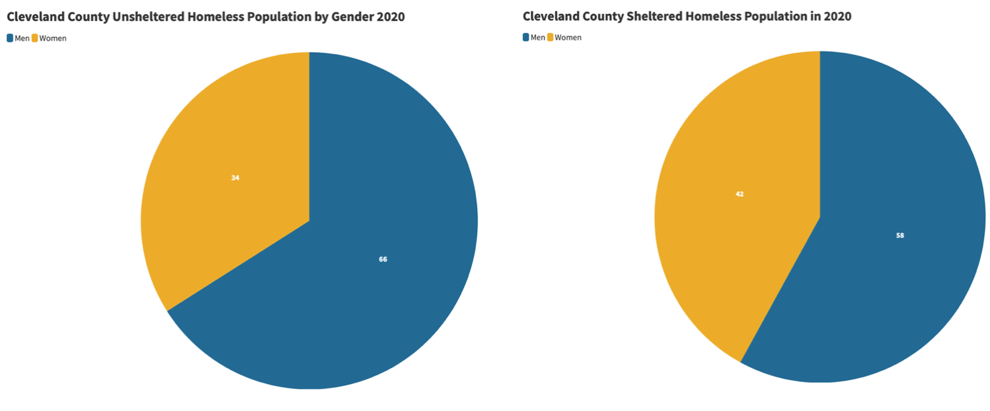 The increase in the overall homeless population is partially due to a "more robust" point-in-time count, according to the report. 
In 2020, 50 percent of those experiencing homelessness were identified as having a serious mental illness, a substance use disorder or both.
Cleveland County's Homeless Population Between 2017 and 2019
Cleveland County had 1,861 residents who accessed local homeless services between 2017 and 2019. Of those, 22 percent, or 161 residents, were identified as chronically homeless — "individuals or heads of households experiencing homelessness for a year or longer who also experience at least one disabling condition," according to the report.
Of the 1,584 adults who accessed local homeless services, 61 percent were male, 39 percent were female and 1 percent were transgender or gender non-conforming.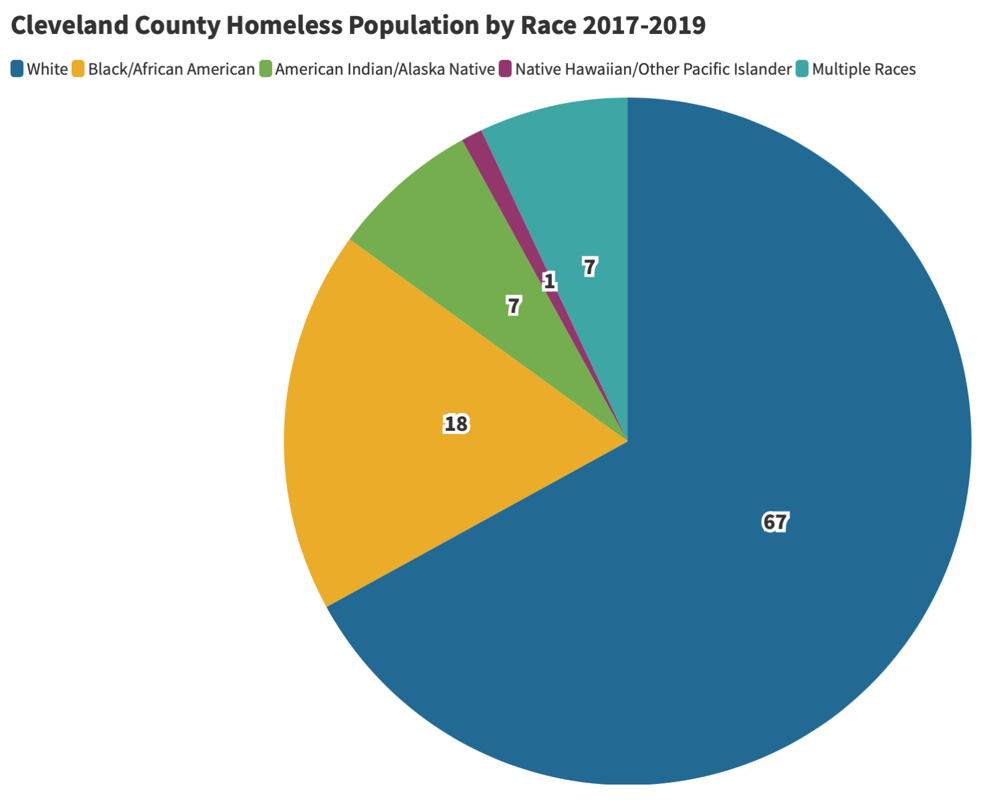 The report found that 67 percent were White, 18 percent were Black or African American, 7 percent were American Indian or Alaska Native, 1 percent were Native Hawaiian or Other Pacific Islander, less than 1 percent were Asian and 7 percent were persons of multiple races.
Of the residents, 60 percent reported having no income, 46 percent reported having no source of non-cash benefits and 59 percent reported having no source of health insurance when presenting for services.
Additionally, 27 percent were survivors of domestic violence or were actively fleeing it, 22 percent experienced chronic homelessness, 7 percent were veterans and 7 percent were under the age of 25.
In terms of health conditions and disabilities, 30 percent of residents who received services reported having a mental health problem, 16 percent reported having a physical disability, 15 percent reported having a chronic health condition, 12 percent reported experiencing a substance use disorder, 5 percent reported a developmental disability and 1 percent reported experiencing HIV or AIDS.
Additionally, 27 percent reported having at least one disability, 23 percent reported having multiple disabilities and 15 percent reported experiencing three or more. 
Housing and Services
Currently, Cleveland County does not have enough service spaces to meet the needs of its unhoused population, according to the report. Norman has two year-round overnight shelters, the Salvation Army and Food & Shelter; one seasonal shelter, Norman's Emergency Shelter; and a few other agencies that offer a small number of emergency use apartments or rooms. 
Norman's low barrier warming shelter was first opened in 2019. As of May 11, 2021, at least 219 individuals were using the shelter, according to the report. 
In 2020, the Housing Inventory Count identified 259 year-round beds available in the community for Permanent Supportive Housing, Rapid Rehousing, Transitional Housing and Emergency Shelter, with an additional 66 seasonal beds and four overflow beds.
Of the year-round beds, 53 percent were dedicated to some type of permanent housing, and the remaining 47 percent were for temporary housing. Of those, the region had 116 permanent supportive housing beds and 22 rapid rehousing beds.
As of June 2021, there was a 76-person wait list for permanent supportive housing.The area had 121 year-round temporary beds, 59 emergency shelter beds and 62 transitional housing beds. Of those, 16 of the 59 shelter beds are dedicated to women and their children who are survivors of domestic violence.
Recommendations
Stakeholders and focus group participants identified several key gaps and needs, including opportunities for safe and affordable housing; low-barrier housing and day services; supportive services; transportation to employment; services and shelter; coordinated prevention assistance; robust data collection and analysis; and coordination and communication to ensure effective use of limited resources.
The report lists over 40 recommendations to address Cleveland County residents experiencing homelessness. A few include committing to additional permanent supportive housing units, widely advertising the eligibility criteria and necessary process for obtaining housing assistance, establishing a landlord risk mitigation fund that provides compensation if issues between landlords and tenants arise and designating a countywide housing navigator who can meet in person with individuals and families experiencing homelessness.