Bringing energy and money, thousands of Sooners travel to Norman each game day and pack the Gaylord Family-Oklahoma Memorial Stadium. Just down the road, Campus Corner also buzzes with activity.
Outside, booths advertise merchandise, food and alcohol to the city's visitors who walk from business to business and indulge in the game day energy. Inside, restaurants and stores have the hustle and bustle of game days down to a science.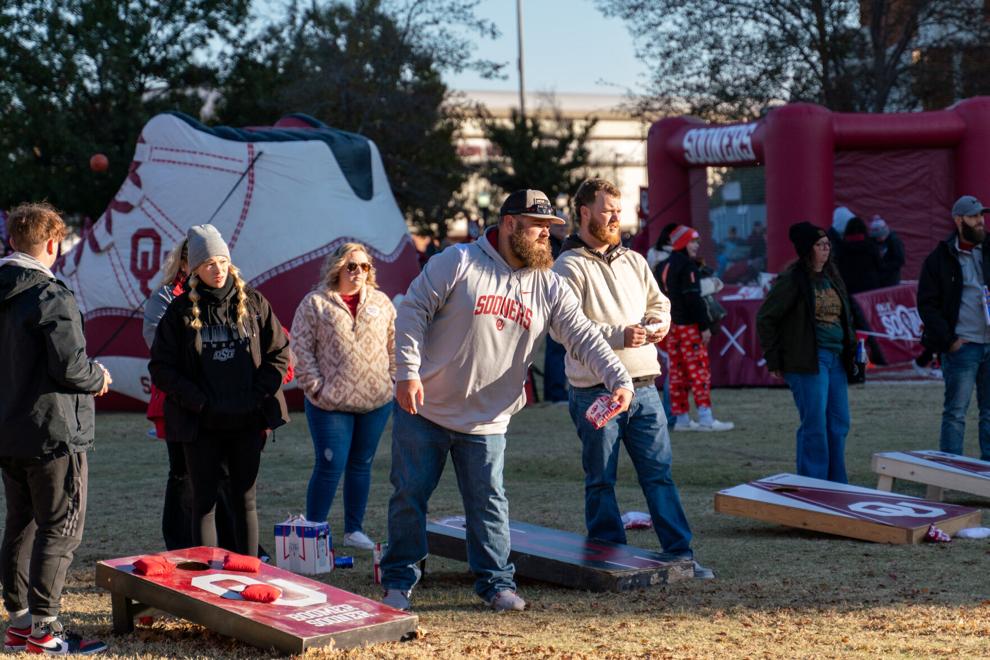 Campus Corner businesses prepare weeks in advance for game days, days that Stormy Hill, general manager of Norman's Fuzzy's Taco Shop, said require a separate set of training.
"It requires a lot of preparation on the business side," Hill said. "We have to order more food and hire more employees because fall versus spring is so different."
The differences are more stark than they seem.
The stadium holds 86,112 occupants, approximately 42,000 less than Norman's population, as of the 2021 census. The thousands of visitors flood Campus Corner in a sea of crimson and cream.
"It's definitely way busier," Hill said. "The home games are easily the busiest days of the year for us. We do twice as much business as we do on a normal Saturday."
While Sooners visit the city with the intention to attend football games, more money than just what is spent on a football ticket goes into the community.
Austin Kappes, Louie's Grill and Bar general manager, said Louie's brings in up to $40,000 on game days, while regular Friday and Saturday nights bring $6,000-8,000, respectively. More income translates into more behind-the-scenes work for businesses, and Louie's is no exception.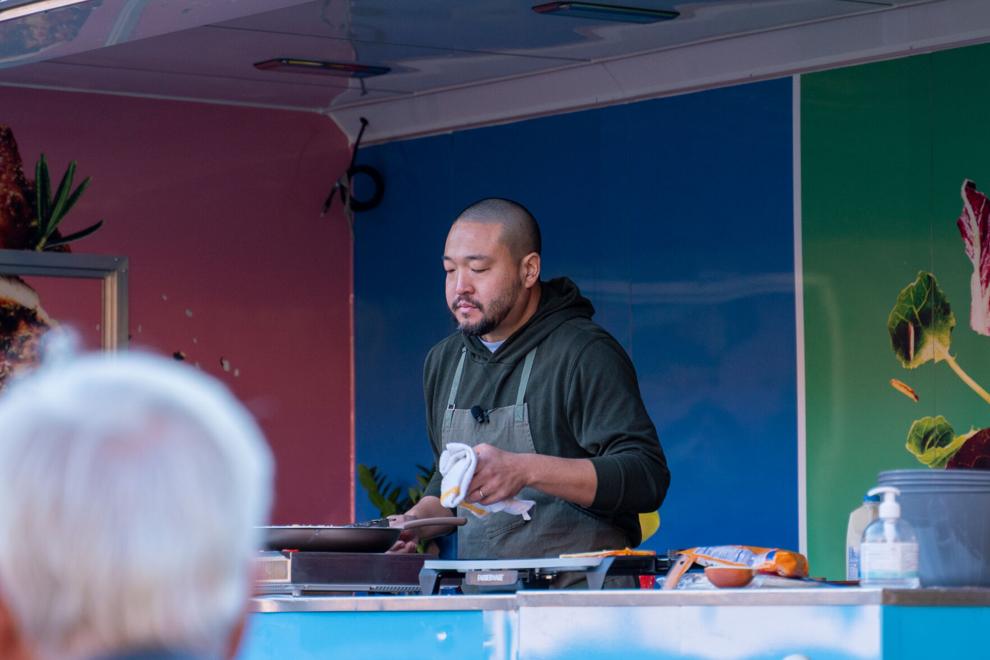 "We start our fruit and liquor prep early in the week so that we're ready to go," Kappes said. "We have a total of 30 employees, and all of them work on game days."
The shifts vary for the 30 employees, with the environment of the restaurant changing as people come and go. Louie's employees average seven- to eight-hour shifts on game days, and management changes the clock-in times of shifts from game to game depending on when the Sooners walk onto the field.
Further down the historic street, Branded Apparel preps for Saturdays differently than restaurants by taking its boutique into the parking lot in front of its store.
Employees of the company, such as Hannah Gounce, a sales associate, rearrange the boutique's products to ensure the target audience is reached. Catching customers' eyes is a necessity for stores' success on busy game days.
"We have all our OU apparel, our red and white, on display, and our clear bags definitely sell more on game days," Gounce said. "We have those at the forefront so they're the first things customers see."
The strategy allows shoppers room to browse merchandise while still indulging in the game day environment.
An increase in devoted fans brings with it an increase in crowd activity on Campus Corner, and employees are often the primary witnesses in excited behavior.
Faith Jordan, key manager of Norman's Fuzzy's Taco Shop, works in the front of house, and with the business' location being in the center of Campus Corner, energy is high and unpredictability of guests is certain.
"Game days are pretty crazy. Plus, the people are really crazy," Jordan said. "It gets really intense, and sometimes there's rowdy customers who are yelling and fighting. It's a lot."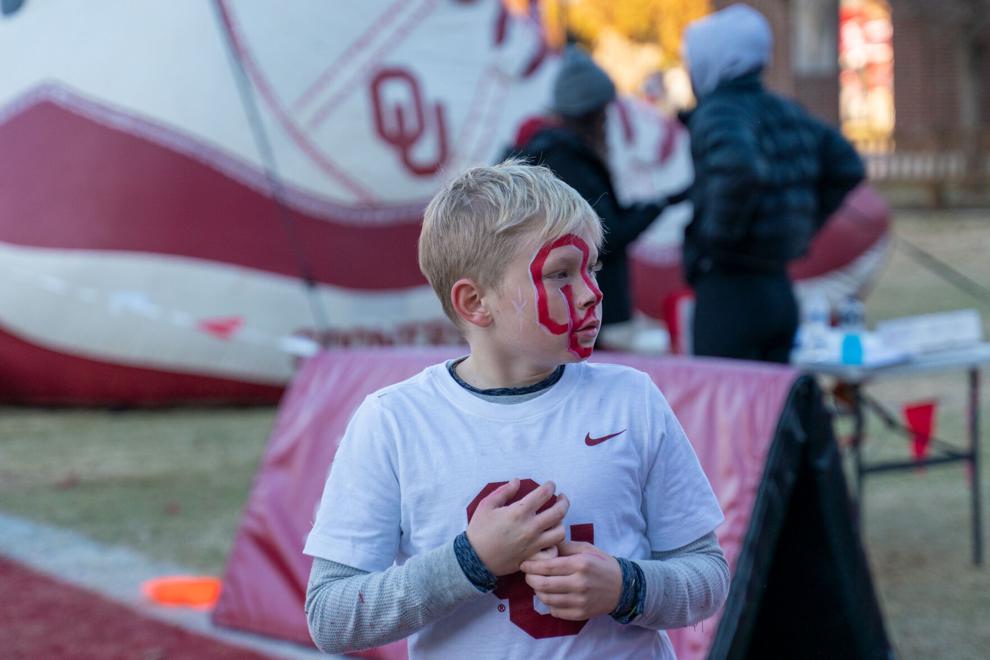 Excited customers are not the only ones yelling on game days. Shelby Massey, an OU philosophy sophomore and Pickleman's Gourmet Cafe in-store worker, spends the time before her shift sleeping in order to prepare herself for the game day chaos.
"Sometimes we'll get so many people that we just have to shout, 'Hey you!' or 'Denim jacket!' and then we'll take their order," Massey said.
With so many Sooners in one area, people often have to raise their voices to be heard. Sooners take advantage of all the empty space in the streets, but many fans can be seen on balconies observing the thousands of visitors, too. 
"I worked multiple game days in a row and got used to making things very quickly and always having something to do," Massey said. "When it's not game day, it's still busy, but the line is not out the door."
The rate of conflict rises when thousands of people are gathered in one place, but after 127 years of Sooner football, the community is well-equipped for any situation that arises.
Security is on high alert in Norman on game days, with metal detectors at the entrance to the stadium, police directing traffic before and after games, and officers patrolling the campus and surrounding areas throughout the weekends.
Cary Bryant is a patrol lieutenant and member of the Norman Police Department's Public Information Office team.
"Our role is to ensure a safe environment for those fans and participants," Bryant said. "We do that with planning that starts well in advance of the season. I cannot go into what that preparation is, but it is a role we and other agencies involved take very seriously." 
Game days are described as crazy and chaotic by employees of the Norman businesses and community. Longer shifts and exhaustion are common among Norman's employees throughout game day weekends. Despite the inconveniences game days bring, pride for the university and Norman community remains strong.