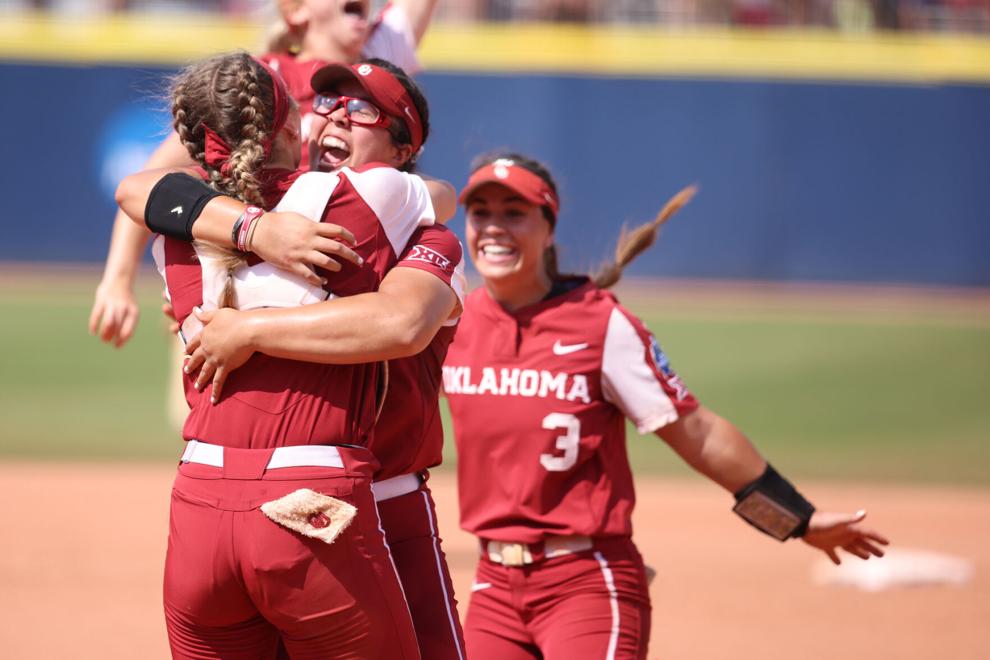 OKLAHOMA CITY — Will and Dulcinea Juarez stood in section seven, four rows from the field, surrounded by Sooners faithful at USA Softball Hall of Fame Stadium.
As Oklahoma was one strike away in the seventh inning from winning its fifth national championship, Will found himself watching his daughter, senior Giselle Juarez, pitching in her 31st inning of the Women's College World Series in front of 10,830 fans. 
Juarez reared back and fired her 112th pitch of the game with her parents eagerly watching. The pitch softly popped up off the bat, and Juarez was camped under it. She caught the ball with a smile, before sophomore catcher Kinzie Hansen met her in the pitching circle with a hug. The rest of the team shortly followed in celebration.
𝐏𝐨𝐞𝐭𝐢𝐜: 𝐆 registers the final out. ♥️@ggotgame45 | #ChampionshipMindset pic.twitter.com/TO5tAULkm5

— Oklahoma Softball (@OU_Softball) June 10, 2021
Juarez led the Sooners to become the fourth team to win the national championship after losing their WCWS opener in a 5-1 win over Florida State on Thursday. The Glendale, Arizona, native pitched a complete game and allowed just one run on two hits with seven strikeouts, and earned the tournament's Most Outstanding Player award.
In the moment of the final out, a teary-eyed Will and Dulcinea embraced from their seat near the third-base dugout, above where OU was stationed in the Oklahoma heat that reached close to 100 degrees.
"When that ball went to her, I almost fainted," Will told The Daily shortly after the game. "Look at her, she has no fear. It's hard to believe it did what it did, that ball. It's a culmination of her hard work and determination for that moment right there."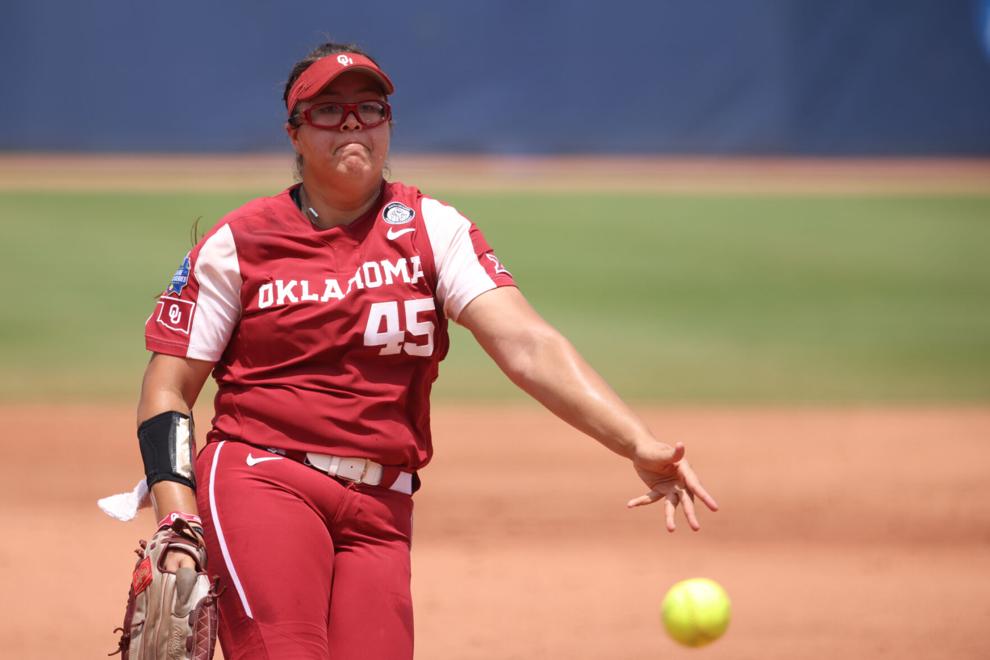 Juarez possesses a scar from a hip labrum tear suffered her senior season of high school. She also recently recovered from a bicep tear in 2020. Both of which were afterthoughts in the moment as she willed OU to victory.
In the moment, Juarez's most important life instances flashed in her parents' minds. Most specifically, the ones that got her to the stage where she made the final out of the 2021 softball season.
Will relived a memory in the family's car, driving five hours to California for a club tournament, before Juarez was a college athlete, nonetheless a two-time All-American. It reminded him of driving back to their home state of Arizona after the tournament, with Juarez resting in the back seat past 2 a.m. so they didn't have to rent a hotel to save money.
It was one of the times Will credited Juarez's ability to keep working hard and getting up after receiving punches that life threw her way.
Juarez wasn't her best in 2021, as she was just a few months removed from rehabbing her torn bicep. Juarez wasn't sure if she could ever return to her former self, the pitcher that led OU to its 2019 national championship appearance against UCLA with a 1.39 earned run average.
But when the WCWS came around, Juarez let everything go, according to Will. It allowed Juarez to leave her injury in the past and forget that freshman Nicole May and senior Shannon Saile started over her in Oklahoma's super regional games against Washington. Juarez' ERA was a 3.35 entering the WCWS, highest amongst the three typical starters. 
Juarez was back to being who she was, Despite the injury and despite back-to-back losses in the 2019 national championship against the Bruins. Juarez finished the 2021 WCWS with a 5-0 record in 31.1 innings and struck out 38 batters while allowing just four runs. Her ERA for the tournament was .89, better than her 1.39 mark in the 2019 tournament.
She had reached postseason form, and in each start she made, the Sooners faced elimination, but Juarez wouldn't allow their season to be over. 
"I'm just overwhelmed with joy for that young lady," head coach Patty Gasso said. "She was very diligent and fought through it and didn't have her best season, and she would tell you that, but I don't know that it matters right now to her because she had that moment in the course of about seven days. It caps off her career in the most ultimate way you could ever think of."
Senior right fielder Nicole Mendes, who also played her last collegiate game at OU, remembered Juarez feeling like she may have never been able to return to her past form, and when she lost to UCLA. 
"To see her come back from both of those two big adversities and to be where she is, I just can only smile because it's such a G thing to do," Mendes said. "To come in and to say, 'Okay, you know what, I'm going to own this one, and I'm going to bounce back from this injury, and I'm going to carry my team to this championship.' Such a special moment."
Will said that previously in the season, Juarez's arm didn't extend back nearly as much, which diminished her velocity and spin on the ball. But in the WCWS it changed, with full force and the whip of her wrist back. 
However, overcoming an injury wasn't new to Juarez. She played through her prior hip injury as a senior in high school with the Birmingham Thunderbolts travel organization and coach Richard Shea.
Those past instances of playing through impairments prepared Juarez for Thursday.
"She's a competitor, and that's what competitors do," Shea told The Daily. "No matter how much she was ever hurting, she would do it for her teammates. You could look at somebody like Troy Aikman, just because he got concussions, and you couldn't keep him off the field. She would put her body on the line for teammates."
Juarez went into the WCWS not wanting another runner-up finish. She'd done it twice in 2014 and 2015 in the high school state championships with Mountain Ridge High in Arizona. She also finished third place twice in 2015 and 2016 with the Thunderbolts at the Premier Girls Fastpitch championships. It also happened again in 2019 with the Sooners at the WCWS.
When she lost in 2014 and 2015, tears rolled down her eyes both times. Will told her to keep grinding, and when it happened again with OU in 2019, he said the same thing. 
Juarez during the postgame press conference on Thursday, said she "kept grinding" after having the start to this season she had. 
Juarez wasn't present for portions of the 2021 season due to injury despite her teammates needing her wicked pitch movement. But like freshman center fielder Jayda Coleman said after the game, Juarez was "G Juarez" this week. 
"She busted her butt to go get that," Will said. "It's always about the right people, at the right time, at the right moment. That was a heck of a moment right there. What a story. I can't wait until she tells it to her kids, or the people that think they can't overcome whatever they're going through. 
"She's an inspiration to me."