Nine Olympic medals lie less than 10 miles from the Lloyd Noble Center, where No. 1-ranked OU gymnastics competes.
Bart Conner and his wife, Nadia Comaneci, have seven gold medals, three silver medals and one bronze medal. Two of the sports greatest own and operate Bart Conner Gymnastics Academy in Norman, one of the top gyms, which converted to an accidental pipeline for Oklahoma, one of the most successful collegiate programs ever.
The 2023 Sooners (14-1) have four BCGA alums — Bell Johnson, Jenna Dunn, Caitin Kirkpatrick and Audrey Lynn. Johnson, a junior, has been one of OU's mainstays in its floor rotation, and Dunn, a senior, is a four-year contributor on beam.
Conner, who competed at OU from 1980-84, founded BCGA with Comăneci and his OU teammate, Ben Fox, in 1984. It has produced many collegiate gymnasts, many of who went on to Oklahoma, including conference champions Daniel Stover, Josh Landis and Jock Stevens.
"We're really proud of all those (gymnasts)," Conner said. "To see them succeed makes us all very happy and proud, and to know that we helped them get there just makes it all the better. We loved coaching them and we love seeing them do well at OU."
Kirkpatrick, Dunn and Johnson started at BGCA between ages 4 and 6. Lynn started when she was 5 years old but lasted a year before returning during her sophomore year of high school in 2017. They attended private lessons with coaches but mostly worked in a group with each other.
The quartet formed a bond training in the academy, a connection they carried to OU.
"(BGCA) is a very tight community," Dunn said. "It made us all have very strong relationships between us and the other girls, but also the coaches and everyone's families. All of that was really cool."
For decades, the BGCA has produced OU talent, playing a role in developing its success.
"Everything. They gave us everything," Johnson said. "We wouldn't be anywhere near (Oklahoma) without them and without us going there. They taught us everything that we know, and we appreciate them so much for it."
'You have to care a lot about these kids'
Christian Ivanov, the women's program director at BGCA, remembers coaching Kirkpatrick, Lynn, Dunn and Johnson.
"They were very courteous, very absorbing and they wanted to get the most out of it," Ivanov said. "They gave me everything every day and they were really good kids. What stood out to me instantly was saying 'Wow, these kids are amazing.'"
Ivanov, a two-time Bulgarian Olympian, met Conner at the 1998 European Championships and eventually settled in Norman, earning his degree at OU in 2006 after retiring from gymnastics.
Ivanov has helped produce numerous gymnasts to Division I, including future Sooner Alex Marks, who Ivanov helped qualify for the 2013 Junior National Championships. He also coached OU coach K.J. Kindler's children, Maggie and Adelade, who are still at the BGCA alongside current Arizona State assistant Taylor Spears, another OU alum.
Ivanov coached Dunn, Johnson and Kirkpatrick from the beginner levels of one to three to the advanced levels of seven through ten. All three went for group activities which allowed them to grow together.
"It definitely made it more fun," Kirkpatrick said. "It made us all really close friends and made our families really close as well. We were all able to share everything we learned as we grew up."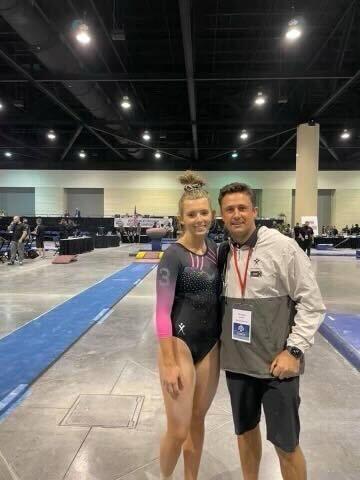 Lynn said her dream was to compete at OU, which drew her to BGCA. Lynn did not think she would be a collegiate gymnast but said Ivanov helped restore her confidence.
"He taught me that I am worthy and I do have the skill and that I really did have the chance to chase my dream," Lynn said. "He made me believe that I really was able to do what I really wanted to do, and that I had the potential to compete on this amazing team. He was the main one who said that, and I'm forever grateful."
Outside of gymnastics, the quartet agrees discipline was their most memorable takeaway from Ivanov.
"Sometimes, they would have tough days, but you had to be patient with them," Ivanov said. "Then, they put it together the next day and approach it in the right way, because you coached them the right way.
"You have to care a lot about these kids for them to give you everything they have. I believe in caring about the person, and then creating that relationship and a bond so they can give you the best effort."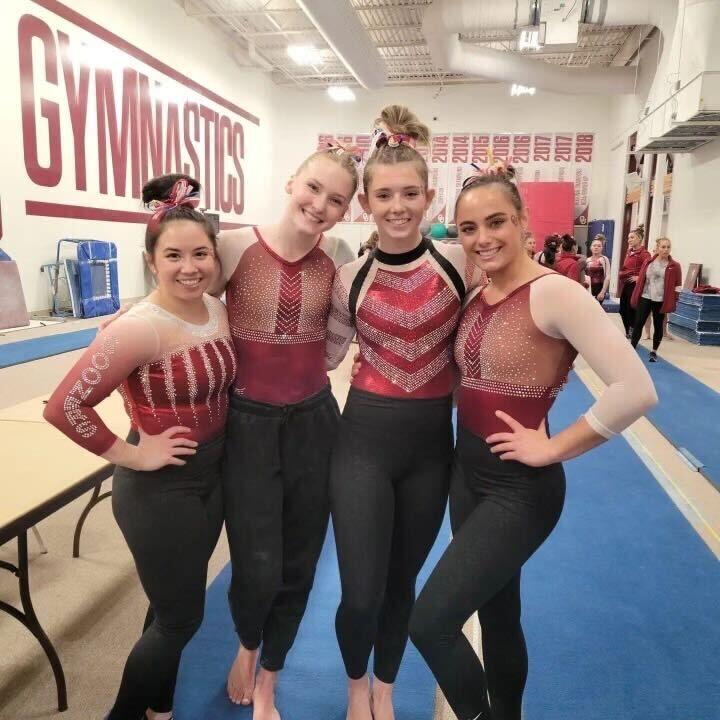 'That's why they were the best'
Kirkpatrick, Lynn, Johnson and Dunn keep in touch with Ivanov and their coaches.
"It's great to catch up with him when we do," Lynn said. "He'll just text us to say that we did a really good job, or if he saw a good thing that we did in our meet, or just something really sweet like that. We try to keep in contact every so often because we still really appreciate him."
Ivanov and Conner try to attend as many OU meets to cheer on their pupils, even traveling to see the occasional road meet..
Even during holiday breaks, the current Sooners return to the academy to visit or aid the next generation of gymnasts.
"They'll come to the gym a lot, which is really fun," Ivanov said. "We'll take pictures with them when they come over and post stuff about them on our social media or website when we see them do something good at a meet. They touch base with us a lot."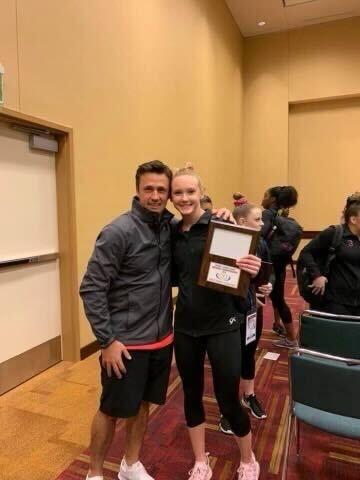 Throughout the years, BCGA has had a special connection with OU. Conner and Ivanov want to share a personal link with the gymnasts they work with and help each one get as far as they want.
The relationships are why Lynn kept returning and something she best remembers about her time at the BGCA.
"(My coaches) would always tell me how I can do this and always reminded me of what my potential was," Lynn said. "He knew I could be something amazing one day, and then it actually happened."
For the others, they remember how much they grew thanks to BGCA and why they believe the program will continue to produce collegiate gymnasts in the future.
"As long as we gave it our best effort, we were gonna grow there," Dunn said. "That's all we could do. No matter what the outcome was, we knew we were going to be okay with them. That's how we felt with them, that's how others felt with them, and that's why they were the best."
This story was edited by Austin Curtright and Colton Sulley.