Oklahoma plans to unveil Kyler Murray's Heisman Trophy statue during its spring game on April 22, athletics director Joe Castiglione told KREF Thursday. 
Joe Castiglione confirms Kyler Murray will have his statue dedication at the OU Spring Game this April.

— The REF (@KREFsports) February 23, 2023
"We expect another big turnout," Castiglione said. "And, of course, we're planning to unveil Kyler Murray's Heisman statue. So there will be a lot going on."
Murray became the Sooners' seventh Heisman winner in 2018 after leading Oklahoma to a College Football Playoff appearance behind 4,361 passing yards and 54 total touchdowns. 
The statue unveiling has been speculated ever since OU President Joseph Harroz Jr. said referenced it at a board of regents meeting last May. 
"We celebrated Baker Mayfield and the Heisman statue," Harroz said. "We'll do that again next year. Kind of an annual event for us at OU."
Murray's statue is the third of four set to be revealed, after Baker Mayfield's statue debuted during last year's spring game and a statue of the Selmon brothers was unveiled during the 2022 season. A release date for a sculpture honoring former Oklahoma player and coach John Blake has yet to be announced.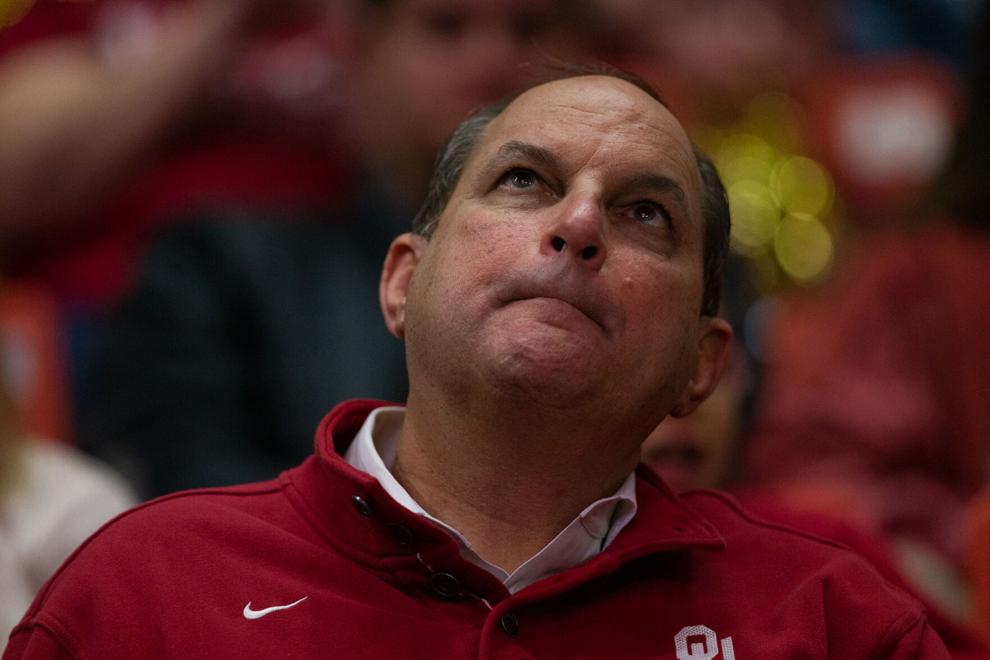 Castiglione on early SEC move
Castiglione also opened up about Oklahoma's upcoming early move to the SEC in 2024 during his interview. 
The athletics director had previously said OU planned on honoring its contract with the Big 12 and Fox. That is until all parties involved, including the SEC and ESPN, all came to an agreement allowing Oklahoma and Texas to depart the Big 12 a year early. 
"It just took a lot of effort by a lot of people," Castiglione said. "That's really the testament of how you get something like that done. Everybody working together. Our administration, President Harroz, a lot of the folks at the Big 12 including Commissioner (Brett) Yormark, President (Jay) Hartzell and (athletics director) Chris Del Conte at the University of Texas and, of course, the leaders at ESPN and Fox.
"Everybody worked together to thread those needles that had to be addressed to make it palatable for all and I think it's a fair resolution for all."
Stadium seating capacity
Castiglione also told KREF there's "absolutely not" an urge to have a stadium that seats 100,000 people when the Sooners arrive in the SEC.
He later clarified what he meant in a tweet:
"As I said during (a) fast-paced interview, more time (is) needed for full context," Castiglione wrote. "Instead, we're focusing on renovations that create great fan experience. Seating capacity could grow some to meet demand but not 100K."
There are currently four stadiums in the SEC that hold 100,000 or more people including Texas A&M's Kyle Field (102,733), LSU's Tiger Stadium (102,321), Tennessee's Neyland Stadium (101,915) and Alabama's Bryant-Denny Stadium (100,077).
Texas' Darrell K Royal-Texas Memorial Stadium holds 100,119, while Oklahoma's Gaylord Family — Oklahoma Memorial Stadium has a capacity of 86,112. 
Sooners announce spring game time
Oklahoma's 2023 spring game will take place at 2:30 p.m. on Saturday, April 22, the program announced via a promotional video Thursday. 
Start making plans now Sooner Nation. This year's Spring Game on April 22 will be at 𝟮:𝟯𝟬𝗽𝗺‼️ #OUDNA | #PackThePalace pic.twitter.com/UeJ66m24NU

— Oklahoma Football (@OU_Football) February 23, 2023