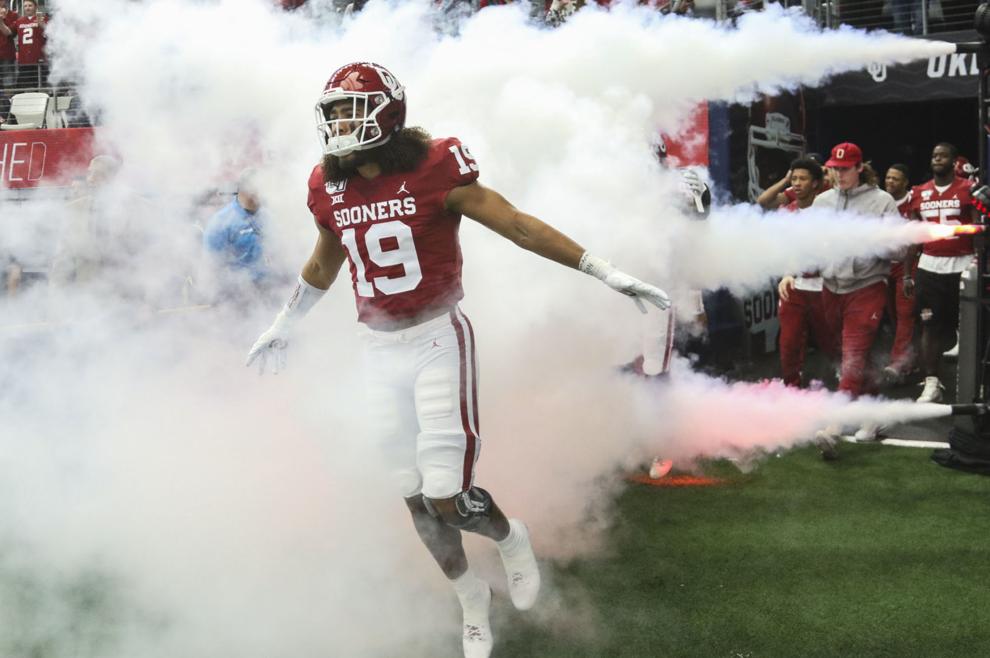 Caleb Kelly tried to pick up his helmet to no avail.
Playing for Kastner Intermediate School in its eighth grade championship game, Kelly had unhappily come off the field for medical attention. He wanted to be back on the turf with his Fresno teammates fighting for a title, and picking up that helmet was the only thing standing in his way.
Kelly's elbow was broken, but he refused to admit defeat. He didn't want to seem weak. He wouldn't leave the stadium to see a doctor and wouldn't obey the team athletic trainer's commands to rest. So the trainer told him if he could pick up his helmet with the mangled arm, he could go back in.
"He couldn't," his mother Valerie said. "And so that was pretty devastating for him."
It left him resolved to never feel that devastation again. So as he talked with head coach Lincoln Riley following a fall camp practice last August and learned the Sooners would preserve his scholarship for the 2021 season, he knew he was coming back for a sixth year. Earlier that day, he'd torn his ACL for the second time at Oklahoma following the same injury in 2019 spring camp. He'd be out the entire 2020 season after missing all but four games in 2019. Both times, driven by that eighth-grade experience, he knew he wanted to return and earn his keep.
During that August practice, Kelly had made a hard cut right before wrapping up a teammate and feeling his knee pop. Though he jogged off on his own power, a follow-up test revealed the injury would require surgery. Yet, later that day, inside linebackers coach Brian Odom was unsurprised when he watched Kelly enter the position meeting, ready to take notes and keep learning.
"He's a guy of very, very deep faith, and add to that his maturity level," Odom said. "You know if there is one guy that's going to come back from two injuries like that, it's going to be Caleb."
Once a highly touted five-star prospect from Fresno's Clovis West High School, Kelly said Tuesday — speaking to reporters for the first time since his second injury — he's never considered leaving football behind or giving in to doubts and those who questioned why he keeps playing. Valerie said he'd expected to reach the NFL after three seasons at OU. Though it'll take him six years to reach the pros now, that's a dream he still hasn't given up on.
After seeing his last two seasons marred by knee injuries what continues to drive sixth year senior linebacker @calebkkelly? pic.twitter.com/LQnX463fa3

— SoonerScoop.com (@SoonerScoop) April 6, 2021
"When I see myself making plays and having fun and enjoying it still, there's really that fear in 'Oh my god, am I gonna get hurt again' ... but that's weakness to me when I see other people give in to it," Kelly said. "And everybody has their own opportunities, their own decisions to make, it's their lives. But when I see people give in to the hurt, give in and don't work as hard, don't want to do the little things that you did before, It's just kind of like a weakness to me. And so that's what drives me. I don't want to be weak."
In his darkest times, Kelly's faith, family and friendships helped him persevere. Now, Kelly will compete in a game setting for the first time in 483 days when the Sooners scrimmage in their April 24 spring game. Beyond that intrasquad matchup, the 23-year-old veteran, who's the only current OU player to appear in retired coach Bob Stoops' final game, remains hungry. He'll be looking to maximize his extra year of eligibility provided by COVID-19 to regain a starting spot and make the NFL jump in 2021.
"I don't want to be somebody who gave in to something that was hard just because it was hard," Kelly said. "And I don't want to stop playing football because I love it and I'm still good at it."
'He's the guy that you have to drag off the field'
---
Bryan Wilcots, Kelly's best friend since fourth grade, was there when he broke his elbow.
Wilcots watched Kelly walk around with a makeshift sling, coaching his teammates from the sideline. He was also there to see Kelly, who didn't meet his father until junior high, care for his younger brother, Jeremiah, while his mother, a customer service representative for a utility company, worked to provide.
Even then, Kelly's dream was to play in the NFL, and it was all he and Wilcots talked about. In all pursuits, football or personal, Kelly was relentless and viewed giving up as a sign of weakness.
"He's the guy that you have to drag off the field," said Wilcots, who still talks to Kelly almost daily. "He's going to give everything he has and the only way he's going to stop playing is because he physically can't. There's nothing else."
Kelly hanging up his helmet wouldn't exemplify what he learned from his late mentor Tony Perry, who died in 2017 after teaching him at his DB Guru camps during high school. Players he competed alongside in those camps wouldn't have relented either. Perry always had his pupils competing to win. Kelly was often one of the youngest players, looking to test his mettle against older athletes.
His determination persisted as he became a highly recruited star for Clovis West. While he was never injured beyond eighth grade until coming to OU, Kelly was always pushing to be the best and realize his potential.
That same resiliency compelled Kelly to play 11 games with a torn labrum while helping OU to a College Football Playoff semifinal in 2017. Now it's carried him again through two torn ACLs back to helping his team chase its first championship since 2000.
Instead of hanging up his helmet, Kelly has once again picked it up.
'Find something that you believe in'
---
During his senior year at Clovis West, a coach recruiting Kelly had one piece of advice.
"'I don't know if you believe in Jesus, but you better find something that you believe in,'" Valerie recalled the coach telling her son. "'Because when you do get injured, or when your coaches aren't playing you, you better have something else that you can go to.'"
Kelly has taken that advice to heart. He's known as much for his leadership off the field as his leadership on it. He's the president of OU's Fellowship of Christian Athletes chapter and is involved at nearby Victory Family Church.
Jeremy Tims, the FCA area director, has seen Kelly at his worst and his best. He counted as Kelly spoke at meetings, sharing his testimony with over 3,000 people in his first two years at OU, then over 5,000 people after his fourth year in Norman. On his 21st birthday, his faith even compelled him to seek out and call his biological father, telling his dad he forgave him for not being part of his upbringing.
"He was able to balance his schedule and still make time to go out and use his influence that he had as an OU athlete to show people and tell people what he's all about," Tims said. "And then of course through the bad times, the valleys he's had to face … that's exactly where people found out just really who Caleb Kelly was."
In 2018, Kelly was named to the Allstate AFCA Good Works Team for his charitable work in Norman, Haiti and beyond. And the same day news of his first ACL injury broke, he was a panelist for a talk about mental health in sports the Sooners hosted at Gaylord Family-Oklahoma Memorial Stadium.
Amid his times recovering from injuries, teammates have referred to him as "Coach Kelly," for his ability to motivate them, just like he did at Kastner Intermediate with his arm in a sling. Leading into the 2020 season, he headed the team's racial justice task force. Riley created the squad as tensions flared around the nation after the deaths of George Floyd, Breonna Taylor and others at the hands of police.
Kelly completed his bachelor's degree in communications in 2019 and earned his master's in organizational leadership in 2020. In 2021, he'll graduate with a second master's in business administration and management.
"You think when you get four games under your belt at the end of the season, that it's not going to happen again," Valerie said, referencing the days before his second injury. "And then when it does, you have to find purpose in everything else that you do, and you have to remember why we're here. We're here for school, we're here for education, we're here for everything else that adds up to who we are as a person. And then yes, (football) is something we do, but it's not everything we are. It was pretty rough, but Caleb is resilient, and he's just optimistic and very positive, and I think that helps a lot."
Kelly admitted his return wasn't easy, even characterizing it as depressing. He found it difficult to attend practice and watch film without being on the field or in the videos. Occasionally, twice-daily rehab stints kept him out of meetings and huddles. Some teammates joked he was "joining the outcast group" by being injured. He wasn't able to travel to every game, especially during a 2020 season plagued by COVID-19. He became the forgotten man in a few group texts, too.
In those times, he leaned on his mother and Adriana Maldonado, his girlfriend of five years. Inside the program, he leaned on other injured Sooners. Ties with former teammates Kenneth Mann, Tre Norwood and Jon-Michael Terry and current teammates Jordan Kelley and Justin Harrington helped carry him through rehabs.
Kelly is also close with safety and team captain Pat Fields, who will be in his shoes for most of the spring after undergoing a minor procedure. Fellow linebackers DaShaun White and Bryan Mead have been in his corner, too, the latter being a fellow sixth-year senior.
"When you do get the opportunity to come back, it's such a relief," Kelly said. "If you give up in that moment of sadness and pain, that could be your last memory of football. And now that I'm back, I wake up every day and I walk in and … these are my guys again. And so they welcome you back in just like how a freshman would come back in, but it's even more because they all know you and remember you, and then you start making plays again. … If you give up in that moment, you're missing out on that opportunity that you have coming up."
After living alone during the 2020 season, Kelly now shares residence with Kelley. Their third roommate is Kelly's dog, Koa. The Australian Shepherd's name means "brave," which is exactly what Kelly has become, putting aside his fear — or his self-proclaimed weakness — of being reinjured to come back for another season.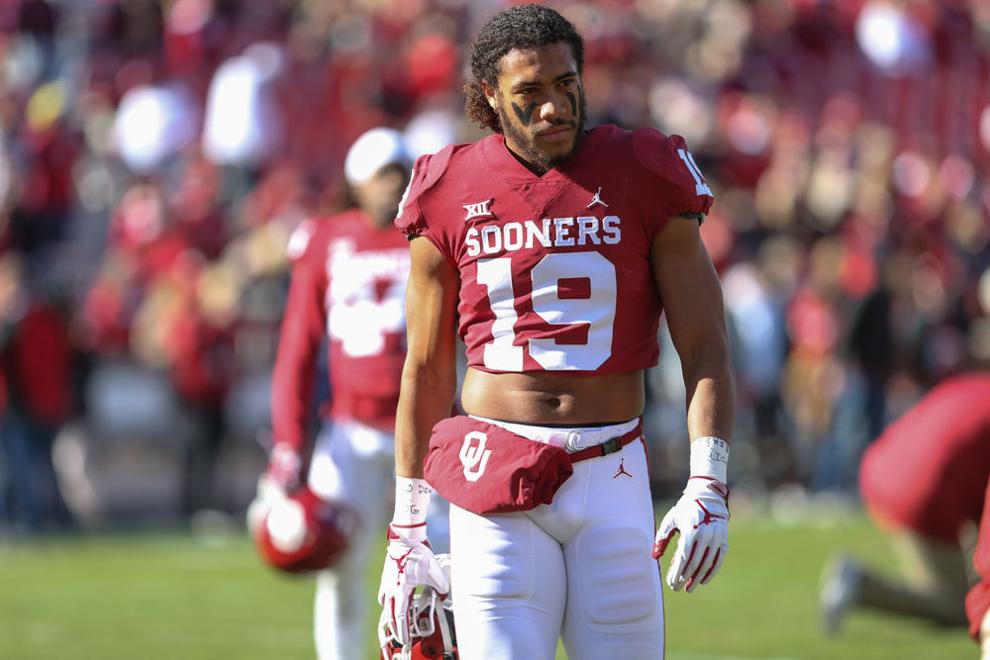 'This is what he wanted'
---
Once Kelly declared he'd return for 2021 via Twitter after OU's Dec. 19 Big 12 Championship win, one question became his fit on the Sooners' roster.
5 rings and I still got one more season with @OU_Football 💍💍💍💍💍😏 first player with 6 then👀

— O7👇🏽 (@calebkkelly) December 19, 2020
Kelly played outside linebacker during his first two seasons in Norman, starting 19 games. In 2018, he moved to inside linebacker but lost his starting job to senior Curtis Bolton before moving back outside to start the last five games. Now, Oklahoma boasts more depth at linebacker than in Kelly's previous seasons.
Redshirt junior Brian Asamoah emerged at weakside linebacker in 2020 with a team-leading 66 tackles, and he's backed up by a promising sophomore in Shane Whitter. White was consistent at the middle spot in 10 starts last season, and junior David Ugwoegbu had a breakout year as his alternate. Outside, redshirt junior Nik Bonitto has become one of the best pass rushers in college football, while five-star freshman Clayton Smith awaits.
Kelly admits he's still getting up to speed, saying "my mind is moving faster than my knee" so far in spring camp. Tuesday was one of the first practices where he said his body "caught up." 
"His charge right now is giving himself a chance to go play this fall," Odom said. "Do the things to get better every day to go play this fall."
Still, Kelly was expected to start over Asamoah at the weakside position before his second injury. And it's difficult to forget some of the plays he's made when healthy.
There's his 12-tackle breakout against Auburn in the 2017 Sugar Bowl — Stoops' final game before retiring. Then there's his 14 tackles and a fumble recovered for a touchdown against West Virginia in a 2018 win that clinched the Sooners' Big 12 Championship Game berth. He also has snaps in three College Football Playoff games, having appeared in the 2017 Rose Bowl, 2018 Orange Bowl and 2019 Peach Bowl.
#TBT to the last time Oklahoma traveled to Morgantown.Caleb Kelly bullies the offensive tackle and then sacks, strips, scoops and scores in Oklahoma's 2018 win over West Virginia.#OUDNA | #BoomerSooner pic.twitter.com/vECq42qN8L

— Sooner Gridiron (@soonergridiron) December 10, 2020
"You can't discount this guy's experience, the games played in and the big plays he's made," Riley said. "We certainly won't take it for granted, so he's gonna have the same opportunity as every linebacker in that room does. … The best guys are gonna play the most, so Caleb's gonna have a great opportunity and it certainly wouldn't surprise anybody here to see him take advantage of it."
When Kelly does return to game action, his coaches, friends and family will be watching intensely. Valerie may scrutinize more than others, making sure he's all right emotionally and physically, but she'll be excited nonetheless.
Regardless of what position he plays, Kelly has what Valerie called a greater testimony to show others how to rely on God. That testimony could increase again if he stars for the Sooners in 2021 and realizes his NFL aspirations. 
"I think that when you have a dream, and you're doing everything you can do to live that dream and fulfill it, you just keep pushing," Valerie said. "And I know that this is what he wanted. It's also the feeling when you're out on the field, being with your brothers, that feeling of showing off God's talent that he's given you. All of those things are just part of him and who he is, and so he just wants to push forward and show what he can do as best as he can."