As a near-sellout crowd of 10,127 headed for the exits, Jennie Baranczyk stood in dismay.
Oklahoma's coach spent a large portion of her week advocating for a strong home crowd. While the Sooner faithful delivered, marking the highest home attendance total since 2013, No. 13 OU (22-5, 12-4 Big 12) failed to do so, falling to No. 19 Texas (22-7, 13-3) 67-45 Saturday in Norman.
"Our crowd was phenomenal and we gave them nothing to get into it," Baranczyk said following the loss. "That's what's so heart-wrenching … Our fans were awesome, they were there and they were trying (but) we passed it to Texas too much.
"We didn't get to just be us."
The Sooners entered Saturday's showdown riding a six-game win streak in which they averaged north of 90 points per game. After rallying a 10-2 run to close the first quarter, OU looked like it was in line for another productive offensive outing.
Texas' smothering defense had other plans, allowing six points in the second quarter and forcing the Sooners to shoot 1 for 12. Oklahoma made 27.3% of its shots from the field and 14.3% from 3-point range in the contest, both season-lows.
"After the first quarter, we just stopped moving," Baranczyk said. "(In) the second quarter, when we missed some shots, we got on our heels a little bit and then things went downhill. Our decision making on some of those turnovers (wasn't) great, but we just stood a lot."
OU's defense matched the Longhorns in the second quarter, allowing 10 points and forcing five turnovers to take a manageable 27-23 deficit into halftime. Senior forward Madi Williams served as an anchor defensively, collecting four steals and two blocks in the first half.
Offensively, Williams scored eight points on 3-of-11 shooting and committed four of the Sooners' 22 turnovers. Texas is the only team to hold Williams, senior Ana Llanusa and senior Taylor Robertson below double-digit scoring totals, doing so in both matchups this season. The Sooners, who lead the NCAA in assists per game, were held to a season-low six. Their previous season-low was 13, over double Saturday's tally.
"It was really just movement," senior forward Liz Scott said. "I feel like (we) were easy to guard today because we weren't moving a lot."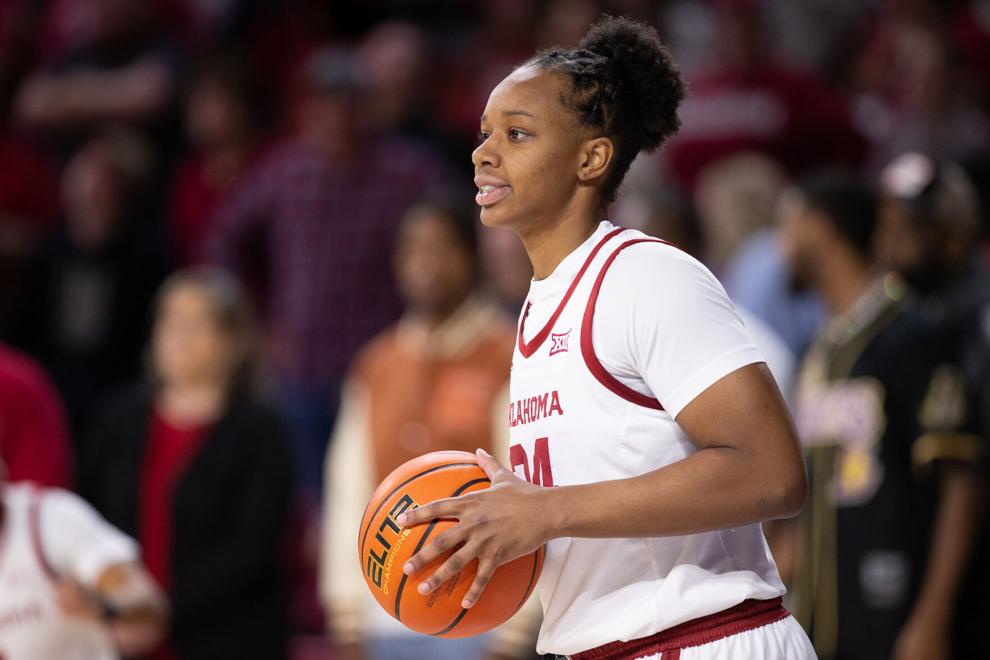 Scott finished with a team-high 13 points and grabbed nine rebounds. Scott and Oklahoma endured a battle in the paint, which included 10 blocked shots, the most against OU this season. UT senior forward Taylor Jones accounted for five of the blocks in addition to her 10 points. Junior guard Shaylee Gonzales led the Longhorns with 19 points and swiped five steals.
The Sooners kept it close through the opening minutes of the first half and things looked up after senior guard Taylor Robertson made a 3-pointer, causing the LNC to erupt midway through the third. OU failed to build on its momentum, and instead conceded a 15-2 Texas run to make it a 19-point game in the winding minutes of the third quarter.
Opportunities opened up in the fourth for the Sooners but they failed to capitalize, scoring just eight points in the quarter on 3-of -3 shooting from the field and 0-of-5 from 3-point range. OU mustered just 22 second-half points, tying its season-low. OU's three lowest scoring halves have come in its two games against the Longhorns.
"Whether or not things go our way, we have to respond better," Baranczyk said. "And right now the way that we respond is we might foul, or … Try to make a home-run play and try to get it back all in one possession.
"We're at our very best when we take everything out and we just play. I don't think we necessarily did that (today)."
The loss puts the Sooners in second place in the Big 12, one game behind UT. OU's only hope of claiming a share of the Big 12 regular season title falls in the hands of a Texas loss in either of its remaining two games.
Furthermore, OU's hopes of securing at least a four-seed and therefore hosting its first two March Madness games took a big hit. The Sooners chances of this already looked slim entering the contest, as the NCAA Selection Committee revealed its Top 16 Thursday with OU absent from the list.
The Sooners have two more regular season chances to prove themselves to the committee, beginning when they host former OU guard Gabby Gregory and Kansas State (16-12, 5-10 Big 12) on senior night at 6 p.m. Wednesday in Norman.
"To be honest, we gotta get a heck of a lot better," Baranczyk said. "We're gonna go one of two directions right now. If I know the character … Of (this team) I believe we're gonna go in the right direction. But we (have) choices to make.
"We gotta be able to choose to respond how we want to respond."
This story was edited by Colton Sulley.