Clint Anderson always knew Creed Humphrey would be a gifted NFL offensive lineman. 
That was seconded Friday, when he had lunch with an NFL All-Pro. 
"The offensive line position is changing," former Oklahoma offensive lineman Lane Johnson told Anderson, as the former Tulsa lineman and trainer at Lineman Performance Association LLC, enjoyed lunch with Johnson at Saltgrass Steakhouse. "There's no more just fatties anymore. We're starting to get more and more athletic."
During OU's Pro Day on Friday, Humphrey, the three-time All-American center, showed out. Humphrey had a 33-inch vertical leap, ran a 4.46 20-yard shuttle and had 29 bench press reps at 225 pounds. The 6-foot-4, 312-pound lineman out-jumped defensive lineman Ronnie Perkins in the vertical, out-ran running back Rhamondre Stevenson in the 20-yard shuttle and out-benched OU's seven other Pro Day participants. 
Have yourself a Pro Day @creed_humphrey!https://t.co/7rfMo1tTPY | #OUDNA pic.twitter.com/a4q9sQpWKF

— Oklahoma Football (@OU_Football) March 12, 2021
The only thing "fat" about his performance was the reactions from those who watched, including scouts and players. Current OU defensive back and rising senior Patrick Fields said Humphrey "literally has (zero) weaknesses," former OU cornerback Aaron Colvin said he will "be a pro bowl player" and ESPN NFL Draft Analyst Jim Nagy congratulated Humphrey on a "great day." 
@creed_humphrey will be a pro bowl player

— Aaron Colvin (@AColvin_22) March 12, 2021
Creed literally has 0 weaknesses...

— Patrick Fields (@PatrickFields24) March 12, 2021
Congrats on great day, Creed!

— Jim Nagy (@JimNagy_SB) March 12, 2021
Without an NFL combine this season due to the COVID-19 pandemic, OU players had their pro day as the only time to show professional scouts their training ahead of the NFL Draft April 29-May 1. Compared to the 2020 NFL Combine, Humphrey would've ranked in the top two among the interior linemen at the combine in the 40-yard dash at 5.09, broad jump at 9-feet-4-inches, 3-cone drill at 7.54 seconds and the vertical jump.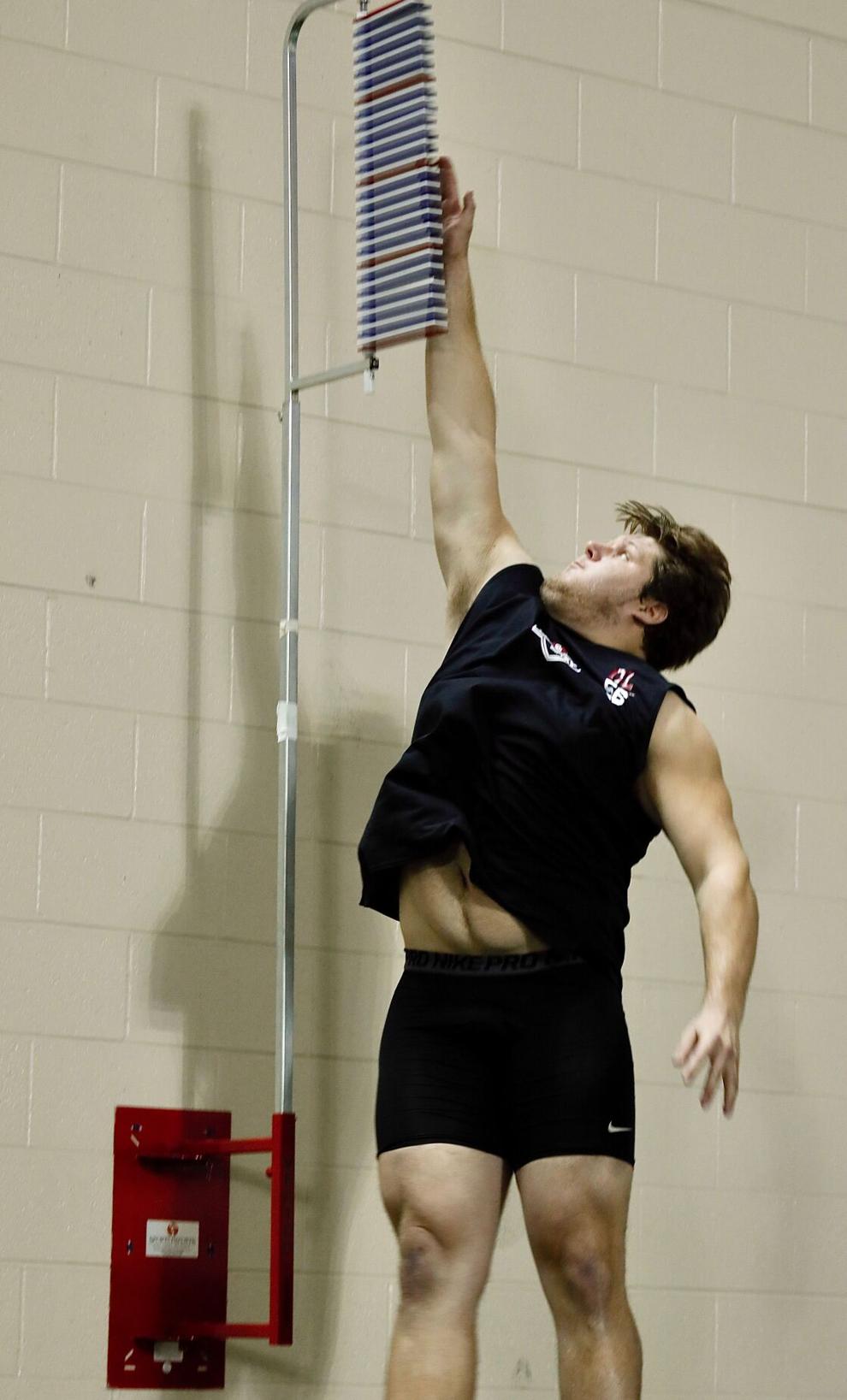 "That's pretty unique," OU coach Lincoln Riley said of Humphrey's athletic ability as an interior offensive lineman. "It's been one of the more impressive individual Pro Day workouts I've ever seen. … It's kind of hard to believe he's a center."
Humphrey said he was excited to display his broader athletic ability. 
In three years at center for Oklahoma, he said he wasn't asked to do "a ton athletically" with its heavy gap scheme. And while NFL teams knew of his power and strength already, his Pro Day numbers were elite. He confirmed he's talked to many NFL teams, but declined to comment further. The NFL Network projects Humphrey as a second-round draft pick.
"Creed can do stuff like a skills (position) guy," Perkins said. "He's a (312-pound center) but he's probably more flexible than some of our skills guys. Watching him is like watching Frankenstein, like, he's a freak really. … He's the strongest dude in the weight room."
Anderson, who used to train Humphrey and has known him for three years, said it takes a lot of time and commitment to deliver Pro Day numbers like that. Anderson told Humphrey before the 2020 season to focus on the things that he wasn't yet good at. Humphrey improved his core strength, diet and mobility, according to Anderson.
Anderson said Humphrey took advantage of his redshirt junior season and his improvement in those areas is the reason for his Pro Day numbers. Riley said that Humphrey has "trimmed down" his weight. Listed at 320 pounds on OU's roster, Humphrey weighed in at 312 pounds Friday. 
"You only get Creed Humphrey's every now and again," Anderson said. "The body type, how fast-twitch he is, how explosive he is and how big he is. … There's not a center that's come through OU like that in a long, long time. There's no center in the NCAA that plays like Creed Humphrey."
Humphrey has been working out with Duke Manyweather — offensive line coach at Michael Johnson Performance in Frisco, Texas — after graduating from Oklahoma in December. Among the other offensive linemen working with Humphrey are Rashawn Slater, a possible top-10 draft pick from Northwestern and Adrian Ealy, his former teammate who also participated in Oklahoma's Pro Day. After working with Bill Bedenbaugh, considered one of the best offensive line coaches in college football, Humphrey said working with Manyweather only further improved his knowledge of the game and his technique.
33 inch vert 👀 Thought y'all said he wasn't athletic... https://t.co/D6KsjuUFPX

— Duke Manyweather (@BigDuke50) March 12, 2021
Humphrey said they worked on explosion drills and resistance band work in the weight room. He also got "a ton" of jumps in, to improve his broad and vertical numbers. 
Whether it's at either guard position on the offensive line, or his true spot at center, Humphrey thinks his versatility allows him to play anywhere on the line and he just wants a spot wherever he can help the team that drafts him. With his athletic ability proven at OU's Pro Day, his draft stock may only improve. 
"I think Creed could go play cricket and be the best cricket player," Anderson said. "The guy is just a winner. He doesn't like to get beat at anything, he doesn't like to get beat at ping pong. All the winners are like that and all the offensive linemen are like that. 
"It doesn't matter what he's playing, he's gonna win."