It was 6 a.m. and Skylar Vann was in the gym.
Most kids her age would still be sleeping in on their summer vacations, but Vann's Monday had already started. Four days a week, Vann was up early and working out for at least an hour with her dad, Bryatt, a practice they began in middle school.
Vann was about to begin her senior season at Edmond's Deer Creek High School, coming off her second first-team All-Central Oklahoma Athletic Conference honors as a junior. She dreamed of playing at Oklahoma, her father's alma mater. However, she had yet to receive an offer from the Sooners. 
In the gym before sunrise, Vann was looking to change that.
"I knew the work I was putting in was a lot," Vann said. "It didn't come easy. My goal was to just work harder than the next person."
With one season left to prove herself, the pressure took its toll. Vann fell into depression, reaching a low point before the season started. She questioned whether she wanted to play basketball at all, as a career at OU felt far-fetched and the sport she loved weighed her down more than it lifted her. 
"It was really hard for me," Vann said, speaking candidly about mental health challenges she's overcome to become a key contributor in a Cinderella season at her dream school. "But that resilience is so important. That's what kept me going. It kept pushing me to do this and not to quit. Because what's in store for you if you give up so fast?" 
Vann refused to give up. Ten months later, after winning Central Oklahoma Athletic Conference Offensive Player of the Year in 2019-20, she received her most significant offer yet. Rather than OU, it was from Temple in Philadelphia, 1,379 miles northeast of Edmond. With no better option, she committed on April 13, 2020. 
Two days later, OU's then-head coach Sherri Coale gave her an offer, and Vann soon flipped her commitment, making her dream a reality.
After playing 20.2 minutes a game as just one of seven active OU players in the 2020-21 season, Vann has exploded in the 2021-22 season. She's averaging 12.1 points and 5.8 rebounds, becoming a key reserve under first-year head coach Jennie Baranczyk, who replaced the retired Coale after Vann's freshman season.
Vann's contributions have helped OU build a 23-6 record and a No. 19 Associated Press ranking as the Sooners push for a Big 12 title and NCAA Tournament run. Neither has happened for OU in a while; it's been 15 years since its last Big 12 Tournament championship and eight since its last Sweet 16 appearance.
In high school, Vann could barely picture herself at OU. Now, she's its spark off the bench.
"I've come a long way," Vann said. "Going through all that made me a better person today. It makes me more great and more confident on the court.
"It doesn't matter where you start. It just matters where you finish."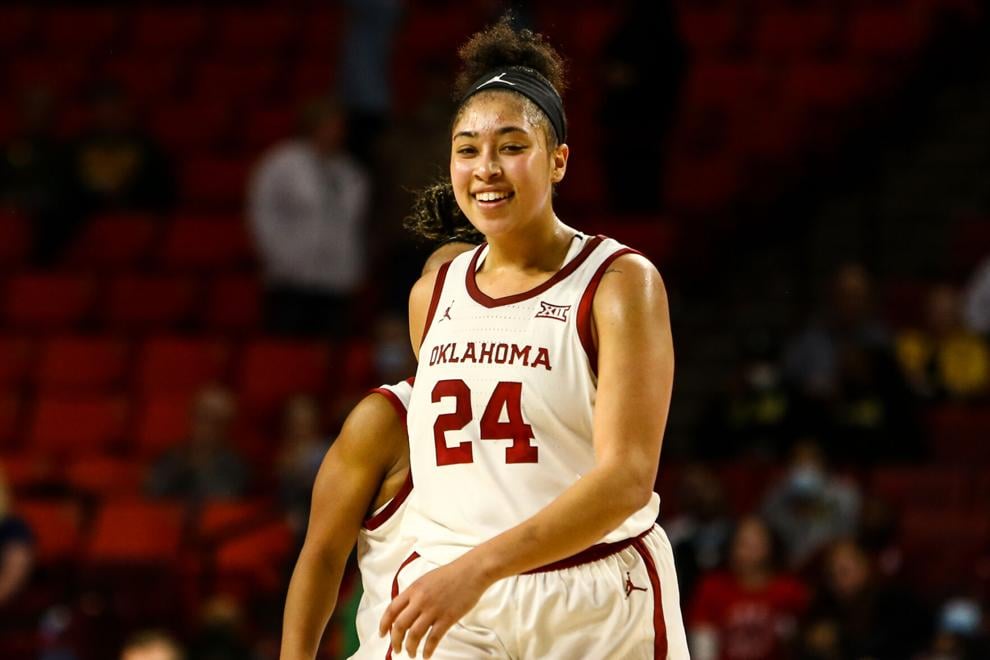 'She was a college-level kid in high school'
When Vann was young, Bryatt would take his daughter to Woodson Gym in southwest Oklahoma City. At first, she sat in a car seat to watch her father and uncles play basketball while jets took off from nearby Will Rogers World Airport. As she got older, she joined their games, wanting to be just like them. 
"I fell in love," Vann said. "I was like, 'This is what I want to do.' I played other sports, but nothing could match how I felt for basketball."
Vann arrived at Deer Creek for the 2016-17 season, earning a spot on the varsity team. She and the 18-6 Antlers made the state championship, where they lost 52-36 to a Choctaw team led by Vann's future OU teammate Ana Llanusa. Deer Creek changed coaches the following season, going from Totsy Manning to Alex Moorehead.
Under Moorehead, Vann began to break out. She averaged 14.7 points and 7.8 rebounds as a sophomore, earning a first-team All-COAC selection. She led her team back to the playoffs, where they fell 60-50 to Bixby in the first round.
Moorehead allowed Vann to play freer, putting her in many different positions that challenged her to establish versatility on the court. Moorehead's trust in Vann vastly improved her confidence.
While Deer Creek missed the playoffs her junior year, Vann continued to grow as a player. Her outside shooting and ability to drive the lane improved. She earned another first-team All-COAC selection. 
"Her maturation was great," Moorehead said. "She had a few games where she hit one or two threes, and then in her junior year, she's making four or five. You could definitely see the way she drives improve as well. She's a pro. She was a college-level kid in high school."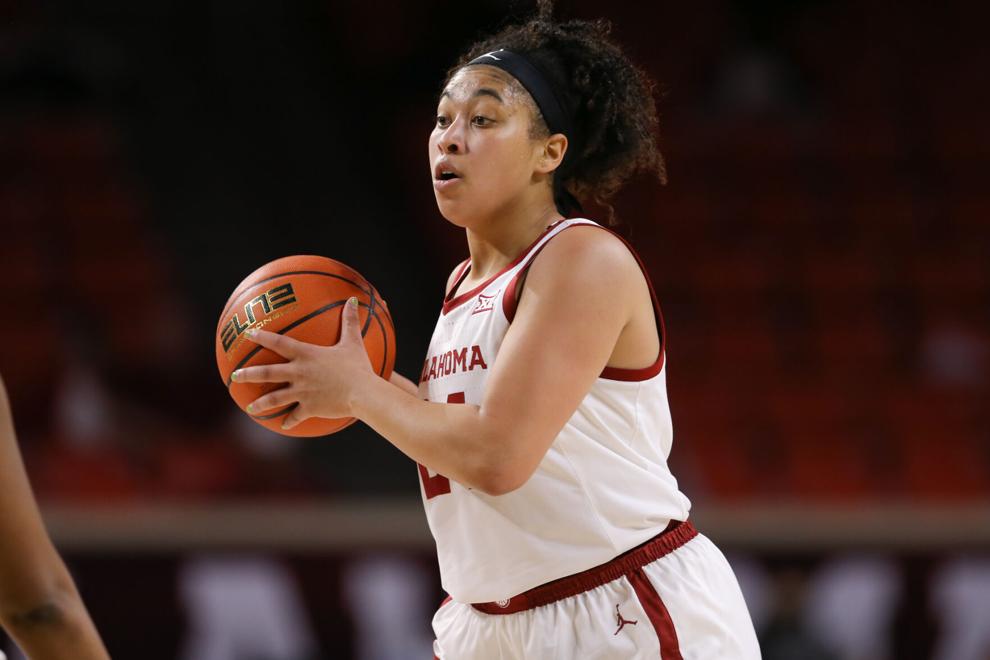 'Basketball has always kept her calm' 
While Vann was getting better on the court, challenges elsewhere threatened to overshadow that growth.
Vann's biggest challenges were against her own high school mind. She faced several mental health problems, including anxiety attacks, bouts with depression and self-doubt. Those problems became common, affecting her school, personal and even her basketball life.
"I had moments where I was like, 'I don't even want to play anymore,'" Vann said. "It was just super hard for me."
Vann's family lineage carries major weight. Her grandfather, Bryce Vann Sr., played for the Kansas City Steers in the American Basketball Association in the 1960s. Her uncles Brandy, Brento, Bryce Jr. and Bruce all played in college.
Brandy and Bruce even went professional — Brandy to minor league baseball and Bruce to the NFL. Bryatt starred at OU, averaging 16.9 points in the 1992-93 season before playing in the NBA with the Detroit Pistons.
The pressure to live up to her family's legacy loomed over Vann. She loved basketball, but it became the root of her mental health problems.
A lousy workout would make her feel unprepared. A bad game fostered dread of not making it to her dream school. Combined with schoolwork and just being a growing teen, it all left her stricken by fear and uneasiness. 
"Basketball is what helped me, but it also hurt me," Vann said. "It killed me. When I wasn't doing very good or I didn't play much, it hurt me so much. It was so hard. You try not to think about it, but then it just comes back to you."
Vann battled her mental health throughout high school, facing her greatest trial before her senior season. With no OU offer, it was her last chance to prove herself. The pressure was at an all-time high.
That was when Vann went to a familiar strategy. For years, she had used basketball to combat stress — even if basketball was the cause of her problems. Vann wanted it to be no different this time around. 
Slowly, her mindset began to change. Instead of letting basketball cause her problems, Vann used it to escape them. She wanted basketball to be fun, to enjoy every moment on the court. Even at her lowest points, basketball could still put her at ease.
"Basketball has always kept her calm. It kept her even keel," Bryatt said. "She never really held too much back from me. I was always open to her, and she was always open to me. Sometimes, it got tough for her. She would always use basketball as a way to put herself on the right road."
Vann attacked the 2019-20 season, using her OU dreams as motivation. She became one of the state's best players. Determined to receive an OU offer, Vann averaged 18.9 points, 10.2 rebounds, 3.2 assists, 2.9 steals and 1.7 blocks. She led the Antlers to a 22-3 record and won All-State honors from the Oklahoma Girls Basketball Coaches Association.
Heading into the playoffs, the Antlers were ranked as the No. 4 team in Oklahoma. After failing to win it all in Vann's freshman season, Deer Creek looked destined to make it back to the top.
The Antlers started with a dominating 58-21 win over Grant before defeating Putnam City West in the second round 74-52. On March 5, 2020, Deer Creek defeated Edmond North to win the area championship and advance to the fourth round. With each victory, a state championship felt more real. 
Four days later, the COVID-19 pandemic ended the Antlers' season and Vann's high school career was over. Rather than potentially hoisting a golden trophy, Vann and Deer Creek's six other seniors got a consolation prize of being honored by Scott Van Pelt on SportsCenter, reflecting on lost high school dreams.
Down to the final three #SeniorNights — we continue to salute you 🙌@notthefakeSVP honors high school and college athletes whose seasons were cut short. pic.twitter.com/G6LdDAsKIO

— SportsCenter (@SportsCenter) April 9, 2020
The pandemic affected more than just Vann's senior season — it affected her college decision, too. Proximity to home became an essential factor for Vann, and she wouldn't get to see her family much at Temple. That meant when the OU offer came on April 15, 2020, she didn't hesitate to accept it, and Vann headed 30 minutes south to live out her dream of being a Sooner. 
"I would take her to basketball games, alumni games, golf tournaments, everything," Bryatt said. "She'd been in there as a young kid and got to see the whole tradition of basketball. That's where she fell in love. She really wanted to go to OU, and that's where she got to go."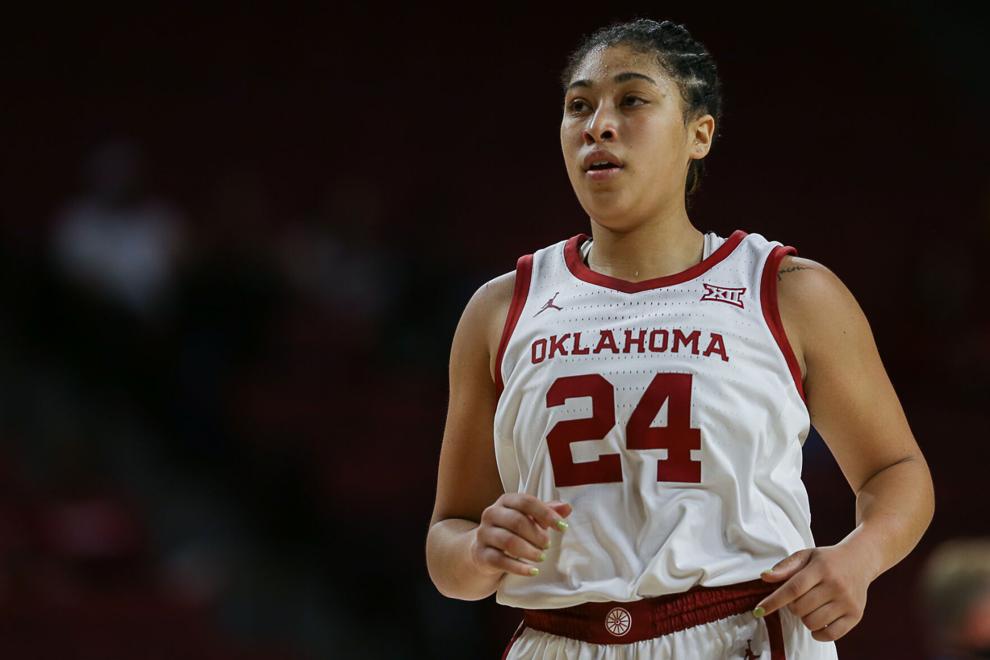 'She goes in there and does her job'
Some freshmen have to wait for their opportunity. Instead, out of necessity, Vann was thrown straight into the fire.
Due to injuries, COVID opt-outs and academic issues, she was one of just six or seven Sooners on the floor every night. Though she started only six games, Vann played more than 20 minutes in 11 of her 23 appearances. After missing OU's first four games with an injury, Vann started six of her first eight games after making her OU debut on Dec. 6 against Georgia.
"It was very difficult," Vann said. "I had to come from not many minutes to that, and then it just kind of stayed that way."
She played less than 20 minutes in just one of OU's final eight games, the pressure to win increasing with each game.
Having previously learned tough lessons about the importance of resilience, Vann not only overcame that pressure but also exceeded expectations. Vann rose when the Sooners needed it most, clinching a road victory against Texas on Feb. 27 after stealing the ball from UT's Joanne Allen-Taylor with 11 seconds left in overtime.
Despite her efforts, the Sooners failed to make the NCAA Tournament after a first-round loss to Oklahoma State in the Big 12 Championship. Vann finished her freshman season averaging eight points and 4.7 rebounds, shooting 48 percent from the field.
"We only had seven people, so I just had to not take anything to heart and play hard," Vann said. "That was the fun part, as far as just playing through that. I never thought I'd go through that."
Like at Deer Creek, Vann experienced another coaching change. Five days after the season ended, Coale retired and a month later was replaced by Baranczyk. The former Drake coach brought a new style to OU, meaning Vann had to go through another transition before the 2021-22 season.
"A lot changed for me personally," Vann said. "In the practices, things were done very quickly because that's how we were going to play now. We didn't really have set plays, we just had entries, and we had to play off each other. That was the main difference when Jennie got here."
Baranczyk wanted Vann to play a hybrid role as a forward and a guard, contrary to how Coale used her exclusively as a guard. Just like in high school, the transition made her more versatile, earning the trust of her new coach.
When her sophomore season began, Vann continued in a reserve role. Coming off the bench was a change from her Deer Creek days. However, Vann embraced it, knowing she could bring a different energy to a game.
"I'll always tell her that it's sometimes good to come off the bench," Bryatt said. "She can see how the game is going and see where she'll be asked to help her team. She doesn't let not starting bother her. She's ready when coach (Baranczyk) calls her number. She goes in there and does her job."
Vann averaged 9.2 points and 6.8 rebounds in OU's first 10 games. She started on Dec. 29 against Wichita State after Baranczyk rested several of OU's starters, scoring 21 points. From there, Vann ascended.
After scoring 16 against Kansas on Jan. 8, she had one of her best games against then-No. 14 Baylor on Jan. 12. Vann scored a career-high 22 points on 8-for-13 shooting with seven rebounds, draining a go-ahead 3-pointer to give OU its first lead with 3:36 left.
𝗦𝗢𝗢𝗡𝗘𝗥𝗦 𝗟𝗘𝗔𝗗‼️This team means 𝙗𝙪𝙨𝙞𝙣𝙚𝙨𝙨!OU 78, Baylor 75 | 2:56 4Q#Sooners x @BallySportsOK pic.twitter.com/UZ4LDX7ySD

— Oklahoma Basketball (@OU_WBBall) January 13, 2022
Later, she blocked a layup from Baylor's Jordan Lewis with 20 seconds left to ice the game. It was OU's first top-15 win since 2017 and its first win against Baylor since 2015. After scoring 20 in OU's next game against TCU on Jan. 15, Vann won Big 12 Player of the Week honors.
"I just found confidence in myself," Vann said of her performance against Baylor. "I was just like 'If I get my shot blocked, I get my shot blocked. If I foul, I foul. If I miss a shot, I miss a shot.' And that's a good way to think. In those big moments … I was so locked into what I was doing. Everything just came naturally."
Now, as the postseason nears, Vann continues to provide a spark for OU. She recorded a career-high four assists with 12 points against Oklahoma State on Jan. 26 and scored 14 with two 3-pointers to help OU earn a double overtime victory against West Virginia on Feb. 5. In a rematch with the Cowgirls, Vann recorded her most efficient shooting performance of the season, going 8-for-12 to lead OU with 19 points.
Baranczyk has placed tremendous trust in her, with Vann averaging 21 minutes per game this season and a more prominent role as the season progresses. OU is without a tournament win in five years and a Big 12 Tournament title in 15 years, and she'll be instrumental as the Sooners look to end both droughts in the coming weeks.
The pressure to succeed no longer phases Vann, though. The future overwhelmed her too many times in the past. Now, she just wants to enjoy the moment.
"Enjoying the moment is just so important because anything can be taken from you," Vann said. "Thinking that way makes you just like, appreciate everything that you've worked for. I feel like that's how people perform the best — by just having a great time.
"I feel like if you look too far in the future, that's when you mess up the present. I want to win our conference. I want to get far in the tournament. But, nothing is secure right now. You can't get caught up in the future. You have to think about the present."