Before Oklahoma's home opener against Utah on Sunday night, assistant coach Lou Ball tried a new lineup in practice.
Ball theorized switching typical third-spot vaulter sophomore Dani Sievers with leadoff fifth-year senior Allie Stern in hopes for a higher-scoring rotation. The day before the home opener, Ball tried the switch without telling the gymnasts — although Stern disagreed, saying the team knew something was up — and ultimately decided to keep it for the meet the next day.
The switch resulted in the eighth-highest vault rotation total in program history, sparking No. 1 Oklahoma's 197.925-197.275 victory over No. 5 Utah (4-1).
Sievers, in her new spot, kicked off the event with a career-high 9.95 that sparked the Sooners' event win. Stern later scored a season-high 9.975, before sophomore Jordan Bowers and junior Katherine LeVasseur posted a 9.95 and a 9.925, respectively, resulting in a 49.650 total score on vault, which ranks tied-for-first nationally this season.
"It was just like lightning because Dani went out there and stuck and just got everybody on a roll." OU head coach K.J. Kindler said after the meet. "Allie coming in, I really thought it was a 10, but just a bit shy. And then Jordan (Bowers), Kat (LeVasseur), I mean just incredibly consistent all the way down the line, that's a great vault score. If we can do something like that, it's really tough to beat."
ICE COLD STICK BABY!! 🥶That's a career high 9.950 for lead-off @danisievers25 for a Yurchenko 1.5!!#BoomerSooner pic.twitter.com/TDp8HgeZnP

— Oklahoma Women's Gym (@OU_WGymnastics) January 23, 2023
Kindler insists small changes like those can either make or break the meet's outcome. Her change was a gamble that paid off.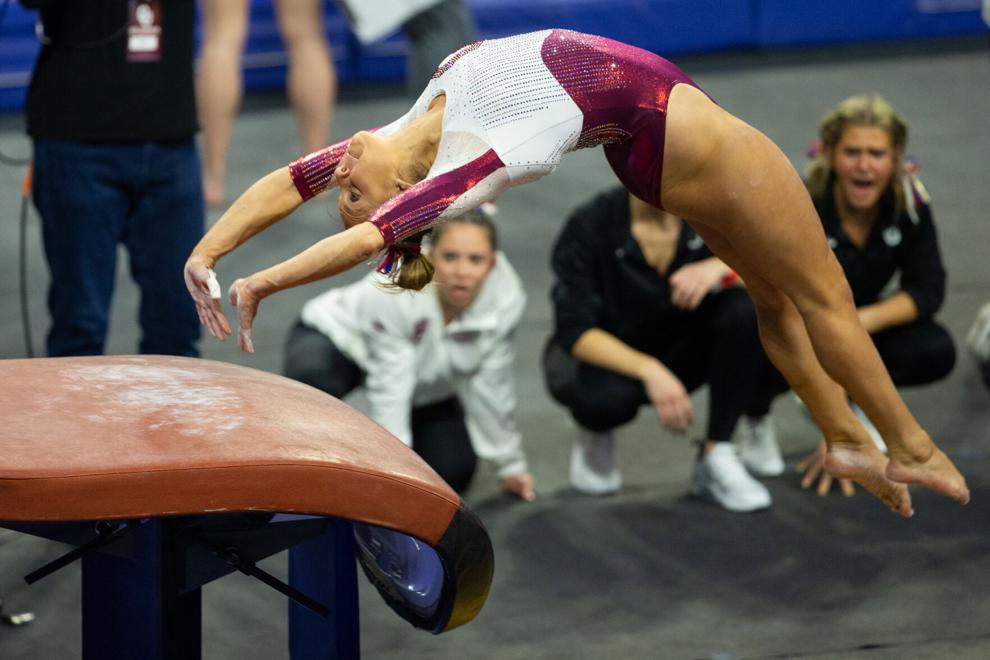 "Those little tweaks can make a huge difference, and, in this case, it came to our advantage," Kindler said.
After vault, Oklahoma (5-0) totaled a 49.425 on bars a 49.350 on beam and a 49.500 on floor.
After the meet, Kindler declared freshman Faith Torrez a standout gymnast of the night as Torrez scored three career-highs, won bars and floor and took the all-around title in her first collegiate home meet. She also helped stabilize the beam lineup after a fall from fellow freshman Ava Siegfeldt that resulted in a 9.225 and an uncharacteristic 9.725 score from Bowers threatened the event's total.
Torrez brought the event back on track by landing a double-back dismount, the only one competed of the night. Because of Torrez, she set up senior Ragan Smith for her career-high 9.950 and brought back the Sooners' momentum on the event.
We love the DIFFICULTY @TorrezFaith!! 🔥The freshman matches a career high 9.900 on beam with a double back dismount.📺 ESPN💻 https://t.co/9gogdBQSxy pic.twitter.com/CieF1y3qeO

— Oklahoma Women's Gym (@OU_WGymnastics) January 23, 2023
"I was so excited to be out there, and I just really wanted to have my team's back," Torrez said. "After the little bobble we had, I just really wanted to go out there and show them what I can do and what I've done."
Kindler was impressed with how Torrez handled the position she was in.
"When you have a mistake like that, it takes a lot of mental toughness from the athletes that are going to come after that mistake," Kindler said. "... I really felt we rebounded well after those small errors."
Oklahoma gymnastics drew energy from a crowd of 7,013 which rivaled the men's basketball program, who was supported by a season-high 8,808 fans on Saturday.
"The crowd was fantastic," Kindler said. "Super excited about the energy in the building and hoping we can continue to build from there. That kind of energy in your arena makes a big difference. Utah has it every time that they compete at home so to be able to deliver something similar when they were here was very impactful."
Oklahoma begins Big 12 play against No. 7 Denver (1-2) at 3 p.m. on Jan. 29 on the road. Denver broke OU's Big 12 Championship win streak two seasons ago, but Kindler has faith the momentum gained in the win against Utah will be carried to the mountains.
"Really excited to come away with this win," Kindler said. "It certainly is a big boost of confidence."
This story was edited by Austin Curtright and Colton Sulley.