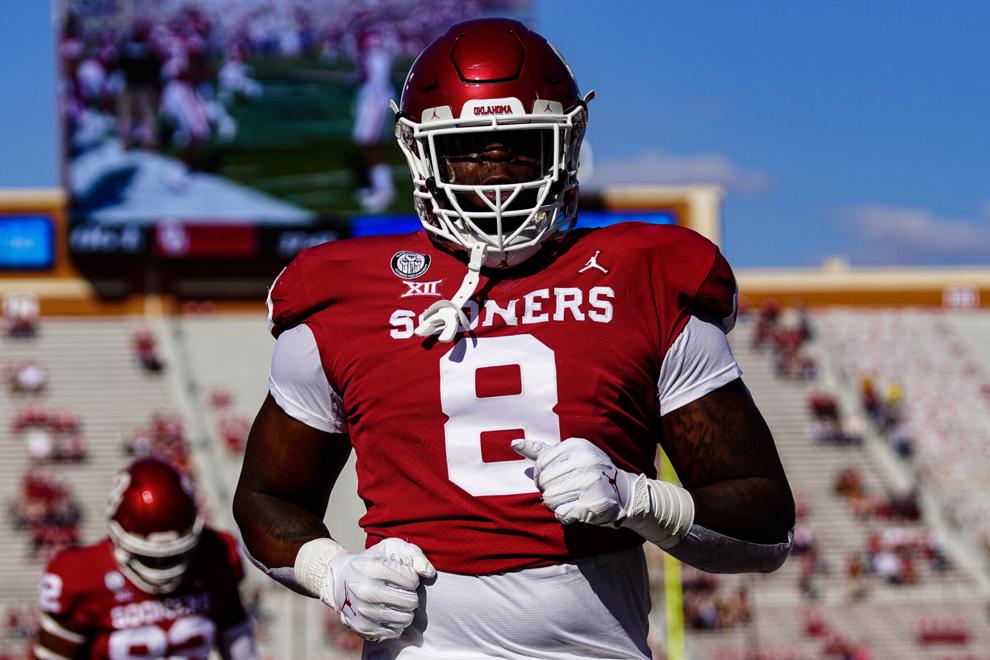 Opposing players stared at Perrion Winfrey as he trotted onto the field. 
His 6-foot-4, near 300-pound frame towered over his teammates as Iowa Western's defense lined up for the start of the second half of its 2019 season opener. Tied 7-7 against Coffeyville Community College, Winfrey was entering the contest for the first time.
Held out of the first half due to missing an offseason team activity, Winfrey served as his team's hype man while sidelined. His hollering drew the opposition's attention long before his first snap. The opposing offensive linemen called attention to Winfrey as he shifted into his three-point stance, but their warnings were to no avail. 
Winfrey slammed into the ball carrier for a six-yard loss on his second play. That drive ended in a punt, and after the Reivers forced a fumble during their next outing, Winfrey burst into Coffeyville's backfield again for a six-yard sack. Iowa Western allowed only 53 yards after halftime en route to a 36-14 win.
"As he matures and plays more football, he's only going to get better," Reivers head coach Scott Strohmeier said of Winfrey, thinking back to two seasons ago. "I've always said, Perrion's got all the tools. If he continues to work fundamentally and become a complete player, which he can be, all while trusting the process, he'll play at the next level."
Winfrey's immediate impact perfectly jump started a season where he solidified himself as one of the nation's top junior college prospects. The four-star defensive tackle was ranked as ESPN's No. 1 JUCO recruit in the 2020 class and chose OU over Alabama, LSU and Texas. Winfrey totaled 19 tackles, six for loss and six pass deflections in 11 games for the Sooners last season. Now, with an increased leadership role, the nose guard is expected to help Oklahoma's defensive line become one of the country's best during his senior season.
Defensive tackle Jalen Redmond and end Isaiah Thomas join the Maywood, Illinois, native in the unit. Even with the room's loss of Ronnie Perkins to the NFL, the Sooners' depth at defensive line stays strong with the return of Josh Ellison, Jordan Kelley, Kori Roberson and LaRon Stokes. OU also added four-star Kelvin Gilliam and three-star Isaiah Coe — another Iowa Western transfer — this offseason.
Winfrey's physique and personality make him stand out in his position group, which he believes has limitless potential. To achieve that, however, Winfrey must make the same significant strides he's made in previous seasons. He's gone from fighting to obtain a Division I offer to helping change the narrative of Oklahoma's defense, which ranked No. 114 in total defense in 2018. The jump to become a first-round NFL draftee will be another challenge, but it's one those in Winfrey's circle say he's ready for.
"When (Winfrey) got here, he wasn't all there yet," senior linebacker DaShaun White said during fall camp. "But he matures really, really fast. And I think it's just a testament to honestly how bad he wants it. I think he got here and kind of got punched in the mouth a little bit (and) sort of had to settle down, reset. Like, 'OK, what is it that I want?' I think that once he circled that, it was easy for him (to say), 'OK, now I gotta step up as a leader.' 
"The way that he adjusted that fast and was able to overcome (his struggles). ... It's different, and it's something that stands out."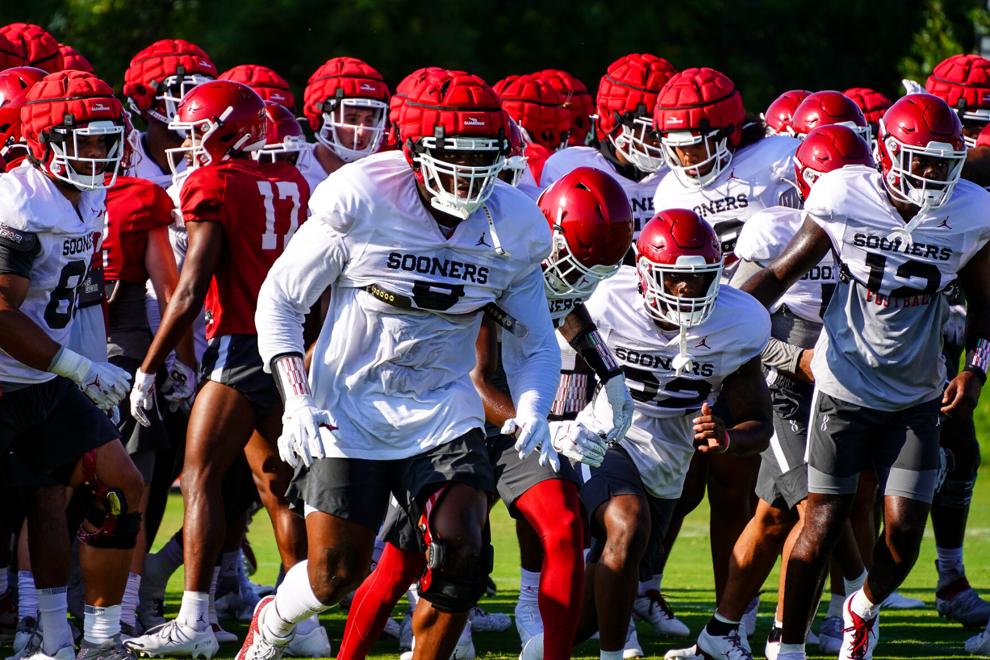 'That kid can do whatever he puts his mind to' 
Strohmeier's first impression of Winfrey was simple.
"He's going to be tough to block," Strohmeier, who began coaching in 1998, remembers thinking when meeting Winfrey. Coming out of Lake Park High School in Chicago, Winfrey didn't qualify academically for DI schools. He was directed to Iowa Western, which has a population of under 6,000, during his recruitment due to the community college's tendency to help its players reach the DI level.
The Reivers' football program launched in 2009, and Strohmeier has been its head coach since. Iowa Western won the NJCAA national championship in 2012, and was fresh off sending wide receiver Nick Easley and running back Mekhi Sargent to Iowa when Winfrey arrived in 2018.
"Kids come to junior college to get a Division I offer," Strohmeier said. "Kids don't wake up in the morning and say, 'My dream school's Iowa Western Community College.' I mean, there's a pretty good situation here, but that's not their dream."
Winfrey bought in instantly. Strohmeier and company helped him harness his natural talents and better understand the game's fundamentals. In turn, he found himself going from the Reivers' backup nose guard to holding offers from 17 DI programs in five months.
Each offer served as another motivational talking point for Strohmeier, who believed Winfrey was more than capable of earning the grades necessary to qualify at the Division I level. After two seasons at Iowa Western, in which he had 55 tackles, 23 tackles for loss, 9.5 sacks and one forced fumble, Winfrey committed to OU just three days after his first visit to Norman in June 2019. He enrolled at OU in January 2020, shortly after the Sooners finished their season 12-2 with a 63-28 loss to LSU in the Peach Bowl.
Strohmeier said Winfrey quickly bonded with defensive line coach Calvin Thibodeaux thanks to the coach's junior college experience. Thibodeaux coached Navarro College's defensive line in 2010, where he helped the Bulldogs to an 11-1 record and an NJCAA national championship. The Sooners' new look defense, implemented by defensive coordinator Alex Grinch when he arrived in January 2019, also piqued Winfrey's interest. His arrival last season brought a different feel to OU's defense. ESPN's Kirk Herbstreit noted that during ESPN's broadcast of Oklahoma's 41-13 win over Oklahoma State.
"They haven't had guys like that," Herbstreit said as Winfrey flexed after bringing down running back Dezmon Jackson at OSU's line of scrimmage. "They've had some good players, but Winfrey can win. (And) they've got guys that can win one-on-one across the entire defensive line."
With Winfrey, the OU defensive line looks like one the Sooners' haven't had in decades. In fact, some of the school's best to play the position have taken notice. 
Tommie Harris, who played defensive tackle at Oklahoma from 2001 to 2003 before playing eight seasons in the NFL, believes Winfrey is "one of the top guys to watch" in college football. Like Winfrey, Harris' stature made him easy to spot. Harris stood 6-foot-3 and weighed approximately 290 pounds while at OU.
Harris' play matched his intimidating frame, making him a consensus first team All-American in 2002 and a unanimous selection in 2003. He appeared on the cover of Sports Illustrated's season preview in August 2002, titled "So Good It's Scary." Though that capitalized on his reputation, Harris preferred to let his game speak for himself.
"I just wanted to make noise," Harris said. "I just knew when I put my hand down, I didn't have to talk. I don't have to growl. I'm going to say nothing and just put my hands on 'em. … You don't have to do all of that talking. Put your feet to work, make some noise and get off the field on third downs. 
"If Perrion can lock in, focus, go all in and cut out all the other stuff for this one year, (his) last year in college, the sky's the limit for his potential. He has such an upside. I think he just has to keep being Perrion. … If he starts working on the professional level of his game, he's going somewhere. That kid can do whatever he puts his mind to. It's his future to decide."
'Everyone just loves Perrion'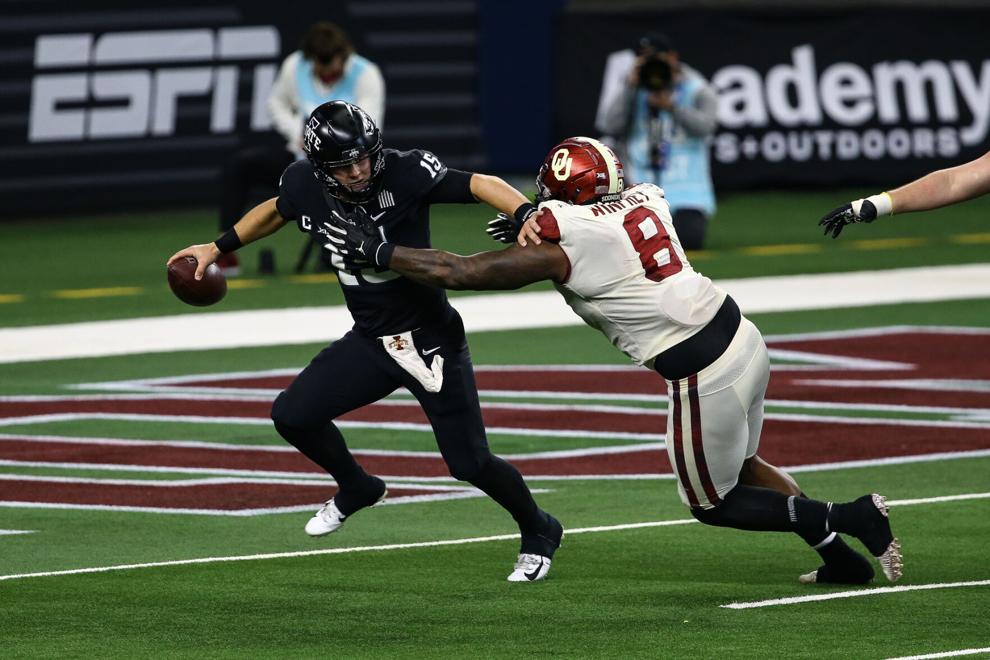 Winfrey uses every on-field advantage he can get.
To get his opponents even more on edge, he'll showcase his favorite pastime within his game attire. Winfrey inserted imprinted portraits of Michael Myers — the main character of the "Halloween" slasher films — in his thigh pads during OU's Big 12 championship game against Iowa State. Though his statline for the contest came up empty, he still kept quarterback Brock Purdy uncomfortable as the Sooners won 27-21.
Perrion Winfrey broke out the Michael Myers thigh pads yesterday. 🔪🔪🔪 pic.twitter.com/UpBPFLvGTB

— Sooner Tracker (@SoonerTracker) December 20, 2020
Winfrey used a similar tactic at Iowa Western. Strohmeier remembers Winfrey often wearing a skull-themed neck gaiter while watching from the sidelines.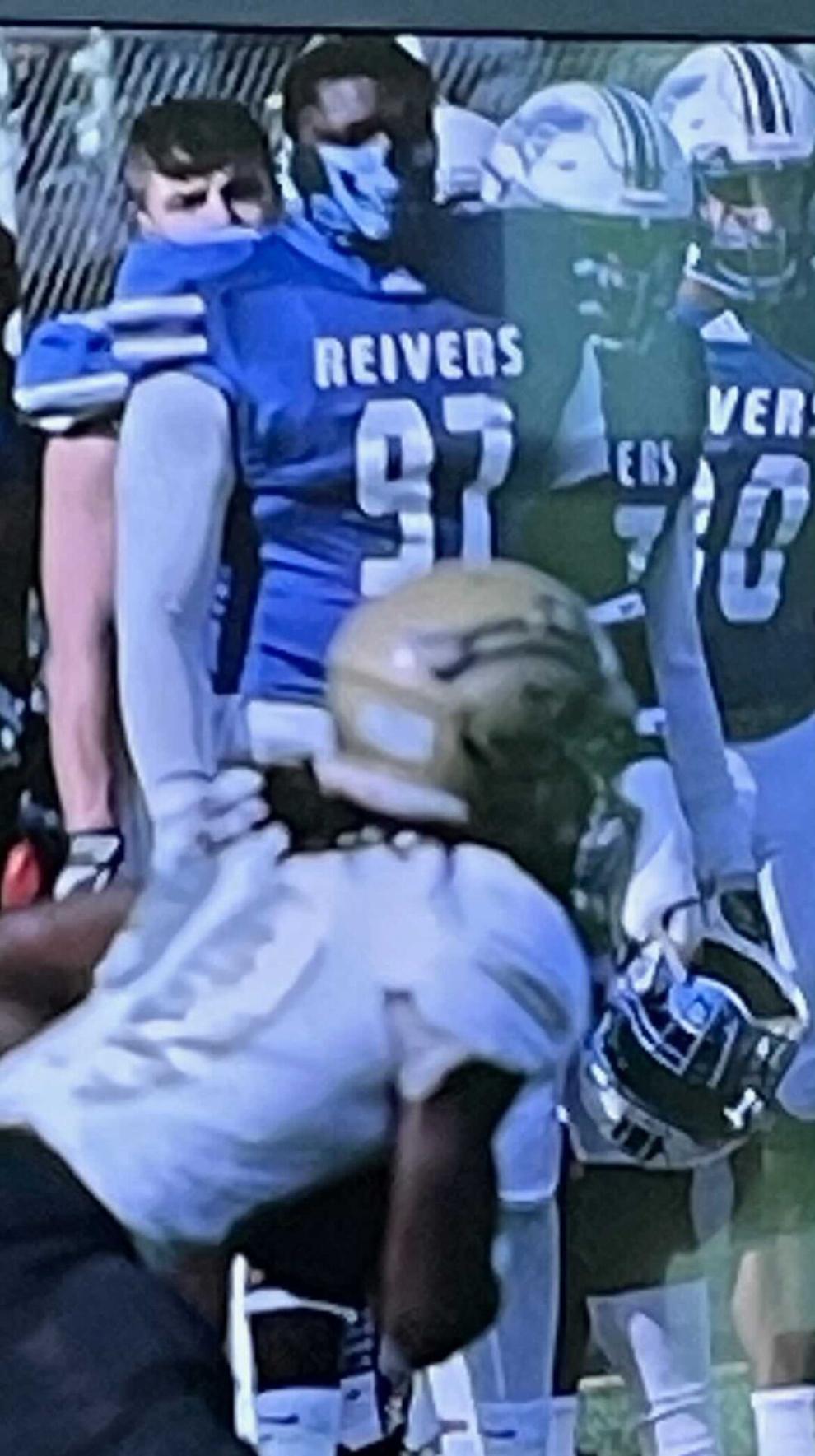 "We weren't even in COVID yet and he was just wearing this stupid mask," Strohmeier said with a laugh. "But hey, that's who he is. … Everyone just loves Perrion."
OU head coach Lincoln Riley isn't a horror movie buff like Winfrey, but he's an advocate for his locker room endeavors. Riley said Winfrey has become one of the team's most vocal competitors and, by extension, leaders.
"He's probably, within the locker room, one of the more beloved members on the team," Riley said during camp. "He's just so for everybody in that room and the guys see that. He's got a passion for playing the game and works really, really hard at it. He's a fun guy to be around off the field (and) always got a smile on his face. … A lot of people have really taken to him."
Riley believes Winfrey's leadership sets a tone for the Sooners. Leaders can come from any position, Riley said, but leaders like Winfrey can create a culture that's rarely matched.
Strohmeier saw that effect first hand. After growing more acquainted with the Reivers' program, Strohmeier said Winfrey made Council Bluffs a more welcoming and fun atmosphere for his teammates. He also began to foster long-lasting relationships. Winfrey visited Strohmeier's office regularly, where the two would either discuss ways to improve Winfrey's academics or just talk about life.
Winfrey and Strohmeier still keep in touch. When Oklahoma defeated Texas last year, Winfrey texted Strohmeier pictures of the Sooners' post-game celebrations with the Golden Hat. Winfrey blocked a go-ahead Longhorn field goal in the game's third overtime period before a 53-45 victory.
"He feels like he's forever indebted. ... He's just so appreciative (of) what others have done for him," Strohmeier said. "To get sent pictures of him holding trophies ... that tells me that he enjoys the experience he had here."
Winfrey's success at OU is a direct result of his maturation, Strohmeier believes. And that's molded Winfrey into one of Riley's top leaders.
"We know where we're trying to go and the standard that needs to be held to get there," Winfrey said at Oklahoma's local media day in early August. "So, we're constantly pushing each other. ... We just know when somebody's doing something that they don't need to do, and we just get with them immediately because we don't want any of that cancer on the team. So, we're constantly, constantly looking at ways to make the team better and just improve. 
"We just know what is expected of us, so that's what we do."
'He's a beast'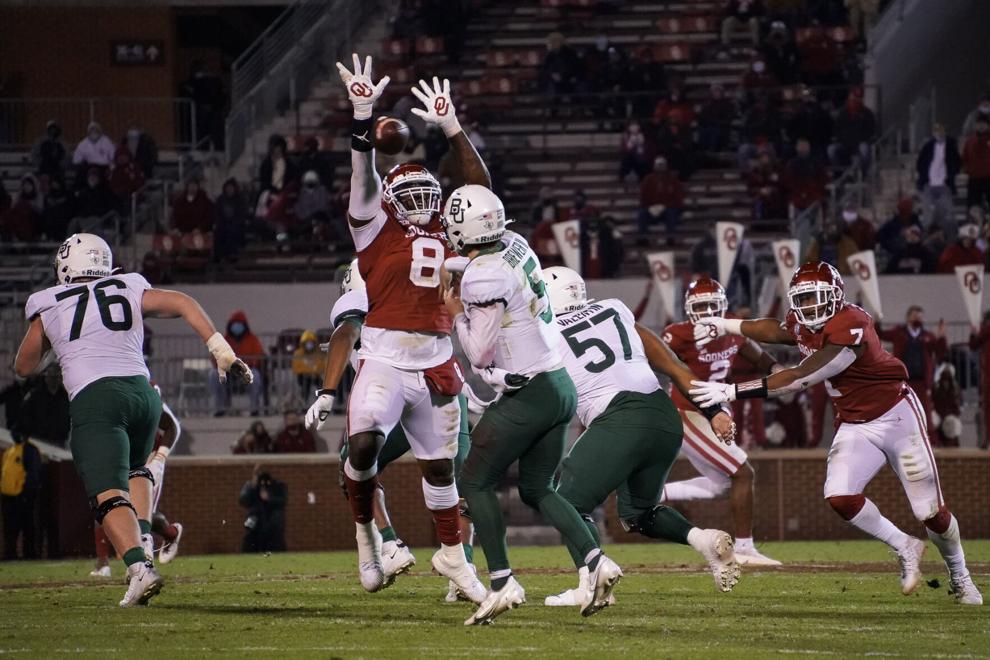 With a shot at a seventh straight conference championship, a College Football Playoff berth and a possible NFL Draft selection looming, Harris' best advice for Winfrey and the Sooners is to take the 2021 season one day at a time.
Harris visited with OU's defense this summer and believes Thibodeaux has crafted one of his best units yet. With outside expectations rising, Harris believes Winfrey's down-to-earth demeanor will benefit his team in the long haul.
"He's a 21-year-old who's doing the best with what he's got," Harris said. "He's growing in the eyes of the public. He's becoming a grown man. ... He's a beast, but he's growing into his manhood. We all have our troubles, our ups and downs, but I think this is the year he locks in and handles what he needs to do."
Winfrey taking that final step to becoming an NFL-level nightmare for offensive lines is exactly what Thibodeaux wants. 
"He needs to be a dude," Thibodeaux said. "He needs to play how he looks. He's a guy who can do it and do it at a high level. We're expecting big things from him. If he plays the way he's capable of, he's an NFL guy."
The Sooners' offense appears primed for another record-shattering season behind redshirt sophomore quarterback and Heisman Trophy favorite Spencer Rattler. A stout defense with pro-level talent could finally end the team's playoff win drought and position the Sooners to capture their eighth national title.
Furthermore, with a move to the SEC on the horizon, Winfrey knows a strong performance from the Sooners' entire defense would establish a new narrative for the program going forward. But, like Harris advised, Winfrey's current focus is game-by-game.
"(The SEC move) doesn't pertain to our season or what we've got going on," Winfrey said. "But, when I saw that it happened, I was honestly excited because I can't stand the noise saying that we're in the Big 12 and we can't handle the SEC.
"We're just really ready to put (ourselves) on display and show the rest of the world what we're capable of."