Isaiah Levingston readied to launch over unevenly placed plastic chairs in his backyard. 
After watching his sister, Carissa, compete in track events at Midwest City High School, the 8-year-old Levingston mimicked her runs as if he was competing in his own hurdling event. 
Now, after almost 14 years, Levingston is competing in the 400-meter hurdles event at one of the highest levels. 
Kneeling down onto his hands and knees, the 6-foot-7 redshirt junior prepared for the first heat of the 400-meter hurdle preliminary round of the USA Olympic Trials in Eugene, Oregon. At the sound of the horn, Levingston sprinted forward and jumped each hurdle at Hayward Field. Levingston finished in second place with a time of 49.06 seconds and advanced into the semifinals of the USA Olympic Trials.
In the second round, Levingston placed third with a time of 49.34 seconds. Despite making it to the final, he fell short of an Olympic qualification, placing sixth with a mark of 49.48 seconds  — just three spots shy of an Olympic bid. Overall, however, the Midwest City product's performance this season should not be seen as a failure. Levingston solidified himself with elite company in the 400-meter hurdles event, being only one of the three — alongside Ashland's Trevor Bassitt and USC's Cameron Samuel — collegiate athletes to qualify in the event. 
"I really consider him a world-class runner now because of the times he ran," said Levingston's father, Rick, who ran track and field at Wichita State. "And that's really surreal. Because with all the injuries and looking back, track and field, even in high school, I don't even think was his strongest sport. I think, out of all the sports, it was probably his third in line. But after working hard and persevering, he just progressed, and he's doing real well at this time." 
Despite finishing short of the Olympics, Levingston capped off his collegiate season with a finalist nomination for the Big 12 Player of the Year award, winning the Big 12's 400-meter hurdle championship and placing as the national runner up in the NCAA's 400-meter final. 
Levingston also broke Oklahoma's men's 400-meter hurdles record with a time of 48.49 seconds in the NCAA Championship. Before the Olympic Trials, he held the fifth-best 400-meter hurdles time in the United States and the seventh-best time in the world. As for his childhood goal of making it to the Olympics, Levingston will have to wait another four years to qualify in the event of his dreams.
"I remember in high school, he would talk about it all the time," said Hamza Gillan, a friend of Levingston's since their freshman year of high school. "He would say, 'One day I want to be an Olympian, and I'm going to work for it,' and I would always believe that because he's always super hard working and will always put in the extra hours to train hard. It was always trust himself and then trust the process."
Levingston is set to return to Oklahoma as a fifth-year senior next season. There, he hopes to maintain the same dominance he had in his fourth year with the Sooners. Currently, Levingston hasn't put much thought into what's coming in the 2021-22 season. Right now, he's just trying to stay focused on the upcoming offseason. 
"He hasn't really made any decisions about next year," Rick said. "I think the best way to do it is just to stay focused on what's ahead of him right now."
'My family has been a staple throughout this entire process'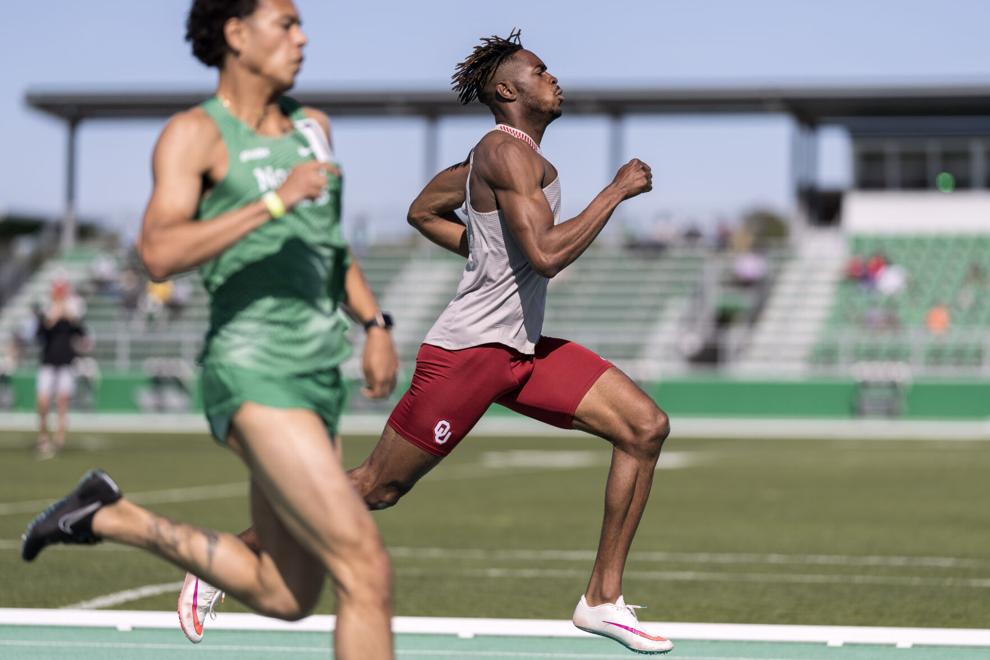 Track lives in Levingston's DNA. 
While with the Shockers, Rick met Levingston's mother, Nina, who competed for Wichita State's women's track and field team. In high school, Nina ran for John Marshall High School in Oklahoma City. She has two decades worth of state records in the 200-meter and 100-meter dashes. Rick was also a state champion in Kansas City, Missouri, during his high school years. 
Carissa, the oldest sibling of the Levingston's, went on to break her mother's Oklahoma high school records. After her senior year, she joined Stanford's track and field team. Levingston's brother, Elijah, was also a state champion for Midwest City High School
Levingston almost took a different route from his family, however. At Casady School in Oklahoma City, Levingston was a standout three-sport athlete in volleyball, track and basketball. In volleyball specifically, Levingston committed to Concordia University Irvine, a Division II school in California before decommitting to run track and field at Oklahoma in spring 2017.
Levingston had to travel to Texas for the majority of his sporting events, as Casady was not a part of the Oklahoma Secondary Schools Activity Association.  In Texas, he played against the likes of now-Cleveland Cavaliers' center Jarrett Allen in basketball, who Levingston recalls nearly dunking on him in a tournament game. It was volleyball, though, that garnered the attention of scouts for Levingston. The sport, up until his junior year of high school, was also his passion of choice. 
"When he was playing basketball in high school, there were a lot of coaches that I overheard saying, 'We would love to have this guy,'" Rick said. "At that moment, Isaiah said he didn't want to play basketball anymore. He was really going to focus on volleyball. So, I guess the coaches didn't try to recruit him after that."
It wasn't until Levingston burst onto the scene at OU's 2017 John Jacobs Invitational, a high school track meet that Oklahoma hosts alongside its Big 12 collegiate competitions in the spring. After winning the men's 300-meter hurdling event on a time of 39.42 seconds, Levingston amassed the attention of Sooners assistant coach Jerel Langley. 
Langley, who was unaware of Levingston at the time, approached and congratulated him after the invitational. After an official visit to the university later in 2017, Levingston made the split decision — which shocked his entire group of family and friends — to decommit from Concordia and commit to the Sooners. 
"It just kind of took us all by surprise," Rick said. "He kind of just came to us and said, 'Oh, by the way, I think I'm gonna be going to OU to run track,' and I said, 'Well, hey, whatever makes you happy.'"
Now, Levingston attributes his success and commitment to track solely on his family. Without the years of looking up to his sister and parents, his interest in track and field would've diminished in high school. Even now, the support from his family is pivotal to his success. 
"They've always been there for me and have always supplied for me whenever I was in need," Levingston said. "My family has been a staple throughout this entire process."
'I never gave up on myself'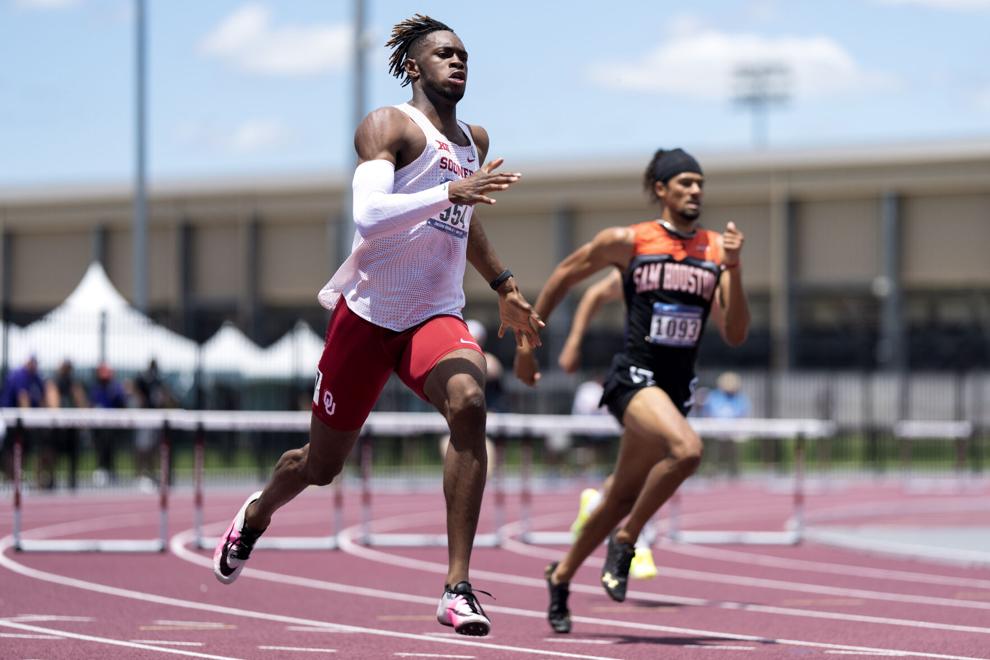 After a promising third-place finish in the Big 12 Men's 400-meter hurdles championship during his freshman year, Levingston faced unfortunate setbacks. 
In his sophomore season, Levingston was plagued by a hamstring strain that held him out the entire year. Then, COVID-19 hit in 2020, which canceled competition in his junior season. In turn, leaving him without two years of competition in the 400-meter hurdling event. 
During quarantine, however, Levingston used his free time to rehab and physically recover . 
"The COVID-19 pandemic played a big part, but it actually was a blessing in disguise because he had a chance to sit out and let his body heal," Rick said. "A lot of times with hamstrings, you think they're ready and healed, but when you run on them, you can injure yourself again, because I had a lot of hamstring injuries myself." 
Rest, paired with a new training regimen put in place by Langley, helped Levingston recover from an injury-riddled sophomore and junior season. In time, he was ready to start from scratch in his redshirt season. 
As the months went by, Levingston continued to go on walks with his family and commit to non-strenuous activities that wouldn't hinder his recovery. By the time competition returned, Levingston wanted to compete at his highest level. 
"Through all of the roadblocks, they just made me more hungry to go forward with the future," Levingston said of the challenges of his injury. "Knowing my potential, I never gave up on myself, especially during the COVID-19 season."
After resurfacing into the competition, Levingston has quickly regained his traction as one of the best up and coming hurdlers in the Big 12, let alone the entire world. 
Despite the success, Levingston still has goals he wants to attain in the future. Next season, he has another chance to be a national champion — a goal he fell one spot short of this season. And, if Levingston remains running at a high level, he could qualify for the 2024 Olympics, his ultimate dream. 
"Now since he doesn't have any injuries and his hamstring is healed, he said this was the most he's ever loved track," Gillan said. "Because of that, he's running at a super high level and competing against some of the best athletes in the country."
Editor's note: This story was corrected on July 6 to reflect the proper title of Jerel Langley.