As the City of Norman celebrates the last day of Pride Month, the joy and sentiments shared by attendees during the council's Tuesday night special session persist after council members voted unanimously to amend a city ordinance, adding a definition of conversion therapy and prohibiting the practice of it on a minor. 
Chapter 7 of the City of Norman code was once mainly concerned with anti-discrimination and public contracts, Assistant City Attorney Anthony Purinton said. He said the amended chapter contains three articles, including a general provision with a definition and statement of purpose, an anti-discrimination article and the additional definition of conversion therapy.
Purinton said the definition of conversion therapy is a "practice or treatment, seeking to change sexual orientation and gender identity." He said the therapy is not defined by services providing acceptance, support and understanding to individuals or facilitating someone's coping, social support, sexual orientation and gender identity. 
Starting at 5:30 p.m., 21 individuals stepped up to the podium, one by one, each speaking in favor of the amendment in an intimate, rainbow-adorned crowd of supporters. An hour later, the eight council members all voted in favor of the new definition and prohibiting the practice of conversion therapy on minors. 
Although there is debate in the courts, specifically in the 11th Circuit court system, surrounding how speech fits in the professional context of therapy, Purinton said nothing legally prevents the council from passing the amendment.
"Therapy is technically speech, and especially speech therapy, so that's what you see is the court grappling right now," Purinton said. "So you have already kind of a mixture of court opinions on these types of ordinances, but in the 10th Circuit, (where Oklahoma resides), there was no binding precedent that would restrict us from entertaining this amendment."
The prohibition on conversion therapy prevents providers from engaging in it with a minor. Penalties range from $50-750, up to 60 days of imprisonment and provide an option for civil action in any court of "competent jurisdiction."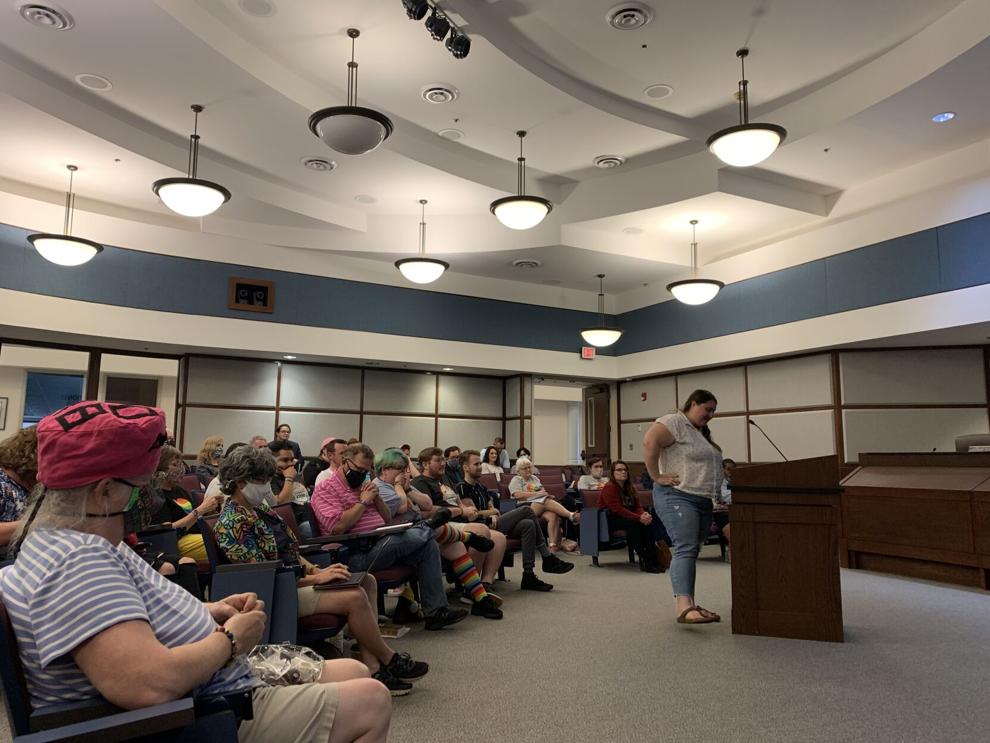 Council members and residents alike shared their research surrounding conversion therapy alongside personal testimonies of the hurt it has caused them or people they know.
Bow Clement, a Ward 4 resident and member of the 2SLGBTQ+ community, thanked the council for shedding light on this issue, which they said is not a supportive practice. They said they have the luxury of a loving family who accepts them for who they are, but not every Norman resident has that luxury. 
"It hurts so much to see (my friends) not get the love and care that they deserve," Clement said. "While I have always had a wonderful support system, people have not always been kind. I have been bullied since elementary school, been called slurs from the streets walking home from school and been told that I should go to conversion therapy by my classmates. I cannot imagine where I would be without my support system, much less a family that would willingly subject me and my siblings to torture and emotional abuse."
Tom McFarland, a Ward 5 resident and member of the Red Dirt Collective, said his educational background in psychology has allowed him to work with teens and young adults. He said he's seen people's identities crushed by conversion therapy, causing people to take their own lives to escape feelings of brokenness, and called upon the council to ensure the safety of Normanites.
"I am straight, and I am cisgender — nobody tries to convert us. We don't have to come out of our closet. Nobody sends us to a place to be changed. We don't live this," McFarland said. "For us, it is difficult to conceive of what it would be like to be manipulated and twisted to hate ourselves — to hate our identity. An identity is instrumental in our perception of self … and you can't take that away from somebody. You cannot take the gender identity from someone or the sexual orientation from a person any more than you can take that thing that you have within yourself."
Three people attended the meeting to voice opposition to the amendment, including Ward 3 Councilmember-elect Kelly Lynn, Ward 5 Councilmember-elect Rarchar Tortorello and OU Math Department member Gary Barksdale. The three residents argued amending the ordinance is not in the purview of the city government and could set precedents allowing the council to ban other things like abortion.
They all left the meeting following their time on the podium while others remained to hear everyone on the speaker list. Lynn and Tortorello will be sworn into council July 6 during their next meeting.  
Megan Strong, a licensed clinical social worker and member of the 2SLGBTQ+ community, was the first to address their statements.
"Children and youth deserve appropriate mental health care. They deserve a community that stands by them. They deserve a city council that will look out for them, even when their families aren't willing to," Strong said. "This is absolutely city business, and this policy reflects science, ethics and norms and values of inclusivity and diversity." 
In what was her last meeting, Ward 3 Councilmember Alison Petrone said she believes "protecting children from abuse is the job of the city government." 
"That is the purview of government, is to protect the people, especially the defenseless," Petrone said. "I mean, these are children that we're talking about tonight, (and) it's not just children, it's adults as well, that fall victim and prey to these practices that are so sadistic. … You are (all) brave. You're beautiful, and you're perfect just the way that you are — every single one of you and everybody at home just listening, and never let anybody tell you otherwise."
In what was also his last meeting, Ward 5 Councilmember Michael Nash said he has watched his niece, a member of the 2SLGBTQ+ community, firmly establish her identity and radiate confidence in it. He said, if his niece was forced by therapy to become someone beyond her current identity, she wouldn't be his niece.  
He said it is sad the council often has to apologize for the rest of Oklahoma's actions, but he hopes to see the council continue creating a place of inclusivity for all of Norman's residents. 
"If we need to, (we can) hold a torch to the rest of the country saying our state might be backwards, but we are not," Nash said. "We will protect our people, whatever their identity is, whoever they choose, whatever color they are. … The only thing that we do not tolerate here is hate and hatred. I'm thrilled that it sounds like there is no opposition to passing this, and I'm surprised we haven't done this sooner." 
To those with religion-based objections to banning conversion, The Rev. Blake Woods of St. Anselm of Canterbury said he has seen the burdens carried by 2SLGBTQ+ youth as they attempt to change their identity to be faithful to their religious community. He said while these youth are often told they are not worthy of love, they in fact deserve to be honored as children of God instead of broken down by therapy that attempts to build them into someone they are not.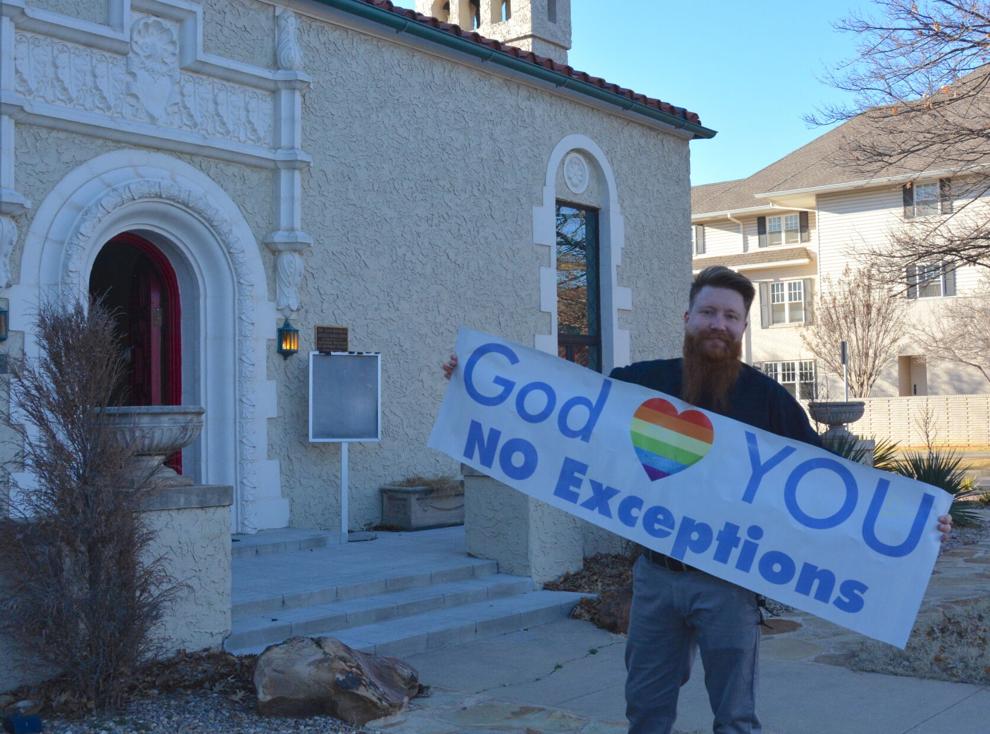 "I have attended the funerals of too many of those youth after they made the choice to end their life rather than live in a world that tells them they are a problem to be fixed, instead of a beloved child of God, just as they are, without question, or equivocation or conversion therapy, which is no therapy at all," Woods said. "It does not serve or honor our children, it does not serve or honor the image of God that we say is present in them … It is a weapon used by parents who believe that they are helping, who believe that they are being faithful, but are destroying some of the best and most sacred parts of their children, and they do it in the name of God." 
Toward the end of the meeting, Ward 1 Councilmember Brandi Studley shared how she came out as bisexual in the '90s and could not imagine someone telling her she couldn't love who she wanted to love. Now, as she raises her 15-year-old daughter, she said she is constantly reminded of the emotional intelligence young people possess, and the city government should vote to protect them.  
"I called my 15-year-old — before I came in here tonight — who's at her dad's for the summer, and I told her what we were doing tonight, that there was a special session, and she clapped and then she said, 'Why is this even a thing?' Studley said. "Why is this even a thing? Why is there such a thing as conversion therapy in our society? So, again, I just want to thank you guys for coming out and sharing your truth, and I will support this."
Although local government is often difficult, Norman Mayor Breea Clark said she considered the vote to be "the good stuff." She encouraged the members of the 2SLGBTQ+ community at the meeting to never quit fighting, as their courage is part of what makes Norman great. 
The meeting concluded with the council's unanimous vote. 
"Happy pride, y'all," Clark said.