A tap on the shoulder from Rick Nagel's Boys and Girls Club director compelled him to fuel his beat-up car and head west in pursuit of financial aid from the Phillips 66 engineering scholarship program.
His rearview mirror held the memories of his father, who died when he was 9, and a year in foster homes while his mother sought rehabilitation from a rare autoimmune disorder.  
As he headed out on the 185-mile trip from Fort Smith, Arkansas, to Norman, he said he thought he wouldn't make it, yet, a combination of people paved the road before him. These individuals would ultimately plant and nourish Nagel's roots in Norman, allowing him to sow seeds in STEM, service, supporting education and soccer practices.
Thirty years later, the newest member of OU's Board of Regents sits in the Oklahoma Memorial Union and observes students who fill the tables where he studied for hours. Reflecting on the arc of his life, Nagel, 49, said as the board's only current regent who lives in Norman, he hopes to accompany the students who filled his shoes by advocating for an affordable university experience that creates Oklahoma's future leaders.
A student advocate from the start
It was clear from when he enrolled in 1991 to his early graduation in the winter of 1994 that Nagel was not just at OU to get his degree in environmental science. He quickly expanded his presence on campus, becoming a member of Pi Kappa Alpha, a part-time employee for the OU Foundation, a columnist for The Daily and a participant in the Speaker's Bureau.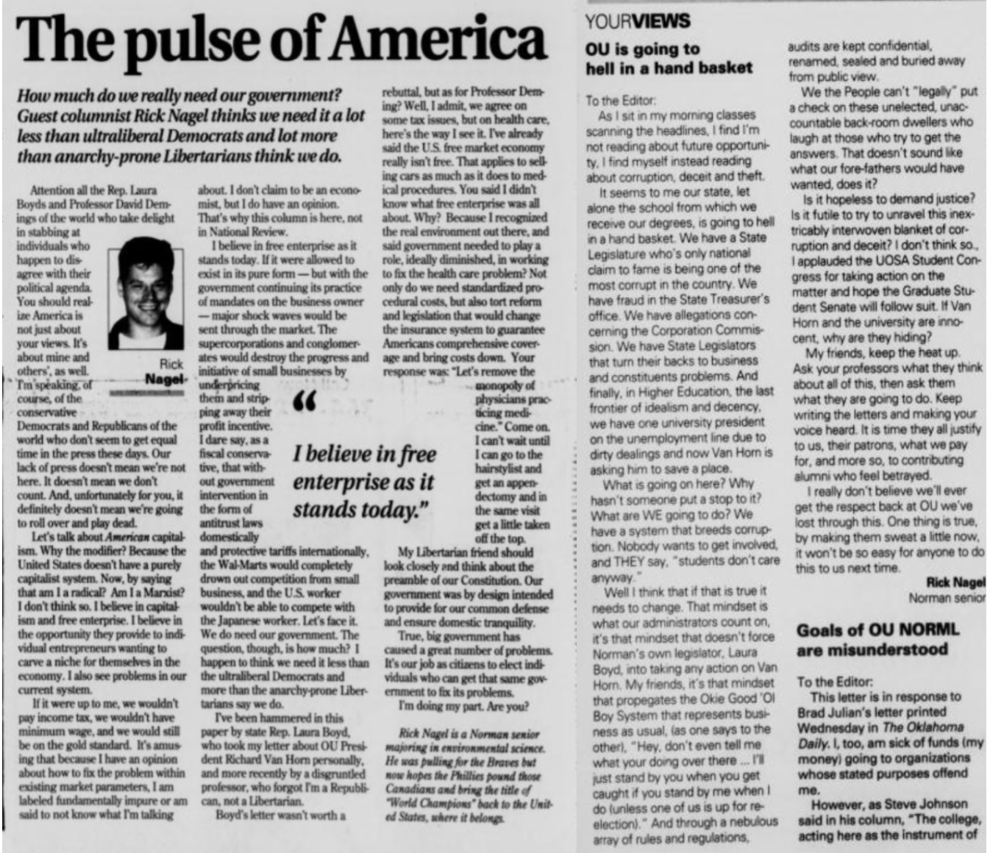 His most significant influence on campus existed in politics. Nagel was the state chairman and national board committee member for OU College Republicans and served as the student lobbying force coordinator and vice chair for the University of Oklahoma Student Association, or what's now known as OU Student Government Association. 
Nagel's service in both groups arrived during a period of transition, as President Richard Van Horn resigned on Oct. 15, 1993 amid a scandal surrounding an internal audit and investigation of Administrative Affairs and joined OU College of Business Administration faculty in 1994. David Boren took his place as the university's 13th president and signed his first round of diplomas the winter Nagel graduated.
Scott Martin met Nagel during their sophomore year at a College Republicans meeting in Dale Hall Tower. Both subsequently worked together as friends and political partners to grow the club and motivate students to seek active change. 
"Our worlds just intertwined," said Martin, who is now president and CEO of Norman's Chamber of Commerce. "I think, for me, the most interesting thing has been since that time because here we just got to know each other as young college students, not knowing what either of us were going to do later on down the road."
While Martin ran for student body president his senior year, Nagel ran for House District 44, and each supported the other during their races. Martin won the position and, although Nagel didn't beat his incumbent, Laura Boyd, he said he received about 40 percent of votes as students "came out in huge numbers."

Nagel balanced all this and still made time to advocate for his peers. He said he used data to marshal his arguments on behalf of the student body as he communicated with legislators and regents regarding higher education funding and lower tuition. 
Nagel said his ability to implement change in these areas differed from today because he couldn't relay his concerns to the university's regents via a quick cell phone call. Now, as Nagel helps set top-line university policy with the six other regents whom the governor appoints, he said he hopes to shed the curtain of separation and serve as a "regent for all the constituencies." 
"(I'm here), most importantly, for the students," Nagel said. "You're the customer, the purchaser of the product, and I want to make sure I'm available and in tune with how you feel we're doing."
An affordable university experience remains an important issue to Nagel, as he was the only regent who voted against the recent 2.75 percent increase in tuition in June during one of his first official meetings on the board. At the meeting he said that he will still fight in good faith for OU's student body.
Although the '90s are far away, Martin said they remain fresh in his and Nagel's minds. He said his past engagement in student government helps him understand the burden that current students and families bear.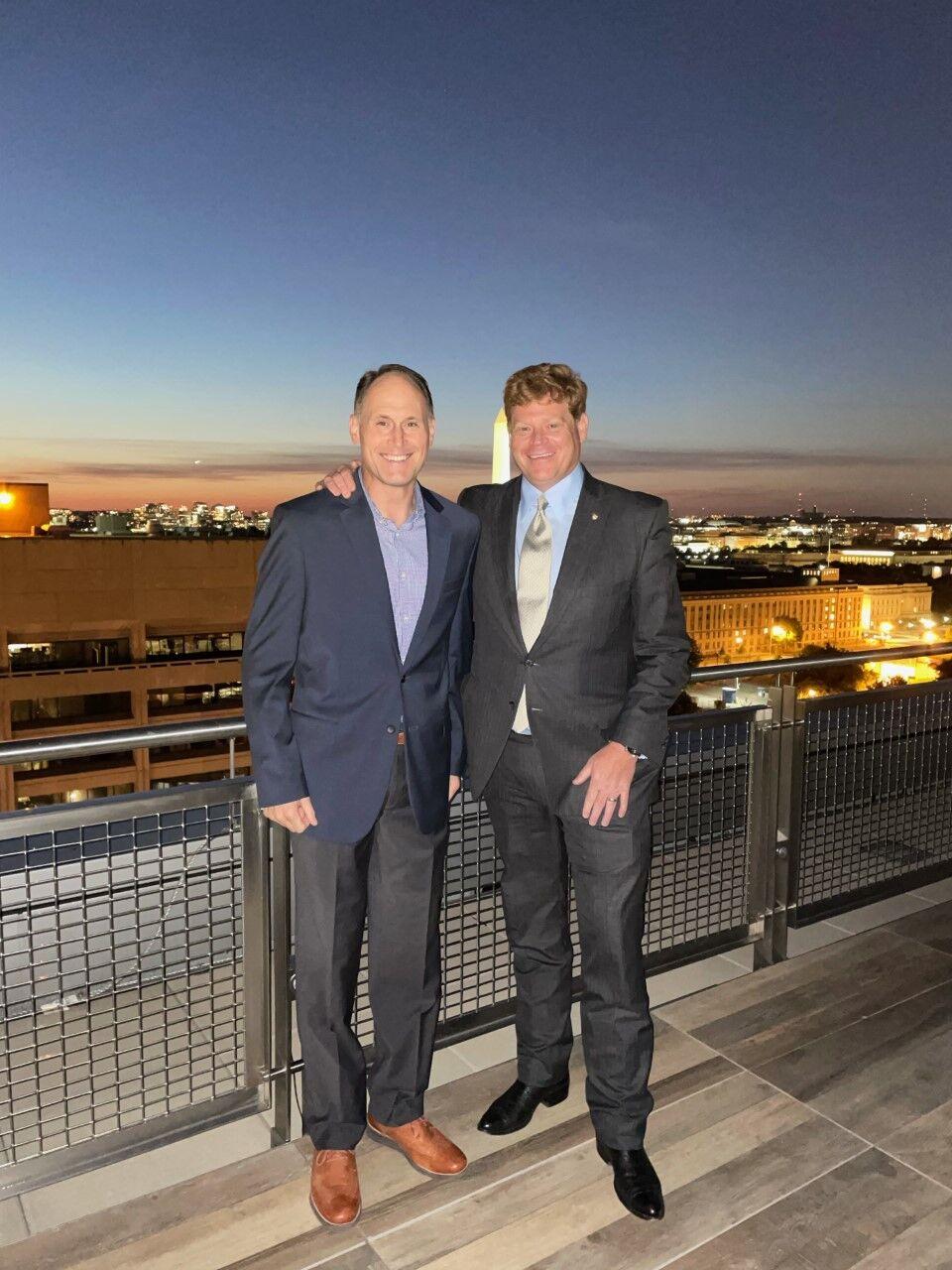 Martin said he watched Nagel transition from an OU student to an "incredibly professional and successful business person." He said his passion for his town remains, and 30 years later, he feels Nagel is "uniquely qualified" to serve his university.   
"It's been so impressive to see him grow as a person and as a successful entrepreneur," Martin said. "And I frankly just think of him as a college friend, and now as a dear friend in our adult lives, whose lives have continued to cross paths on a very regular basis."
A discerning entrepreneur
After leaving OU, Nagel eventually became the CEO and managing partner of Acorn Growth Companies, a private equity firm focused on aerospace, defense, intelligence and space investments. One elevator ride in a building on Lindsey Street led to the formation of the multi-location company, which currently manages $491.37 million in regulatory assets.
But before all this, Nagel was a college student setting up a checking account. 
He decided on Armstrong Bank, formerly Republic Bank and Trust, in August 1991 after meeting CEO Chuck Thompson. At the time, Nagel worked in a separate room in the building as a director and member of an operating team for a Los Angeles-based company Platinum Equity.
Following 9/11, he said he wanted to do something more purposeful with his life. 
Nagel watched his younger brother join the Navy out of high school, attend OU on the GI Bill, join the OU Army ROTC after 2001 and serve in the Army. Although Nagel said that was not his path, he wanted to support those who chose it. 
Tinker Air Force Base sat just 25 miles away in Oklahoma City, serving as a base of operations for individuals like his brother. Nagel said no private investment firms were supporting the base, and to him, this was an unfilled opportunity. 
Nagel reached out to Marco Capital President Rainey Williams, who became one of the first backers of the company in 2005. Williams joined a small team that 16 years later has turned into an operation with about 1,100 employees across 12 states and 32 countries.
"We kind of smile when we say that you can spin the planet around its axis, and the sun doesn't set on (Acorn Growth Companies) anymore. It's pretty fun," Nagel said. "And we're supporting our warfighters and helping maintain the peace and as an industrial partner to our Department of Defense and our allies around the globe. So the work is incredibly purposeful, meaningful, rewarding and important."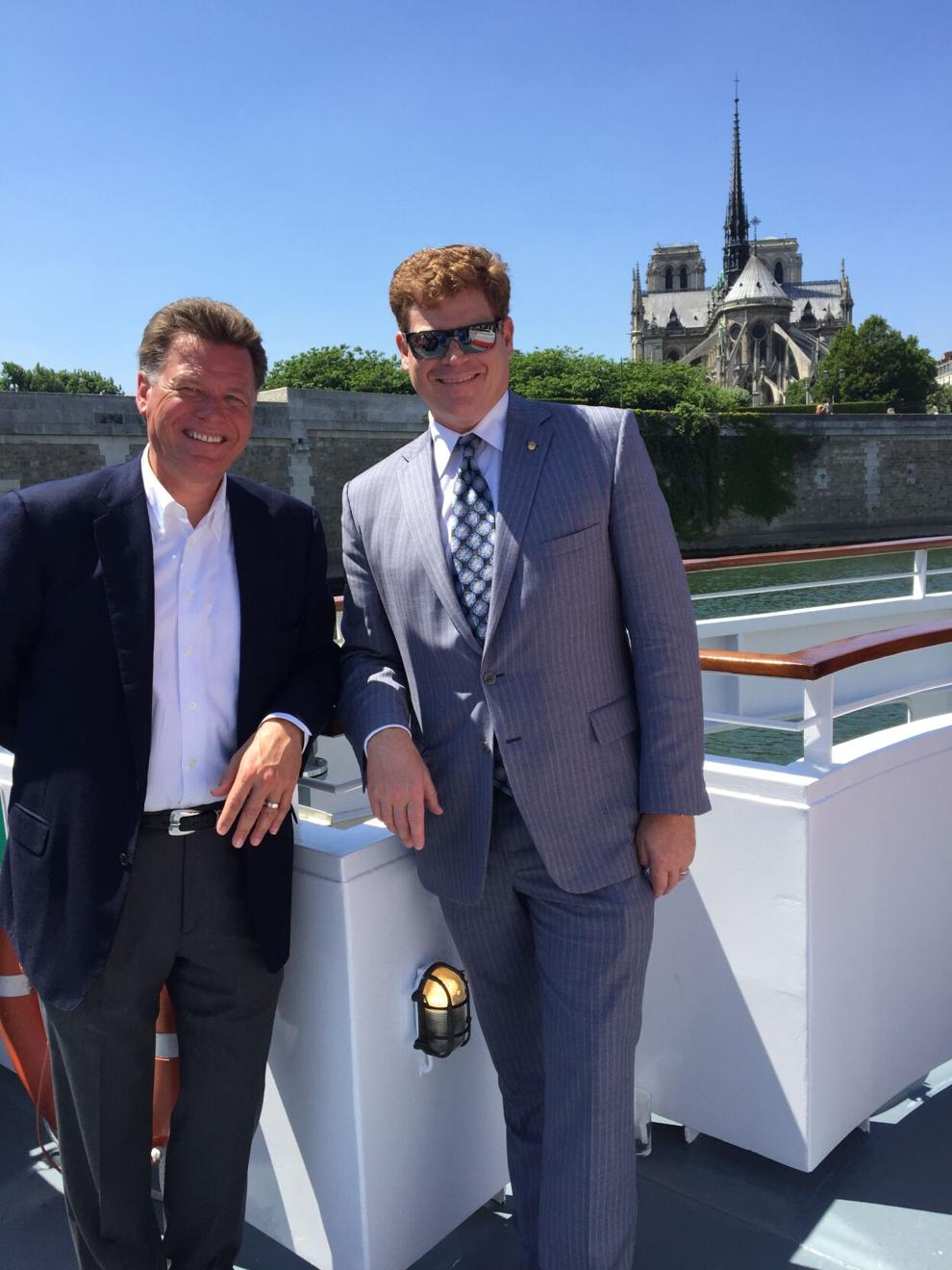 Thompson said Nagel is a "fast learner" and possesses an "incredible ability to discern." He admires Nagel's effectiveness in applying himself to his work and seeking the best outcomes. 
Nagel's work also reflects a "great deal of character and integrity" that Williams said spurred him to continue investing in Nagel throughout his partnerships. He said Nagel's perseverance in addressing investors' challenges will translate into the way he advocates for the various constituents of the university. 
"Rick will stick with those things that he thinks are important," Williams said. "I know he's got a son, (finance junior Decklin Nagel), going to OU, and he has been around there forever, so he is going to have their best interests at heart — their being the students and faculty. He will not give up or get sidetracked." 
Community investments
Nagel's investments stretch beyond his ventures with companies, Thompson said, into forming relationships. One example is his work at the Boys and Girls Clubs of Oklahoma County.  
The nonprofit's mission is to "inspire and enable all young people" to "reach their full potential as productive, responsible and caring citizens," according to its website. Nagel's been on the nonprofit's board 26 years, or about as long as it has existed.
That's fitting given how the organization brought Nagel to OU, and now he pays that forward by dedicating ample time to local board meetings as well as nationally as a trustee for the Boys and Girls Clubs of America.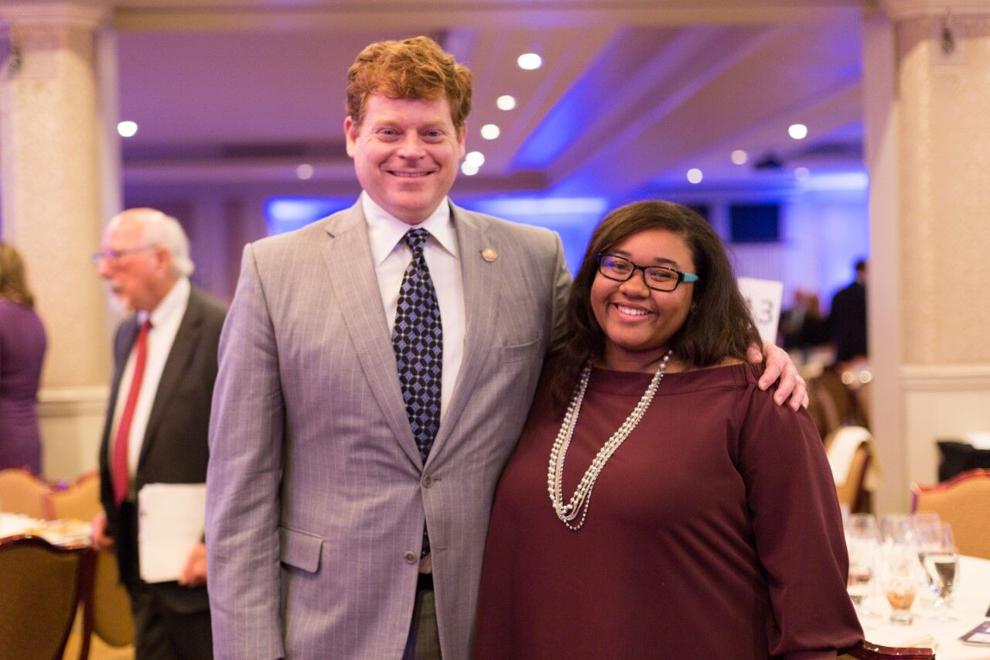 Nagel also established a scholarship fund for the Boys and Girls Clubs of Oklahoma County in 2017 through the Oklahoma City Community Foundation. Graduating high school seniors and alumni from the past two years who have been active in the Oklahoma County clubs are eligible, and the awards can be allocated toward tuition, fees, books and on-campus room and board. Preference is shown to students who plan to study in a STEM-related degree program as Nagel did when the club helped change his life. 
That dovetails with OU welcoming the class of 2025, 25 percent of which are first-generation students. Oklahoma County President Teena Belcik said Nagel is devoted to supporting students who "came from a similar story."
"If they haven't been to college themselves, they're a little bit out there on a limb on their own," Belcik said. "(Nagel) is able to really understand that and help support them and encourage them and give them confidence that they can do this and do it well and be successful. I think having that history in that knowledge of what it takes is a unique perspective. … He's walked in their shoes." 
Economic disparities in the U.S. are an issue close to Nagel's heart, as he said he believes the ZIP code someone is born in determines their access to basic needs. He said he works with the Boys and Girls Clubs in the hopes of "leveling the playing field." 
"(I want to) give kids a reason and opportunity to dream bigger than they normally would and make sure they've got the resources to be successful and self-sustaining adults," Nagel said. "We help along their journey through youth so they're making healthy choices, that they have academic support so that they can achieve academic excellence, that they're going to be good citizens when they graduate with opportunities for the future, whatever that might be, (including going to) college, or going right into the workforce for both tech or the military." 
Despite his busy schedule, Belcik said Nagel always makes time for his commitments, especially when they surround decisions that could help younger generations. Nagel's time off is centered on attending his 8- and 11-year-old daughters' soccer games and giving back to his community. 
Every board member is busy, Belcik said, but she knows no one busier than Nagel. She said his devotion to the clubs reflects his "rare personality."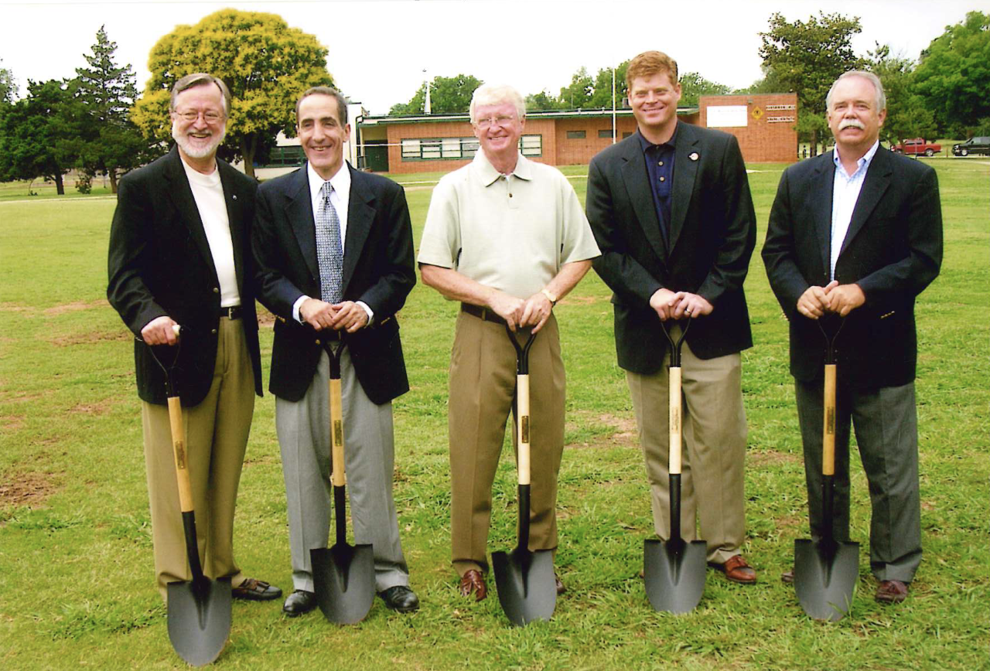 "We've recently doubled our number of clubs because there's so much need for kids right now … and he said — keep in mind, none of my 31 board members have been to see our new clubs — 'I just feel out of touch. I haven't seen the new clubs. I need to go do that. Can I take a day off and we can go to each of the clubs,'" Belcik said. 
"That's how invested he is. He wants to see what's working well and where he can maybe help if we're struggling in some areas. … But, mostly, it's just to connect with the kids and to thank the staff." 
At OU, Nagel said he sees "leveling the playing field" as something that could be accomplished in lowering tuition and seeking increased state funding from legislators. He said he sees a solution in examining OU's budget to find creative ways to better fund students' educational experience. 
"I want to do my best to make sure our foundation is enriched in such a way where it can provide scholarship opportunities where needed, particularly for the first-generation students … making sure they've got the resources that they need to get to school to be successful and not have to worry about finances," Nagel said. "We know that will ultimately change the direction of that family forever."
Belcik said Nagel's care for students and desire to support them is "incredibly genuine," and through it all, she is amazed by how Nagel still makes time for his family life.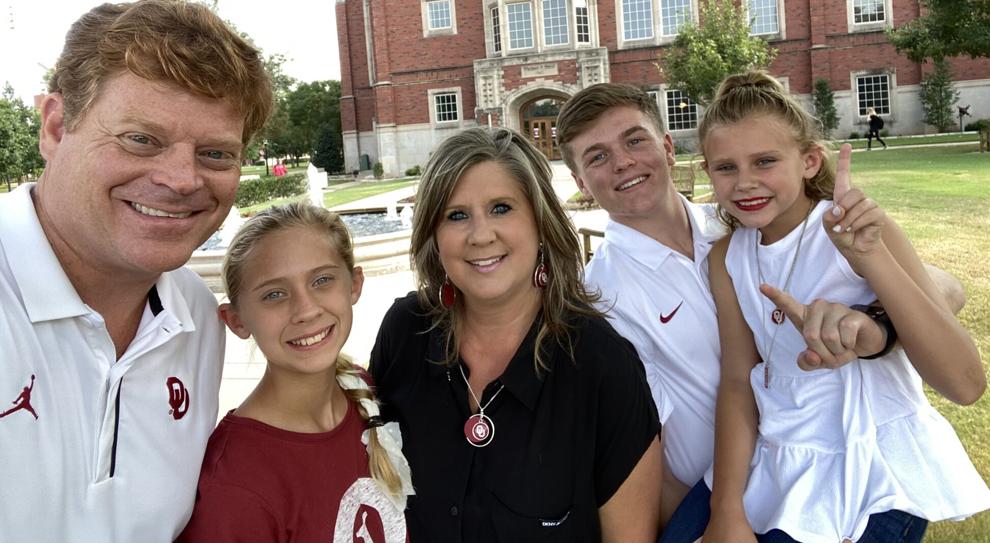 "He's a national board member, he's a local board member, he's a regional board member, he's a regent at OU, he's running a huge, important company, but his No. 1 priority is his family," Belcik said. "He and his wife Kandi have a beautiful family, and they are his priority, and that is very hard to do when you're pulled in so many different directions. I just think that's an important piece of who he is." 
Creating Oklahoma's future leaders
During OU President Joseph Harroz's inauguration, Sept. 17, Sen. James Lankford (R-OK) noted all eyes at the state level are on OU. As a regent, Nagel said, given his background, he recognizes the opportunity he has to help Harroz and the institution at large serve Oklahoma's future leaders.
Nagel said he sees the university as a "complicated, political animal" with "lots of departments" that include integrations in education, maintenance, housing and food services and its police force. Although the model is familiar to him from his years in business, he said his entrance onto the board this summer coinciding with the surge of the delta variant complicates his role. He said, however, that he thinks the university is doing a good job amid the "absence of a perfect solution."
Considering the university's handling of the pandemic, Nagel said the welfare and health of students are paramount. He said it is also important to balance that against what state law stipulates and how the university can provide an educational experience to students.
Nagel said he feels OU cannot challenge Senate Bill 658 and Executive Order 2021-16, given "current political winds and momentum." 
"There's no one-size-fits-all solution, but what we do know is that if you take the vaccine, if you wear a mask, you're 99 percent going to be fine, or better," Nagel said. "We know the delta variant is contagious, but also cases in Oklahoma right now are coming down, and we know that if you happen to get COVID and have been vaccinated, you're likely not to be a lot sicker than you were had you just got the flu. … I think OU has frankly done a good job with it. I'm sure there are others who would say otherwise, but like I said, they're imperfect solutions for, unfortunately, elegant and tough problems." 
Concerning public research and future employment, Williams said one of Nagel's strengths is recognizing how investments in students' education will effectively drive future employment.
The need for high-quality leaders is clear in the companies Nagel partners with, as he observes their recruiting and understands the qualities they seek in college graduates. Thompson said comparing this need to the graduates OU is producing will allow Nagel to encourage success beyond higher education. 
"Students that are coming out that have the talent, the skills, especially leadership skills (and) directional skills — the industries are hungry for them," Thompson said. "Making the connection between what OU is producing in the way of talent with what the market is wanting in the way of talent, I think that's the place for Rick really wants to apply himself."
Nagel said OU can better prepare its student body by recruiting people out of high school from all settings, whether they want to go to college immediately, join the military or earn a little money before they apply. He said consistent advising is key in helping students avoid running through OU's programs and graduating without job prospects to help them pay off any debts they may incur. 
Tangible work experience paired with a forward-thinking curriculum will prepare students to enter the workforce, but Nagel said, more importantly, students require engagement and counseling throughout their journey. He believes OU is lacking in this area and thinks the regents could score some "quick wins" by investing in career placement and a larger academic advisory board. 
"Imagine a day where you could come to the University of Oklahoma as a freshman, where it's a big place, the buildings are tall, it's confusing, you're not sure how to get around, (but you're) matched with somebody there that could get to know you, that will be with you for the entire time that you're here, that will help you through that journey figuring out not just what classes you should be taking each semester just to graduate, but why you should be taking those classes," Nagel said.
Norman's Chamber of Commerce also opens opportunities for partnerships, as Martin and Nagel's friendship and their desire to do business with each other remains. Martin said working together would expand Nagel's understanding of what Norman businesses need to succeed and encourage a closer alignment between city and university programs.
"If there's an opportunity in Norman, a lot of students who come here from all over the country will remain here, if there's a good job for them when they graduate," Martin said. "And so he and I have a similar priority and focus in that regard, and we both want to see the local economy flourish." 
As Nagel now walks down the same path on the South Oval that his son, Decklin, strolls to classes, he said the university he knew in 1991 has changed immensely, from the Schooner Room he sat in on a crisp, recent afternoon, which didn't exist when he was a student, to the university's new focus on transparency and diversity. 
Although Nagel can't believe he is 30 years out of college, he hopes to serve students in the same way he did as an 18-year-old freshman — with wide eyes and a continued determination to make a life-changing university experience accessible.