The lack of mental health resources and the inability of many to work from home has caused several OU faculty and staff fear and anxiety under the university's current COVID-19 policies.
With mental health strains heightened by the pandemic, some OU faculty and staff have faced difficulties finding mental health resources due to long waitlists and unavailability. Others have opted to transfer universities entirely.
A university spokesperson said approximately 10 percent of the OU University Counseling Center's patients were faculty and staff members. They said the UCC will continue to provide counseling and psychiatric services to faculty and staff throughout the pandemic.
However, the UCC limits its counseling patients to 12 sessions per year, which several students reported restricts their ability to seek counsel amid mental health challenges exacerbated by the COVID-19 pandemic. 
Former OU biology assistant professor Daniel Allen began his first day at Penn State University on Oct. 1 after frustration regarding OU's response to COVID-19. Allen said navigating his work at OU amid a pandemic was stressful, as he had a heavy workload and two kids ineligible for the vaccine.
OU's lack of a mask mandate or vaccine mandate has caused him anxiety, Allen said. Allen's kids attend Norman Public Schools, where masking indoors is also "expected" but not required. Allen said he believes NPS would follow suit if OU enacted a mask mandate.
Allen said switching from a virtual classroom setting to an in-person classroom this year was frustrating because the OU administration was "ignoring" the pandemic.
The university's mission to generate knowledge contradicts its policy-making, Allen said.
"It feels like, especially as a scientist, when they're ignoring the science, it's like, 'Why am I putting all my effort here?'" Allen said. 
At Penn State, students are "encouraged" to share their vaccination status. On Aug. 30, Penn State reported 78 percent of off-campus students and over 86 percent of students living on campus submitted proof of vaccination and found 80 percent of students were vaccinated. They also reported about 83 percent of their full-time faculty and staff were vaccinated.
Those who aren't vaccinated are required to test weekly for COVID-19, according to Penn State News. If one doesn't comply, "significant consequences," up to and including expulsion, will be implemented.
At Penn State, students, faculty, staff and visitors are required to wear a mask indoors.
In contrast, OU "strongly encourages" masking indoors and in high-density settings. In classrooms where a student has tested positive, the given class is required to wear a mask for two weeks.
At Penn State, Allen said he feels less stressed and anxious than he did during his time at OU due to administrators' efforts to slow the spread of COVID-19.
"I was walking around the (student) union today and it was packed full of people, but everyone was wearing a mask," Allen said. "Obviously COVID-19 has given us a new reality to deal with, but there are safe ways to mitigate those risks."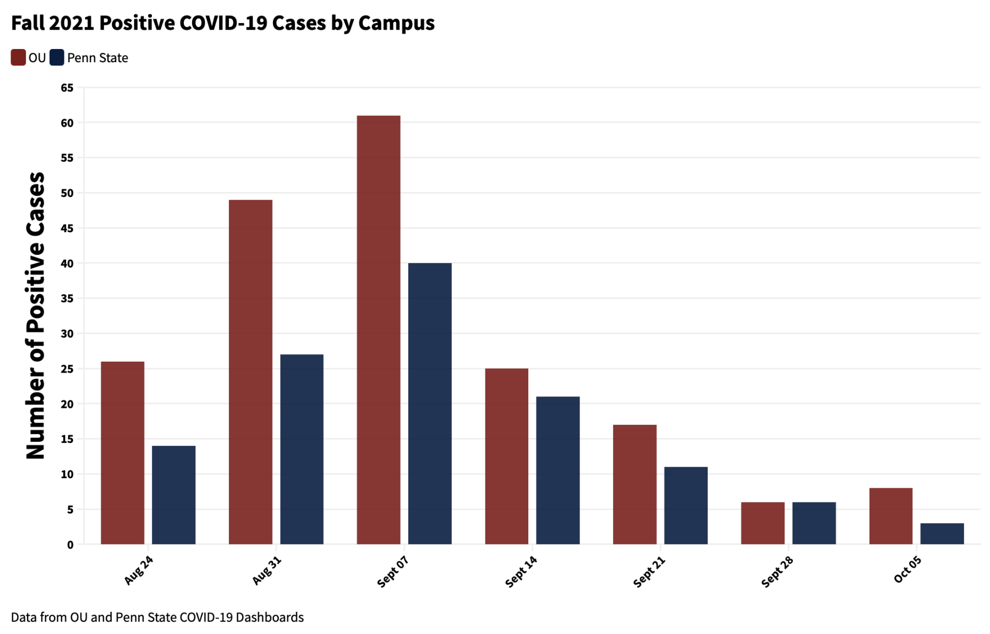 Amber Williams, administrative assistant to the senior associate dean at the OU Gallogly College of Engineering, worked from home from March 2020 to June 2021 due to a health condition and medication that made her immunocompromised. Now, Williams works in person and said she's constantly fearful of catching COVID-19. 
During her time at home, Williams was infected with COVID-19 in April, and again in November. Williams' medication — which she was taking for an inflammatory disease ​​known as ankylosis spondylitis that can cause vertebrae to fuse together — increased the severity of her COVID-19 symptoms.
Williams said the infection caused her to have difficulty breathing, resulting in low oxygen levels. She said the virus caused her ankylosis spondylitis — which was originally isolated to her spine, hips, knees and shoulders — to spread everywhere, including her organs.
"I would wake up gasping, and I couldn't get air into my lungs," Williams said. "There were a few nights where I didn't want to go to sleep because I was so scared I would suffocate while asleep."
Reflecting on her previous COVID-19 infections, Williams said her fear of contracting the virus while working at OU has increased. She said she has an impending surgery that could potentially be derailed if she gets infected again.
"I feel like I'm at an elevated state of fight or flight when I'm at work," Williams said. "It's this constant stress of 'Am I going to get sick?' Whenever I'm in large crowds, it's something that I always have to think about." 
Lauren-Lee Lewis, assistant director of financial operations in the College of International Studies, said the uncertainty during the beginning of the pandemic caused her a lot of anxiety. Being able to work remotely for the 2020-21 school year eased some of these worries, Lewis said. 
Now, Lewis works in person and said her anxiety has turned into frustration and anger, as she considers OU's "unwillingness" to bolster "bare-minimum" COVID-19 policies.
"I'm coming to work knowingly putting myself in harm's way," Lewis said. "What about our children? What about our families?"
Lewis said she has a 16-year-old son and an 8-year-old son at home who continued school remotely last academic year. Now, both kids have returned to in-person learning, though her 8-year-old remains ineligible for the vaccine. Lewis said she's concerned about him contracting COVID-19 at his elementary school or from herself.
Facing mental health challenges amid the pandemic and working in-person, Lewis said she sought help from various therapists in Norman, but each had monthslong waiting lists. Hearing of the UCC's long wait times and increased requests, Lewis didn't seek on-campus services.
At the beginning of the 2021-22 academic year, Lewis applied for a hybrid remote work schedule to limit potential exposure on campus and to care for her younger son when her husband wasn't able.
While Lewis' application was supported by the dean of the College of International Studies, it was ultimately rejected because she lives in Norman, has an on-campus office and hadn't presented information that made working remotely necessary, according to an email from the Provost's Office.
In OU's Remote Work Policy, OU lists the degree of necessary in-person interaction with others in a position as an eligibility factor for remote work. Lewis said she assumed she'd meet the eligibility for remote work, as her job doesn't involve student-facing work.
Lewis said working remotely would make her feel less stressed and anxious by minimizing exposures, as she shares her office with three other people. Lewis said OU should reevaluate their remote work policy and allow faculty and staff members that are non-student facing to have at least a hybrid schedule.
OU political science professor and president of the OU chapter of the American Association of University Professors Michael Givel said colleagues have reached out to him with concerns regarding their mental health. He said they've expressed emotional stress and anguish as they navigate working during a pandemic. 
Givel described OU's COVID-19 policies as incomprehensive by relying on faculty, staff and students to voluntarily mask and receive the vaccine.
"When you have this voluntary ... personal choice system, you have left everybody to their own devices," Givel said. "When you have a system that is not totally able to provide mental health services or people cannot get them, that's a recipe for real trouble."