Meteorology, math and German junior Marcus Ake has 10 cousins. 
Though this might seem like an unconventional family, these relationships are not blood ties. They're between Ake, a student originally from Belton, Texas, and 10 international students, paired through the OU Cousins program. 
The OU Cousins organization is the university's "premier international and American friendship program," which pairs each international student with one or two students from the U.S. based on their hobbies, majors and countries of special interest, according to its website. Students are encouraged to participate in monthly OU Cousins events — including the group's matching party at the beginning of each semester — and share their cultures.   
The program was created in 1996 by former OU President David Boren and Molly Shi Boren, who wanted to emphasize "understanding, friendship and unity" between people in the U.S. and international students, according to the OU Cousins website.
International students at OU have been some of the most affected by COVID-19, often struggling to travel to or from Oklahoma because of travel bans, while simultaneously dealing with a lack of resources on campus. As the isolating aspects of the pandemic continue to wane, OU Cousins is working to create relationships that make campus more like home for international students, which only make up 5.2 percent of the total student population, according to the 2022 OU Factbook. 
Ake said OU Cousins was the first student organization he joined as a freshman as he sought to make more connections on campus. He was matched with a student in his first semester with the program, but he got more involved the following spring. That semester, he was paired with a French student who, almost three years after meeting, he communicates with almost every day. 
Ake's involvement only grew from there. 
Ake had at least one cousin every semester, except for the fall of 2020 when there weren't enough international students because of the pandemic. Last semester, he decided to connect with four cousins, and in January, he was paired with three new students while maintaining relationships with two cousins from last semester who are still in Norman. He has a total of five cousins this semester.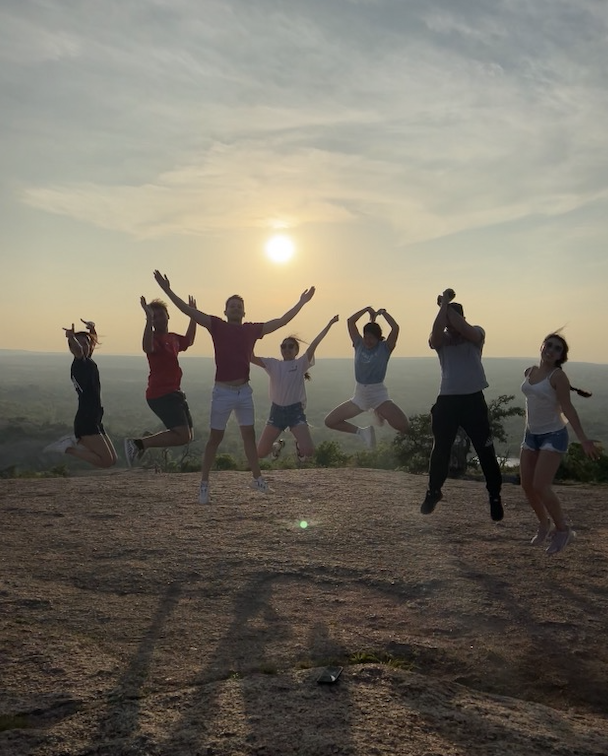 Ake said he loves learning about different languages and cultures and getting to know people from other countries, which has helped him build relationships with students from Columbia, India, Turkey and England. He said he enters each matching process wanting to meet every other student, not necessarily looking for one cousin, and if a student is interested in being cousins with him, he'll make it work. 
"It's busy, but I kind of learned to find the joy in the busyness," Ake said. 
Eloisa Luzuriaga, an international business and marketing senior, said although she's from Ecuador, she moved to Oklahoma when she was 12. She first learned about OU Cousins at the beginning of her sophomore year, before the pandemic, and decided to attend the group's matching party. There, she was shocked to be paired with another Ecuadorian — a population she said has only a very small presence in Oklahoma. 
Luzuriaga said because she was working two jobs at the time, she wasn't able to spend as much time with her new Ecuadorian friend as she'd hoped. The group shifted to online matching processes amid the pandemic, where group leaders asked members to fill out forms identifying their hobbies, interests and goals for their involvement in the organization.
During this time, Luzuriaga said she noticed an application from Carolina Marca, a Bolivian student, and expressed interest in being her cousin, as she felt their preferences matched each other. 
"I'm really close to her now," Luzuriaga said. "All these relationships just kind of grow, and it depends. You sometimes hit the (jackpot)." 
Marca, who's working toward a master's degree in geography and environmental sustainability, said she was first introduced to OU Cousins through a fall 2020 New International Student Orientation meeting. Marca arrived during a particularly lonely time on OU's campus, when all classes were being held online, and said she viewed the group as a resource. 
"Going into a different country, it feels nice to already know somebody," Marca said. 
Senior Associate Director of Student Life Quy Nguyen wrote in an email that he's worked as an OU Cousins advisor since 2008 when he became a full-time staff member in the Office of Student Life. He first became involved with the group as an undergraduate student and a Student Life assistant. 
Nguyen wrote that a coworker in the Student Life office helped organize the OU Cousins programming, and he attended a fall semester match party as a student to help out where he could. He felt instantly welcome in the environment the organization created and decided to become paired with an OU cousin that night. He wrote that the two have remained friends throughout his cousin's return to Norman and marriage, and they still see each other around campus occasionally. 
As an advisor, Nguyen wrote that he works closely with the OU Cousins Advisory Board, which he said has served as "the backbone" of the group through planning, programming and executing events. He wrote that he tries to help guide board members by providing historical context and open pathways so they have a clear picture of what proposed ideas for events will require. 
While Nguyen steps in where needed, he wrote that he tries to empower students to take ownership of the group so they can realize their capabilities as leaders. Advisory board members also have "incredible hearts" and try to get involved with issues that are important to the international community at OU. 
Luzuriaga said she was always intrigued by the advisory board because of the group's inclusive community and decided to join her junior year. Three out of the six advisory board members are international students, according to the OU Cousins website, which Luzuriaga said is important representation. 
Gracie Silver, an accounting and business junior, said she joined the advisory board at the same time as Luzuriaga because she had a strong passion for the group. 
"I'm not getting anything out of it other than making friends with people around the world," Silver said. "And I think it's really important for us to make international and exchange students feel at home because they're only here for a little bit." 
Though OU Cousins had 300 members last year, attendance for events can be hard to predict, as some students don't have an official OU cousin, Silver said. Participation has also been negatively affected by COVID-19, she said, as she recalls a bingo night the group held during the last school year that only attracted eight participants.
Silver said free food serves as a strong motivator for attendance, but the organization wasn't allowed to offer it last year because of university COVID-19 restrictions. Despite this, advisory board members wanted to try to hold events in person as much as possible, which meant they had to find creative and safe ways to meet off campus. 
Because of pandemic travel restrictions, the group didn't have enough international students to match each one with one domestic student and was forced to create groups of three instead, Silver said. As restrictions have been lifted, the group has had the good problem of having too many international students and not enough U.S. students at their most recent match party. 
At the height of the pandemic, Silver said the group was unable to hold traditional matching parties and paired international and U.S. students in an online format. 
About 200 students completed the questionnaire, and Luzuriaga said pairing them felt similar to "playing matchmaker." She recalled being pleasantly surprised to hear that two students that she'd matched in that process were still close almost two years later. 
Matches are built on mutual interest in different cultures, which means pairs learn about experiences in the U.S. and traditions in other countries. 
Ake said he tries to focus on exposing his cousins to the unique aspects of U.S. culture when they spend time together, including encouraging them to try peanut butter and jelly sandwiches and exploring the Texas State Fair together. He also said bringing his international friends to his Texas hometown has been at the top of his to-do list. 
Erin Stanley, a recent OU graduate, said she joined OU Cousins because she was very interested in meeting people from different parts of the world. As a student majoring in geography, which she said is a small program, Stanley said she was shocked to find a student from the Netherlands with the same major at the first match party she attended. 
This friendship became the first of a total of around eight matches with students from China, Spain and Columbia across Stanley's four years in college. 
Like Ake, Stanley said she strove to highlight unique Oklahoman experiences for both her cousins and other international students she met through the group. She said she recalls spending countless hours on OU's campus, exploring Bricktown and visiting a country dance hall in Oklahoma City, where her international friends rode the mechanical bull and learned line dances. 
Through this, Stanley said she quickly became close to Emmanuel Munck, an OU Cousins member from France, who she bonded with over a shared love of learning about different cultures and languages, and a desire to live abroad. Shortly after meeting, the two participated in an OU Cousins trip to the Wichita Mountains, where they climbed closer to the Oklahoma sky as they spent hours learning more about each other. 
Stanley said she wasn't interested in a romantic relationship at the time, but she was drawn in by the interests and goals she shared with Munck. Though they've now been dating for about a year and are from different countries, she said their relationship has continued to be defined by commonalities, which keeps it from becoming boring. 
While members don't have to produce grand gestures to show they care about their match, Nguyen wrote that many domestic students have traveled to visit their international cousins abroad. 
Stanley said on the day she met Munck, she shared her dream of moving to Spain after completing school. After graduating in 2021, she accomplished this by accepting a job teaching English with the Ministry of Education of Spain, which allowed her to move to the country's southern coast. 
Munck followed close behind, returning to his hometown of Strasbourg, France. Though Stanley said any long-distance relationship is difficult, having Munck relatively close has provided a much-needed familiar face during a time when visiting friends and family in the U.S. is rare. Since being in Europe together, the couple's gone on short trips to Germany, Italy, London and Milan, visiting historic sites and talking to locals.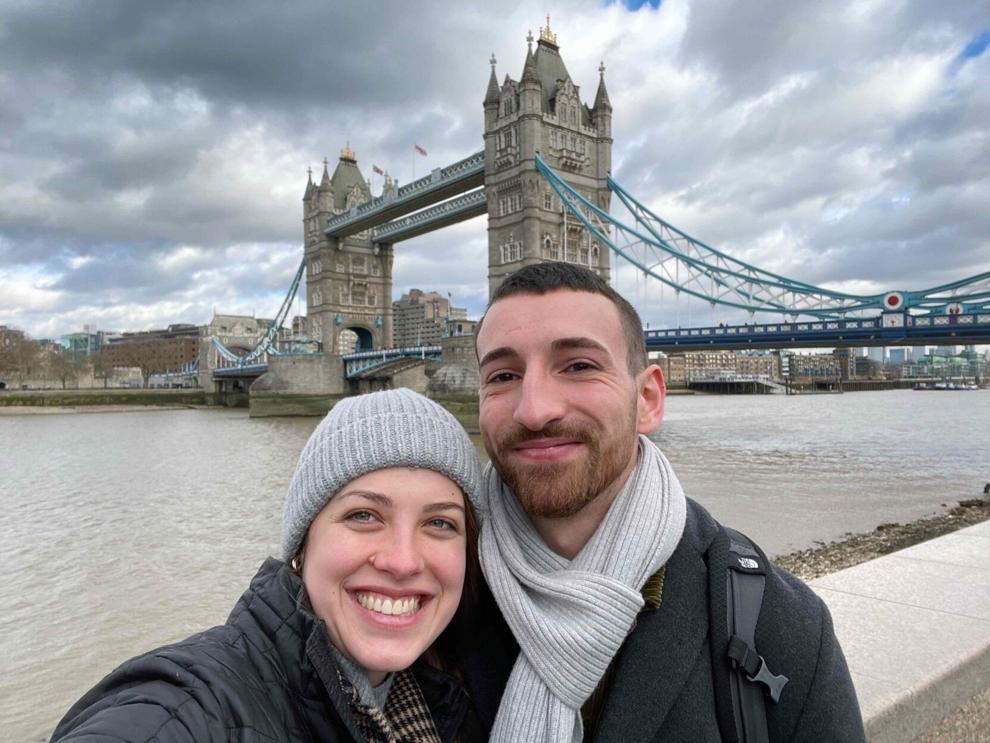 This past holiday season was Stanley's first being away from family, so she said she traveled to Strasbourg — which is one of the Christmas capitals of the world — to spend time with Munck. She said she remembers the two gazing up at the twinkling lights of the town's Christmas market while they walked down winding, centuries-old cobblestone streets.
Reflecting on the relationships created by the group, Ake said he has family-like ties to each cousin though he's only known some for a semester, and he wants to visit them in their home countries despite the financial cost. He also said he thinks the ultimate value of the OU Cousins group has been allowing him to make lifelong friends with students from totally different cultures.  
"I think it's really important when we're able to bond with people from across the world," Ake said. "Because, yeah, we (speak) different languages, (we're) from different lifestyles, but honestly, we can overcome any of those cultural barriers, and we can just be friends."