On Aug. 15, Wahid Haidari's worst nightmares materialized while he was in his room in Norman — 12,179 km away from his family — as Taliban fighters seized the presidential palace in Kabul following the collapse of the country's government. Though he knew of the Taliban's presence in Afghanistan, he never expected the group to seize power in his native country in a matter of days.
Haidari, a computer science junior, is caught between two worlds. While he attempts to live the life of a college student, a brutal U.S.-Afghanistan conflict, following the removal of troops from the U.S. and its NATO allies, is tearing his home country apart. President Joseph Biden acknowledged there's  never been a "good time" to remove U.S. forces, but the country had failed to produce an Afghan army that could uphold the fledgling government. 
The Daily spoke with several Afghan students about the impacts of the Taliban resurgence that have traveled across borders, continents, oceans, all the way to their lives in the U.S. 
'I felt like I was having a nightmare.'
Haidari said as his country's government collapsed, so did everything else familiar. He remembered his parents describing the Taliban when they controlled Afghanistan in the 1990s as "a violent, irrational, extremist group who does not believe in human rights, woman rights, freedom of speech and democracy." 
"The last days before the Kabul (government) collapse, I could see the rapid improvement of the Taliban, but I never expected the whole Afghanistan (to) collapse within a few days," Haidari said. "I felt like I was having a nightmare."
Just a week away from starting his junior year at OU, Haidari's only thought when he heard the news was to evacuate his family as soon as possible. He said he called and wrote emails to anyone he thought could help, but he felt "very helpless." 
In fear for his family, who are Hazaras — a Persian-speaking ethnic group from Hazarajat, Afghanistan that the Taliban persecuted during their first takeover in the 1990s — Haidari contacted Sen. James Lankford (R-OK) and Sen. Jim Inhofe (R-OK) hoping for "any possible way" to evacuate his family in Afghanistan after the fall of Kabul. 
Inhofe and Lankford criticized Biden's plan to evacuate U.S. troops from Afghanistan, claiming the withdrawal has not met the conditions proposed by former President Donald Trump in February 2020.    
Lankford's office let Haidari's family know they should go to the airport as soon as possible because there was a non-governmental organization who could evacuate them. To his surprise, the NGO was not there when his relatives arrived at 3 a.m. Aug. 27. 
They decided to return home after the Islamic State terror group detonated explosive belts at the airport's gate, ultimately killing 13 U.S. service members and at least 95 Afghans. Through this, Haidari said Lankford's office was "hardly reachable" because of the time difference. 
Haidari said his oldest brother is in danger because he previously worked for a company in Afghanistan that had cooperation with U.S. based-organizations as an engineer. As a result of his work on U.S. based-projects, he was threatened by the Taliban before. 
"My family has been trying to stay at home, hide any documents that could endanger them," Haidari said. "We are afraid that if the Taliban find out, they will kill him and the rest of my family."
'The main power that resides within us is our voice.'
Haidari said his stress and worries since the Taliban takeover haven't allowed him to eat, sleep and study well. However, he has received help from the OU International Student Services office to contact Lankford and Inhofe, and to notify the OU Student Affairs office of the reason behind his absences. 
"I missed two weeks of my classes, trying to find a way to rescue my family," Haidari said. "It is extremely difficult for me to focus on my studies. I have not been able to hang out with my friends and I am not doing mentally okay."
The OU United World College organization hosted a Sept. 3 silent march in solidarity with Afghanistan starting at the south entrance of the Bizzell Memorial Library. It demanded an open door policy and expedited processing for Afghan refugees coming to Oklahoma. 
"I believe, as students, we do not have a lot of power but the main power that resides within us is our voice and having friends in Afghanistan, we wanted to do something (that) shows that we know about this issue (and) we care about them," OU psychology and business management sophomore and TUW President Shubhashree Sathe said.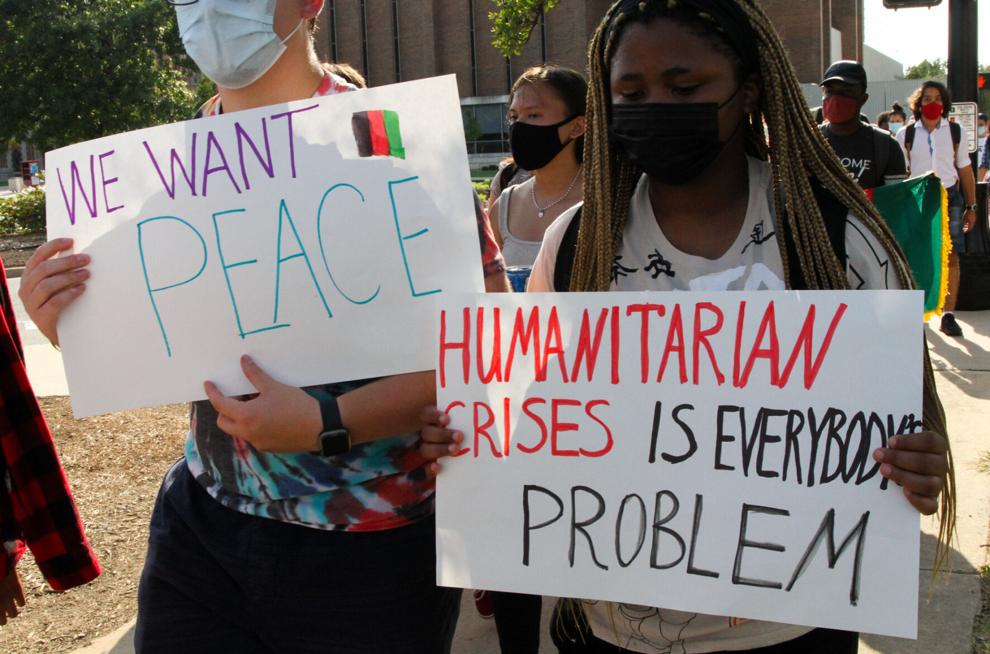 Sathe, along with the TUW executive board and Haidari, thought a silent march was better to avoid retaliation. They made sure the Afghan students were emotionally ready to participate. 
OU Associate Dean of Student Services Rebecca Cruise spoke at the beginning of the march offering the university's administration support to Afghan students. 
"Please know that you and your families are part of our community, and when our community is in pain, we are all in pain," Cruise said. 
Mukarram Lillard, an OU Sponsored Student Programs coordinator, said during her speech she is in solidarity with Afghan students, as a Palestinian who was in their place before during the ongoing attacks on Gaza and violence across Jerusalem on May. 
"It is absolutely essential that we always speak up against all forms of oppression around the world, whether it is happening in the (U.S.), or in Afghanistan and or in Palestine," Lillard said. "No one is free until we're all free." 
'We did not accomplish counterterrorism like our leadership claims.'
Taylor Dawkins Yazdani, an OU psychology and music performance senior from Norman, Oklahoma, said she is supporting Afghans as an U.S. citizen for the sake of worldwide human rights. She said her goal is to advocate for "an informative and humane" approach. 
"If this were happening to us, we would want people who are capable (of helping)," Dawkins Yazdani said. "It is easy for us to look away when we are not directly impacted and these events are happening on the other side of the world, but the truth is we are impacted. If you are not impacted through empathy, then you should be through fear and frustration."
Dawkins Yazdani said the U.S. government did not accomplish its goals of counterterrorism, instead making the Taliban stronger. 
"The U.S. did not show the world that we take actions in accordance with our values such as women's rights, freedom of speech and liberty," Dawkins Yazdani said. "We did not accomplish counterterrorism like our leadership claims."
As a U.S. citizen with an Afghan husband, Dawkins Yazdani said she calls upon her compatriots to analyze the consequences of the Taliban takeover in the U.S.
"There is a sense of distance in that it is happening to another country, and somehow, we are unaffected," Dawkins Yazdani said. "We need to realize the poorly executed withdrawal will shift global powers. One wrong move such as this has made successful empires fall and the United States is not immune to the same fate. Letting totalitarian governments gain more power in the world is not in our favor." 
As Afghan students brainstorm along with Dawkins Yazdani to find new ways to help their relatives in Afghanistan, she said everyone is exhausted. They are dealing with the grief of losing their home country.
"All day and night, every day and night, we are researching and brainstorming (on) how to help our friends and family and get them to safety," Dawkins Yazdani said. "Afghans at OU and in Afghanistan are hardly eating or sleeping. It is impossible for them, as well as myself, to truly focus on anything else.  I speak with my friends in Afghanistan daily and my heart aches for them."
Dawkins Yazdani organized an online fundraiser to help evacuate the family of her husband and OU graduate student in clinical mental health counseling Ali Yazdani from Afghanistan. Her goal is to collect up to $14,415. 
Haidari and his friend Hamid Mubariz from Afghanistan organized another fundraiser to evacuate both of their families. Their goal is to reach $30,000.  
"My family is trying to immigrate to one of the neighboring countries," the fundraiser by Haidari and Mubariz read. "As refugees they will not be legally able to work. The money from this fundraiser will be used for passports, visas, transportation, accommodation and other costs of resettlement."
'Let us all commit to welcoming them in all ways that we can.' 
Blake Allen, a former member of OU's International Human Rights Clinic, said Oklahoma is preparing to welcome 2,000 Afghan refugees in upcoming weeks. He said that nonprofit organizations in the state — Catholic Charities of Oklahoma, Tulsa Metropolitan Ministries, Spero Project and CAIR Oklahoma — made it possible. 
"The federal government and U.S. State Department has discretion over where to send any refugees in the country for resettlement," Allen said. "Here, Gov. Stitt indicated Oklahoma would want to host them, so I am sure that helped factor into the decision there. Furthermore, the state will often look to see if there are on-the-ground charities or other organizations that will be a host for the refugees." 
The Oklahoma City metro area will host 1,200 Afghan refugees, while Tulsa will host 800. Allen said the federal government, along with the charities, are working to provide employment assistance and resettlement costs. However, they are currently struggling with housing and furniture arrangements.  
"There is a high cost burden that the government had not planned on," Allen said. "The Biden administration three days ago asked for Congress to allocate $6.4 billion to assist in resettlement efforts. Not all of this will go towards direct resettlement costs, with the bulk of it likely to go towards U.S. bases hosting refugees but a lot of funds will eventually reach localities (in the country)."
The Biden administration is expecting the arrival of 65,000 Afghan refugees by the end of September and another 30,000 over the next year. 
Allen hopes most Oklahomans are welcoming to Afghan refugees as they arrive. 
"As with most questions around refugees and immigration, there will be some people who push back against new arrivals," Allen said. "Thankfully, these viewpoints are in the minority in the state and for the few loud anti-immigrant and Islamophobic voices there may be, the vast majority of Oklahomans will be accepting of their newest neighbors." 
During her speech, Cruise reminded U.S. residents of the uncertainty Afghan refugees will go through settling in the country. 
"In some ways, this will surely be a relief but what uncertainty they must be facing to have to rebuild their lives in a country that hasn't always been kind to foreigners, particularly those that are perceived as different, speak different languages and have different religions," Cruise said.
Cruise said she encourages all to offer their support to Afghan refugees, especially by advocating for quicker U.S. visa processings. 
"Let us all commit to welcoming (the Afghan refugees) in all ways that we can," Cruise said. "We can do this by advocating for quicker emergency visa processing and more access to the United States and elsewhere, should they wish to come."