Roughly 60 OU students gathered near the statue of William Bizzell Wednesday afternoon to protest the escalating violence in Jerusalem and on the Gaza strip.
For almost two hours, impassioned chants rolled across the South Oval supporting Palestine and its people amid ongoing attacks on Gaza and violence across Jerusalem.
The recent tensions were precipitated by the Israeli effort to displace several Palestinian families in the Sheikh Jarrah neighborhood of East Jerusalem, according to the Washington Post. The move is backed by a 1970 Israeli law giving Israeli Jews the right to reclaim East Jerusalem properties lost before the Arab-Israeli war in 1948. Palestinians who lost homes in the same conflict, however, do not have that right.
Further tensions arose when Israeli police blocked buses of Palestinian worshipers from reaching the Al-Aqsa Mosque Saturday evening, according to The Post. Clashes between police and Palestinians followed as Israeli police conducted a raid on the mosque.
Influential international figures, including Pope Francis, denounced the violence, while a United Nations official suggested the Israeli response could be considered war crimes.
Retaliatory rocket attacks from the Islamic militant group Hamas followed, with further airstrikes from the Israeli armed forces. As of Wednesday morning, the Washington Post reported 48 Gaza residents, including 14 children, had been killed. At least seven Israelis, including a teenager, have died.
Biology junior Syed Raza was the first speaker, leading around 15 minutes of chants before addressing the crowd.
"As Muslims, as humans, our mission in life should always be peaceful, should always be inclusive," Raza said. "We are here to tell people we will never stand and allow oppression, (or) allow violence."
Several speakers and protesters took time to reiterate the students' support for Palestine was not a stand against Israel or its Jewish population but against the state's violence and displacement of Palestinians in the region.
OU Students for Israel issued a Twitter statement Monday, expressing concern the protest would "minimalize the situation into a one-sided narrative" and "(gaslight) Jews and Israelis who have resided in Jerusalem for millennia."
"This is not a campaign against Israel … this is not a religious conflict," Tasneem Al-Michael, National Vice President of College Democrats, said. "This is about humanity and making sure our families, our brothers and sisters, are safe and protected."
Jake Allen, a drama junior, said he is ethnically Jewish and practices Judaism. Allen said he attended the protest to voice his support for Palestinians and opposition of Zionism — a nationalist movement supporting the establishment and continued development of a Jewish state.
The displacement of Palestinians and refusal to return lands previously lost does not align with his view of Judaism's basic values, Allen said.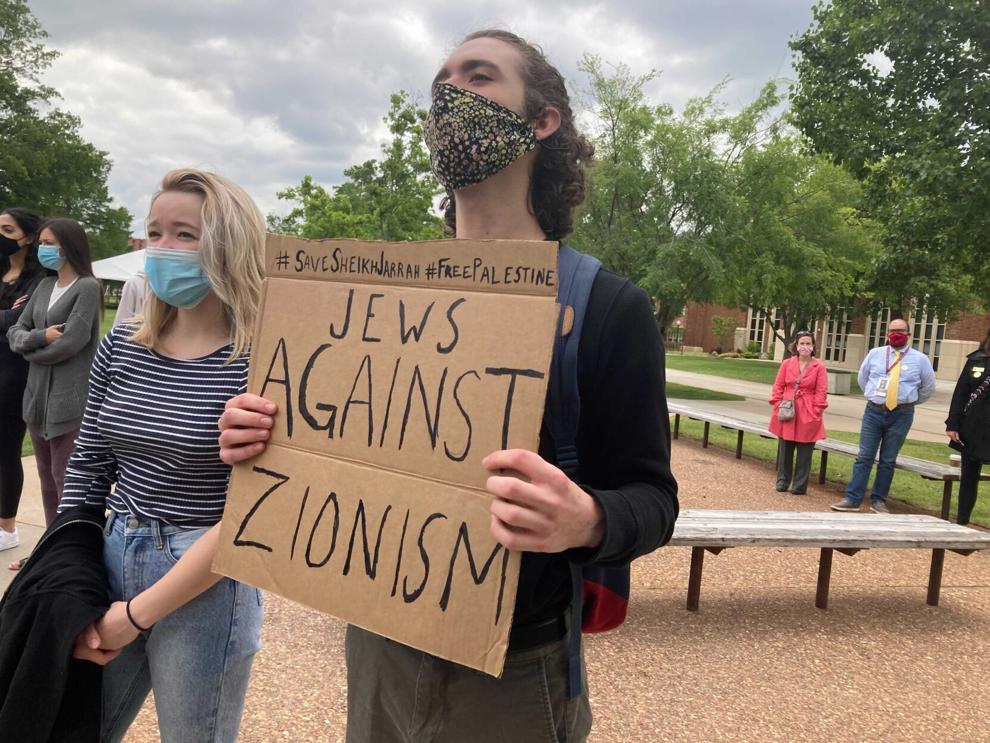 "It's kind of contradictory to what I believe to be the foundational concepts of Judaism and the ideas of liberation, and maintaining resilience as a group facing oppression," Allen said. "It's not really an effective or authentic way to practice the religion if you're not trying to put everybody's liberation first."
Ammar Chaudhry, an OU business masters student,  said the issue also encompasses equal protection under the law for Palestinians, a value espoused in the U.S.'s founding documents.
"When we come to the United States, we learn about freedom and the Constitution, and how the amendments are," Chaudhry said. "Palestine has been going through this for the past 70 years. It was their land which was taken … here in the U.S., the constitution protects us. Palestinians deserve those same rights, those basic necessities."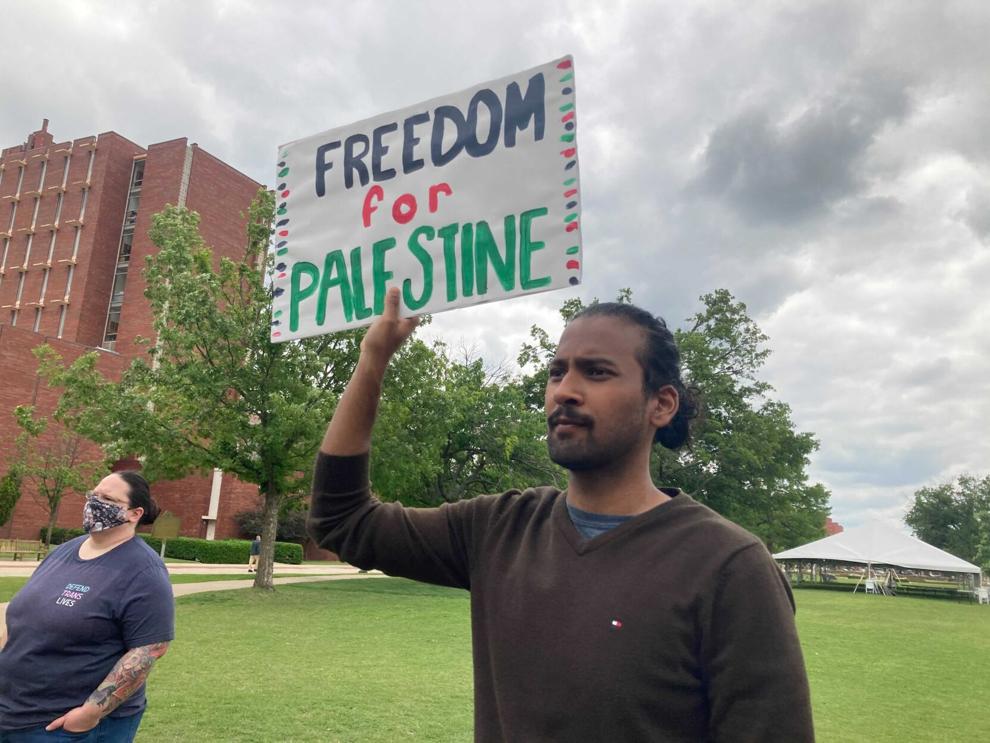 The protesters fell silent around 1:30 p.m. as the Islamic call to prayer began. Loud chanting was replaced by solemn Arabic prayer for around 15 minutes.
One of the final speakers was Mukarram Zuhair, an Oklahoma resident whose family is in Gaza. Zuhair gave an emotional plea to the crowd in favor of a peaceful one-state solution to end the region's conflict.
"My entire family is in Gaza. The youngest is three years old … there's bombing everywhere. Nobody is safe," Zuhair said. "This is nothing short of a massacre … We love our Jewish brothers and sisters, we love our Christian brothers and sisters. Palestine has always been the home of all people from all faiths, (but) we despise Zionism."
Al-Michael asked the attendees to continue their support through social media awareness and, if they are able, financially supporting pro-Palestinian groups. He also called on OU to acknowledge the violence in Jerusalem.
"I call upon all of the leaders on this campus — faculty, administration — to formally recognize the act of murder, the act of state violence, the act of genocide on our families," Al-Michael said.