Science, technology, engineering and math fields remain primarily dominated by men. Several female engineers have founded a student group at OU seeking to help more women follow in the footsteps of one prominent, planet-connecting OU alumna, while expanding their footprint in STEM.
Aerospace engineering juniors Preetha Thanunathan, Kaley Hassell and Meghana Fathepure said they founded OU Women of Aeronautics and Astronautics to encourage, support and inspire women in their field. 
"(Being a woman in STEM) kind of feels like you're constantly needing to prove yourself, so we wanted to provide support, especially for freshmen coming in, because they have never faced this before," Fathepure said. 
As of 2019, women make up 27 percent of STEM workers despite accounting for 48 percent of all workers in the U.S., according to the U.S. Census Bureau. Men make up 73 percent of all STEM workers and 52 percent of all workers, nationally.   
Thanunathan said OU WOAA will provide women and other students support in homework, job applications, resume building and locate other resources to help them succeed. 
"I feel like part of making people comfortable with (pursuing a STEM career) is exposing them to things like professional development at an earlier stage," Thanunathan said, "so that by the time they're a junior or senior, they're not new to all of these things. I feel like I've become good at it as a junior. It would have definitely helped if I was proficient at it as a freshman." 
Donna Shirley, a 1965 OU graduate, is the former manager of Mars Exploration at the NASA Jet Propulsion Laboratory. In 1997, Shirley overcame the gender-based struggles she faced at her crimson-clad alma mater to land a NASA machine on the red planet — the Sojourner rover, named for Sojourner Truth, the Black women's rights activist and abolitionist.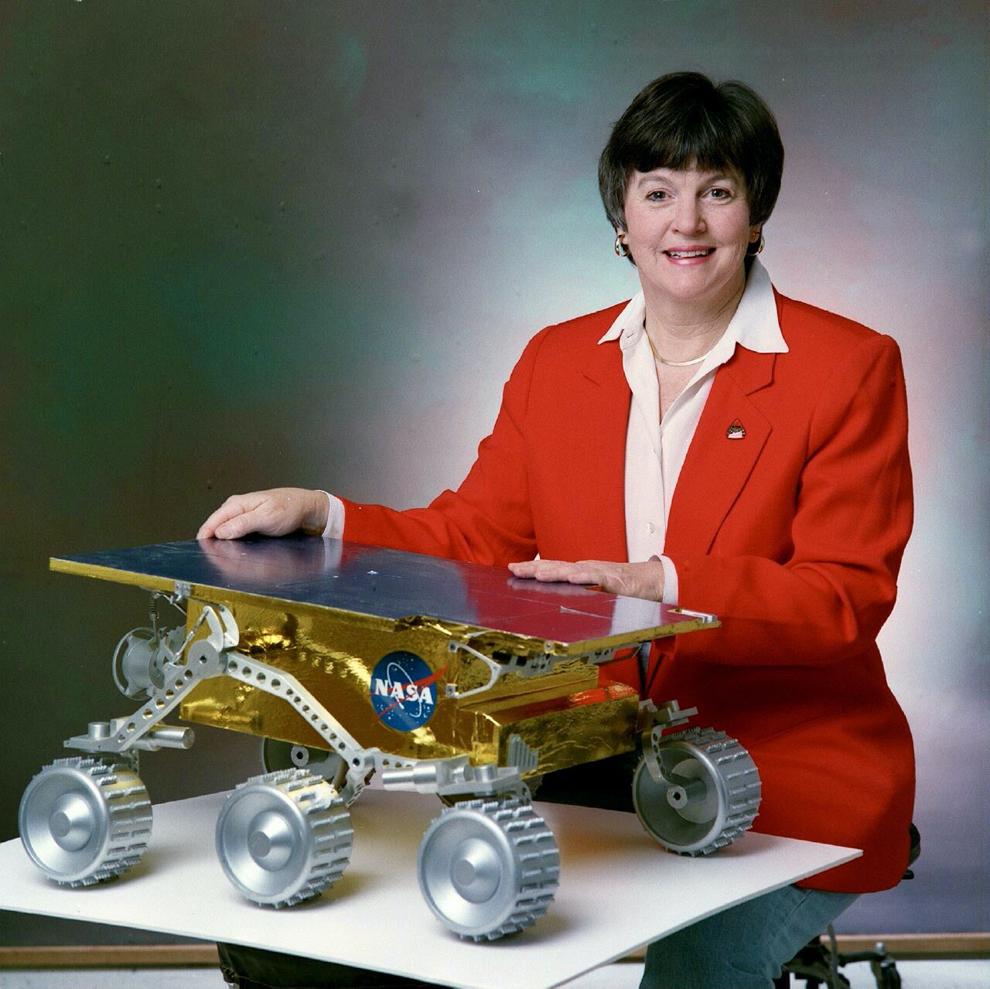 Decades ago, Shirley said she experienced the same environment at OU that has historically led to women deciding not to enter STEM.
Shirley enrolled in an aeronautical engineering major but graduated with a degree in professional writing. Gender-based discrimination eventually led to her changing her official major, but not her passion.
"I walked into my advisor's office (at OU), and he said 'What are you doing here?'" Shirley said. "And I said 'I want to major in aeronautical engineering.' And he says, 'Girls can't be engineers.' And I said, 'Yes, I can.'" 
Shirley said these issues continued throughout her career. 
"I was discriminated against in both (school and work) because I was always the only woman. I was the only woman engineer at NASA's Jet Propulsion Lab out of about 2,000 engineers when I first got there. I did have some problems at OU … but it worked out pretty well." 
According to OU enrollment data from Fall 2020, female students make up just over 25 percent of the total enrollment of the Gallogly College of Engineering. Of the college's 3,994 students, 1,022 are women. Female students make up over half of the student body at OU however — 14,288 women to 13,489 males, according to enrollment data from Fall 2020. 
The difference is varied in other STEM colleges, according to the enrollment data. In the College of Atmospheric and Geographic Sciences, female students make up 42 percent of the student body. In the Mewbourne College of Earth and Energy, women account for only 21 percent of students.
Over her career, Shirley noticed encouragement for women in STEM improved enormously. She said now, however, STEM fields are still lacking ethnic diversity.
"It's changed a lot. We were never encouraged (to pursue STEM careers) when I was in school," Shirley said. "But now it's there. Specific programs for women and minorities because we have a lot of women coming along. But boy, minorities are where we're really lacking." 
At the Gallogly College of Engineering, 1,420 students identified as any race or ethnicity but white, while 2,020 identified as white. In the College of Atmospheric Sciences, 108 students identified as any other race, compared to 475 white students, while in Mewbourne, 97 students identified as any other race versus 198 white students.
Research shows a smaller percentage of women and minorities continue in the STEM fields in comparison to male and non-minority students, according to a study in the Economics of Education Review. Factors contributing to this include differences in preparation and educational experiences. 
Shirley said similar programs implemented to recruit women have not always seen the same success drawing other demographics to STEM.
"Somehow, (I think) they have to be incentivized to get into it," Shirley said. "And with women, I think that programs are working very well. But for some reason, Hispanics and African Americans don't seem to be encouraged enough to get in. And I think OU is doing as good a job as they can (to encourage minorities in STEM)." 
The Office of the Vice President for Research and Partnerships on the OU Norman campus funded eleven short-term projects to help minority students and women prepare for STEM education. One of these projects, the Effectiveness of Computing in Modern Biology Workshops for Broadening Participation in STEM, was a free, five-day online workshop consisting of four two-day classes teaching modern essential computer skills for biological sciences.
Black Girls Code is another non-profit organization dedicated to increasing the number of women of color to pursue stem careers by empowering young girls of color in underprivileged areas ages 7 to 17. To do this, they provide girls with opportunities to learn technology and computer programming skills while also encouraging adults to donate their time and knowledge. 
Thanunathan also noticed the lack of minority students in her classes and the difficulties international students face while searching for internships.
"When I reached out to some professors, they didn't know about (this problem), and you can't even blame them because there's not that many international students," Thanunathan said. "I think there's maybe four in the whole class that I know are international. It's so hard, and there's not that much that OU offers for international students because most of the jobs in the aerospace field require you to have US citizenship." 
Shirley said another difficulty behind incentivizing minority populations and women to pursue STEM careers is that there are no role models. 
"I mean, if you look at television or movies, do you see any technical women?" Shirley said. "The whole atmosphere needs to change, whether it can be done or not. But it has improved a lot. When I was in college and high school, there were no role models. In fact, when I got to JPL, there was one female scientist and no female engineers." 
The founders of OU WOAA agree that women have few role models to encourage STEM careers. Thanunathan said one of the main problems is that girls are not encouraged to like things like planes and rockets. 
"It's almost like if you're not that person that knows so much about planes and rockets, then you can't fit in," Thanunathan said.  
Hassell agreed and said she feels a similar distance between herself and male students in her major.
"Sometimes it's very hard to feel like you're involved (or a) part of the group," Hassell said. "And that kind of creates this divide between you and the other men that are working at your company or in your field. I feel like it's very easy to get into a mindset where you're used to being treated differently as a woman." 
Hassell said although she feels like an outsider in the classroom, she is treated differently in professional settings within her field. 
"Coming back into some of the organizations and classes (at OU), I realized that there was this huge difference in how I was treated as a woman in STEM as a student versus ... as an intern at a professional company," Hassell said. "What I'm really excited about is being able to get into the professional environment, make money and also be taken more seriously as an engineer." 
Shirley said to succeed as a woman in a STEM career, she would advise students to take as many math and science classes as possible.
"(You) have to recognize that engineering and STEM are very difficult, and you're just going to have to hang in there. Be prepared to push through and do classes and a lot of homework," Shirley said "And if you can get any kind of into internships or ways to actually work in the field as an undergrad, it would be really important." 
Shirley said STEM classes are difficult, but problems that arise throughout a career for anyone in STEM will be worth it.
"When Pathfinder landed on Mars with a little rover named Sojourner ... it was the best thing that I ever had (experienced) except the birth of my daughter," Shirley said. 
The executive team at OU WOAA agreed. While it is normal to fail, the team emphasized perseverance and willingness to learn. 
"You don't have to be a genius," Fathepure said. "You just have to have that passion and really be willing to learn." 
According to Shirley, the most important thing that can be done in the field now is to continue encouraging and inspiring women. 
"There's still this belief among women that it's too hard," Shirley said. "They don't have a lot of encouragement from their friends, parents. So there's still a lot that can be done, but we just have to keep working."