Hours after Michael and Kylie Clerc tied the knot in a ceremony held in Newcastle, Oklahoma, disaster struck.
The newlyweds, who reside in an eastern section of Norman that was struck by an at least EF2 tornado Sunday night, prepared to celebrate at an after party held at their friend Noah Dorrough's place a few streets down from their own home. 
"We were just getting ready for everyone to get over here," Dorrough, who works at Couch Restaurants on OU's campus, said. "We were all detoxing (and) winding down a bit from the wedding, and then the power goes out as we're all in the living room. … Then, all of a sudden you just hear the wind (getting) real, real loud.
"We were like 'Oh, no. That's not wind, that's a tornado.'" 
After fumbling to try and turn the television to a news station, the group soon realized a tornado was in the area. Dorrough, the Clerc's and the rest of the guests piled into a bathroom in the middle of the house, where they remained through the ensuing chaos. 
Dorrough said he remembers hearing glass shatter and wood split, along with other daunting sounds. Dorrough and his guests also witnessed shards of wood passing through the bathroom ceiling, which miraculously held strong through the storm while most of the home's ceiling didn't.
"Everything was going crazy. … It was terrifying," Dorrough said. "I was having a panic attack, they were trying to calm me down. After we got out, a couple minutes after the tornado stopped, we were crying. It was really emotional."
The Clerc's were caught in the middle of one of seven tornadoes that touched down in Oklahoma, a new state record for total tornadoes in the month of February, on what was supposed to be one of the most memorable nights of their lives. The memory instead lives as a traumatic one for the Clerc's and many others in their community.
"There's no other emotion that can be said about it," Dorrough said. "It was just terrifying."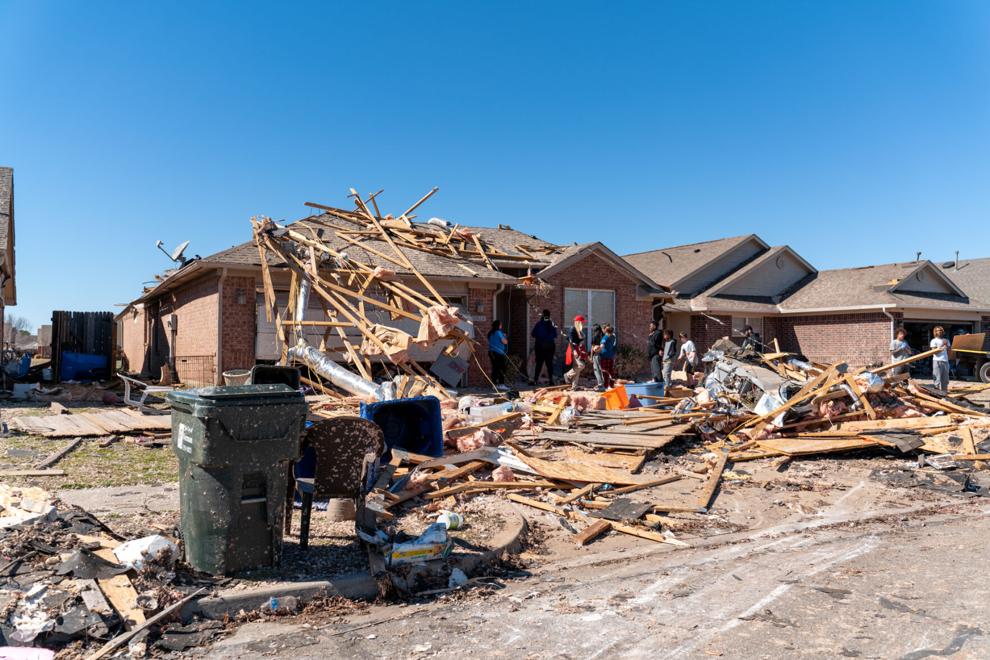 'We'll all come together'
As the initial tornado sirens sounded, Chelsea Riley thought she was safe. 
The ensuing minutes proved otherwise, beginning with the second round of sirens and two loud thuds heard around the Riley house. Riley's daughter, who was sitting in her bed at the time, covered her head as glass from her bedroom window shattered overtop of her.
Riley bolted for the door, grabbed her daughter along with her three other children and huddled in the bathroom with them until the storm passed.
"It was just so quick," Riley said. "There was no time to do anything, it was just get in the bathroom and get out."
Once Riley thought her family was in the clear, she bolted to her car to head to her mother's house near Lake Stanley Draper, leaving behind all valuables, including shoes. Halfway down her street, Riley stopped the car to the sound of her children notifying her that her back window had been ripped apart, with many other pieces following.
Riley returned to her house just before midnight Sunday, where in addition to a shattered window she was met with portions of her roof tile ripped off. Despite the damages, Riley made it out with her four most valuable possessions: her children.
"We made it out alive," Riley said. "That's the best thing out of it all. Everything else is replaceable."
Riley seemingly has a knack for getting caught in such storms, as she recalls being locked inside the OU Medical Center during the May 20, 2013, tornado, which hit Moore and areas around it. Riley also sheltered in the Norman High School basement during the April 13, 2012 tornado, which damaged much of the school.
"It's bad, but Norman is a good community," Riley said. "And we'll all come together and rebuild from where we're at."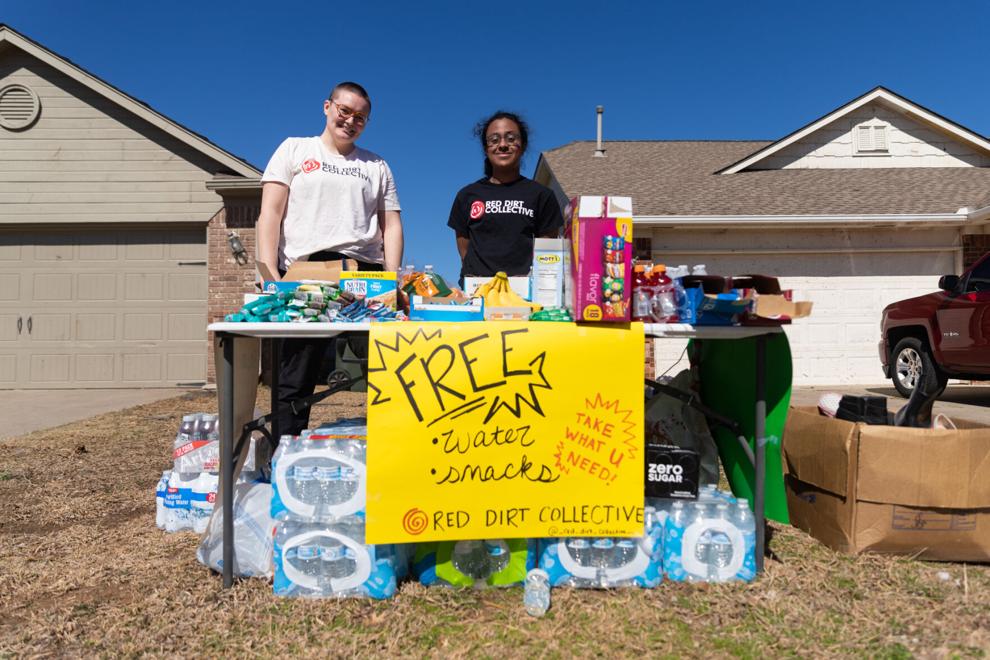 Community leaders step up
In the aftermath of the violent storm, near Wheatland and Conway Drive, Sitara Richter-Addo and Rachel Vishanoff set up shop.
The two work for Red Dirt Collective, an organization working to help lower and working class Normanites through mutual aid and local policy, and passed out free water and snacks to residents who were affected by the damage. 
Neither Richter-Addo or Vishanoff have ever seen anything reminiscent of what they witnessed Sunday night. 
"Honestly, I was shocked," Richter-Addo said. "I've never seen anything like this in person, and I did not sleep well. I didn't sleep well at all. Just knowing that people were out here dealing with all this and I was safe. So this morning I was like, I gotta do something."
This is the last of some damage me @colton_sulley, @LouisRaser discovered as we reported throughout all of East Norman. Scary, scary stuff. pic.twitter.com/DbesTq17iT

— Jason Batacao (@J_batacao) February 28, 2023
The duo regularly supplies pantries at Vicksburg Apartments, the Mr. Shortstop convenience store on Lindsey Street and Oakhurst Park, and saw no reason not to do the same for others in their communities Monday morning. 
Norman City Council Ward 5 Councilmember Rachar Tortorello complimented his ward for getting out of their homes and helping their neighbors. 
"The resilience of the Norman people … People got out knocking doors last night with us checking on their neighbors," Tortorello said. "We didn't know the extent of the damage until first light today but last night and this morning, driving around with chainsaws, cutting trees out of roads, and just making ways for people and for first responders to come and go."
Former Ward 5 Councilmember, Pike Off OTA President Michael Nash, who is running for Tortorello's seat again, was lucky his house didn't sustain any damage. Once he realized the storm had passed, he grabbed his tow strap, a floor jack, gloves and flashlights and headed out into the community to help clear debris off the roads. 
"Folks need help, and we're here for them," Nash wrote in a text message to the OU Daily. "People will need hands to help clear building and tree debris, they'll need chainsaws, water, clothes, tarps, food and shelter. 
"Right now the area is pretty chaotic, and I would encourage people to avoid driving the area while people are collecting their things and as contractors make their way to conduct emergency roof repairs before the next round of precipitation comes through Friday."
Richter-Addo and Vishanoff said they hope Red Dirt Collective can be the helping hand the community needs. 
"It's just been great to see people coming up to the table engaging with each other, talking with each other, talking with us," Vishanoff said. "We've had people stop and hand us money, hand us donations of more food and drinks and things like that. So that's awesome. Take what you can, give what you can. It's just been really great to see the community coming together."
Richter-Addo spent most of their morning talking to news stations from around Oklahoma. They even spotted national news outlets and heard Norman was mentioned internationally.
"It's quite wild," Richter-Addo said. "I heard from a friend we were on Canadian news."
Nash, who has experienced a dangerous tornado before, encouraged residents to stick with one another. 
"My wife and I lost our first marital home in May of 2010 and know well what you are going through and the road ahead," Nash wrote. "Take time to breathe. You're not picking up the pieces alone; we're picking up the pieces together." 
This story was edited by Karoline Leonard.