2SLGBTQ+ advocates gathered at the Oklahoma state Capitol Saturday in protest of recent legislation that would restrict gender-confirming care by taking their hormone replacement therapy on the steps.
Around 50 people attended to protest House Bill 2177 and Senate Bill 252, which aim to restrict gender-confirming health care for minors, and SB 129, which would ban gender-confirming care for Oklahomans. 
Taking HRT in a public place, like the Capitol, was a protest movement inspired by Lindsey Jaymes Spero, a transgender rights activist in Florida. Earnest McKenzie, who organized Saturday's gathering, said Spero inspired him because the action was a step of bravery that would send a message to legislators. 
"That's our right to deserve to choose for ourselves,"  McKenzie said. "We deserve to have accessible medical care in order to achieve that. As long we're receiving HRT, as long as we have access to that, we will be doing hopefully be doing it .. .(in) other public spaces that are our spaces because we are the public (just) to show our humanity." 
Lindsey Spero, a 25 year old trans masc person from St. Petersburg, FL left the medical board in stunned silence as he used his allotted time to administer his HRT in front of them to show what his care actually looks like. pic.twitter.com/A2pGqxs4ZH

— Alejandra Caraballo (@Esqueer_) February 10, 2023
Gathering together is a reminder of the importance of being a community, Abby Delony-Buller, a demonstrator at the capital, said. 
"What's really important is … there's a lot of infighting sometimes within the (2SLGBTQ+)  community," Delony-Buller said. "It's just a very good reminder that we need to all stick together." 
McKenzie provided snacks, card games and art supplies for the advocates so they could join together as a community.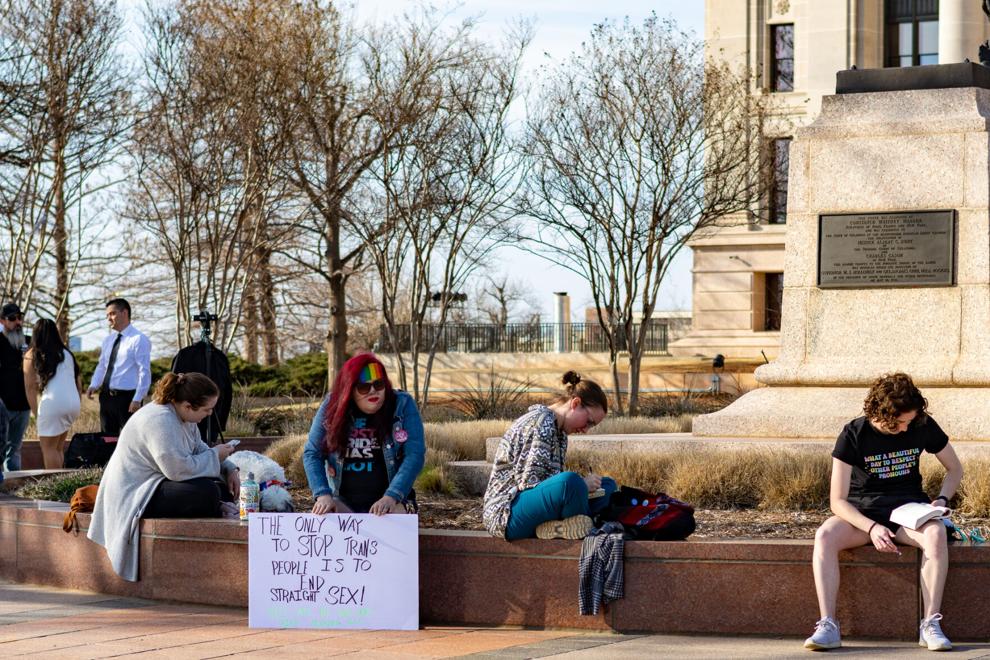 "These bills make us fighting-mad, but we also, as a community, deserve to love each other and hold each other through this and display our humanity," Mckenzie said. "Everyone in the world can learn that no matter how small, community is community and it's important."
AJ McDonald joined the protest because many of his friends and families may be impacted by the recent legislation.
McDonald was present as the Oklahoma House of Representatives passed HB 2177 on Feb. 28. He described the decision as "soul-crushing."
"I almost started crying and people were screaming and stuff. It was horrible to hear," McDonald said. 
McDonald has attended every recent protest, like Saturday's, he heard about on social media. He said he hopes by lending support, he can help make representatives aware of how their actions affect people.  
"We're here and they're looking at our faces and actually seeing our reactions about it,"  McDonald said. "Even if it doesn't make a difference, we have to try." 
As the evening drew to a close, McKenzie encouraged the crowd to come together during difficult times like these. 
"If you have heavy feelings or anything like that and you are feeling them, find a friend … and ground yourself and then come back and have a great time," McKenzie said. "Because this is heavy and I don't blame you for having feelings. You deserve that."
This story was edited by Alexia Aston and Karoline Leonard.