"I saw (the application) and thought I'd love to help out. I'd love for this to continue. I'll interview for the chair," Winter said. "I get there and meet with the adviser and she's like, 'Here's the key. You can do this and you're in charge now.'"
Teddy Winter, an OU electrical engineering freshman, brought the film community together by restoring the Classic Film Club out of his passion for movies.
Winter realized that he loved film in the later years of high school. Although blockbuster movies like "Star Wars" always interested him, Winter said over time he became more attentive to indie films such as "Little Miss Sunshine" and "Lady Bird."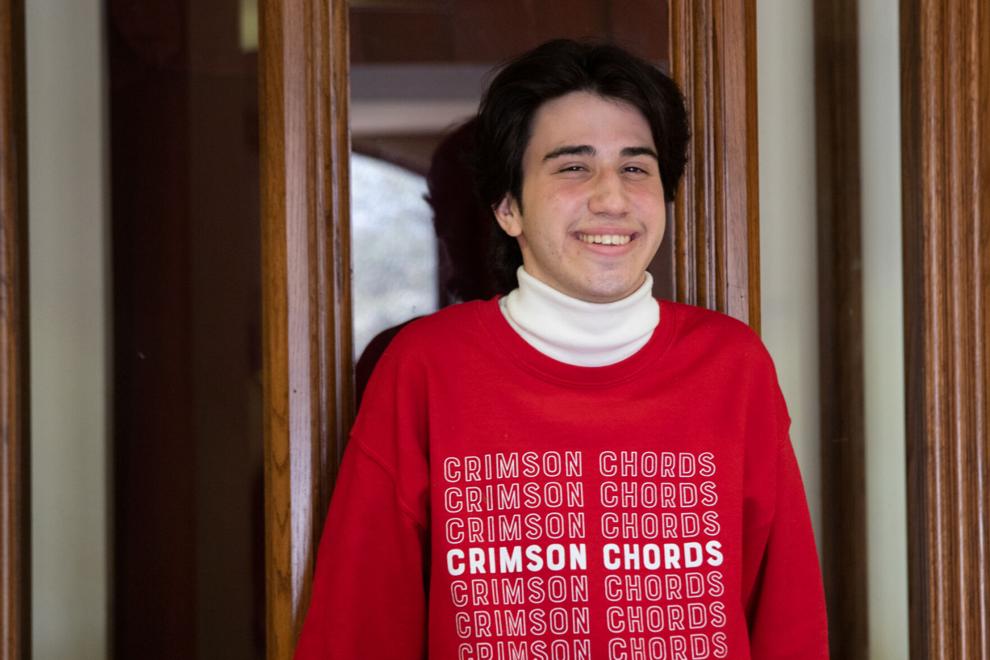 "They really sparked my interest in film and kind of got me into this whole new world that I didn't even realize existed," Winter said.
Film acts as a bonding mechanism for Winter in his community. He said that watching movies with friends or at parties is an instinctive way for him to cultivate relationships. Winter also said film is a great medium to diversify his perspectives.
"It definitely adds a better understanding of the world to my life," Winter said. "It's so cool to watch a movie or movies from other countries because they can tell you so much about yourself."
Unique aspects of a film's premise, cinematography, visual effects or plot particularly draw Winter's attention. Winter said French director Jacques Demy's "The Umbrellas of Cherbourg" is his favorite film of all time.
"The whole thing is a musical, but not in a traditional sense. All of their dialogue is sung. (Demy) is really good with the colors, and everything is just beautiful," Winter said.
Damien Chazelle and Paul Thomas Anderson are also among Winter's favorite directors because of their standout contributions to film with "Whiplash," "La La Land," and "There Will Be Blood."
Winter said he also finds inspiration in content creators who analyze films. YouTuber Karsten Runquist and podcaster, actor and comedian Griffin Newman have helped immerse Winter further into film.
"Griffin has a podcast called 'Blank Check' where he looks at directors and goes through their whole filmography to analyze it," Winter said. "That really helped me get into (film) and learn about all these great directors."
Winter said he discovered the Classic Film Club in a flier before coming to OU and immediately thought of joining. However, when Winter arrived, he learned that the club's leadership had previously dissolved. After showing interest in a chair position, Winter said he was thrown into leadership of the club.
Winter said he began picking movies to show at Classic Film Club meetings by having themes, such as "The History of Film" and "2023 Oscar Nominees." Once the theme is decided, Winter frequently holds votes in the club's GroupMe to determine the specific film.
The Classic Film Club amplifies the role of film in others' lives by using it to bring people closer together. Winter also said the club helps introduce members to new films they either haven't heard of or don't normally watch. 
"I think it's cool to watch a new film and have those new experiences. It's also enhancing their lives by creating that bond with people through film," Winter said.
Aaron Siebert, a political science freshman, discovered the Classic Film Club during the Honors College introductory meeting. Siebert took note of the club's focus on classic cinema, which he found unique from other film clubs on campus.
The Classic Film Club is a guaranteed safe space for fans of film. Siebert said the discussions following movies provide a place for conversation between those knowledgeable and interested in the process of filmmaking.
"It really is just a great atmosphere," Siebert said. "We sit down to watch the film, but afterwards, we always have a group discussion over our opinions on it. It's an open place for dialogue for all who care about the art of filmmaking."
Siebert said film plays a prevalent role in his life. Beginning in middle school, Siebert said he loved going to the movies and buying DVDs, and eventually began taking note of those involved with the film production.
"I started taking notice of photographers and producers, even down to people that did the sound design and music," Siebert said. "I got really, really passionate about the entire process of it, which led me to start joining filmmaking once high school started."
Preston McBay, an art history freshman, found the Classic Film Club through Instagram while researching campus organizations. McBay said the club particularly interested him as a way to get involved in the OU community. Since those who led the club either graduated or left, he was inspired to help contribute and rebuild the positive atmosphere of the Classic Film Club.
"It was just Teddy basically doing everything," McBay said. "He rented the movie, set up and brought popcorn for everybody, so I just started bringing snacks as well to help him."
McBay, whose appreciation for film stems from watching movies as a kid, said film is one of his avenues of passion. He said that the Classic Film Club enhances the role of film in his life by creating diversity.
"It's introduced me to a lot of new movies that I haven't seen. We had one week where we watched a lot of foreign films, some I hadn't even heard of. So it really has broadened what movies I know about," McBay said.
Winter said one of the main goals for the future of the Classic Film Club is to grow membership and get a consistent group of people to attend meetings. Winter also wants to incorporate science fiction, romance and international movie series into the club's schedule, as well as to collaborate with the Bad Movie Club and the Campus Activities Council Film Series.
McBay said upon first glance, outsiders may view the Classic Film Club as pretentious, but he assures others that it is extremely open-minded and encourages all who love film to attend. 
"I feel like someone who doesn't know might think we're super pretentious, but we're not," McBay said. "If anybody thinks that they don't know enough about movies that they can't come — that's not true. We just like to enjoy the movies."
Siebert similarly said that the Classic Film Club is open to all people who care about filmmaking. He said that all opinions are welcomed and that the Classic Film Club provides an atmosphere for kind and productive discussions.
"We are open to having opinions from everybody, and it's really a bunch of kind people who like to hear from others," Siebert said. "There's no gatekeeping involved in it at all."
To those just beginning their journey with film, Winter said to avoid watching or appreciating something just because it's intellectual or snobbish, and although it can seem overwhelming, he said to pursue one's own interests.
"I don't think you should feel pressured or obligated to watch something because it's pretentious," Winter said. "Just watch what you want to watch and find a love for that."
The Classic Film Club is open to all film lovers. They meet every Sunday at 7 p.m. in David L. Boren Hall room 180 to watch a movie and later discuss it.
This story was edited by Silas Bales and Emma Blakley. Francisco Gutierrez and Mary Ann Livingood copy edited this story.