The oil beneath the earth Oklahoma rests on has a past, present and future. 
The wheat that spans across miles of land has a past, present and future. 
The scissortail flycatchers that soar over the state have a past, present and future.
Queer people in Oklahoma share that past, present and future. 
The state's 2SLGBTQ+ community was present long before its borders were drawn, and it remains a prominent group in the state. In Oklahoma, the past of queer people is not clearly defined — but it exists.
Everyone has a history.
Some are just better known than others. Throughout the COVID-19 pandemic, Pride events around the U.S. have been canceled, postponed and canceled again. Norman's Pride Event was postponed until May 2022 in light of the delta variant. 
In the absence of that formal event this year, The Daily wants to explore the broader history of the 2SLGBTQ+ community across generations as a way of gaining a better understanding of the event's importance to not just the queer community, but also Oklahoma as a whole.
'Queerness had gone underground'
Before the 1950s, Oklahoma's laws regulating the lives of queer citizens were mostly nonexistent. 
While some sodomy bans existed in the state at the time, they were not specific to queer couples. In 1943, the case of LeFavour v. State found that sodomy was a lewd sexual act between both same-sex couples and opposite-sex couples. 
Oklahoma's Court of Criminal Appeals clarified the language by placing same- and opposite-sex couples on the same level in terms of sodomy, stating the use of "mankind" in the law implied both sexes.
"As long as you didn't talk about it," said Jennifer Holland, an OU history professor specializing in queer history of the west, "it was enough."
Outside of Oklahoma, parts of queer culture were celebrated more openly by the community and its allies. Despite harassment and protests from morality groups around the country, Harlem became a "homosexual mecca" with its drag balls. The events — beginning in 1869 — were places for queer individuals to congregate and be themselves, dressing how they wanted and openly discussing their lives.
As time went on, some of the balls began to attract international attention, bringing in artists and members of the queer community from around the world, Holland said. Wider public attention was given to the balls, particularly by international heterosexual artists, in the 1920s as the younger generation began to move away from older ideals after the 1918 flu pandemic.
In contrast, various morality groups called for the end of the balls, but because of the general public support, politicians were unable to stop them. The Committee of Fourteen, founded in 1905 to investigate the spread of prostitution in New York, also investigated the drag balls in 1916 and released a report describing the "scandalous behavior" at the event. 
During the 1920 prohibition era, gay and lesbian bars also saw a rise in popularity, Holland said. Oklahoma City contained many queer bars and speakeasies, including the Mayflower Lounge, which was "overtly queer" compared to other locations. Queerness, along with alcohol, went underground at the time for safety from rising morality-based laws and regulations.
In contrast, Oklahoma had been a dry state since as early as 1907, when it entered the union, and did not repeal its prohibition laws until 1959. Beer became available in 1933 after a push in other states to legalize non-liquor alcohol.
At the same time, Oklahoma drag queens — referred to as "female impersonators" at the time — found places to perform through local speakeasies or secret bars where they were accepted as part of the entertainment. One such person was Gil Ray, who worked at the Mayflower toward the end of prohibition in Oklahoma and performed using his gymnastics skills. Ray was also known for doing farmwork in drag when he was younger.
"Queerness had gone underground," Holland said. "But it had also found a new community."
It was not until the 1950s that the national opinion on queer individuals began to shift. 
Throughout the 1940s, a Second Red Scare began brewing in the U.S. The era was spurred on by former Sen. Joseph McCarthy (R-Wisconsin). McCarthy publicly investigated the State Department for signs of communist influence in an attempt to gain more political prowess as a freshman congress member.
In parallel to the Second Red Scare, the Lavender Scare also took place. The new movement focused on gay and lesbian individuals as being "sinful" and similar to communists, therefore needing to be removed from positions in the government. Queer federal employees, along with people who knew them due to "guilt of association," were fired.
"It had become an overtly hostile environment for queer people," Holland said. "Before then, you weren't a pariah. Now you were."
The nuclear family had become central to American ideals. America's role in World War II had caused an increase of women in the workforce, which had to be adjusted after the war ended and soldiers returned. After the war, it was vital that Americans returned to the structure of a working husband and stay-at-home wife.
Throughout the U.S., queer people in the work force were fired, harassed and evicted for their identities. That was the social norm.
'A whole class of people was criminalized'
World famous architect Bruce Goff was hired by the university in 1946 and, during his time in Norman, designed several houses of "unique and eccentric design" — his favorite way to create. He was also a gay man.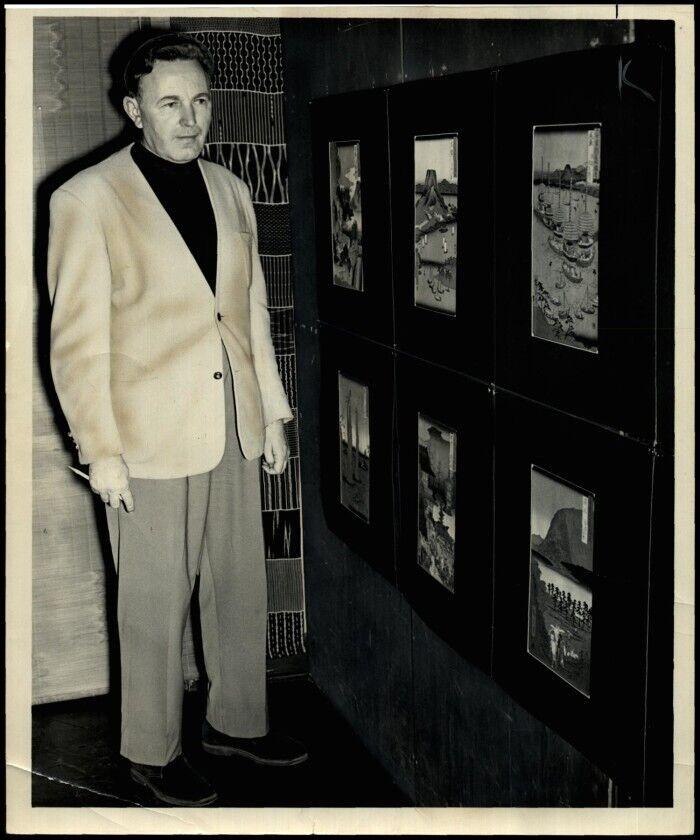 OU's college of architecture garnered national prestige under Goff, who was considered a favorite professor among the student body, Holland said. He remained at the university for less than a decade, resigning in 1955 due to his declining health, according to an OU Daily article from the time. 
"Oklahomo: Lessons in Unqueering America,"by Carol Mason, uses the state as a case study for how antigay rhetoric has evolved in the Midwest since the 1950s. She analyzes Goff's experiences as a gay man in Oklahoma and Goff's biography, in which it is said he resigned after an arrest related to his sexuality. Goff was charged with the encouragement of a 14-year-old boy's "delinquency" — partially considered code for homosexual tendencies. Goff was accused of being physically involved with the minor.
In Goff's personal unpublished memoirs, he wrote that he "was caught 'Red Handed,'" according to Mason. The use of 'Red Handed' possibly refers to a common practice of police entrapment to induce gay men to commit a crime. One form of entrapment would be to swab red dye on the informant and entice their target to touch them in that spot.
In Goff's case, the young boy may have been used by police with the promise of a "clear police report" if he agreed to help in the arrest. Mason suggests some morality groups believed Oklahomans needed to view homosexuals as "criminal and preying on boys" in order to protect the state from queer people, which may have played a role in Goff's arrest.
Nevertheless, Goff was arrested and pleaded not guilty for a year until changing his plea based on his lawyer's advice. After his conviction, he paid a $500 dollar fine and left Oklahoma briefly, returning a month later.
Goff's choice to move back to Oklahoma, instead of a "queer mecca" like San Francisco or New York, was likely influenced by many factors, according to Mason.
Goff grew up primarily in Tulsa, Oklahoma. His personal connection to the state made him feel more comfortable in the Midwest than more accepting areas of the U.S. Goff was depicted as "homegrown," according to Mason, and was accepted by the general population of the state based on the student population's relationship with him.
Mason proposed that if the rise of McCarthyism had not occurred, it is likely Goff could have remained at the university and continued to be accommodated because of the local appreciation for him and his work. 
Prior to Goff's resignation, then-OU President George Lynn Cross encouraged Goff to "fight the charges" of his arrest and remain at the university.
"People of Oklahoma loved Bruce Goff," she wrote.
Goff was not the end to Oklahoma's queer history, but he was instead one of the earlier  well-documented figures in the state. The sexual revolution, which spanned from the '60s to the '80s, saw a rise in feminist theory, empowerment, queer communites and unity. Thanks to a more open social environment surrounding sexuality and sensuality, queer individuals were able to connect with each other more directly than in past decades.
Some members of the community, along with supportive allies, moved to spread information about the queer community and news relevant to it in a more official capacity. 
In October 1983, The Gayly Oklahoman, a locally owned publication focused on queer news in Oklahoma, published its first issue. The Gayly's intent, according to its premier publication, is to provide news and advertisements relevant to Oklahoma's queer community and continues to publish in 2021.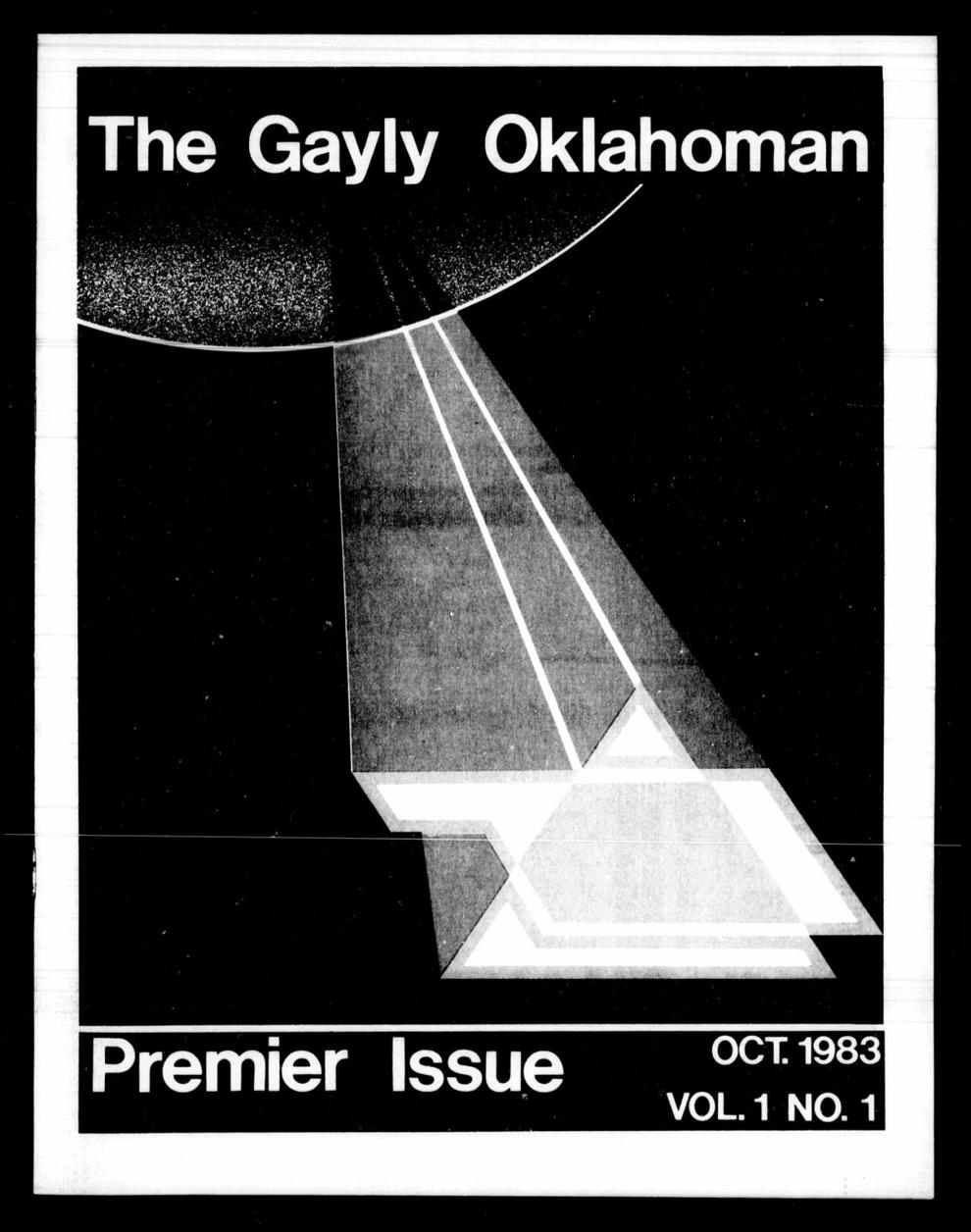 In the early days of its inception, the paper published ads for businesses ranging from legal services to healthcare to bars. Reporters at The Gayly also wrote articles on national queer news, including overturned laws and the potential in Oklahoma for the same litigation. 
Still, laws were actively going into effect that harmed the queer community. Kathleen Tipler, an associate professor in OU's department of political science, said the push was focused on everything from visitation rights between same-sex couples to employment and housing.
"(The laws) turned homosexuality into a legal status," Tipler said. "A whole class of people was criminalized." 
The '80s also saw a significant increase in legal challenges in an attempt to increase rights for the queer community, Tipler said. Even members of OU's student and faculty body worked to push for gay rights in the state.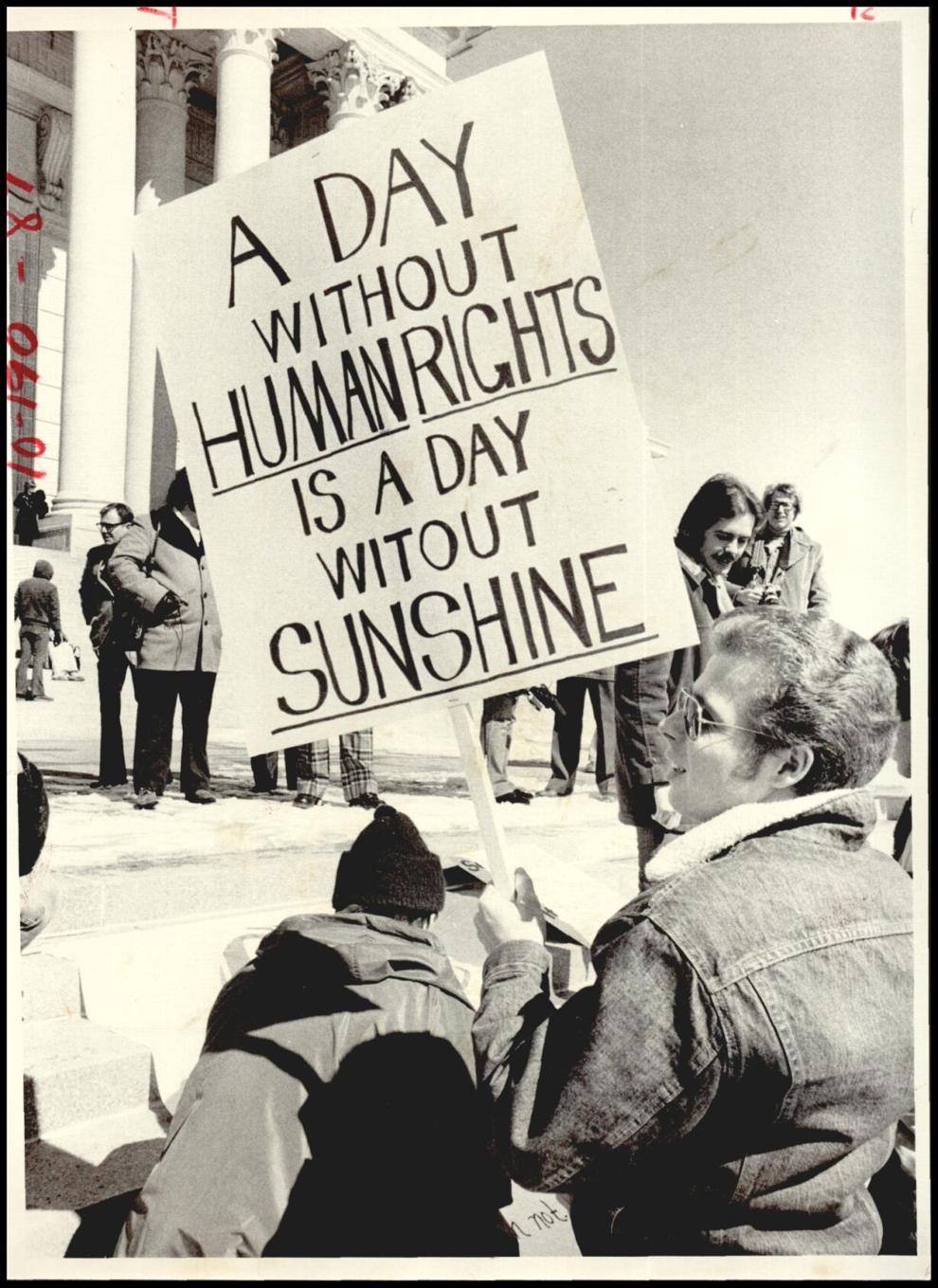 On Saturday, Feb. 21 in 1978, OU's Gay Activist Alliance organized a rally outside of the Oklahoma Capitol. Anita Bryant, a previous Miss Oklahoma, was speaking at the capital that day for legislation that would allow schools to fire teachers who were "publically homosexual."
 The rally featured speakers from OU's human relations department, a member of the sociology department and several student speakers. It intended to show the community's dedication and support to "gays" in Oklahoma, according to The Daily article.
Despite the protest, the bill was passed through Oklahoma's legislature. It was adopted by the Senate on March 15, 1978, and signed by Gov. David Boren, who'd later become a U.S. senator and finally an OU president. It was not repealed until six years later, when the 10th Circuit of the U.S. found the law unconstitutional.
Angles, a queer nightclub near uptown Oklahoma City, that has been open on and off since 1982, filed a suit its opening year against the Oklahoma City Police Department.
Co-owner Scott Wilson was interviewed in The Gayly's first edition about the suit. The club had suffered from police abuse, Wilson said. Every night the club was open, officers in and out of uniform would stand around the club and write citations for both the business and its customers. Additionally, Wilson said, some officers would physically assault customers of the club for supposed infractions.
After several months of abuse from police and communication between the club's attorney and the city, Wilson and his partner Don Hill decided that they had to put a stop to it. Soon, litigation was underway against the city.
According to The Gayly's interview with Wilson, the case had an "unusually high number" of people willing to testify against the police department. Wilson attributed it to the determination the community had, including its straight allies, to end the abuse.
Eventually, the suit was settled with a consent decree. The decree made it so police could not enter the premises without cause or an explicit request for assistance from someone inside, Wilson told The Gayly. The decree also set precedent for other queer businesses in the area, allowing them the same protections Angles now had.
With the increased success of suits against anti-gay legislation, gay rights activists set their sights on marriage equality. However, marriage was not the only goal.
'It was never just about marriage equality'
In the '80s and '90s, the AIDS epidemic was on the rise. The first case of AIDS in the U.S. was documented in 1981, and by 1985, 12,000 Americans, primarily of the queer community, had died from the disease.
As more members of the community were hospitalized, it became clearer that same-sex couples lacked the protections opposite-sex married couples had. People in long term relationships could not visit each other in the hospital, make medical decisions or say their final goodbyes in person.
"It was never just about marriage equality," Holland said.
Over the course of decades, states would begin to legalize same-sex marriage, starting with Massachusetts in 2004. In 2014, Oklahoma would do the same alongside four other states.
Tulsa County couple Mary Bishop and Sharon Baldwin, an OU alumna filed a suit against Oklahoma after the state had accepted an amendment stating marriage was permitted between only opposite-sex couples. The amendment was deemed unconstitutional by the 10th Circuit Court of Appeals a year before the Supreme Court made the same decision in Obergefell v. Hodges on June 26, 2015.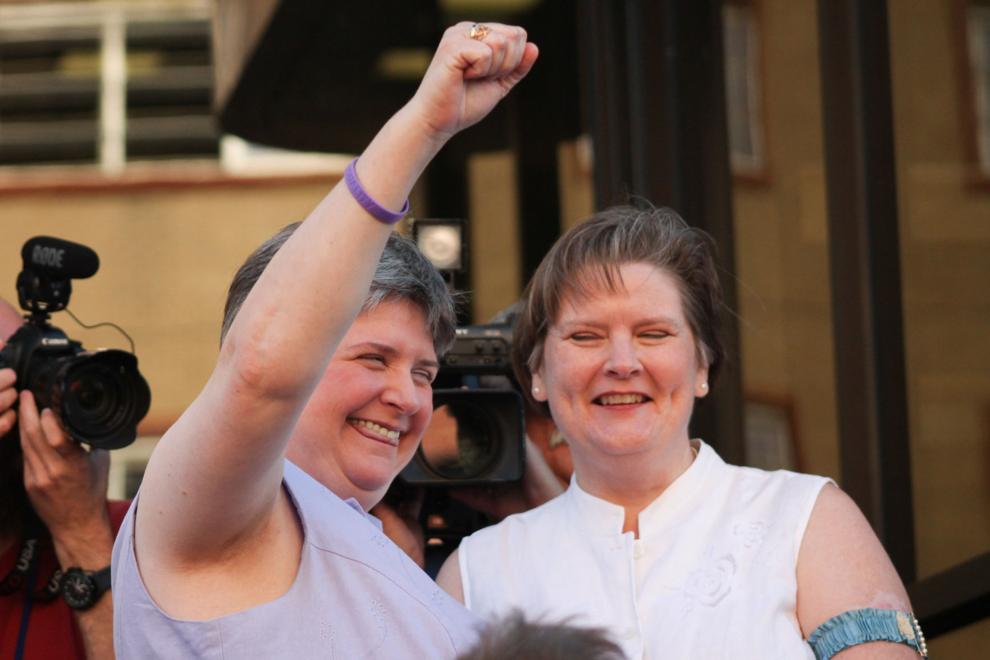 Joseph Thai, a law professor at OU and a member of the legal team on the Bishop-Baldwin  suit, said "it was only a matter of time" before the amendment was struck down locally and nationally.
"I was honored and humbled when they asked me, honestly," Thai said, smiling warmly as he remembered the day.
Thai was asked to join the team due to his aptitude in constitutional law, he said. The attorneys already on the case were preparing for a long appeals process and wanted to be ready.
Soon after Thai joined, the case was fast-tracked to the 10th Circuit in the Federal Court of Appeals, which represents Oklahoma, Colorado, Kansas, New Mexico, Utah and Wyoming. He said the state focused on two points in court, both "patently absurd and shameful."
The first argument focused on the idea that marriage was intended for procreating couples, which Thai said was "grossly underinclusive" and was easily argued against by his team. The plaintiff side argued that this left out same-sex couples, infertile couples and couples not intending to have children.
The second argument focused on the well-being of children from couples. Particularly, the state argued a child is healthiest with a mother and a father to care for them. Thai said the argument was, once again, underinclusive and was offensive not just to same-sex couples, but also to single parents.
The 10th Circuit Court of Appeals ruled against Oklahoma on July 18, 2014. The state appealed to the Supreme Court. Surprisingly, Thai said the plaintiff also wanted the case to be appealed.
"Honestly, we wanted to go to the Supreme Court," Thai said. "We wanted this nationally, not just for our circuit. We wanted it to be legal everywhere."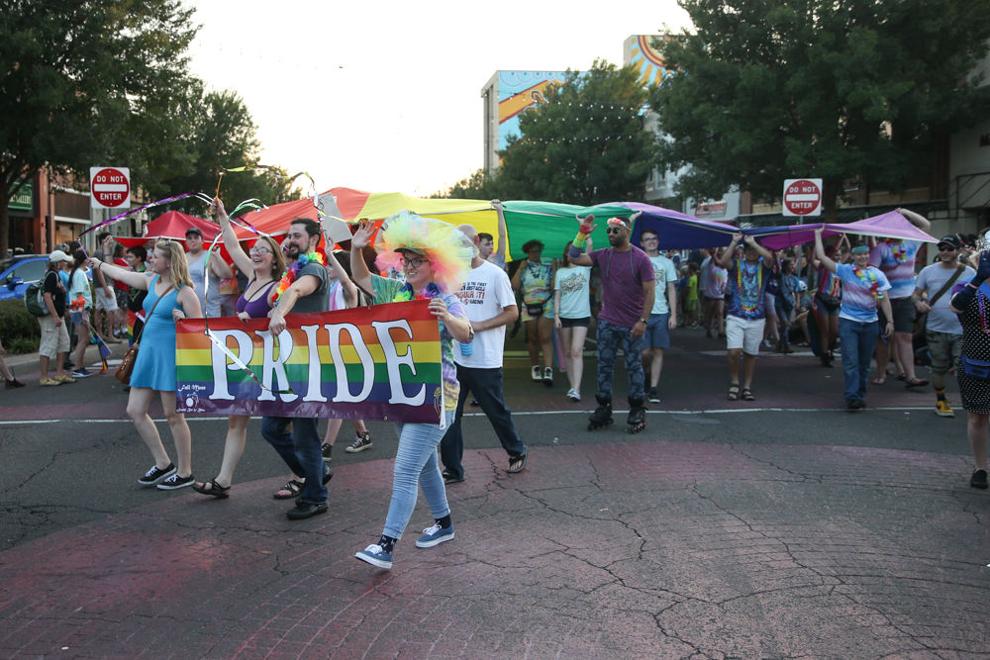 When the Supreme Court turned down the state's appeal, same-sex marriage was essentially legalized for all states in the 10th Circuit. The Supreme Court would go on to accept a case from a different circuit — Obergefell v. Hodges from Ohio's 6th Circuit — and it ruled laws against same-sex marriage were unconstitutional a year after it was legalized in Oklahoma.
Today, a new battle in Oklahoma for queer rights is being waged. In 2018, Oklahoma Gov. Mary Fallin signed a law allowing for adoption agencies — including ones given state funding — to deny services to same-sex couples.
"Same-sex couples are being treated like second-class parents again," Thai said. 
Thai said he believes the path to allowing adoption for same-sex couples will be similar to the one that led to marriage equality. It will likely begin with individual cases on a state-by-state basis that will slowly make their way up to the Supreme Court, he explained. 
However, he said the fight will not be easy. There will always discrimination to fight against, even if it isn't immediately visible.
"I wonder, what else are we blind to?" Thai said. "What are we still getting wrong?"
Thai emphasized the importance of continuing to look at why certain laws were made and to continue to be critical about what needs to be changed.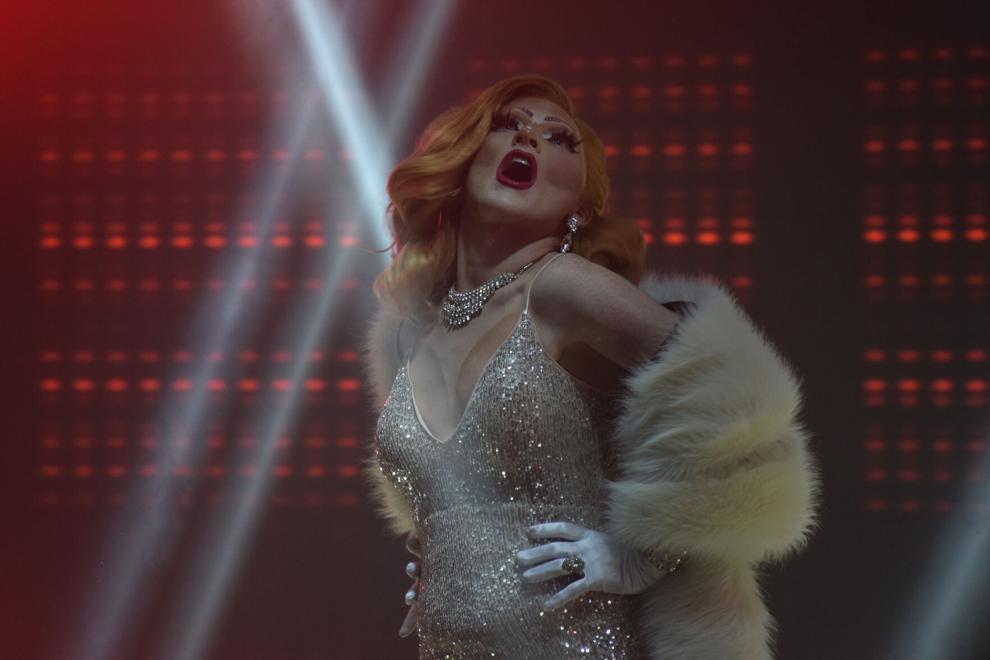 Holland shared similar sentiments, citing the idea that much remains to be learned from queer history and the laws surrounding it and that Oklahoma's history is "understudied" from the years before the state was founded to present day.
"There was a past," Holland said. "Queer people were always here."
And they always will be.