OU Chief COVID-19 Officer Dr. Dale Bratzler said vaccine doses are continuing to trickle into the OU community as Cleveland County enters phase two of the state vaccination plan, with OU Health projected to have administered over 8,000 shots by the end of the week.
"Right now, we're actually moving through phase one pretty fast," Bratzler said in an interview with The Daily, adding much of the state has already started or will begin to move into phase two of the state vaccination plan in the coming days. 
Some counties — including Cleveland County — have already begun phase two, which includes adults aged 65 or older, any adults with comorbidities and first responders. Vaccinations within the OU-Norman campus community have already begun, Bratzler said. Thursday morning, a vaccination clinic was also held at the Sooner Mall.
"The Cleveland County Health Department has already come in and vaccinated some of the frontline, patient-facing providers down at Goddard that do testing and things like that, that put themselves at risk," Bratzler said. "All the first responders — the campus police, fire and others — they'll all be prioritized in phase two. Then the people that are 65 and older, which may well include some staff, some faculty, they'll be eligible for the vaccine next."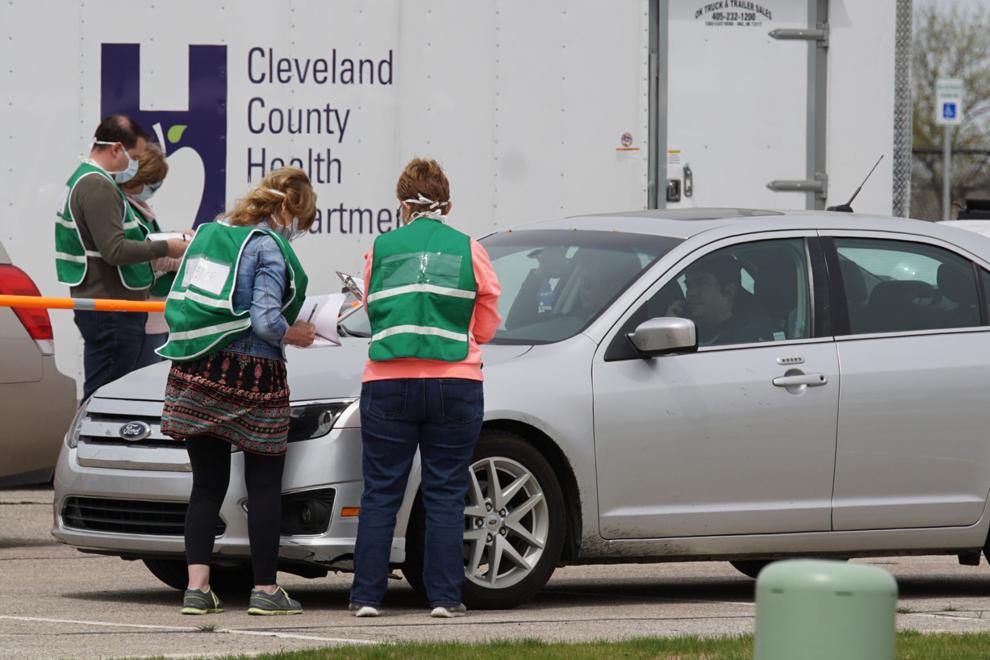 On Wednesday, the Oklahoma State Department of Health launched an online portal to help Oklahomans determine when they are eligible to receive a vaccine based on demographic information and schedule their vaccination appointment.
In an email to The Daily, OSDH Deputy Commissioner Keith Reed wrote there is a limit to how far in advance appointments can be scheduled, as appointments are dependent on vaccine supply for each county.
"Clinics will only be scheduled once we know how much vaccine is expected the following week," Reed wrote.
Bratzler said vaccines will start arriving at Goddard "in the near future" for distribution to high-risk groups. The OU Health Sciences Center plans to begin vaccinating high-risk patients next week.
"We think Goddard will start having doses available in the near future to start vaccinating those high-risk individuals, particularly faculty, staff and others who are 65 years of age and over," Bratzler said. "On the Health Sciences Center campus, we're planning to start vaccinating our high-risk, 65-and-older patients starting January 15."
The vaccine will be made generally available to universities by phase three according to the state plan, which includes "teachers, staff and residents in all other educational settings" outside of pre-K through 12th grade schools.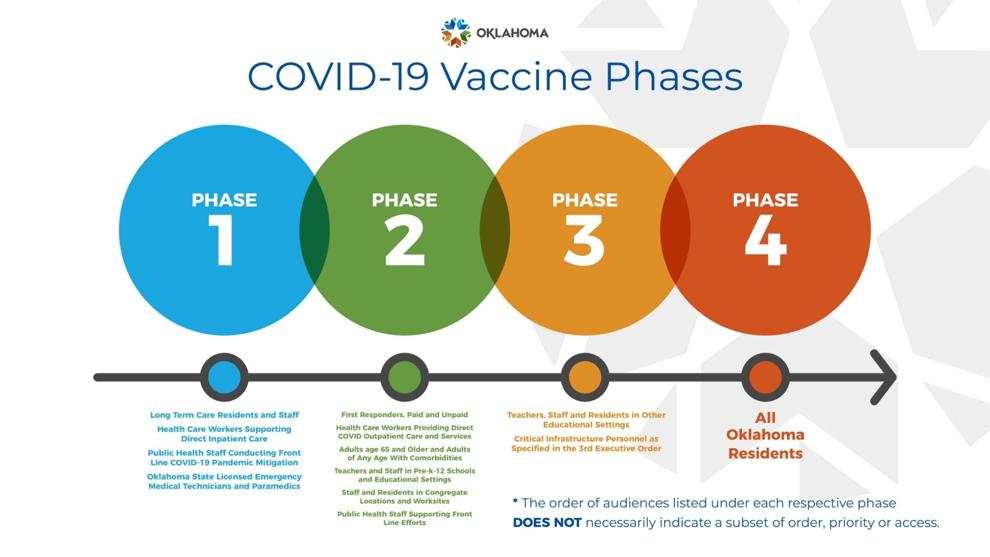 "We're starting to plan how we distribute the vaccine on campus, to large numbers of students, which is going to be a major effort," Bratzler said. "Vaccines — at least the ones we have available now — they're not easy to administer."
The logistical limitations around vaccine administration include the fact that the Pfizer and Moderna vaccines must be stored at low temperatures to remain effective. Patients must also be monitored for "no less than 15 minutes" after the shot, Bratzler said, which can create backup at vaccination clinics.
A new strain of the virus emerged during the vaccine rollout and has been detected in the United States, though the strain is expected to still be countered by current vaccines.  The new strain is more easily spread due to a mutation in the virus' spike protein, Bratzler said, and while it does not inherently cause higher mortality rates or hospitalizations, an increase in infections could indirectly cause both due to hospital capacity issues if the public is not cautious.
"I actually have little doubt that it's probably already in Oklahoma, it's just nobody (is) testing for it. You have to do genotyping to test for it," Bratzler said. "Just this week, the (Centers for Disease Control and Prevention) announced that they're going to enhance testing from public health labs around the country, looking for that genotype."
The new strain, however, will not lead to any "substantial changes" to university COVID-19 protocols headed into the next semester, Bratzler said. In an email to The Daily, OU Director of Media Relations Kesha Keith wrote classroom social distancing requirements, masking requirements and a more lax attendance policy implemented in the fall will all carry over to the spring semester.
In the first phase of vaccinations, Bratzler said the Health Sciences Center campus saw a degree of "vaccine hesitancy" — of the center's physician practice, 75 percent took the vaccine while 25 percent opted out. Some, Bratzler noted, held concerns over the vaccine's potential effect on pregnancies and breastfeeding — which has not yet been studied — while others have simply been unable to receive the vaccine due to holiday travel.
"It was a tough week to be vaccinating for the first time around Christmas and New Year's. Some people were gone or on vacation or things like that," Bratzler said. 
Those who have recently had COVID-19 should also be cautious when receiving the vaccine, Bratzler said, citing "anecdotal reports" of people who recovered from their infection, received the shot and suffered many of the same symptoms.
"They feel like they've got COVID-19 all over again. They're obviously not infected, but they have a lot of the same symptoms, fever and chills stuff," Bratzler said. "That's because you're giving them a vaccine that's going to make the protein to which they already have antibodies."
Reactions to the vaccine have included mostly "very mild" symptoms like redness of skin and others which are typical of different vaccines, Bratzler said.
"Probably 40 or 50 people out of 6,000 people have had some type of allergic reaction," Bratzler said. "We've had a couple people that had a known history of anaphylaxis, they were actually carrying an EpiPen. None of them have had any serious reactions and we haven't put anybody in the hospital or anything like that, but we did use a couple of EpiPens on people, particularly those that already had a known history of severe allergies."
Other common symptoms have included lightheadedness immediately after the injection, sore arms and anxiety, Bratzler said. 
The CDC is tracking post-vaccination symptoms through a voluntary mobile app called V-safe, Reed said, which vaccine recipients may download to provide health data after receiving their shots. 
Bratzler said it's unlikely the university will require COVID-19 vaccinations for students or faculty, however some university-sponsored activities may require vaccination.
"There may be certain activities that some students want to do that fall into that category. For instance, if you want to do international studies, there may be some countries that actually require it before travel, but I think it would be unlikely for us to require vaccination of the university students," Bratzler said. "Although here in the Health Sciences Center campus, however, we're already having conversations. … (The Equal Employment Opportunity Commission) announced that employers can mandate vaccines. I think it's possible that our hospital system may end up eventually mandating the COVID vaccine if you want to work in the hospital."