When Paige Parker walked off the field she was never the same. 
It was a muggy summer night in Tuscaloosa in 2015 and Parker and the Sooners were facing elimination in Game Three of the NCAA Super Regionals. The freshman from Independence, Missouri, who was coming off a season in which she started all 58 games (32 as a pitcher, 26 as a designated player), had never experienced an environment like the one she was in.
The crowd of 3,490 at Rhoads Stadium was relentless throughout the weekend series. OU coach Patty Gasso was adamant during her postgame press conference the thought of taking the young pitcher out never crossed her mind saying, "We were going to win or lose with Paige."
In her first collegiate season, Parker tied an NCAA record with four perfect games and led the Big 12 in ERA, shutouts, wins and hits allowed per seven innings. However, until that night's season-ending defeat, she hadn't tested her skills on the biggest of stages. 
"(That series) prepared me in ways I don't think I really realized at the time," Parker said. "It was a tough environment to play in, but that experience I gained helped me tremendously going into 2016 and going into the WCWS. The lights didn't seem quite as bright, things weren't quite as overwhelming because of the experience I was able to gain the year before."
Parker, now an assistant coach at Utah, went on to achieve softball superstardom. She led the Sooners to back-to-back national titles, won Big 12 Pitcher of the Year four consecutive years, was named the 2016 WCWS Most Outstanding Player and finished her career second in program history in wins (123) and strikeouts (968).
Looking back on that 2-1 series loss to the Crimson Tide during her freshman season, Parker says it was the most important lesson she learned during her career. 
Entering this postseason, after a regular season in which her Sooners went 48-1, run-ruled 31 opponents and won 39 consecutive games, Gasso was trying to put her relatively inexperienced pitching staff in uncomfortable situations in order to prepare them for moments like Parker faced seven years ago in Tuscaloosa.  
That effort got an unexpected — and unwelcome — boost when Jordy Bahl, one of the best players in the country, went down with an arm injury. Sophomore Nicole May and redshirt senior Hope Trautwein have largely risen to the challenge, however, carrying the load during the Big 12 Championship, regionals and super regionals. The Sooners fell to Oklahoma State 4-3 in the conference title game, a contest in which both May and Trautwein pitched.  
Despite the disappointing loss, OU won the regular season Big 12 title and was able to get its pitchers experience in a hostile game.
During the NCAA Tournament, May has pitched 15.1 innings, given up five hits, three walks, one earned run and struck out 17 batters. Trautwein, who is pitching in the postseason for the first time in her career, holds a line of 13 innings pitched, three hits allowed, three walks, two earned runs and six strikeouts and includes a no-hitter in Game One of the super regionals against Central Florida. 
"Control is something that I'm really working on," Trautwein said after that game. "I'm wanting to adopt tactics the coaching staff has dug out for us, they've really helped me so far."
The lack of big-game innings thrown on the roster concerned Gasso throughout the season. Just a sophomore, May has seen the most postseason action on OU's staff. As a true freshman last season, she struck out 23 in 23.7 postseason innings spread across eight appearance, in which she logged three wins, one loss and a save. She also started Game One of the WCWS championship series, in which she got hit hard in a loss to Florida State.
Shannon Saile, who was on last season's OU team and is now a graduate assistant for Gasso, learned a similar lesson in her career. She started Game One of the 2021 WCWS when No. 1 Oklahoma was shockingly upset by James Madison. Though it was a crushing defeat, Saile was prepared to deal with the loss and come back out stronger in the next game.
The Sooners had pulled off a couple of scrappy wins against in-state rival Oklahoma State weeks before and Saile says those games helped her prepare for not only the trials and tribulations, but the nine-day monster that is the WCWS. Saile similarly had to step up her play when the 2021 WCWS' Most Outstanding Player Giselle Juarez was injured with a torn bicep and missed time.
"We had to grind to win those games, so I think a lot of moments prepare you for the moments later on and you don't really realize it," Saile said. "It's really good to have those lessons early in the season so when you get to the postseason, it's nothing new. You've been here, you've done this before, there's nothing more you need to do, you're here, it's just time to be the moment."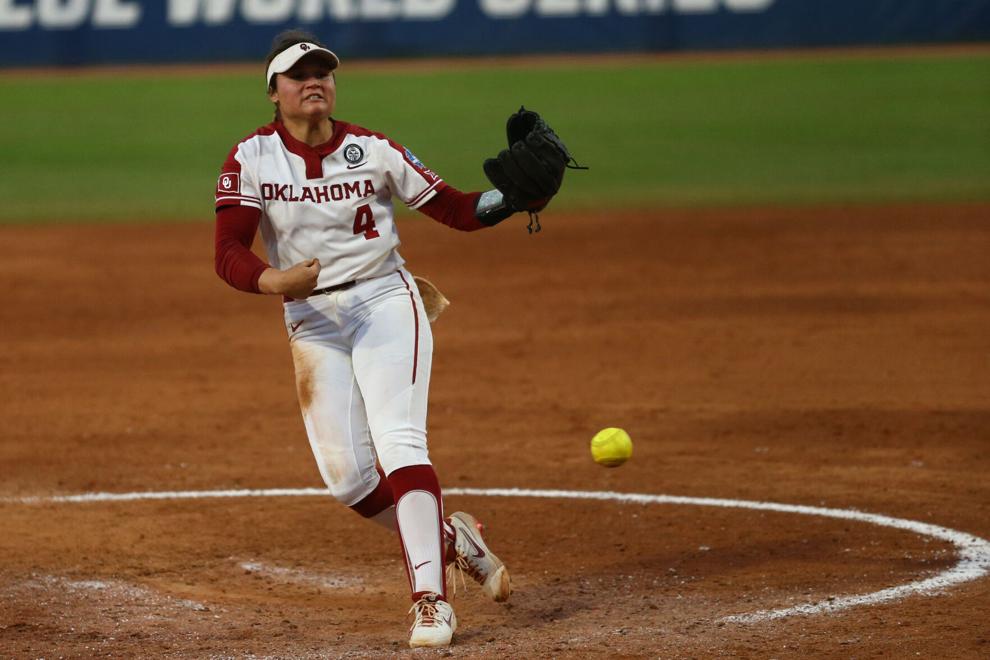 Watching this season's arc unfold within the pitching staff, Saile praised May and Trautwein's ability to come in and produce with Bahl out. 
"I have seen them take it to a whole new level and their pitching has been amazing so far this postseason, even in the Big 12 tournament, up to regionals," Saile said. "They have been working so hard on scouting, really understanding their opponents and understanding the importance of rehab after (games), making sure your arm's good.
"(Pitching coach Jennifer Rocha's) always reminding them and reassuring them they don't need to do anything different. You just need to be yourself and play in the moment. And of course, you're going to want to work on things and fix some things, but that's what bullpens are for and I think she does a good job of reminding them when you get in the game. It's just about competing at that point."
May and Trautwein couldn't be more opposite from one another when it comes to their pitching styles. May appears unflappable at any moment, especially high-pressure situations in-game. You will rarely see Trautwein, however, without a smile even during times when she's struggling to get hitters out. 
Those differences seem limited to just on the field, however, as the two have worked hand-in-hand to get their team to this point. 
"I think it's been good, I think the whole pitching staff, we support each other no matter who's pitching and who's not," May said. "If we're not out there, we're helping in the dugout, looking at the hitters trying to find things, we're right in coach Rocha's ear the entire game. … I think it's just a good group."
May has pitched the majority of innings up to this point due to having pitched in the World Series last season, but Gasso has been carefully preparing Trautwein for those big moments, as well. Saile points to OU's loss to OSU in the Big 12 Championship Game and the Sooners' 3-2 nail-biting win over Texas A&M in Game Two of the Super Regionals as pivotal games in Trautwein's development.
"That (win) was a big moment for her and (it was) a big moment against Oklahoma State to feel that loss and to feel what it feels like," Saile said. "She took it to heart of course, but I think it also reminded her that she needs to just pitch like herself and pitch in these moments like it's just any other game. I think that's what's important, is realizing it's going to take a staff and you can't do it alone."
The pair is doing something right it seems as their team is entering their sixth consecutive WCWS appearance, and they've caught the eye of a former Sooner great. 
"They've done a fantastic job," Parker said. "Those two, they go out and they get their job done and they're so confident. … I just love watching (May) be so calm, cool and collected all the time and with (Trautwein) ... she just gets after it and goes after people."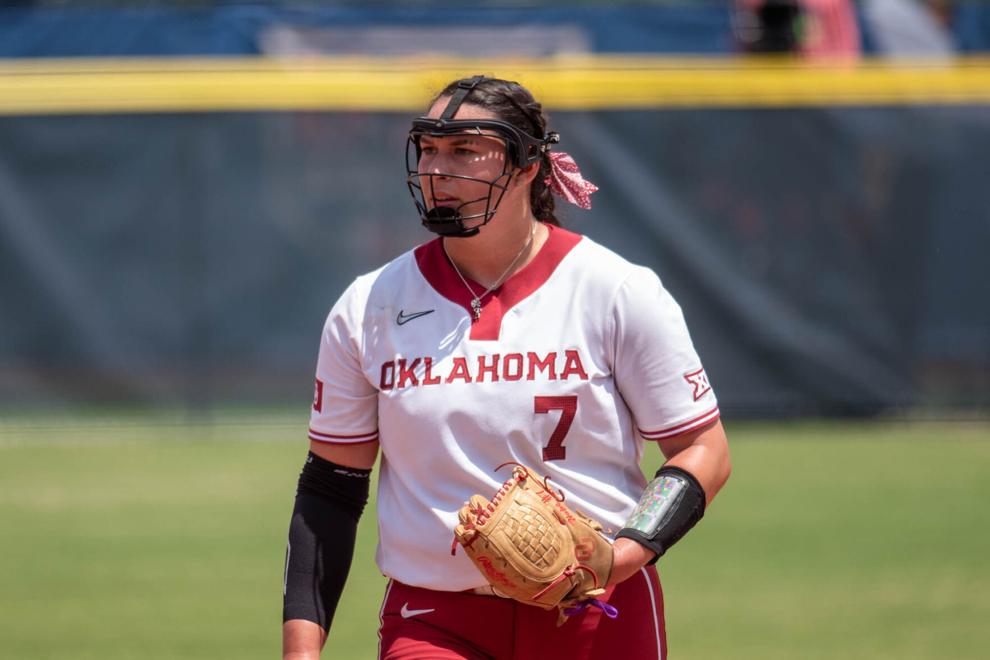 'Any of these teams can win this'
Even as Oklahoma enters the WCWS as the overwhelming favorite, nobody at Hall of Fame Stadium Wednesday could tell.
After a night of celebration at the National Cowboy & Western Heritage Museum that saw Bahl win NFCA Freshman Player of the Year and redshirt senior utility Jocelyn Alo take home the USA Softball Collegiate Player of the Year award, the Sooners were all business. Gasso's team was determined to repeat as champions. 
#Sooners 𝐒𝐰𝐞𝐞𝐩 🧹Alo and Bahl make it two straight seasons OU has claimed both national awards.» https://t.co/36beAY5bju | #ChampionshipMindset pic.twitter.com/m94P6DmNc5

— Oklahoma Softball (@OU_Softball) June 1, 2022
Perhaps the most notable news to come out of Media Day in Oklahoma City was when Gasso proclaimed Bahl would return to action during the WCWS.
"I will just keep it pretty self-explanatory, you're going to see her pitch this week," Gasso said. "How much? We're still working. It's like going into a laboratory and knowing exactly what we can and can't do. The timing of it … we're still kind of putting all of that together. But, we have followed the doctor's orders. … We've done everything we're supposed to do."
Gasso said on the Oklahoma Breakdown with Ikard and Lehman podcast that Bahl initially injured her arm during warmups ahead of OU's final regular season against Oklahoma State on May 7. Getting Bahl back into the rotation will be a big boost for the Sooners' staff, however, Gasso isn't sure about any specifics yet. Regardless, Gasso feels she's prepared her group for the big moments. 
One common thread throughout the WCWS this year is the quality of arms. Gasso shouted out some pitchers and inferred Northwestern senior pitcher Danielle Williams, who has a 1.86 ERA, and Oregon State freshman pitcher Sarah Haendiges, who has a 1.53 ERA, are ones to watch out for. 
"Any of these teams can win this (World Series)," Gasso said. "It's not just two or three, any team can do this because those teams that got here are still on a crazy roll."
Parker, having coached against five of the eight teams this season, has maybe the best sense on what to expect from each squad. 
"Honestly, having coached against quite a few of the teams in the World Series this year, I think that the pitching, in general, is phenomenal," Parker said. "There's going to be some really great matchups and I think there's going to be some really tough games."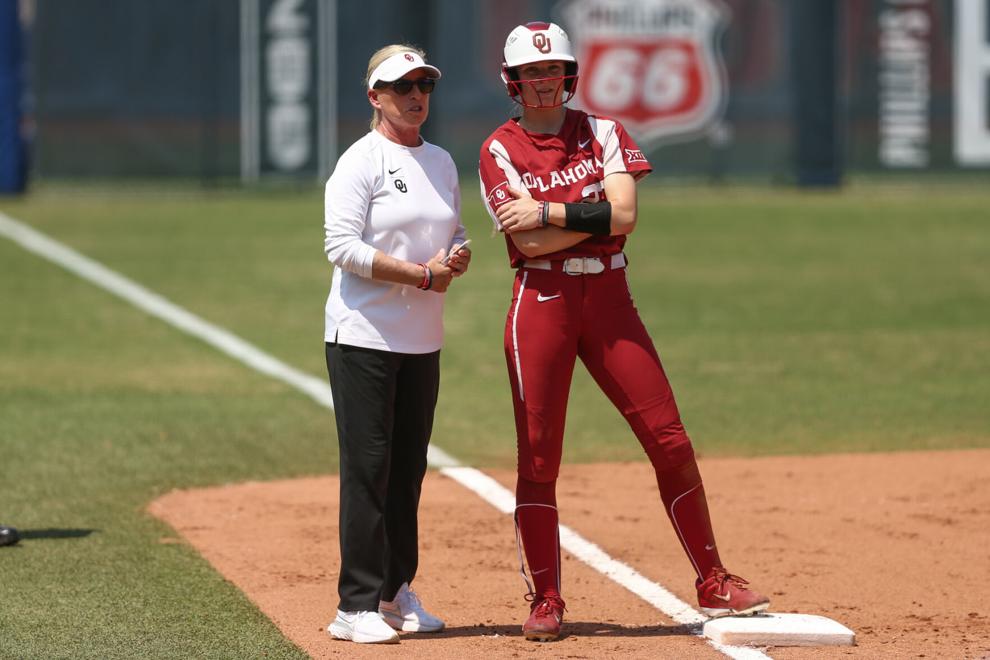 Williams, who Oklahoma (54-2) will most likely see start in the circle for Northwestern (45-11) Thursday, struck out seven Arizona State batters in the final game of super regionals. Northwestern's pitching coach, former OU pitcher Michelle Gascoigne, who tossed a shutout against Tennessee to secure the 2013 national title for the Sooners, will no doubt have Williams at her best.
The Sooners' quest toward back-to-back titles begins against the Wildcats at 1:30 p.m. on ESPN and win or lose, Gasso knows she has put her pitching staff in the best position to succeed, now they just have to go out there and play ball.
"I was very concerned (earlier in the season) and talked about it with (the media) quite a bit," Gasso said. "I get concerned about the lack of innings, but this pitching staff has been tested (now). And so now when I look back at it I think it is an advantage now that we're in the postseason, they got significant innings in the postseason (now). They've felt it so I feel that we are in a very healthy space."