With time expiring and a Big 12 Soccer Championship berth on the line, Bri Amos positioned herself from the top center, ready to strike.
After collecting a service from senior midfielder Erika Yost that hit the post, Amos scored the go-ahead goal to sneak past Iowa State 1-0 and bid the Sooners a spot in the conference tournament. The senior forward has become accustomed to such opportunities of late. Since becoming a Sooner, she has been an offensive force with five goals, including that game-winning goal against Iowa State on Oct. 24 and another one against Kansas State on Oct. 17.
𝗚𝗢𝗔𝗟‼️@YostErika » @brianna_amos in the 89th minute! 💥OU 1, ISU 0 | 📺 ESPN+ pic.twitter.com/d653OfUc1U

— Oklahoma Soccer (@OU_WSoccer) October 24, 2021
Upon transferring to Oklahoma, Amos has been instrumental for the Sooners as they rebuild their program after a 1-12-2 finish in 2020. During her two-year tenure at Kansas, she only amassed one goal and four assists, all coming in her sophomore season. It wasn't until April 10 against Baylor that Amos had attained her first goal at OU. Since then, Amos' career has shifted from role-player to leader. She has been a reliable presence in the pressure of three double-overtime games and nine one-score games this fall.
When Amos was primed to assist in the game-winning goal against her former teammates on Oct. 14, she delivered. Tied 2-2 at the 86th minute, Amos pushed the ball into the box for freshman forward Leonie Weber to tap it past the KU goalkeeper.
🤯 𝙇𝙀𝙊 🤯Leonie Weber with the back heel flick for the go-ahead 𝙜𝙤𝙖𝙡‼️86' | OU 3, KU 2 pic.twitter.com/BYTWWu8cQz

— Oklahoma Soccer (@OU_WSoccer) October 15, 2021
"I think being able to embrace adversity (sets me apart)," Amos said. "If something goes wrong or something's not going right, or not going your way, just being able to find solutions to it and just continue to work hard, I think having a strong work ethic is really important."
For those who know Amos, her success is unsurprising. After all, at Tulsa's Union High School, she helped lead her alma mater to three consecutive state championships and district titles from 2015-17. She was also a member of club squads that won the Top Drawer Soccer national championships in back-to-back years in 2015 and 2016, and was a finalist in 2017.
However, talent has not been the lone reason Amos has shown up in pivotal moments. Ultimately, with training at the Samba Elite soccer facility in Tulsa, she has established mental discipline. Leading up to her collegiate career, Amos met with her trainer Felipe Guedes to refine her skills, both mental and physical.
"We trained four months straight, most days twice a day until she left for KU," Guedes said. "When she got there she was the fittest, most technical freshman, and made the starting line up right away. That year she understood that she could accomplish whatever she set her mind to if she was willing to do the work for it."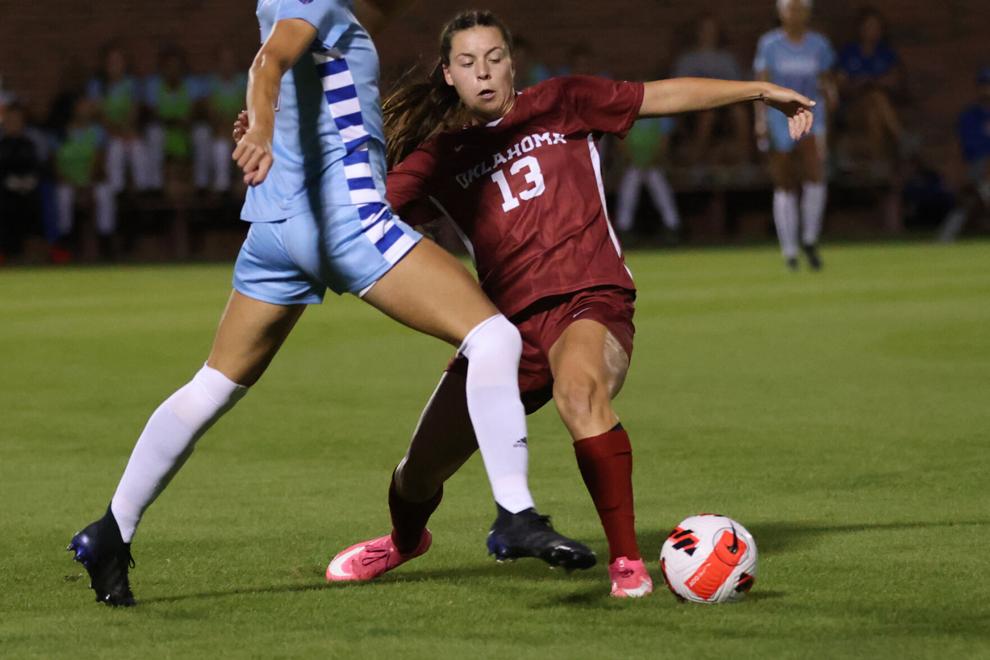 In her latter days of high school, Amos decommitted from Central Arkansas and committed to KU. Her older brother Bradly was a midfielder at UCA from 2014-17, which played a role in her initial commitment there.
Her decision worked out well, as she played in 10 games, making one assist and three shots as a freshman. Her training with Guedes prepared her to contribute immediately after taking a leap of faith to flip her commitment and walk on.
Amos contributed a goal in the first game of her sophomore season, and played in all 25 games in 2019. However, she aspired to something more, and looked for a fresh start in her home state.
The Tulsa native didn't grow up immersed in Sooner culture, but that quickly changed once she was attracted to joining a program established in rebuilding itself. On June 8, 2020, Amos' stay in the transfer portal came to an end. After lengthy conversations with Guedes and OU head coach Mark Carr, she chose to trade in crimson and blue for crimson and cream.
Welcome to Norman, Bri!#Sooners️ add talented transfer Brianna Amos from KU for 2020! ☝️⚽️ pic.twitter.com/tbPyXG49HS

— Oklahoma Soccer (@OU_WSoccer) June 8, 2020
"I would say it means a lot to get to represent your home state and just give younger kids that played for clubs around here someone to look up to," Amos said. "Just transferring, it's a big blessing to be able to give more to the team and be able to adjust here and be welcomed with open arms here."
Away from training, Amos has pursued activities that help put her mind at ease. When she's not at John Crain Field, Amos uses her personal time by painting or watching crime documentaries. In her mind, it's crucial to her performances on the pitch.
"I'm a big person needing my own quiet time to decompress and reset, so I think that's really helpful," Amos said. "I just like painting, I think it's a different activity and I think as athletes, we get so focused on 'this is what we do' and don't find other stuff that we like."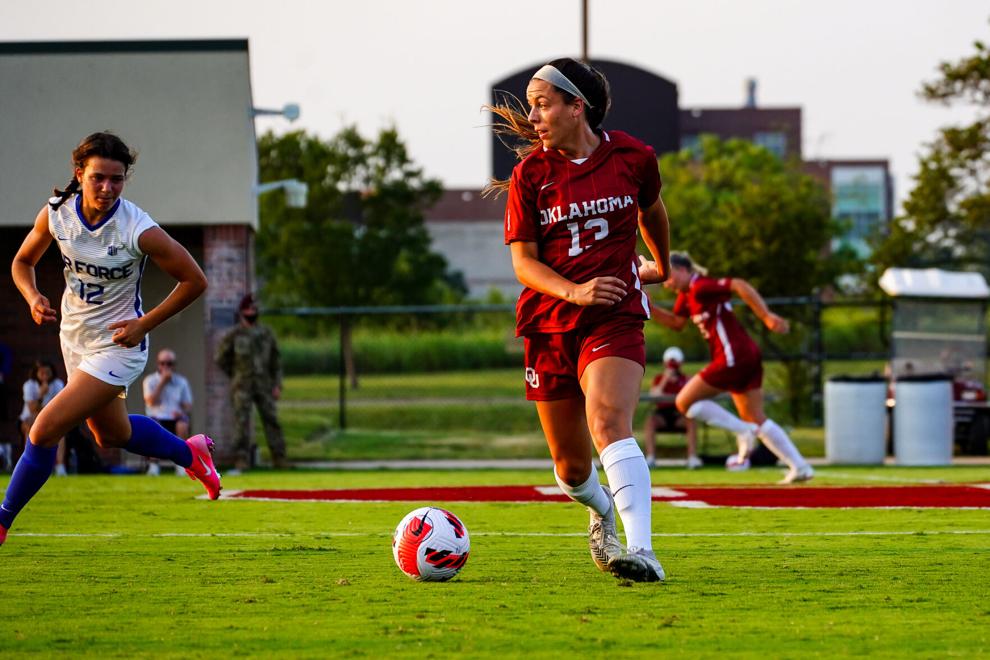 Once she returns to the field, though, Amos is a scoring threat. In the course of 18 games, she has shepherded the Sooners with 22 shots on goal, 14 points and at least one shot in all but three games. From only recording one goal and one assist in two seasons at Kansas to being the second leading scorer for Oklahoma, Amos' growth will be a piece of her legacy.
"She's had a tough history in this program," OU assistant coach David Gough said. "She was out of contentioning, in contention (and) now she's one of the drivers of the bus. We couldn't be happier when we look behind and see it on the bus.
"She has everything you need in a top college player. She has the resilience, she's been through adversity, she knows what it's like to stand up and be countered. I think any young girl watching college soccer who wants to get recruited, looking at Bri Amos would be a great idea."
Amos entered a depleted program that only logged seven goals in 15 games in 2020 in Carr's first season after the departure of Matt Potter. Soon, she'll be departing a program that has a superb 5-2-1 home record, averages 1.44 goals per game and is on the brink of its first visit to the Big 12 Soccer Championship under Carr.
With one regular season game remaining on the schedule and a trip to the conference tournament in Round Rock, Texas, approaching, Amos' time wearing No. 13 as a Sooner is close to over, but her impact on the team stands to last.
"What she does for this program far outweighs what we can do for her," Gough said. "It's on the shoulders of people like Bri (that) we'll build off success in the next (few) years."