Oklahoma defensive coordinator Ted Roof watched OU-Nebraska games as a child, but the veteran coach has only stood on the sidelines in Lincoln once in his career.
While serving as defensive coordinator at Penn State in 2012, he remembers a classy fan atmosphere at Memorial Stadium. Roof recalls losing his play call sheet in the Nebraska wind and being flabbergasted that a Husker fan brought it back to him.
Although he described the experience as pleasant, he also knows their fan base is going to show up and be rowdy when the Sooners come to town on Saturday.
Roof remembers viewing the rivalry when it was at its peak as a kid growing up in Georgia in the 1960s and 70s. At the time, there were only a select few college football games broadcasted on television per week. 
"Every time OU and Nebraska played," Roof said. "That was one of those games on (television) that weekend. (I remember) the national implications it had, the prominence of it, the importance that it had on college football. Like I said, that was a game that I watched every year when I was a kid because it always impacted the national rankings."
Roof isn't taking Nebraska for granted. Though the Huskers are 1-2 to start the season and fired coach Scott Frost on Sunday, Roof likes what he's seen of their offense on film. He also said he expects Saturday's matchup between the two rivals to be competitive despite the drama surrounding the program in Lincoln.
"I expect their best," Roof said. "We get everybody's best and they've done a good job. They're averaging 36 points a game, they're moving the ball, both running and throwing. And obviously (Casey Thompson) is a mobile quarterback. He extends plays with his feet and his legs. We have a lot of respect for him and we know it's gonna be a challenge.
"Again, they've had a great season offensively, they're scoring points and moving the ball and (offensive coordinator) Mark Whipple has had a lot of success wherever he's been calling plays. And we expect their best and so we gotta make sure we're ready to give our best."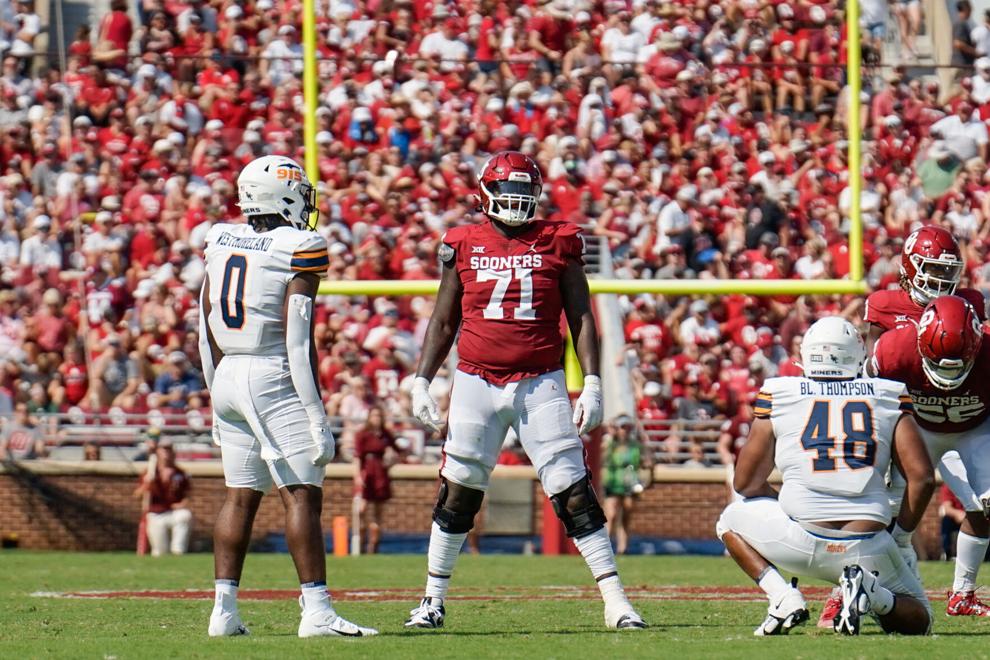 Offensive line wants to run the ball 'at will'
Oklahoma's offense ran for just seven first-half yards against Kent State on Saturday, but according to offensive coordinator Jeff Lebby, the offensive line's performance wasn't as bad as it seemed after he watched the unit's film on Sunday morning.
"We played incredibly hard up front," Lebby said Tuesday. "We strained, we striked, we finished. We did a really good job and the stats don't tell that story."
Lebby mentioned the Golden Flashes did a few things defensively that gave him and the offense fits in the first half. However, after halftime, the Sooners adjusted, finishing with 134 rushing yards. Lebby admitted he often forced the run game early instead of adjusting schematically.
Junior offensive tackle Anton Harrison also wants to see the run game improve.
"Just running the ball at will," Harrison said. "Not when we want to, but when we need to."
As the season progresses, Harrison hopes to see more dominance and physicality from himself and his linemates.
"I feel like we started slow," Harrison said. "We could be much better. I feel like this last game we were definitely way more physical — we finished better than the first game, but we still have a lot more growth to be made, just really with the little stuff like being more physical, finishing every play and just dominating our job every play."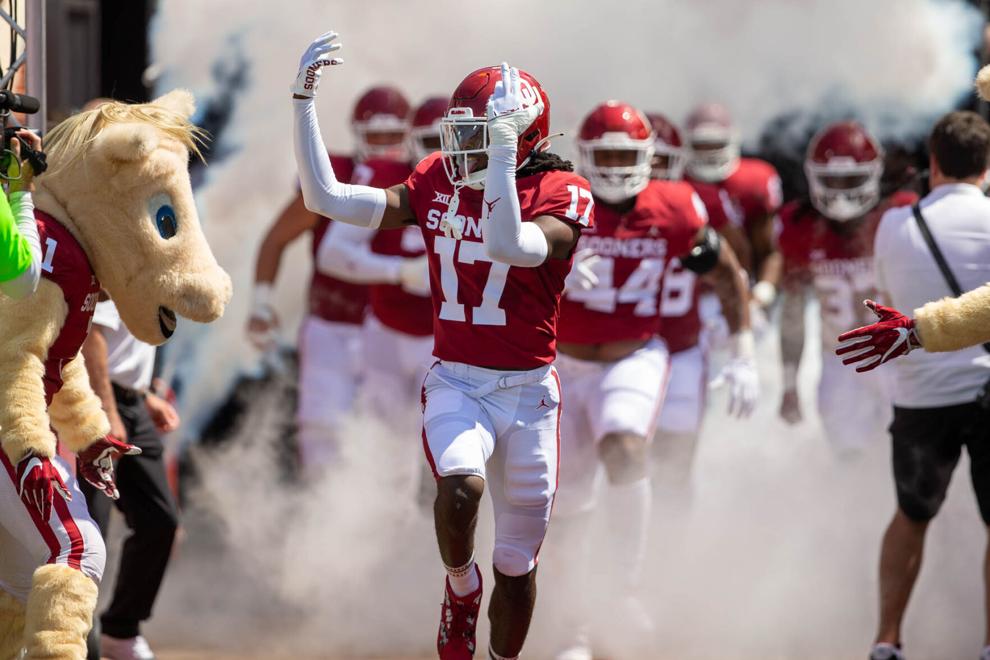 Harmon's dedication paying off
Defensive back Damond Harmon and defensive lineman Kelvin Gilliam have known each other since they were nine years old, and both committed to Oklahoma while attending Highland Springs High in Richmond, Virginia.
They didn't see much playing time as freshman, then were faced with a tough decision when most of OU's defensive staff left after Lincoln Riley departed for Southern California.
"We didn't know what we were gonna do, whether we were gonna leave or stay," Harmon said. "We didn't know what to do. We just talked to each other, and we came to the conclusion we were gonna just stick it out, and just work and go harder.
"People always say the grass isn't always greener, so we stayed here, we fought it out. We're grinding, still grinding every single day and it's paying off."
Harmon played seven games last season, primarily on special teams, but now he's on the Sooners' depth chart and pushing for playing time.
"He kicked butt, so he's gonna get a better role," Venables said after the Sooners' season opener against UTEP. "He (has) created value for himself and more opportunity."
Harmon made a career-high five tackles against Kent State on Saturday, and is showing signs of being an improved player since last season.
Harmon primarily played cornerback in high school, but is now emerging at safety. He said Venables and safeties coach Brandon Hall have helped him transition to the position.
"The biggest difference for me is just catching up to the speed of the game," Harmon said. "I know last year I didn't really play a lot, so now I'm kind of in the rotation. I would say just catching up with the speed, making sure I get all the calls in and I'm doing my job right."
Meanwhile, Gilliam made one tackle against Kent State and should factor into the Sooners' future at interior defensive line. He and Harmon maintain a tight bond and are thriving after staying the course.
"Coming here with him was probably one of the greatest decisions I've made," Harmon said of Gilliam. "Just having somebody that can lean on and talk to him whenever I need to, cry on his shoulder if I need to, just keep the brother relationship going, it's been amazing."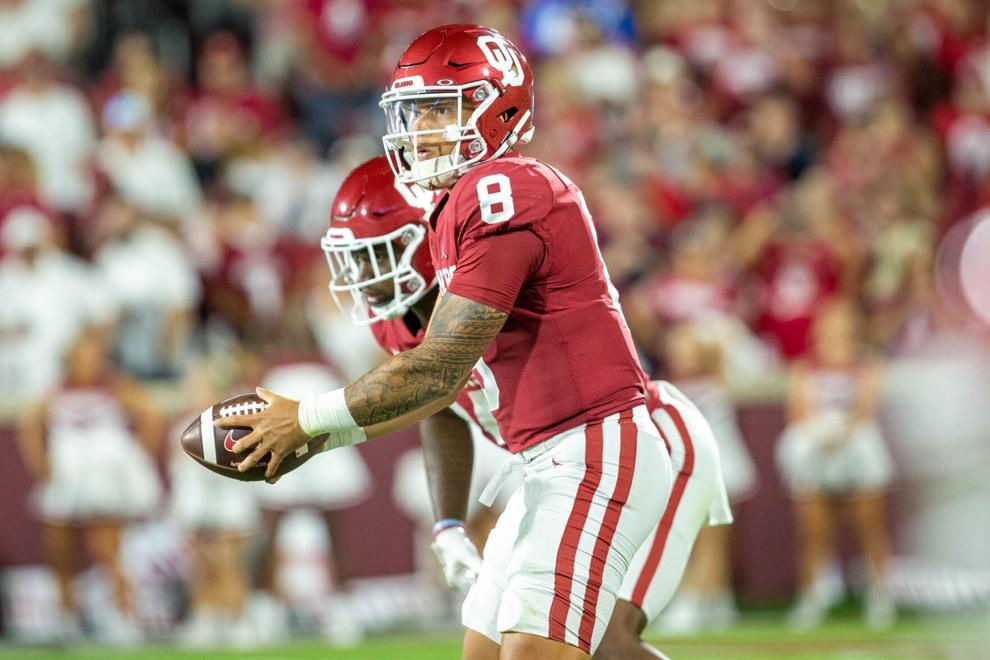 Offense 'in better spot' than Lebby's UCF, Mississippi squads
Despite the Sooners scoring only seven points in the first half against Kent State last Saturday, Lebby believes his offense is further along through two games than in any of his seasons with UCF or Mississippi.
His reasoning? Having quarterback Dillon Gabriel, who experienced running Lebby's high-tempo offense from their time as Golden Knights, and is soon to play in his first road game with the Sooners.
"Honestly, I truly believe we're in a better spot than I was or we were as a unit at the prior stops," said Lebby, comparing the progression of the three teams he's coordinated. "And it's because of who's catching the snap. We've got a guy that's got great understanding (and) we've taken great care of the football."
Soon to return to Lincoln, Lebby has vivid memories of the OU-Nebraska rivalry. As a student assistant with Oklahoma in 2005, Lebby made the trip to Lincoln alongside then-defensive coordinator Brent Venables.
Oklahoma defeated Nebraska 31-24 that afternoon, and Lebby and now-head coach Venables will be looking to do the same at 11 a.m. Saturday.
"An incredible rivalry, fanfare and pageantry," Lebby said of OU-Nebraska. "It's what college football is all about, Oklahoma-Nebraska, two storied programs that are built on toughness, edge and physicality. So I'm looking forward to that on Saturday morning."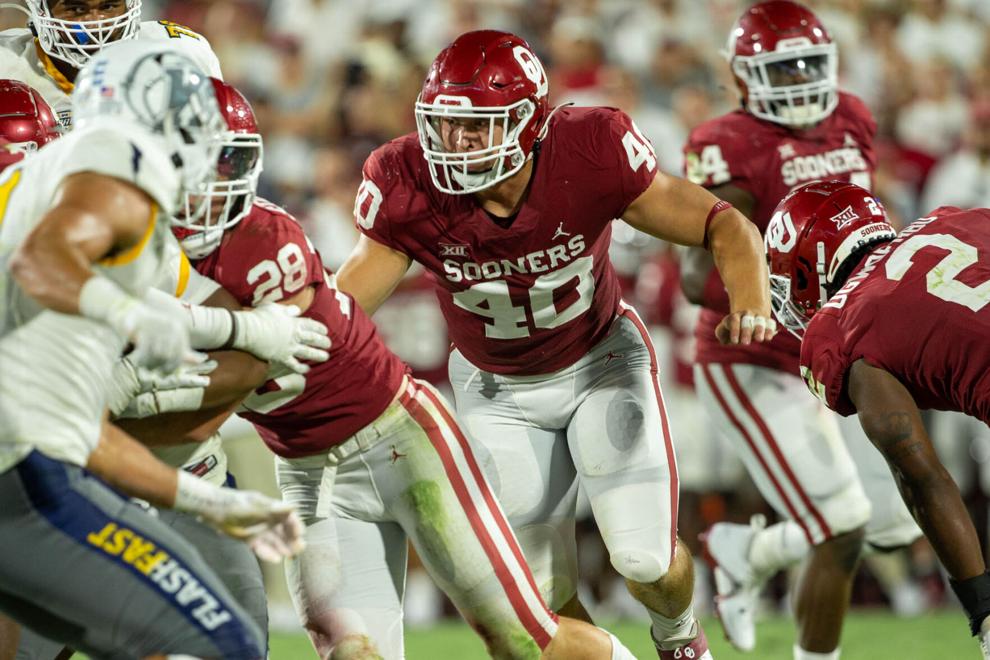 Downs likes Huskers' atmosphere
While Ethan Downs always wanted to play for Oklahoma as an in-state kid from Weatherford High School, he also considered Nebraska as a recruit.
"I actually went to one of their games on the recruiting visits and stuff," the sophomore defensive end said. "Getting to see the balloons rise up after they scored a touchdown and everybody's throwing up the bones and stuff. It's a really cool culture up there, a really cool tradition.
"And I would like to play against it, see how the stadium reacts to ups and downs. Being on the field, it's gonna feel completely different, so I'm excited."
Downs has collected 1.5 tackles for loss and sacks while starting both games OU this season. As he and the Sooners prepare to take on the Cornhuskers, blocking the outside noise emanating from Lincoln after Frost's departure will be a priority.
"We know it's a rivalry," Downs said. "We know they're a good team. They've got a lot of talent. And what's going on right now in Lincoln is really none of our business. They're still a team that we gotta face. We're gonna get their best. It's still a rivalry.
"You don't always know what's going to happen in a rivalry, so we're gonna bring a lot of energy, prepare like we continue to prepare every week and go after it."