Tre Brown got burnt once, but he's not going to be passed by again.
After Oklahoma's 45-34 loss to Alabama in the 2018 Orange Bowl, Brown and his father, Richard Prince, started getting phone calls. Brown, a Tulsa native, had always dreamed of playing for OU and, subsequently, in the NFL. Following a crushing College Football Playoff semifinal loss, his pro dreams came into focus, as scouts and agents alike were dialing his and Prince's numbers, fascinated with the 5-foot-10 cornerback who'd just finished his sophomore season.
He'd capitalized on the national spotlight, making a name for himself against some of the best receivers in the country. Minnesota Vikings tight end Irv Smith Jr., Denver Broncos receiver Jerry Jeudy and Las Vegas Raiders receiver Henry Ruggs III were among those he faced in the contest. So was DeVonta Smith, who won the 2020 Heisman Trophy and Biletnikoff Award and is a projected top-10 pick in the 2021 NFL Draft, and Jaylen Waddle, another Crimson Tide receiver who's a likely first-round choice.
On the sport's biggest stage he'd backed up a breakout sophomore campaign of 49 solo tackles and 12 passes defended. Based on the phone calls, Brown believed he was a strong candidate to leave Oklahoma after his junior year, if he booked one more productive season, being well positioned for the 2020 NFL Draft.
But after his third season, things got eerily quiet. Nobody ever explained to Brown and Prince why the calls stopped coming. Prince felt like Brown's less-than-spectacular junior year coupled with a draft class that produced six first-round cornerbacks quieted the hype. The buzz from Brown's stellar sophomore showing died out and he returned for his senior season with his NFL career still in reach but seemingly having more to prove.
Friday, at Oklahoma's annual Pro Day inside Everest Indoor Training Center, Brown created buzz in lieu of the NFL Combine, which was canceled due to COVID-19, before the draft from April 29 to May 1.
"I think this is the only opportunity he has left physically to prove to the NFL that he's worthy, trying to show teams that he's worthy of playing in that league," Prince said beforehand. "And then he'll make an impact for whatever team he decides to go to."
Brown, who's projected as a seventh-round pick by Pro Football Focus, wasn't going to miss his chance a second time. After making the winning interception in the 2020 Big 12 Championship game, he opted out of the Sooners' bowl game and declared for April's draft two days later.
"We just looked at it like 'it's time,' instead of coming back for another year," Prince said. "We'll just get it while it's hot."
'I'm gonna go out there and compete'
Despite suffering a minor injury during the final day of practice and missing the Reese's Senior Bowl, Brown drew rave reviews in preparatory workouts leading up to the Jan. 30 showcase in Mobile, Alabama.
He was named the American Team's top defensive back for the week by opposing wide receiver vote. And former Louisville receiver Dez Fitzpatrick, an expected fifth- or sixth-round pick in this year's draft who was the Senior Bowl MVP, listed him among the cornerbacks who impressed him most during the week. Brown shared that company solely with former Florida State cornerback Asante Samuel Jr., who's got a chance to be a first-round pick come April.
The #SeniorBowl MVP Dez Fitzpatrick (@dezfitz8) had high praise for two DB's he's competed against:Oklahoma CB Tre Brown (@T_Brown25)Florida State CB Asante Samuel Jr (@godschild3_) @TWSN___ pic.twitter.com/48DPKy0s4P

— Daniel Alameda (@DanielAlameda11) January 30, 2021
Around his time in Mobile, Brown was in Miami honing his craft with Pete Bommarito of Bommarito Performance Systems, who's well known for training draft prospects. Brown's been working side by side daily with Virginia Tech's Caleb Farley, who's the first cornerback off the board in NFL.com analyst Daniel Jeremiah's latest mock draft.
"I don't think he learned anything from Farley, so to speak," Prince said. "If anything, I think he may have shown Farley a few things. … It's sort of like iron sharpening iron, so to speak. He's working out with a highly touted kid that has a huge upside."
Soon, Prince said, he and Brown hope to form a training partnership with Los Angeles Chargers cornerback Chris Harris Jr., a fellow Tulsa native and Bixby High School product. Harris Jr. has 10 years of NFL experience with the Chargers and Broncos and working together might yield similar playing time for Brown.
Another player who's significantly helped Brown is Sam Ehlinger. In the 2018 Big 12 Championship game, he sacked the Texas quarterback for a safety that helped seal OU's 39-27 win. Then in the 2020 Red River Showdown, after having one interception negated by penalty, he picked off Ehlinger again to finish a 53-45 win in quadruple overtime.
#Oklahoma DB Tre Brown sacks Sam Ehlinger for a safety. pic.twitter.com/JbEqBh5GL6

— Steve Frederick (@_SteveFrederick) December 1, 2018
Lastly, it's the game winning interception by Senior CB Tre Brown (@T_Brown25). It's an overthrow, yes, but Brown still makes a really good read here and follows Ehlinger's eyes, that's how he got this ball. It was a high scoring game, but there was still some great defense here. pic.twitter.com/P4YM3NEDa0

— Mark (@HeaneyNFLDraft) October 16, 2020
And even after leaving OU, Brown still tormented his old rival, who is a likely fifth- or sixth-round draft pick. Ehlinger tossed one of Brown's two interceptions in practices before the Senior Bowl.
You never see picks in 1-on-1'sOklahoma CB Tre Brown got a pick in 1-on-1's pic.twitter.com/2zQwrGQ1n8

— PFF Draft (@PFF_College) January 27, 2021
Doing some work on Oklahoma CB Tre Brown and marvelling over this play from #SeniorBowl week. Worth noting that the receiver is Frank Darby, who's extremely physical but Brown has the measure of him here#TheDraftStartsInMobile #NFLDraft pic.twitter.com/Tjk0pxE8bw

— Oliver Hodgkinson (@ojhodgkinson) January 28, 2021
"If it was anybody else, I'd still do the same thing," Brown said Friday. "He just happened to be in the wrong place at the wrong time. … He's like, 'Bro, you got me again.' I'm like, 'Ah, nah don't throw that out there, you know, we're just competing.' … But I'm gonna go out there and compete with whoever, whatever (and) make plays."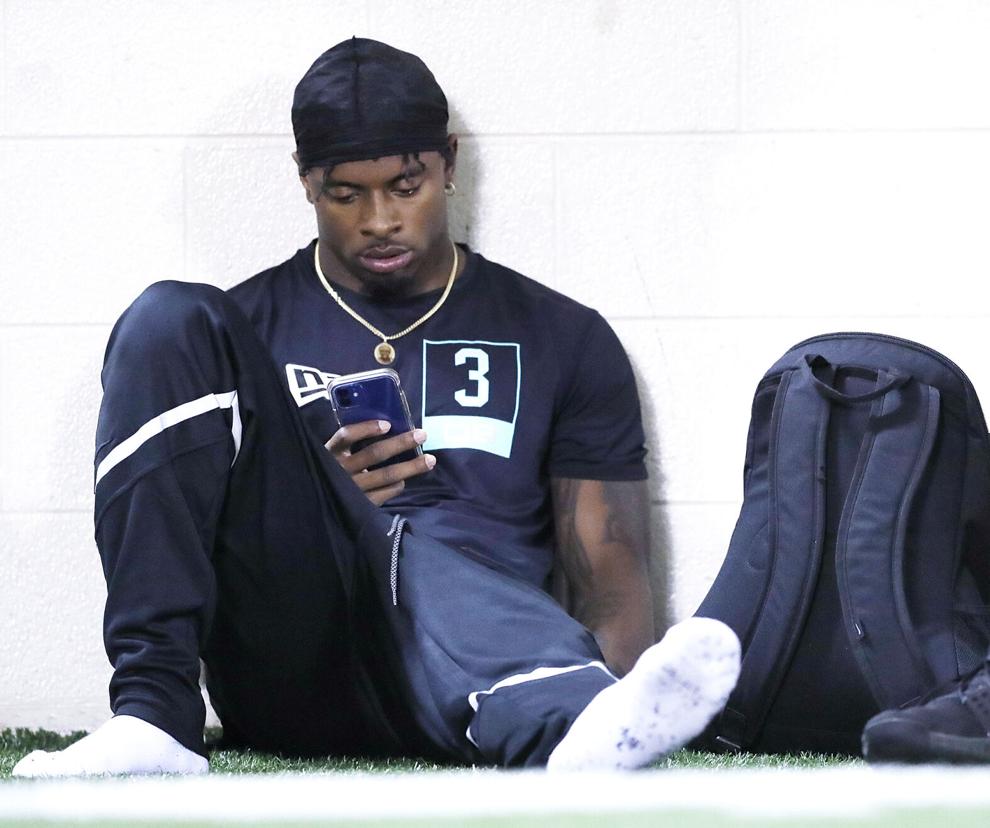 'We could just drive right up'
Regardless of where Brown lands in the NFL, there's one family member who he believes is always watching. That's his mother, Beverly Brewer, who died Oct. 14, 2018, six days before his second career start came against TCU in Fort Worth.
Several of Brown's teammates served as pallbearers at Brewer's funeral that week, and the team dedicated its 52-27 defeat of the Horned Frogs to her. And when Brown took the field two-years later ahead of his last game as a Sooner at AT&T Stadium, she was all he could think about.
"His mom has always been a huge part of his life just like everyone else's mom," Prince said. "Your mom is your mom. So for him, losing her, it hurt him. ... But he's a very strong-willed kid and he's as motivated as he's ever been. And he's dedicated everything he's doing to her and honoring her and her memory."
While the New York Giants, Brown's favorite team, could be a fit, they're not among the teams The Draft Network considers most cornerback-needy, like the San Francisco 49ers, Denver Broncos, Arizona Cardinals and New Orleans Saints. 
In fact, it's an NFC East division rival of New York's that's perhaps a more fitting suitor for Brown's services. The Dallas Cowboys reside just 275 miles from Brown's native Tulsa, opposed to a 1,342-mile flight to MetLife Stadium in East Rutherford.
What's more, Brown is already famous for multiple plays he's made in AT&T Stadium. In addition to his sack safety against Ehlinger in 2018, his high-speed chase down of Baylor receiver Chris Platt that saved the Sooners' 2019 Big 12 Championship happened there. And after he intercepted Iowa State quarterback Brock Purdy to win the 2020 conference title, teammates and friends began calling the venue "Tre T&T Stadium."
Incredible effort by Tre Brown to run down the Baylor WR from behind and stop the go-ahead touchdown.Oklahoma's defense would go on to hold the Bears to a field goal and a 23-23 tie.#OUDNA | #BoomerSooner pic.twitter.com/hKua5IgbKq

— Sooner Gridiron (@soonergridiron) December 7, 2019
Tre T&T Stadium 🤣

— Tre Brown (@T_Brown25) December 19, 2020
Brown also has former OU teammates on the Cowboys' roster in defensive tackle Neville Gallimore and wide receiver CeeDee Lamb, who were both selected by Dallas in the 2020 NFL Draft.
"We wouldn't mind getting drafted by the Cowboys," Prince said. "He wouldn't mind it either. Of course, (Lamb) is a guy that he's really close to and played with as well, and that would be pretty cool for him to link up with one of his old teammates. … So I mean that would definitely be amazing for our family for him to do that. … We could just drive right up."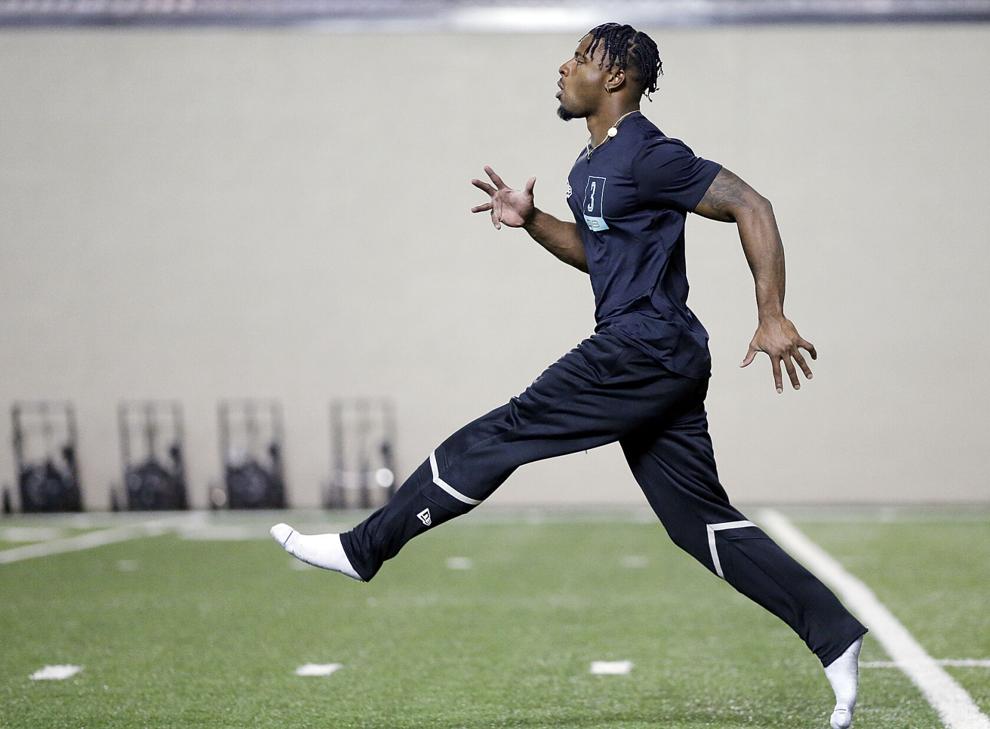 'You're getting a relentless guy'
Ahead of Friday's event, Prince said Brown was disappointed.
With few media or visiting attendees inside the Sooners' indoor facility, the spotlight wasn't entirely what he'd anticipated. A night owl, he wasn't thrilled about attempting timed sprints in the morning.
Regardless of the energy in the building, Brown brought his own. He ran the Sooners' top 40-yard dash of the day at 4.4 seconds and the top 20-yard shuttle at 4.27 seconds. He also had OU's best vertical jump at 38 inches. Brown created buzz where there was little due to COVID-19.
Quick turnover. @T_Brown25 💨 🎥 https://t.co/XhOdfeJeYP pic.twitter.com/h0E6Byesbu

— Oklahoma Football (@OU_Football) March 12, 2021
While not all the best cornerback prospects have held their pro days yet, Brown stacked up admirably to one who did compete Friday. Northwestern's Greg Newsome II, who's No. 21 overall in Jeremiah's latest mock, ran a 4.38 second 40-yard dash and had a 40 inch vertical.
"I definitely thought I was gonna run faster," Brown said. "But I still felt like I ran pretty fast."
Brown later added he feels he's speedier than Seattle Seahawks receiver DK Metcalf, who at 6-foot-3, 229 pounds, ran a 4.33 second 40-yard dash at the 2019 NFL combine. Ironically, during the 2020 season Metcalf made a play like Brown's 23.3 mph capture of Platt. After an interception, he ran down Arizona Cardinals cornerback Budda Baker at 22.64 mph.
Brown's speed also makes him a special teams candidate, and he got plenty of experience there at OU. He's returned 58 kickoffs for 1,207 yards in his college career, including a 43-yarder during his compelling final game with the Sooners.
Brown has chosen The Sports and Entertainment Group as his representative agency. The group also assists Buffalo Bills receiver Stefon Diggs, free agent running back Le'Veon Bell and retired 9-year NFL veteran Maurice Jones-Drew, who starred at running back for the Jacksonville Jaguars.
• P R O D A Y • Wishing @T_Brown25 all the best at his @OU_Football Pro Day today! #NFLDraft2021 #TreBrown #IAmTreBrown #TSEGClientNews #Sooners #SoonersFootball pic.twitter.com/vywJ8ybvly

— TheSportsEntGroup (@TheSportsEntGrp) March 12, 2021
The group uses Jones-Drew in its marketing, and had the three-time 1,000-yard rusher interview Brown on March 6. They briefly profiled Brown while recapping all the highly-celebrated plays he's made when the lights are brightest.
At the end, Jones-Drew asked what teams are getting in the player who's looking to represent his mother, family, OU and Tulsa at the next level. His answer mirrored his play when running down Platt, and throughout his time with the Sooners. It's the same tenacity that compelled him to come back for one more year, prove his worth and grab his second chance to jump to the NFL.
"You're getting a relentless guy," Brown said. "A guy who can do anything on the field without question. He gives everything his all, and that's the guy you're gonna get on the field."
• I AM • TSEG SERIES featuring our 2021 NFL Draft Class... ✨Meet @OU_Football CB and #2021NFLDraft Prospect Tre Brown @T_Brown25 #IAmTreBrown #NFLDraft #NFLDraftNews #IAm #TSEG pic.twitter.com/hDJids3mQw

— TheSportsEntGroup (@TheSportsEntGrp) March 6, 2021