Mykel Jones fled New Orleans before Hurricane Ida slammed the Gulf Coast on Sunday.
He sought refuge with relatives 150 miles away in Lafayette while others in his family traveled on to Dallas to escape the torrential Category 4 storm. As of Thursday, the hurricane has killed more than 25, shattered the main power grid in New Orleans and left thousands without electricity and others lacking nourishment and shelter.
Jones, whose neighbors recently informed him his place in New Orleans is fine but without power, is lucky after the area's worst catastrophe since Hurricane Katrina in 2005. Still, he doesn't expect to return home for at least two more weeks.
In the meantime, the former Sooner turned Green Wave is just looking for a way to watch a football game between his old teams he'd hoped to play in. OU and Tulane were scheduled to face off Saturday in New Orleans but have since moved the contest to Norman in Ida's wake. While Jones' OU career didn't match on-field expectations, his development beyond the game is a point of pride for the few who know not only the winding and unexpected paths he's taken, but also how he's walked along them. 
"We change lives, and the role of athletics plays a critical role in the life of a university," OU President Joseph Harroz told regents last month. "It is additive well beyond the playing fields."
Those words — meant about all Oklahoma student-athletes — fit hand-in-glove when considering both what Jones gave, and got, in his four seasons in Norman, even if much might not have been in the public eye. Sitting in relative safety this week, reflecting on his past and clear about his future, Jones spoke of his journey and the influence of the university on him as not just an athlete, but also as a man. It's a story of teammates and injuries, of racism and response, of new mentors and altered mindsets.
It's a story that illustrates how the game is much bigger than four quarters, 60 minutes, 100 yards of Bermuda grass, over 120 players lining two sidelines or the 50,000 expected to attend a likely 30-point blowout to open Labor Day weekend and the 2021 season in which the Sooners are expected to contend for their eighth national championship.
It's a labor of love, of lasting consequence, of life-altering possibility. As Jones turns the page to a new life, he says he wouldn't be ready to move on if not for his experiences in Norman and New Orleans. 
"I'm so thankful for how everything played out," Jones said. "I'll take all of my talents, all of my focus into my next chapter. I'm bringing everything I've learned up to this point. … It's sure been a really fun journey, and I'm excited for the future."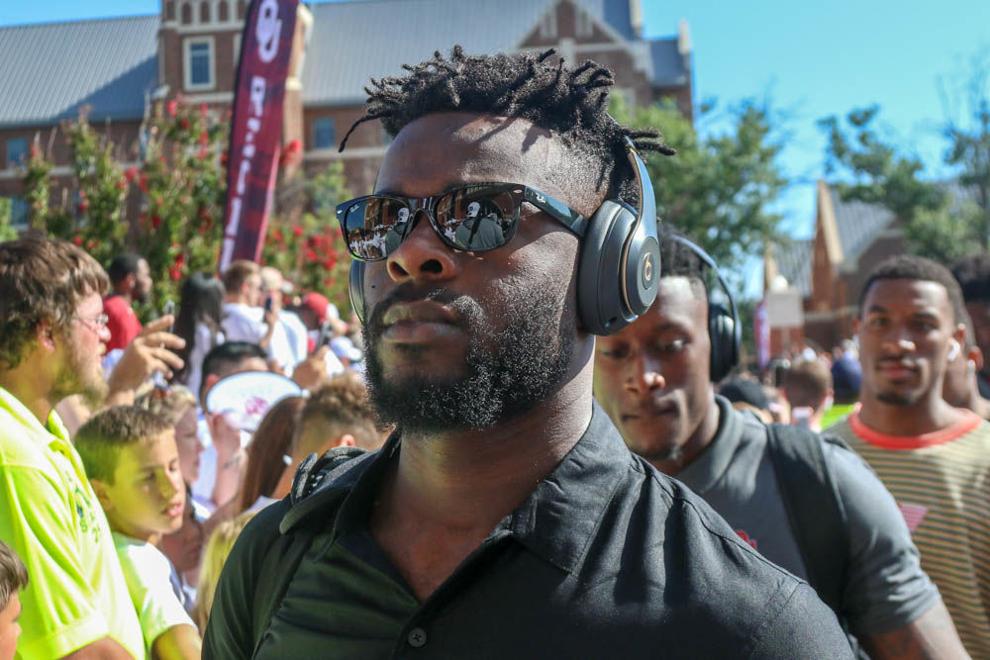 'We carried the torch'
A native of Patterson, Louisiana, a town of just over 6,000 an hour and a half west of New Orleans, Jones was once a four-star wide receiver who'd loved football his entire life. He held offers from Alabama, Clemson, Georgia and LSU among others and was the highest rated receiver Oklahoma signed in the 2016 recruiting cycle. Upon arriving in Norman he looked poised to step into the shoes of newly departed Sterling Shepard and Durron Neal.
At OU, Jones grew as more than a player. He found a mentor and a voice beyond the game that usurped Norman's tendency, especially during football season, to label student-athletes as entertainers, university moneymakers and nothing else. His growth off the field enhanced the distinct maturity he carried from OU to Tulane.
During his four seasons at OU, Jones made just 33 catches for 495 yards and battled a hamstring injury in 2018, becoming a forgotten man to many fans. After the 2019 season, Jones transferred to Tulane, hoping to earn more playing time and rejuvenate his NFL aspirations. He started six games during the Green Wave's 2020 season but suffered a significant knee injury near the end. After a shaky comeback bid in 2021 fall camp, he recently decided to medically retire from football.
"It wasn't easy," Jones, who's pursuing his master's degree in sports studies, said of his choice to hang up his cleats. "You build these bonds on these teams and you go to war with these guys every day, working towards a common goal. That's not something to take lightly and it definitely wasn't easy to let go." 
Before Jones' transition to Tulane opened the door to his future, he was forever changed by opening another door — that of Oklahoma Memorial Union Suite 265, the office of David Surratt.
In January 2019, Surratt became his alma mater's new vice president of Student Affairs and dean of students and was quickly introduced to two football players who were very curious to meet him. Through discussions with OU's coaching staff and director of football operations Clarke Stroud — the previous dean of students — Surratt met safety Pat Fields and Jones, who wanted to learn more about his work in racial equity. 
"When I talked to Mykel, I remember trying to explain to him the power and influence that he has and his platform as a student-athlete," Surratt said. "And that also, making sure he was aware, though, of what those implications were, what pressures he might face — he, or Pat or others on the team might face — as they try to navigate speaking out on certain social issues, and what types of potential positives and negatives that could occur, and how to prepare themselves. That was kind of how we started that relationship."
Over time, Surratt's connection with Jones progressed to daily text messages, occasional meals and regular conversations that transcended football. Their talks typically centered on ways to become better people and their bond gave Jones a person he could rely on — something Surratt says not every college athlete playing a big-money sport attains.
"I really do hope that any of our scholar athletes take advantage of their opportunities here, and part of that is making sure they reflect on the fact that their life brings so much joy and meaning, both within and outside of sport to other people," Surratt said. "And I think that that's always something that I hope that they reflect on.
"I try to be as available as possible to those who want to receive that, who want to engage in a relationship that is learning outside the classroom. And so that's something I liked about Mykel is that he was a sincere guy, and he's also someone who never got super distracted or super obsessed with the idea of that limelight."
Surratt's return to Oklahoma followed an extensive series of intolerable events. On March 7, 2015, OU experienced one of the worst racist incidents in university history. Video surfaced the following day of members of the Sigma Alpha Epsilon fraternity performing a song that included racial slurs, resulting in the chapter's eventual closing and two students who led the chants leaving OU.
In response, linebacker Eric Striker, offensive lineman Ty Darlington and a handful of other football players united the Sooners' roster in demonstration. The team marched across campus arm-in-arm and clothed in black in a March 9 protest, held a series of internal discussions about racial equity and canceled spring practice for 14 days coming off a season in which they went 8-5. 
As the events unfolded, Jones, a high schooler who would commit to Oklahoma less than a year later, was watching intently, 600 miles from Norman.
"Eric Striker and them, whether they knew or not what they were starting up, it's something that we carried the torch," Jones said. "We don't take it lightly when racial slurs are going on."
Fast forward nearly four years after the SAE incident and Jones found himself amid another cultural reckoning at the university. On Jan. 18, 2019, a video arose of two students wearing blackface and saying a racial slur. Later that week, an individual was seen wearing blackface around OU's campus.
Members of the football team embraced activism anew, participating in the "Better Together" campus march on Jan. 24, six days before Surratt was appointed and subsequently met Jones. Defensive lineman Neville Gallimore, linebacker Kenneth Murray and defensive back Tre Norwood — all OU stars now playing in the NFL — were among those on the front lines that day. Right to Gallimore's left was Jones.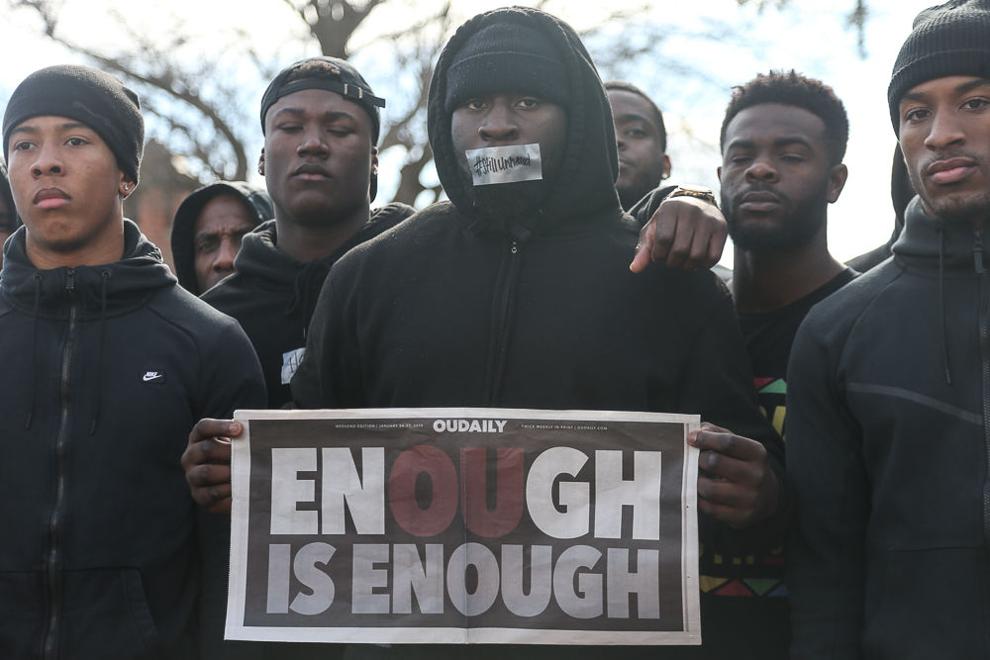 "I just felt like that was a time where everybody needed to come together," Jones said. "Like, it was mandatory, because what happened wasn't OK, and it was a few occurrences. Our voices meant a lot on the campus, so once we got behind it that's the only way we felt like we could see change."
Through activism and learning to use his growing platform as Surratt would soon help show him, Jones forged a public identity beyond football.
That extended to Jones' involvement in the Fellowship of Christian Athletes, another pursuit that changed him at OU. One of his favorite memories was traveling with linebacker Caleb Kelly and other teammates to speak at a church in Tishomingo, a town of about 3,000, two hours southeast of Norman.
"When we left, Mykel had 100 fans in Tishomingo, and from that point on they really loved him and enjoyed his company," said Jeremy Tims, the FCA area director. "He was a very quiet, to himself person, but he recognized the influence that he had as a football player and basically just made the choice to get out of his comfort zone and go speak."
It wasn't the only time Tims saw Jones captivate a crowd.
As he returned from his halftime bathroom break at the 2017 Big 12 Championship Game, Tims could hear a roar. He emerged from the stadium tunnel just in time to see Jones trot into the end zone for his first collegiate touchdown after taking a short pass from Baker Mayfield 55 yards on OU's first play of the second half. With family present, Jones experienced the highest point of his playing career with the Sooners and helped them pull away from TCU to win 41-17.
55 days until Sooner Football. Mykel Jones' 55 yard TD in the '17 Big 12 championship game started to pull OU away pic.twitter.com/2d9vNLm5hC

— Barstool Sooners (@OUBarstool) July 12, 2020
Now, four seasons later, that play is a fleeting moment, and perhaps the only lasting reminder of Jones for some Oklahoma fans.
"When I meet with some of our guys and our women in our different sports programs, one of the things I share with them is that they're coming to a place like Oklahoma because they are amazing at their craft, but they also have to recognize that our bodies are literally designed to eventually fail us," Surratt said. "And so with that in mind, there's going to be some that reach the height of their careers and professional careers and hit that level. That's fantastic, that's amazing, and I hope that they get that.
"But I also urge them and encourage them to figure out what other lessons in life that they should be learning, because they have to always remember that there will come a time where those lessons will be far more long lasting than their time on any playing field."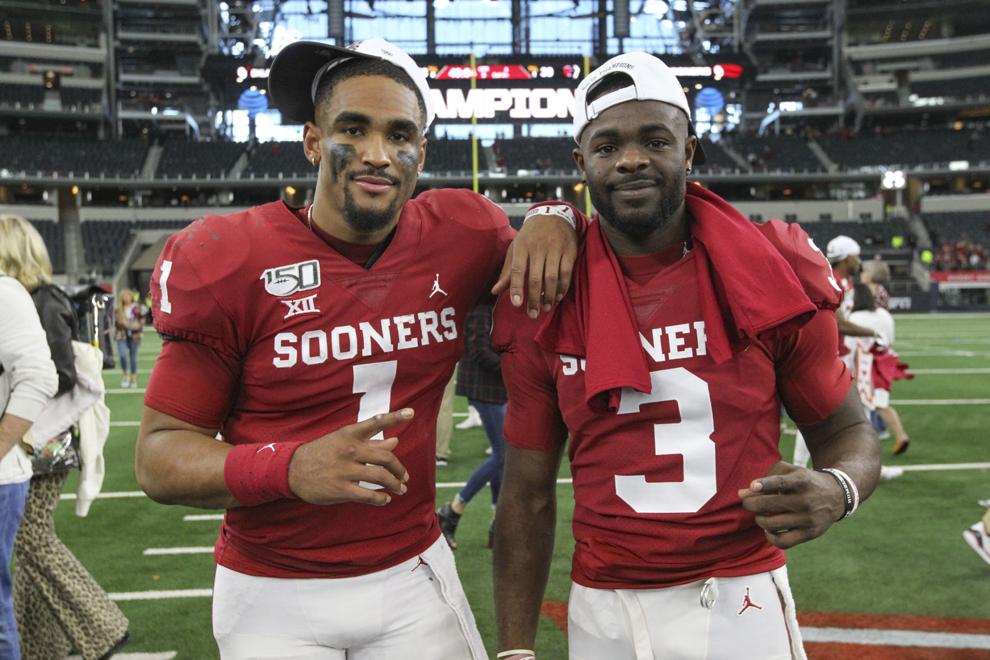 'I've set myself up off the field'
In 2019, Jones became the confidant of another quiet team leader, Alabama transfer quarterback Jalen Hurts. After winning the national championship with the Crimson Tide, Hurts became a Heisman Trophy finalist and led the Sooners to the College Football Playoff. But on the field that season, Jones' production slipped from a career-high 16 catches for 310 yards in his promising 2017 season. After sustaining a hamstring injury in 2018 preseason camp he caught just two passes each of the next two seasons.
Ten players from OU's 2019 roster — little over nine percent of the team — are currently on an NFL squad. Despite the miniscule odds, Jones still dreamed of jumping to the next level. He entered the transfer portal that December, and skipped Oklahoma's Peach Bowl matchup against LSU, his home state team.
Fields recently said it was difficult to see Jones leave after how close they'd grown. Sooners coach Lincoln Riley described Jones as a team favorite who was always trying to help others succeed. As Riley details it, some players' decision to transfer, like the recent departure of running back Tre Bradford, tends to make coaches "scratch your head a little bit." But to Riley, Jones' pursuit of better opportunity made perfect sense.
"(He) had a positive attitude, had a lot of different roles … but was always a team first guy and very competitive," Riley said. "He made us better when he was here."
Jones announced his transfer to Tulane on Jan. 27, 2020, considering it "a win-win opportunity" to play closer to home and continue his NFL pursuit. During his first season with the Green Wave he caught a touchdown pass in an overtime loss to SMU and collected 11 receptions for 154 yards.
In New Orleans, the same positivity Riley noticed at Oklahoma became evident to Jones' new teammates. Green Wave sophomore linebacker Nick Anderson said Jones' OU experiences helped him impart unprecedented wisdom to other receivers and even defensive players.
As the 2020 season wound down, Jones was excited to gain a sixth year of eligibility courtesy of COVID-19. He envisioned a breakout 2021 season followed by a flashy Pro Day that would propel him to the NFL. But much like Jones' football aspirations at OU, his Tulane career didn't progress as anticipated.
In Tulane's regular season finale against Memphis, Jones re-tore the ACL he first damaged as a high school senior. He soon began a nine to 12 month rehab process and hoped to still play his extra season, but amid Tulane's 2021 fall camp neither he nor the program's medical staff felt comfortable clearing him for competition.
Just weeks ago he approached Tulane coach Willie Fritz with his decision.
"I just thought it was best for me to retire and take care of my body and take care of my mind," Jones said. "And in having set myself up (for the future by) going to OU, going to Tulane, I just started weighing my options. And it's like, I don't have to put my body on the line because I've set myself up off the field good enough to where I can make that decision and be at peace with it."
While Jones' NFL dream was over, his academic experiences in Norman and New Orleans prepared him for life beyond football. One of Surratt's favorite memories, he said, is standing with Fields by Jones as the veteran receiver graduated from Oklahoma with his bachelor's degree in human relations in December 2019.
This fall, Jones will graduate from Tulane with his master's degree and intends to intern with Tulane's athletics department in a marketing and branding position, gaining real world experience while staying close to home.
"It's going to be great to still have him around in the program and have his face where I can see him, because somebody like Myk has great character and that's somebody who is always positive," Anderson said. "I'm going to miss strapping it up with him, but I'm glad for him to still be around."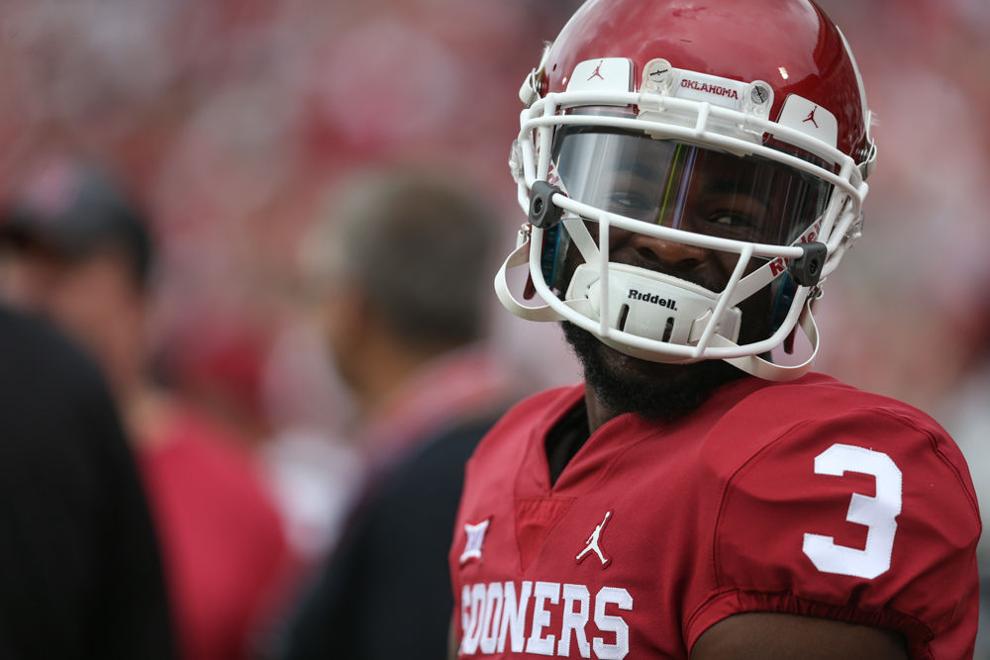 'He's at peace with it'
As the severe weather bore down on the Gulf Coast this week, Surratt messaged Jones for a check in.
"I think the last text I actually sent him was saying, 'I'm proud of you,' just for making the decision you needed to for yourself about the medical retirement, and hoping that he's at peace with it," Surratt said. "He assured me that he was, and I'm really glad about that.
"I'm just really glad that he understands that there's more to life that makes him who he is than being on the field, and that's probably more fulfilling and rewarding in itself than anything."
Jones' college career may not have unfolded like he hoped, but formative experiences at OU and Tulane readied him for life beyond football. 
"Although I'm not out there, there's that little tiny part of me that's always going to be there," said Jones, who'll be looking for a way to stream the 11 a.m. kickoff Saturday.
"Overall, I'm at peace with my decision, and I'm just rooting for those guys."