This three-part series, reported through personal narratives over five months, examines the ramifications of head injuries in college football and what it means for the future of the sport.
Chapter 1: Rickey Dixon reflects on a Hall of Fame career that's killing him
Chapter 2: Two Sooners injured in same game find different answers to central question
Chapter 3: Joe Castiglione, athletic director and father, peers into the future of football
---
CHAPTER 1
DeSOTO, Texas — Rickey Dixon barely dents the mattress.
The only noise is the television softly playing gospel music and the humming of his ventilator.
In a few hours, family and friends will surround Rickey to celebrate his life and athletic accomplishments at Wilmer-Hutchins High School. But first, I have an interview with the former All-American football player.
Rickey's Eyegaze — a tool that allows him to communicate through the direction of his eyes — is broken that day. So his son, RJ, and niece Micah, help Rickey answer my questions by holding a yellow sheet of paper in front of him with all 26 letters of the alphabet printed on it.
Rickey tries his best, mustering all his strength to lift his withered arm to point at the letters. But his wavering hand and shaky fingers prove too much, leaving RJ and Micah to often guess what he's trying to convey.
After an hour of short answers and growing frustration from Rickey, it's time try something different. I pull out my laptop and play a four-minute highlight video of Rickey's hall of fame football career at Oklahoma.
At first, Rickey begins to smile. Then, he begins to cry.
"G...r...e...a...t    c...a...r...e...e...r," he says after watching the video. It takes him two minutes and 58 seconds to point out those 11 letters.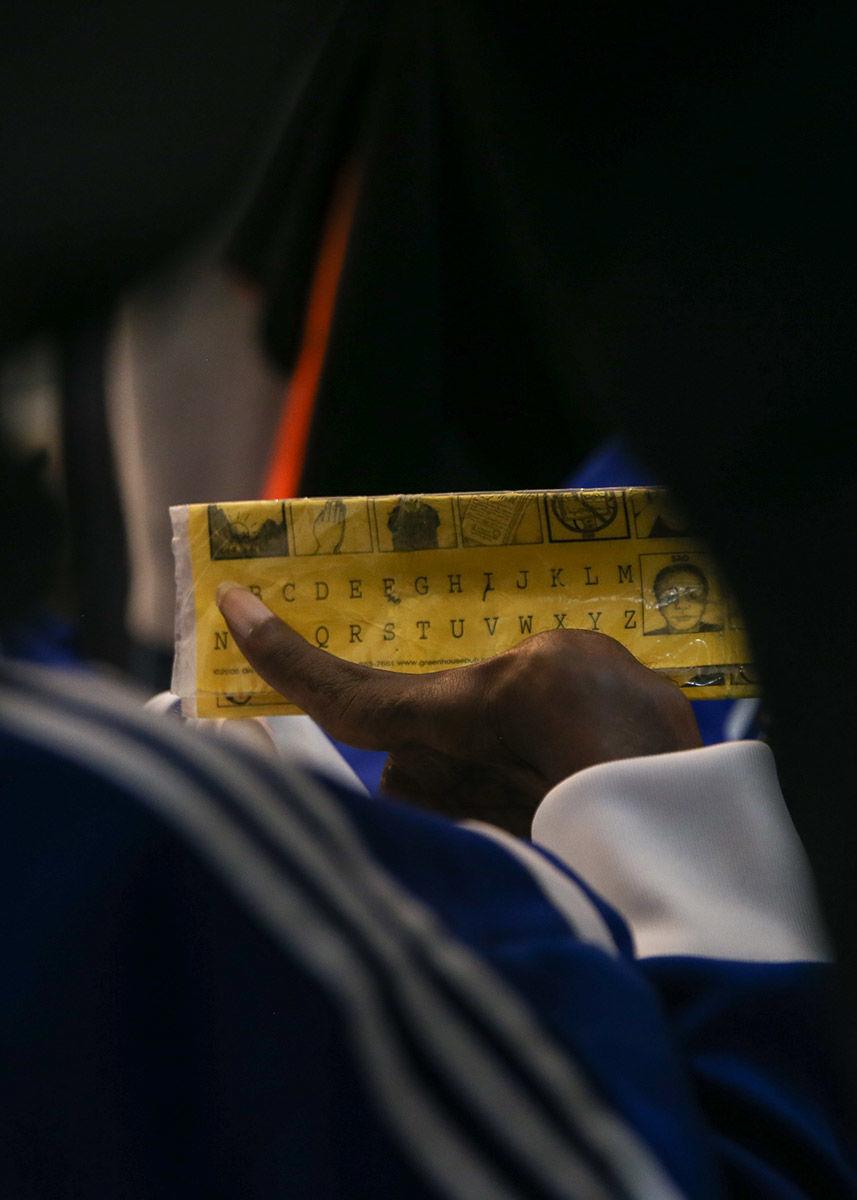 Rickey, 52, is an enigma. The once elite athlete now can't talk, walk, eat or breathe on his own.
In 2013, he was diagnosed with amyotrophic lateral sclerosis, or Lou Gehrig's disease — a fatal condition that slowly causes a person's nerves and muscles to deteriorate until the body can no longer function. It steals all physical abilities, leaving only the ability to think. Patients typically live three to five years after being diagnosed. If he makes it to July, Rickey will enter year six.
Just 30 years ago, Rickey was an esteemed football player. Known for his aggressive style of play and hard, head-first hitting, he was one of the best safeties to ever come through Oklahoma and play for Barry Switzer. He was the fifth overall pick in the 1988 NFL Draft and played six seasons in the NFL — five for the Cincinnati Bengals and one for the Los Angeles Raiders. In January, Rickey was named to the College Football Hall of Fame as a member of the 2019 class. If he makes it to December, he'll be inducted with his kids representing him at the ceremony.
His football career has come at a price though. A price that he, and many other players, didn't know they were paying. Rickey's generation helped propel football to become the beloved sport it is today. But as many of those players begin to suffer the long-term consequences of the game, fans and players alike have become concerned for its future.
According to him and his family, Rickey's ALS stems from undiagnosed concussions he suffered during his football career, something he had no idea would affect him later in life.
"Repetitive concussions can lead to accelerated neurodegeneration in patients who already have an underlying neurodegenerative condition," says Alexandra Stillman, the director of concussion, traumatic brain injury and neurorehabilitation at Beth Israel Deaconess Medical Center in Boston. "In that vein, there have been animal models that show that concussions speed up underlying ALS pathology."
The Dixons recently received $4.5 million from the more than $1 billion class-action settlement the NFL paid former players in 2017. In the ambiguity about ALS causing concussions, this is a point of clarity: The NFL agreed it was complicit in some of his situation.
While Rickey's circumstance is rare in that only a handful of other football players have been diagnosed with ALS due to concussions — among them O.J. Brigance, Steve Gleason and the late Dwight Clark — his fate remains the same as many other former players who also suffer after their playing career ended.
Boston University's Chronic Traumatic Encephalopathy Center, the nation's leading institution on head injury research, has conducted extensive research on CTE and other long-term consequences of repetitive brain trauma in athletes. The center has recently reported doctors are on the verge of diagnosing living people with CTE — a major step in their research.  
But for players like Rickey, who never had that information available, it leaves them and their families to answer the question, Was it worth it?
"He used to hold me in one hand," RJ says. "Now I'm the one carrying him."
***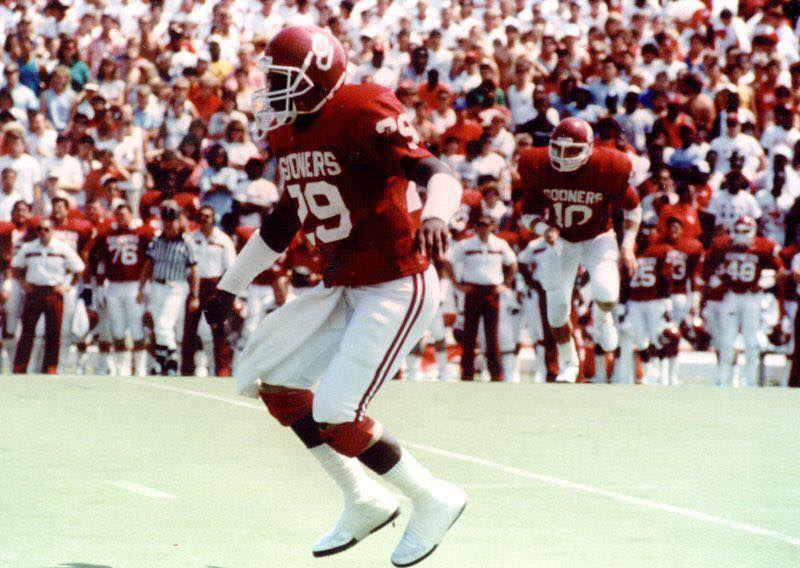 Barry Switzer gave Rickey an assignment each time he visited him at Wilmer-Hutchins High School on a recruiting visit.
Eat two Big Macs.
Rickey, 17, was fearless despite his size. When Switzer first saw him play, Rickey turned his thin, undersized frame into a missile as he demolished his opponent. He was reckless with his body, becoming a fierce and dependable tackler of players 30 to 40 pounds heavier.
"He had great speed, great quickness. And he threw his body around like he was a 200-pounder," Switzer says. "He wasn't afraid. He challenged everybody."
Other schools thought Rickey was too small to play Division I football, but Switzer saw potential in the defensive back because of the way he played the game and gave him a scholarship to play for the Sooners.
"I just needed him to gain a little weight," Switzer says.
The morning after Rickey arrived to fall camp in 1983, Switzer gathered all the freshmen to introduce them to Rickey, then just 5-foot-10, 160-pounds. OU's top defensive back that year, Keith Stanberry, was 6-foot-1, 202 pounds.  
"I know what every one of you is thinking. 'Why in the world is he here?'" Switzer said to the team. "Well, let me tell you right now. He's a better athlete than anybody here, he's faster than anybody here, and he will knock you on your ass."
That's what Switzer liked most — the "knock you on your ass" part.
Rickey started all four years, and by senior year, he was playing close to 180 pounds. He had become one of the fiercest hitters in college football and an All-American.
He helped Oklahoma win the 1985 national championship his sophomore year and still holds the school record for most interceptions in a season (8). He also won the Jim Thorpe Award his senior year as the nation's top defensive back.
"He was one of the best damn athletes," Switzer says, "I've ever coached."
Thirty-two years later, Rickey weighs 102 pounds and can't get out of bed without help.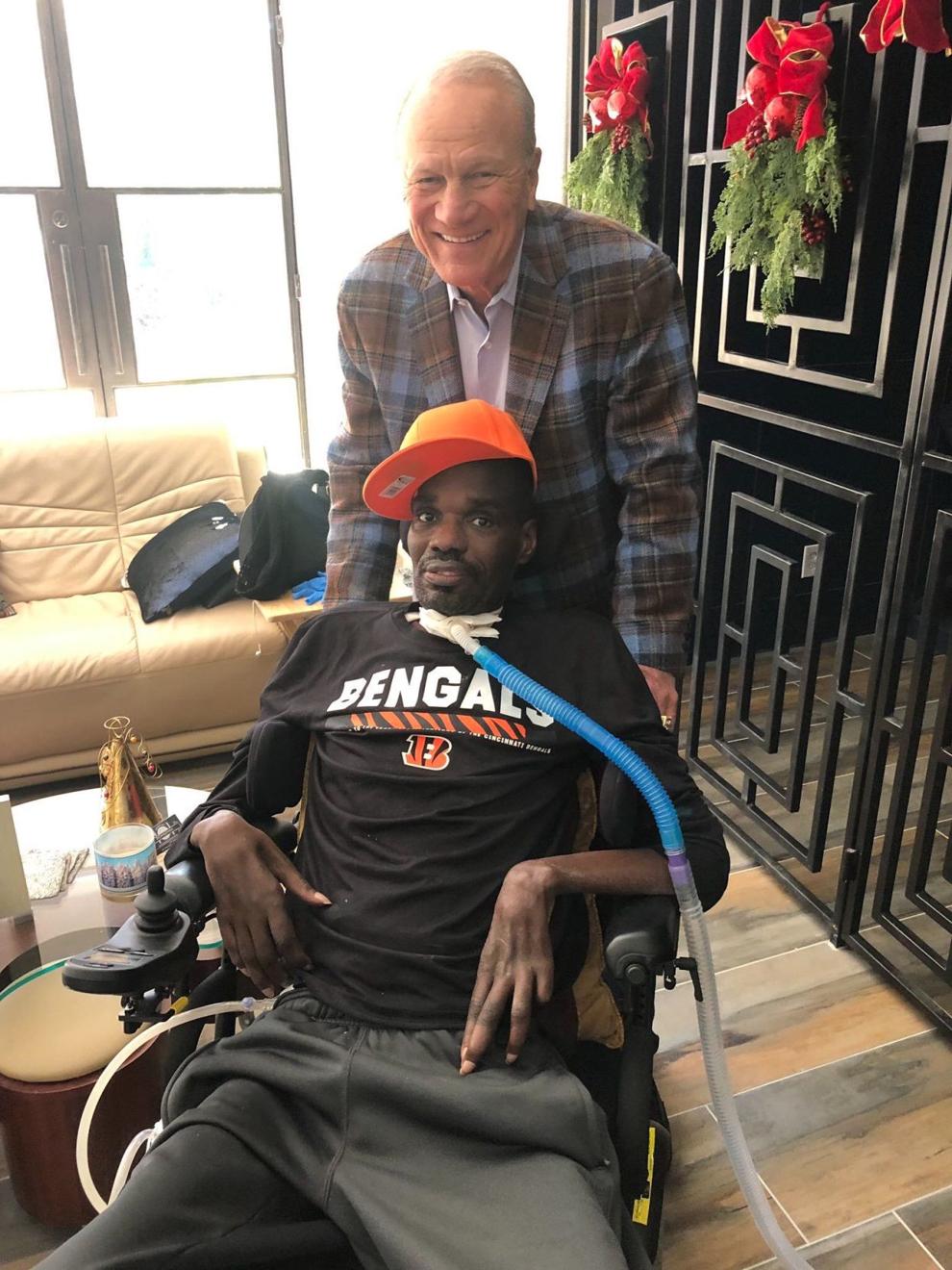 "How could that happen to such a great athlete like that?" Switzer asks. "I could see how he could have CTE because of the way he hit and because of how physical he was. But I was shocked."
The irony is that Rickey was never diagnosed with a concussion during his career at Oklahoma or in the NFL. He says he's never experienced CTE symptoms. But according to Rickey and his family, he played through undiagnosed concussions andhis ALS is a direct result of the way he played years ago.
When I asked if he would play the game differently, Rickey smiles.
"I   w...o...u...l...d    p...l...a...y c...o...r...n...e...r...b...a...c...k," Rickey responds in a minute and 42 seconds.
When coaching, Switzer had no knowledge that football could potentially cause a disease like ALS or CTE. No one did. Today, when Switzer sees former players — many of whom view him like a father figure — suffering, he has no answers. His view on football remains unchanged despite Rickey's condition, but he recognizes the issue at hand.
"I've always known it's been a very physical, violent game that you can be injured in many ways physically and mentally. The players know that when they play the game," says Switzer, who coached football for over 30 years, won three national championships, sent over 100 players to the NFL and won a Super Bowl himself as coach of the Dallas Cowboys after leaving OU. "You drive a car, you know it's dangerous. You go on the field and play football, you know it's dangerous. Players are willing to do it.
"But we know there's a problem and we do everything we can to try and prevent it — every year we come up with new equipment, new rules and all sorts of stuff. But I don't know how they'll ever eliminate the game."
Switzer visits Rickey a few times a year, knowing his condition is worsening by the day. Many of Rickey's former teammates also visit, including former All-American tight end Keith Jackson, Rickey's most frequent guest. Rickey texts his old coach and teammates nearly every week, sending them articles about ALS and the research being done in hopes of finding a cure.
Switzer, who lobbied for Rickey to be inducted into the Hall of Fame, hopes his former safety can make it a few more months.
"We all know what that disease does," Switzer says. "We all know it's coming."
***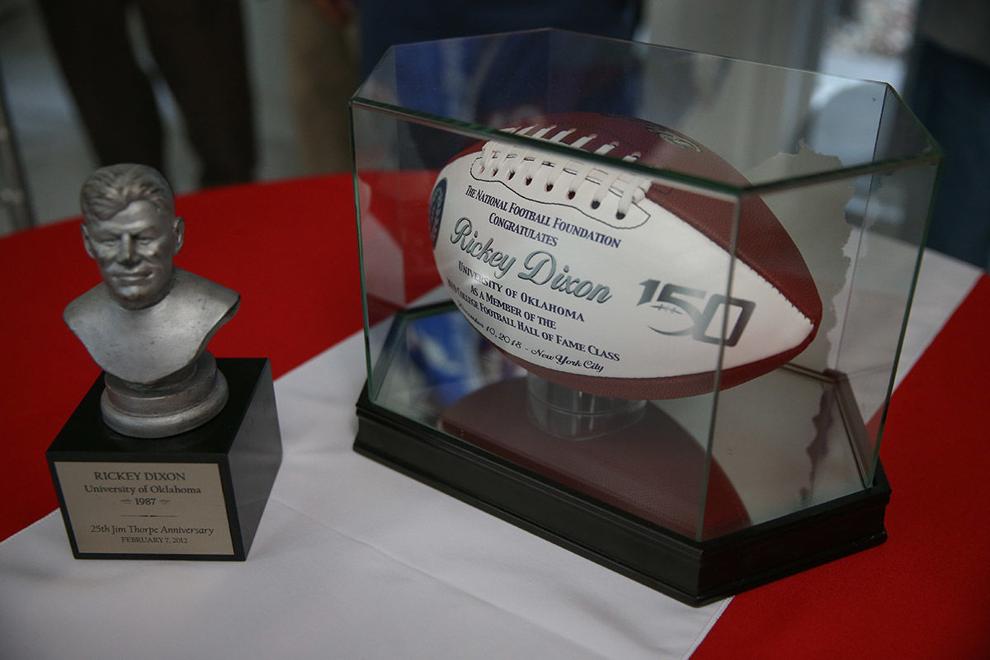 Rickey's wife, Lorraine, stood in silence, absorbing the news.
"He has ALS," Rickey's doctor said in July 2013. "Do you know what this means?"
Lorraine quietly nodded, holding back her emotions. She knew her husband, then nearly 195 pounds, wasn't going to be the man he once was.  
But then the doctor asked about their four children.
"That's when everything broke for me," says Lorraine, who met Rickey on the South Oval walking to class and has been married to him for 25 years. "We just sat there and cried."
Lorraine didn't know what ALS was. After Rickey's first symptoms — losing feeling in his hands, falling off the treadmill — the doctor mentioned it could possibly be the fatal disease. Lorraine did a Google search and couldn't believe what she was reading. There was no way her Rickey, the elite athlete who could pick up their kids with one hand, had ALS.
"It's hard on a family because you watch a loved one basically deteriorate before your eyes..." says Lorraine, who is an agent for the Environmental Protection Agency in Dallas. "But Rickey has a strong will. He has a strong faith in Jesus… There's a reason he's been able to make it this long."
Rickey and Lorraine's four children — Brittanney, RJ, Cameron and Alana — have each been affected by the disease different ways.
Brittanney, 28, quit her job at a daycare to help take care of her dad. RJ, 23, transferred from the University of Tulsa to the University of North Texas to be closer to his parents. Cameron, 22, who has special needs and can't speak, lost the person he considered to be his best friend and No. 1 protector. And Alana, 11, is just starting to learn what life with a terminally ill father is like.
RJ and Brittanney have seen their dad at his strongest and now at his weakest. The transformation has given them a unique view on football. The sport that has given their family so much is also taking away their father.
Neither has kids, but both says if they did, they wouldn't let them play the sport. RJ, if pressed, would allow just one position to be considered: kicker.
"I look back at the way I used to play and I used to hit like him," says RJ, who quit playing after middle school. "I'm glad I got out when I did."
RJ says Rickey encouraged him to play sports, but put a bigger emphasis on school, telling him "I want you to use your head, not hit with it." RJ has done just that, graduating from North Texas with a degree in engineering, and now works at a tech company in Denton.
As for Lorraine, her outlook on football hasn't changed much. She never realized the dangers of the game until Rickey's diagnosis. But today, she just hopes players educate themselves.
"Just know these are the risks," Lorraine says. "And there are consequences."
Rickey's family is thankful for his football career. None of them say they would change a thing. Of course, they want the old Rickey back. But if it weren't for his career and the hardships they've been through together, none of them would be who they are today.
"This was a sport that Rickey chose to play. I know he probably would have played it again because he just had a gift for it," Lorraine says. "And knew it would one day benefit those around him."
***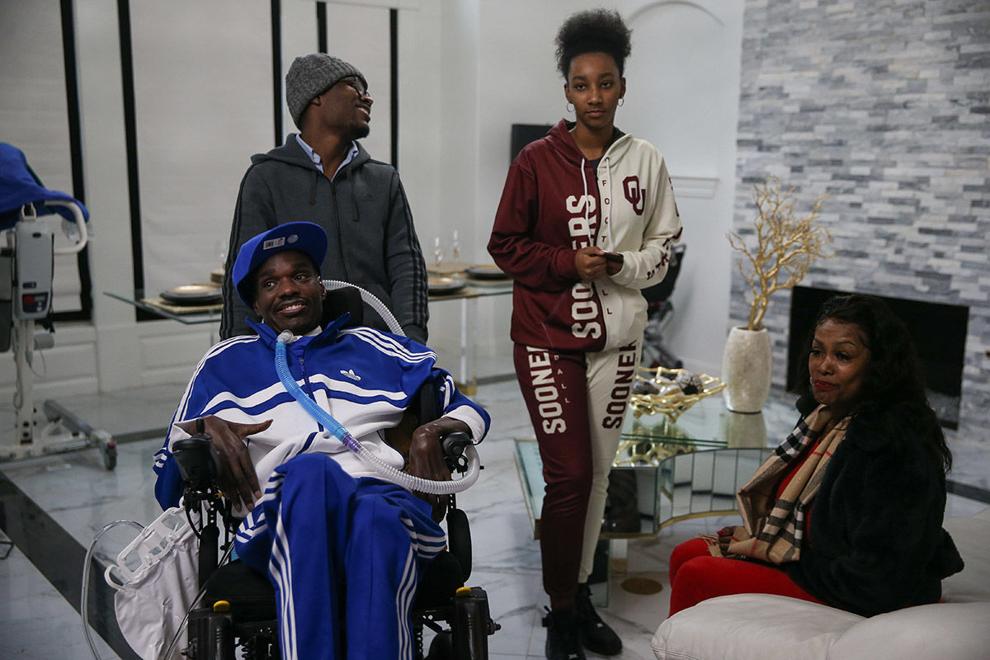 A couple hours after the interview, Rickey's party begins.
Over 50 of his closest family and friends arrive to celebrate him going into the College Football Hall of Fame and Wilmer-Hutchins proclaiming a "Rickey Dixon Day."
The positivity in the Dixon household this night is something special. Dozens of Rickey's former high school teammates and coaches pile into his new home bought with the settlement. For some, it's their first time seeing Rickey in nearly 30 years. Many are overcome with emotion, taking turns speaking about the man they once knew who is now sitting a motorized wheelchair.
"Everybody loves Rickey," Rickey's sister, Judy says. "Everybody."
Rickey isn't the only person everyone stops to greet. His mother, Lillie, is also at the center of attention, a counterpoint to her immobilized son.
Lillie was a single mother with four kids who made a living as a maid. As a kid, Rickey often told her and his friends that he'd one day play professional football and buy his mom a two-story house to replace the smaller one he grew up in. And that's exactly what he did.  
"He always loved football," Lillie, 88, says amid the party. "I tried to stop him from playing, but he'd always say, 'Mama, I'm doing this for you.' He loved the game. He wasn't going to stop playing… It hurts to see him like that, but that's what he wanted to do."
Rickey always says he played the game so his mom could retire. And that's why he has no regrets in answering the big question.  
Was it worth it?
It takes Rickey 72 seconds to complete his answer.
"I...t   w...a...s. …   
F....o...r    m...y   m...o...m."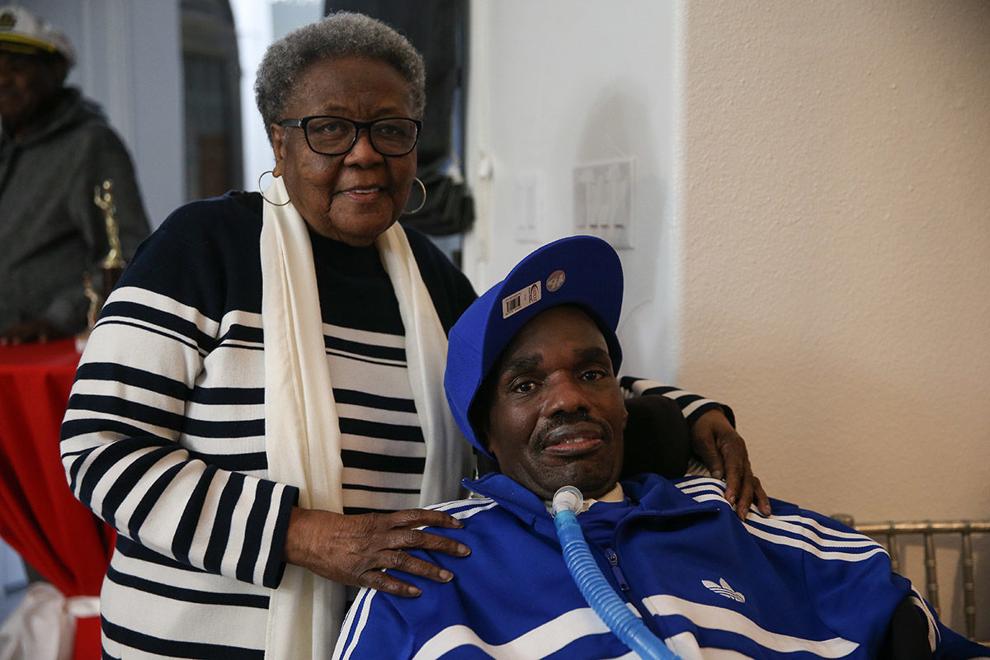 Chapter 2: Will Johnson and Tay Evans find different answers to the same question.  
Chapter 3: Joe Castiglione, athletic director and father, peers into the future of football