On Jan. 24, Norman City Council approved the construction of Verve Norman, a luxury student housing complex. The details were presented at the meeting by Sean Rieger, the attorney for the applicant Subtext Living LLC.
Subtext purchased property on the west side of Classen Boulevard along 12th Avenue, the current location of the OU Motel, a two-story building with motel rooms on the bottom and affordable housing apartments on the top. 
During questions from the council, Ward 7 Councilmember Stephen Tyler Holman asked Rieger the estimated timeline for the project and what would happen to the current occupants at the OU Motel.
Rieger said he had asked the applicant for that answer, adding he learned that Subtext Living had already been working with the occupants. He claimed that the "very few" residents on a monthly lease were transitioned to a weekly lease, and there was "nothing more" than a weekly option. 
Rieger estimated the opening date for the complex to be 2024, finishing his response to Holman by saying the developer would need residents to transition "relatively soon."
The council approved Subtext Living's plan unanimously. There were no speakers against the project at the meeting, and Reiger said no official protests had been filed throughout the application process. 
However, the employees and residents of the OU Motel were unaware of that meeting Jan. 24 and had no idea the property was up for sale. They were shocked to find that they would have to leave their homes. 
Nine residents at the motel said their leases had not changed from monthly or bi-weekly to weekly. Some residents said they only found out about the sale when they paid their rent at the beginning of March. 
According to residents, they were officially told by motel employees they should expect to leave sometime in August or September, though no exact date had been confirmed. 
Cathy Riddle pays $670 a month to live in her studio apartment on the second floor of the OU Motel. Her room includes a kitchen area with appliances and a small bathroom, a size she says is perfect for her. Riddle pays her rent using her social security check. 
"(The apartment) is great. I can't believe it," Riddle said. "I've got a lot more time than I thought … August or September is a ways away, I was just worried about it being next month."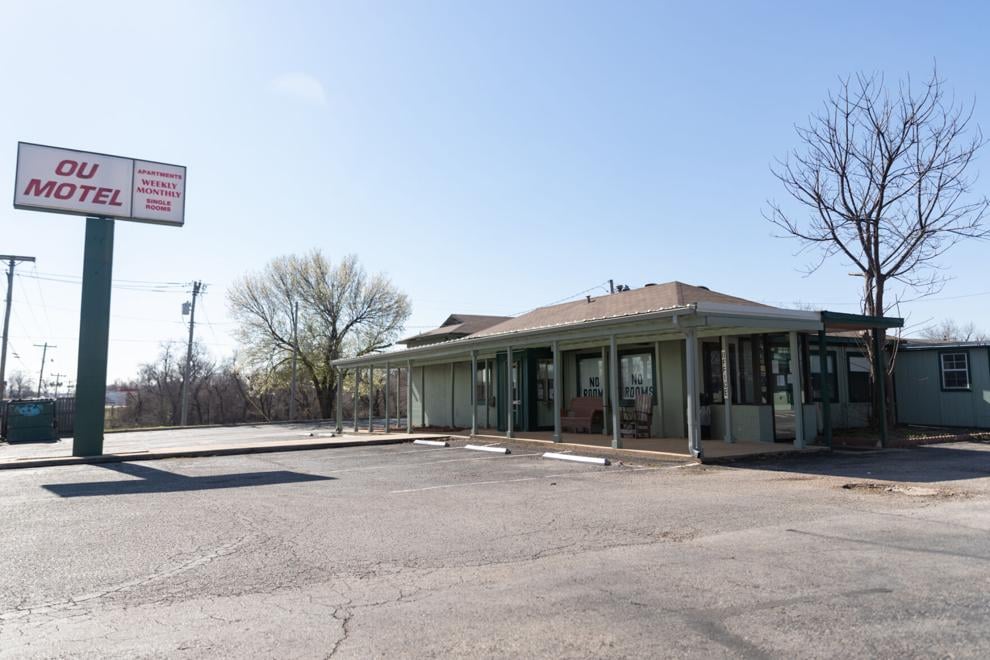 Riddle said she was "scattered" trying to find something in her price range. She first heard about the sale on March 3. Riddle wants to stay in Norman, saying she loves the city and how easily she can obtain everything she needs.
After spending 18 years in Texas, Riddle was grateful for the community she found at the motel. Riddle said her neighbors would eat at Food and Shelter — a homelessness outreach organization — together occasionally. She spoke of her friendship with Steven Trent Whitlock, who lived across the complex from her.
Whitlock is deaf, speaking with Riddle by reading her lips and teaching her phrases in sign language, like "I love you." 
Born and raised in Norman, Whitlock found out about the motel's sale two months ago. Though he is unsure of where he will go, Whitlock has the help of caseworkers to help him find housing. 
"It's sad, really sad, because these people are going to be displaced," Whitlock said.
The Verve Norman would be Subtext Living's first project in Oklahoma, and its first student housing development in a city part of the Big 12 Conference. OU plans to exit the Big 12 for the Southeastern Conference in 2024. 
Subtext Living was founded in 2014 specifically designed to develop student housing, later branching into multifamily housing projects. Its office is located in St. Louis with a Washington D.C. location in the works, according to its website.  
It has completed 15 other student housing complexes nationwide, seven sharing the Verve name. Two of the 15 are SEC Schools: TENN, located in Knoxville near the University of Tennessee, and TODD in Columbia, close to the University of Missouri.
TENN includes three to five-bedroom floor plans, with rent stretching from $1,000 to $1,130 per lease. Amenities include a gaming lounge, free tanning, an indoor golf putting green and fully furnished apartments complete with granite countertops. 
According to TENN's website, all units have been filled. 
TODD's two- to four-bedroom floor plans come complete with amenities similar to TENN's, including complimentary tanning for residents, close location to the university and a controlled parking garage. 
OU Daily reached out to Rieger for comment, though he refused. OU Daily also contacted Bethany Rooney from Subtext, the lead developer for Verve projects, but Rooney directed OU Daily's contact information to Subtext's public relations department. 
OU Daily has not heard from a representative of Subtext Living. 
The OU Motel is on the border of Ward 7, placing it in Holman's ward. Holman said it was his understanding that the applicant had no interest in managing the motel, and even if the project had been denied by the council, Subtext Living likely would've demolished the property regardless. 
"It isn't always a decision for the council of whether to save these people's homes or not," Holman said. "Voting no isn't going to stop them from tearing this down or displacing people. … I didn't see a path where either way I voted was going to save that motel or the residents there."
The city has no control over what happens on private property outside of zoning matters. Because the OU Motel sits on previously commercially zoned land, Holman said Subtext Living could tear down the motel and build another commercial property without a council vote. 
"We don't vote on every single thing that happens and people have the private property right to tear down whatever is on their property, even if it's a historical building or a house that we all love," Holman said. "There's nothing we can do to stop them. We can only, sort of, have a say in what they rebuild in its place." 
Holman said he hopes the city will gain clarification from Rieger about the timeline of construction, so they can be better prepared to help the current residents at the motel. Though the city has no legal obligation to do so, Holman said he feels there is a moral obligation. 
According to City Attorney Kathryn Walker, communication about the sale of the motel should've come from the current property owner to the residents. OU Motel LLC remains the current property owner, according to the Cleveland County Assessor's Office, as the sale to Subtext Living has not been fully completed.
Further dealings between landlords and tenants are governed by the Residential Landlord Tenant Act and by any city regulations, according to Walker. 
The Oklahoma Bar Association states that on its website the Residential Landlord Tenant Act requires a landlord or tenant to give written notice of at least 30 days prior to termination of a month-to-month lease. 
The same rules apply to a week-to-week lease, however, only a week's notice must be given before eviction.
Tiffany Vrska, chief communications officer for the city, said while Norman does not directly provide housing services, they collaborate with outside organizations.
"We partner and provide financial assistance with multiple entities that do provide services that the population residing in the OU Motel may access," Vrska said. "We have ongoing communication with these agencies and can adjust the assistance within regulatory parameters as needed."
In the meantime, Riddle does wish the residents had been told sooner about the sale. She originally thought the new student housing would be built in the open area next to the motel and the property would be spared. 
"It's just perfect for me. Anywhere else I go is going to be too expensive. Their price is so cheap here, it's unbelievable," Riddle said. "I wouldn't have cared if they raised the rent here just to stay, but they're doing away with it."
This story was edited by Alexia Aston and Karoline Leonard. Alexandra Powell-Lorentzatos and Nikkie Aisha copy edited this story.
---
Related stories: