The OU Board of Regents' June 22 decision to increase tuition costs by 2.75 percent following three years without increases has been met with disapproval from both students and faculty.
The recently approved rates increased resident tuition from $4,531.25 to $4655.70 and nonresident tuition from $12,221.75 to $12,557.70. It also raised graduate rates, with resident graduate tuition increasing from $289.39 to $334.75 and nonresident graduate tuition from $610.80 to $627.60. 
OU News wrote in an email to The Daily that the new funding will generate more than $6 million. It said those funds will go toward student activities and academics.
"(It will) specifically (encourage the) hiring (of) additional faculty members, upgrading classrooms, increasing graduate assistant stipends, adding two new Student Life positions, providing additional Union Programming Board funding, adding two new Career Services positions, hiring two staff psychologists in University Counseling Center, adding two new Graduate College positions to support advising and student onboarding, and hiring adaptive technology positions in the Accessibility & Disability Resource Center," OU News wrote in an email."
Despite all of these educational benefits, students and faculty said they are worried about the financial impacts these raised rates will have on lower income students. 
'I can't budget for this'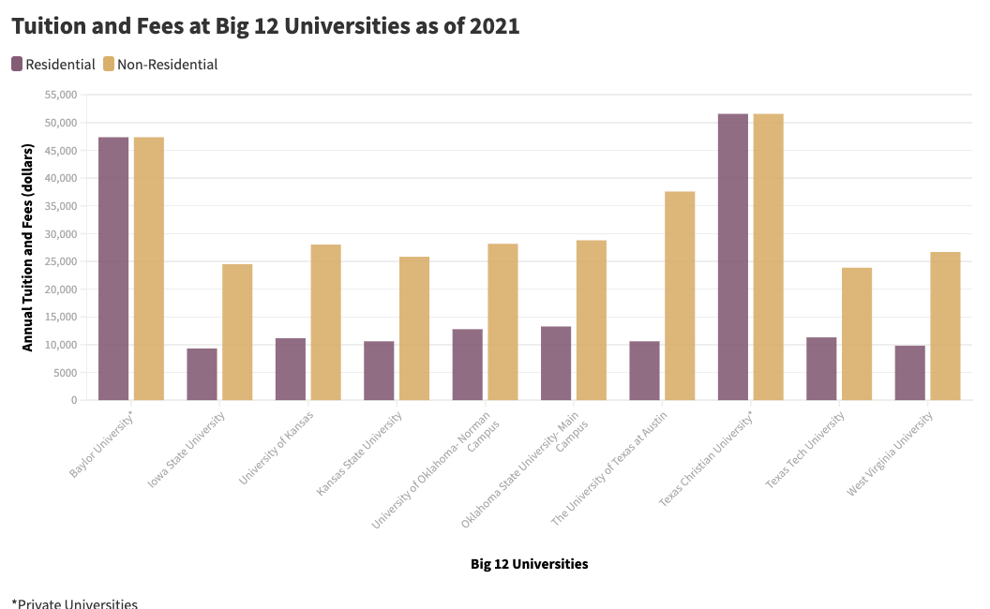 OU public relations senior Jacob Rivera said he is concerned about the higher costs of tuition, as he and other low-income students need every dollar they can get for rent, groceries, gas and medication.
"I am a low-income student here at the university and have been here on grants, scholarships and Oklahoma's Promise," Rivera said. "I often use the money I get back in refunds for rent or … groceries, medication and gas. I make ends meet every year as a student, and I'm afraid that with the tuition increase, I can't budget for this."  
Rivera's experience is not unique, as Chloe Waddington, an OU biology junior, said having to pay more in tuition will mean having less money left over for rent and groceries each month.
"The way OU responded to the pandemic was very poor, and the fact they chose to raise tuition right as we're coming out of it just adds salt to the wound," Waddington said.
Grace Gierach, a history and music education sophomore, said she'll be forced to work more hours during the school year to help cover the 2.75 percent difference, and she is considering taking out student loans sooner than she anticipated. 
'The legislature is still neglecting its duty to fund education'
Although the university is attributing the raise in funding to supporting the Lead On, University strategic plan, Undergraduate Student Congress Chair Crispin South said he suspects part of the decision was spurred by the continuing lack of higher education investment from the Oklahoma state government.
"Around a decade ago, the legislature allocated over a billion dollars to public higher ed across the state," South said. "Now that's down to about $813 million. … The legislature is still neglecting its duty to fund education as a public good."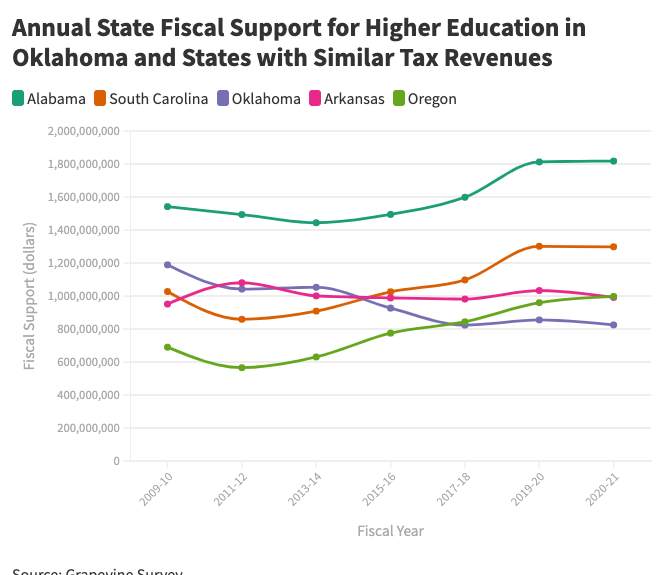 Michael Givel, an OU Political Science professor and president of the OU chapter of the American Association of University Professors, also said he believes decisions made by Oklahoma's state legislature are forcing the university to rely on students for funding. 
"Even in this climate of radical austerity, OU has to fund its operations," Givel said. "Since the ideology at the state level is to fund less, the burden is there to find other funding sources. Student fees and tuition, unfortunately, is a key source to fund operations since the state government will not." 
Beyond South's statement on the day of the June 22 Regents Meeting, South said he and SGA hope to address the problem directly by advocating for more higher education funding to prevent continuous tuition increases in the future.   
'All students deserve to have a better understanding'
Beyond the financial burden of this increase, Gierach said she also felt left out of the decision-making process. She said the lack of transparency involved in the university's decision was frustrating to her and other students.
"If a tuition increase is inevitable, inform the students earlier and with much detail," Rivera said. "It's our money we have to pay — we should at the very least know that we've explored every option first."
South said student leadership was similarly frustrated with the lack of transparency.
"I would have liked to see them engage with student leadership much further in advance on the issue," South said. "SGA leadership only got to meet with President Harroz to ask questions the night before the regents meeting."  
The decision left students wondering about their role in administrative decisions, Gierach said.
"It just feels like we as students are just along for the ride and can't really do anything to affect these kinds of decisions while they're being made or afterwards," Gierach said.
SGA President Tavana Farzaneh emphasized the importance of transparency when considering a rise in tuition in a June 23 tweet thread following the regents' vote.
"All students deserve to have a better understanding of what this tuition increase will be used for," Farzaneh wrote in the tweet. "I will continue to advocate for clarity and transparency in university decisions and open communication between SGA student leaders & our OU administration, especially (President) Harroz" 
Despite criticism, the administration has remained resolute in its decision. Harroz wrote in a June 20 university email that OU students will see a more valuable academic experience from the additional revenue as it supports the Lead On, University Strategic Plan, a framework for expanding and improving the university over the next decade.
The objectives of the Lead On, University Strategic Plan include transforming OU into a top-tier public research university, enriching Oklahoma and the nation and "making OU's excellence affordable and attainable."
Additionally, the strategic plan included provisions to transparently focus resources on the strategic plan and simplify tuition and fee structure, creating clarity for students and their families.
Although OU promises to invest the new funds in projects of value to students, the anxiety from the financial burden of the new increase remains. Questions or concerns regarding the effects of the tuition increase can be sent to the Student Financial Center.