As OU students begin their day in Norman, Konstantinos Karathanasis ends his half a world away, sitting in his rented apartment in Athens, Greece. 
Karathanasis is a professor of music technology and composition in the OU School of Music. During the 2019-20 academic year, Karathanasis went on sabbatical and traveled to Athens, Greece, to work on his research project, which involved combining the aulos — an ancient Greek double-reed instrument — with live electronics. 
In spring 2020, Karathanasis was teaching a class at the National and Kapodistrian University of Athens when the pandemic began and travel restrictions were imposed.
As his wife is at high risk for developing serious COVID-19 complications, Karathanasis stayed in Greece, offering online classes. Luckily, Karathanasis said he has plenty of his own equipment with him.
"When I packed materials for my sabbatical, I got some mobile, semi-professional equipment to do my own research, and that has proved invaluable in this situation," Karathanasis said. "I never imagined that I would use it for classes and everything."  
OU professors and students alike have adapted to COVID-19 restrictions, finding new ways to teach and learn during the pandemic as classes move online.
In the fall, Karathanasis offered an asynchronous music appreciation class, which he had never done before. The class proved to be a learning experience as he converted all of the materials to assignments that would work online. 
This semester, Karathanasis is teaching two online lab classes. These classes, which usually take place in the MIDI lab in the School of Music, require specific equipment and programs. 
However, his sound design class requires students to purchase a MIDI keyboard, which costs around $100. While the cost of the equipment is an extra burden for students, Karathanasis said the technology is very useful for students interested in music and sound design and that around half of his class already had the equipment. 
Karathanasis said the keyboard can be used for multiple classes and personal projects, making it an investment. 
"Unlike a textbook … this is stuff they can use into the future," Karathanasis said. 
Time zones were an additional difficulty, Karathanasis said. Athens is in Eastern European Time Zone, which is eight hours ahead of Central Standard Time. He said initially, his classes were scheduled for late evening in Norman — the middle of the night for Athens. 
Karathanasis said the administration at OU School of Music helped arrange his classes into more convenient times for both him and his students. His earliest class now starts at 8:30 p.m. Eastern European Time, which is 12:30 p.m. for students on campus.
Despite additional expenses and scheduling conflicts, the online format also has some benefits, Karathanasis said. Because they are not in the MIDI lab, which only has eight workstations, his classes are able to have more students, going beyond the physical limitations.
"I really love having lots of students in the class, sharing my knowledge, helping people in their careers," Karathanasis said.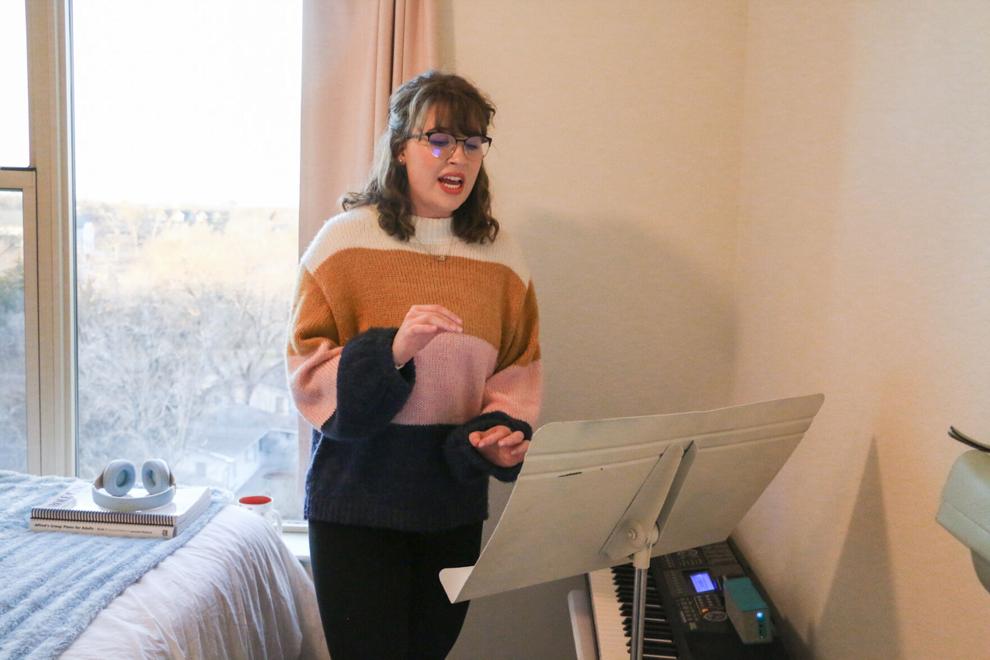 Choir amid COVID
In addition to online classes, several OU professors are teaching hybrid classes, where part of the instruction is online and part is in person following COVID-19 guidelines. 
Most of vocal performance sophomore Carol Jarrett's classes are online, with the exception of choir rehearsals and voice lessons. 
Choir has become a hybrid class, with a large, socially distanced rehearsal in Sharp Hall on Mondays and sectional rehearsals either in person or online throughout the week.
Singing in masks can be difficult, Jarrett said, and the mask's material affects her sound.
In a regular mask, Jarrett said she can hear her sound better, but the mask causes her to spread her sound, giving her singing a brighter and more soloistic tone. 
Jarrett said members of the choir have special resonance masks that allow a performer to sing without spreading their sound, but it becomes harder to hear her own voice and the voices of those around her.
"You can have that depth, but the only downside is you can't really hear yourself sing, so you never know if you're pitchy or not," Jarrett said. 
For online rehearsals, Jarrett said the choir uses the program Rehearsal Live Share, which allows the choir to sing together without the sound disconnection that occurs with Zoom.
Since most of her classes are online, Jarrett said she has done a lot of practicing from home, which has allowed her to get to know her voice better and practice more often. 
"I have more time in my day to actually sit down and practice in between my classes, maybe like, run a little motif in a Handel piece, or even just do some quick warmups to get me through the day," Jarrett said.  
Jarrett did warn her roommates that there would be "weird sounds" coming from her room as she practiced different techniques, but she said they don't seem to mind. 
"Since I am a vocalist, it's a lot more, 'Oh, screeching? All right let's try that. Oh, cackling like a witch? Yeah, let's get that bright forwardness,'" Jarrett said.  
As she practices on her own, Jarrett said there are more online resources for her to utilize.
"A lot of the companies are putting out these free operas to get the public in and have them watch these classical performances, which is really beneficial to the students to see what they're going into and to kind of learn and surround themselves in that environment," Jarrett said.  
Jarrett said her online classes are helping her prepare for a career in music during the digital age. 
"All of these Zoom classes, all of these choir rehearsals going online, we have to learn as musicians to quickly adapt to what the industry is going to throw at us," Jarrett said.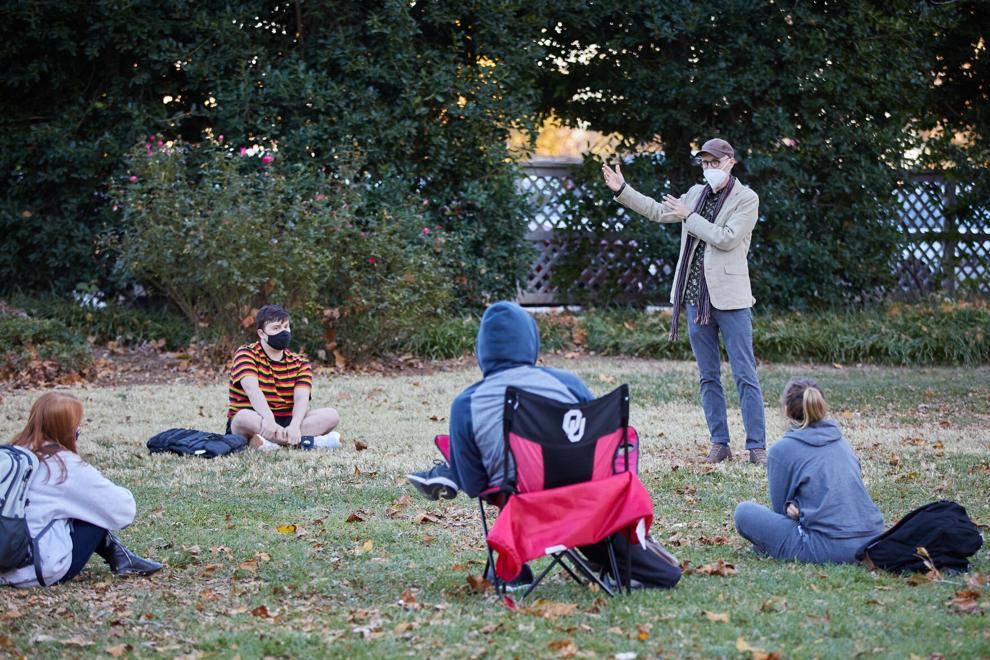 'Now there's more to care about'
In-person classes are also adapting to meet the challenges raised by the pandemic.
In the fall, Jonathan Stalling's China Today class met weekly by the gazebo in David Burr Park, across from Couch Tower.
Stalling, a professor of international and area studies at the OU College of International Studies who has been at OU since 2006, said he liked to teach some of his classes outside even before COVID-19.
From creative writing classes to classes on Chinese poetic forms, Stalling incorporated nature into his lessons, drawing inspiration from OU's campus.
"We have a beautiful campus, frankly, and the campus is more beautiful than the classroom," Stalling said. 
Being outdoors allows his classes to have the ability to move around, and Stalling said he often uses physical interaction to teach more abstract concepts, such as the idea of showing how power varies culturally.
"If you want to explain the cultural difference around power, the West will think of pushing as a demonstration of power whereas in traditional Chinese culture, power is more understood in terms of yielding," Stalling said. "To resiliently yield is to control, to conserve energy and maximize or optimize energy output."
To demonstrate this idea, Stalling said he teaches martial arts to his students. In the fall, the class used 6-foot pieces of bamboo, keeping the exercises distanced.  
"By doing so, we would be able to not sacrifice certain social and physical ways of conveying or teaching information, while not violating the social distancing policy, and that was really successful," Stalling said.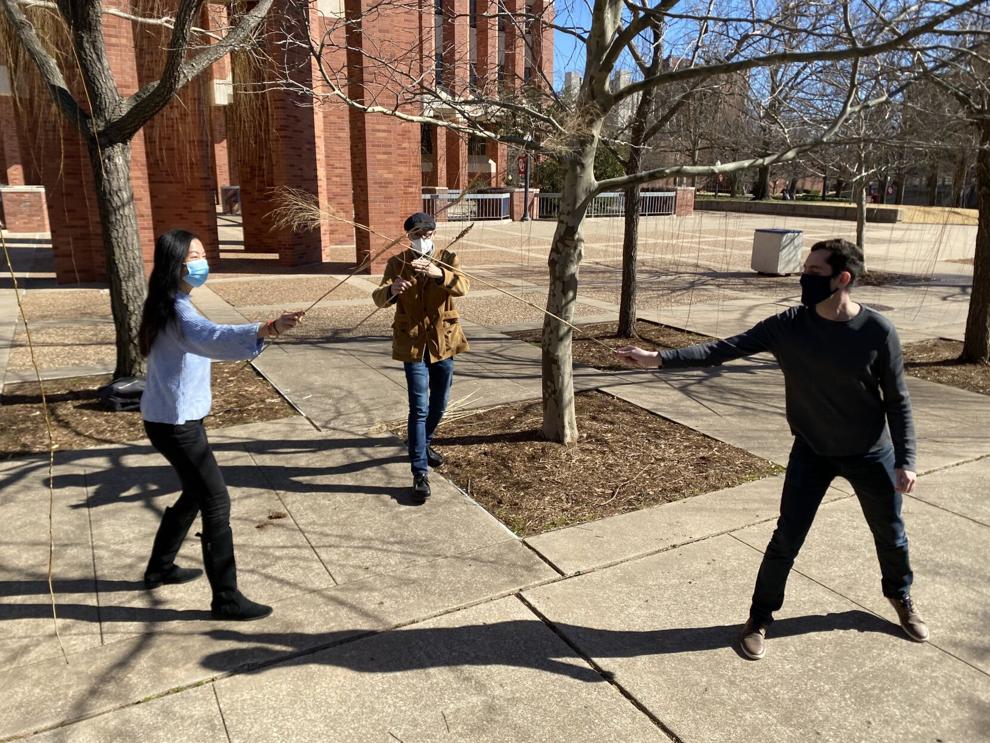 Stalling's class was also a hybrid class, combining the best elements of a socially distanced, in-person class with online teaching, he said. Students were able to meet safely in person but got to know each other through Zoom.   
"Actually, Zoom ends up being better for a sense of intimacy with facial expressions and seeing how people react to and engage one another in conversation," Stalling said. 
Stalling said teaching virtually turned out to be "less problematic" than he was expecting. Initially, he was worried that being online would not allow for a sense of community in his classes, but as he gained familiarity with the technology over the course of the fall semester, Stalling said that was not the case. 
"I would have thought that in order to create community, I needed to be physically around people," Stalling said. "But I actually think that the masks were a real hindrance to the transmission of social clues and cues that really undergird a big percentage of human communication. Without being able to see and react with people, masks make it difficult."  
Despite being online, Stalling said that students are still gaining experiences that they can take with them into future careers. Zoom classes are enabling students to learn online etiquette and how to interact professionally online, something Stalling said will be an important part of the job market after the pandemic.  
"Even though your generation may be digital natives, that doesn't mean that people necessarily have performed at a high level in a virtual community before," Stalling said.  
As for Karathanasis, he plans to return to Norman at the end of the summer, provided vaccination efforts succeed in both the U.S. and Greece. 
He said while he is glad he is able to teach from abroad, he misses the atmosphere of OU's campus.   
"It's one thing to work from your living room in an apartment and it's a totally different thing … to be a part of a physical community, in a campus where you see people going in, going out — the bustling, the energy, the feeling that something good is happening, something good is brewing," Karathanasis said. 
Karathanasis said the biggest takeaway from his experience is "how fragile our world is" and the necessity to work together across political and financial boundaries to make a better world. 
"Before the pandemic, that's something that I would never think about," Karathanasis said. "I was so drawn into being creative, being productive, being a good teacher, being a good provider for my family, a good parent, a good spouse, and I continue to want to be all of that, but now there's more to care about."