Deemed National Stress Awareness Month by the National Institutes of Health, April is notoriously stressful for students. As exams, celebrations, and moving out approaches, a new set of stressors join previous stresses that were part of other months in the academic year.
Spring semester stresses are "arguably more impactful on one's long-term mental health" compared to the fall semester due to the post-spring break reality check and approaching summer, according to Psychology Today.
The article reported that students use spring break as a time to ignore responsibilities in university life, and upon returning to school, need to raise their grades. As a result, the transition can increase anxiety surrounding unfinished coursework, projects and studying.
In a research study conducted from 2013 to 2021 across 371 college campuses, more than 60 percent of students met the criteria for one or more mental health diagnoses in the 2020-21 academic year — a nearly 50 percent increase from 2013 and likely a result of the unexpected pandemic.
College-related stress has been found to be directly correlated to a student's psychological well-being, though stress impacts people differently. The two groups found to carry the largest academic burdens included sophomores and nonbinary students, two groups whose stressors correlate to lower overall well-being.
Sarah Lipson, a Boston University School of Public Health assistant professor with over 10 years of experience studying student mental health, said that the beginning of lifetime mental health problems directly correlates to the age of traditional students. 
Public relations senior Sierra Carney had an unconventional college experience after the COVID-19 pandemic struck her freshman year. Uncertainty kicked off her time at OU, and weeks away from graduation, Carney is met again with uncertainty.
"The world is your oyster," Carney said. "I could go anywhere I want, but with that, it's so stressful. There's also that really big weight on your soldiers and expectations from everyone else that you always go do something big and move to a big city."
Compared to other U.S. regions, southern residents are more stressed compared to their counterparts. Oklahoma ranks 10th overall for stress, with its highest stress originating from one's health and safety, followed by money and work.
Carney explained that different stresses arose each year of her time in college, with health and safety-, money- and work-related stresses each impacting her experience.
Carney faced the typical freshman blues — adaptation to new surroundings and an abundance of organizations and opportunities. Carney said that she was involved in "just about anything (she) could get into," and whenever she was not attending meetings or social events, she could not rest because of academic responsibilities.
The COVID-19 pandemic hit the OU campus three years ago during the spring of Carney's freshman year, bringing a new set of challenges to the already new time in her life.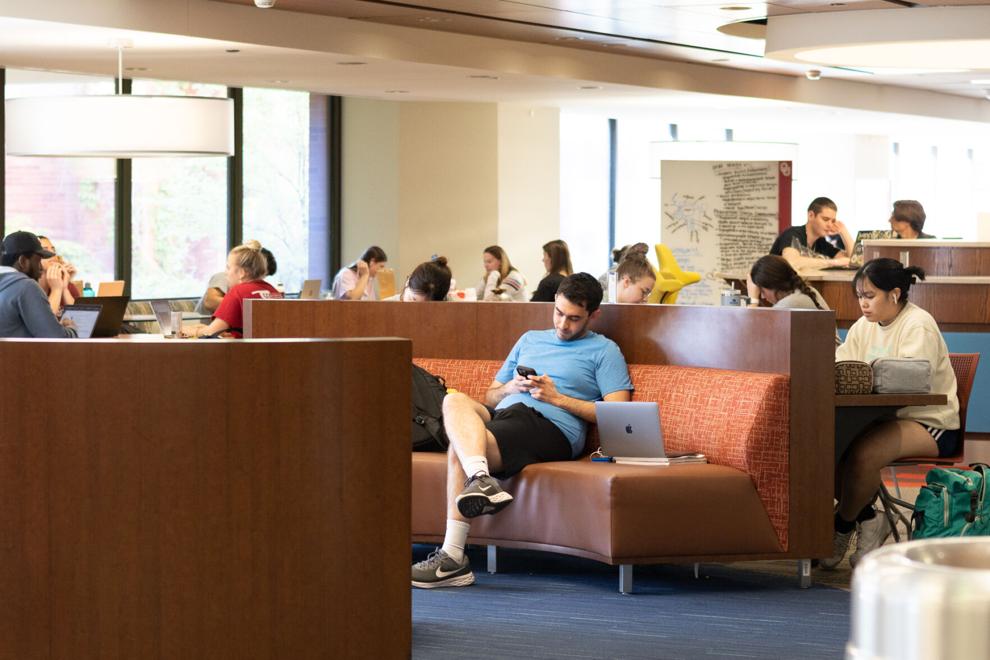 Sophomore year, Carney's involvement looked differently due to the pandemic. Carney noted feeling like she was missing out on traditional college life though she said she grew closer with friends in ways she never had before.
"Did I actually overcome it? I don't know, but you do your best," Carney said. "I (leaned) on my friends a lot. We were still able to have good times but just safer good times."
Carney took a step back from obligations when she returned to campus as a junior. Rather than rejoin multiple campus organizations, Carney jumped into a leadership position in her sorority, Delta Gamma, which she described as "the most fulfilling experience."
"A lot of stress was taken off me that I had to be in everything rather than just finding one or two things that I really loved," Carney said. "If an organization or a leadership position isn't fulfilling you, then you shouldn't fulfill it. You can't let something drain you because then you can't give it your all."
Carney's junior year marked a new chapter in her journey with her mental health and the way she approached her responsibilities. Now wrapping up senior year, Carney is viewing job applications and new stresses in a lens that puts her well-being first.
Across the OU campus, different resources provide help in navigating student life. From the Career Center that hosts career fairs and advising to ease the stress of job searching to cultural organizations such as the Asian American Student Association to assist students in finding their place, students have access to groups of people willing to help.
The Weitzenhoffer School of Musical Theatre employs Ellen Harwell, a mental health expert who specializes in suicide prevention, child and adolescent development, counseling and more. 
Harwell's job as a mental health consultant consists of assisting musical theater students in navigating their mental health to ensure their performances are not being negatively impacted. 
"If your quarterback has a bad day, your team loses the game. If your surgeon has a bad day, your patient dies," Harwell said. "There's mental performance everywhere, from the business sector to performing arts. It's applying those same techniques to other areas in the field."
With multiple performances taking place each semester, her work applies to many students.
Harwell meets one-on-one with students who request to visit with her, and she also works during the school's productions to provide a listening ear. Harwell helps students problem solve and learn to properly care for their bodies.
Harwell spoke about the difference in prevention and intervention, mentioning that with her work, she ensures students have resources and coping skills before facing unexpected crises.
"There's a lot of watching and taking things in, and so many of the students I've had some really positive interactions with, will say things like, 'it's just nice that you're there,'" Harwell said. "It's kind of like having a lifeguard and creating that safe space so that they can focus on the things that they really need to do."
While Harwell is a personal aid to students in need, some OU resources must be utilized through self-discipline.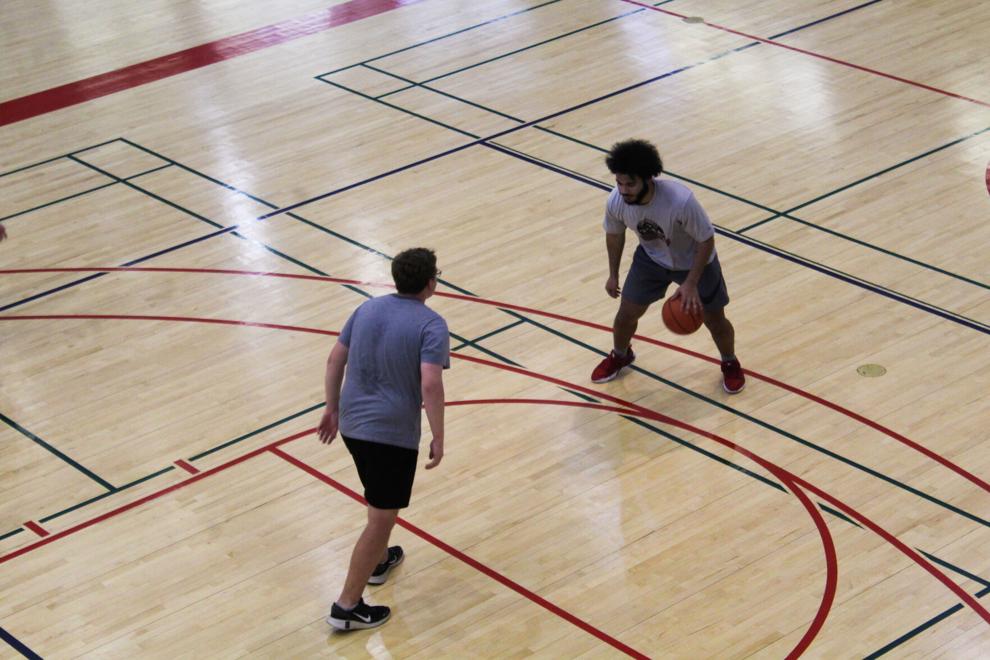 OU students have free access to Sarkeys Fitness Center and the Murray Case Sells Swim Complex, two facilities that provide students with workout equipment and outlets for relieving stress.
Exercise is linked to a number of benefits through increasing endorphins and assisting the body in functioning properly, according to Mayo Clinic. Regular exercise improves the cardiovascular, digestive and immune systems by helping the body combat the effects of stress, which in turn betters one's mental health.
LeQui Raymond, wellness coordinator for OU Fitness and Recreation, studied wellness management during her undergrad before obtaining her master's in human relations. Now a resource for students, Raymond talked about the benefits of working out when transitioning to college.
"A lot of times with coming to college, you're experiencing new stressors that you hadn't before," Raymond said. "One of the easiest things you can do is get engaged in exercise or physical activity to relieve that stress."
Exercise is also known to alleviate low self-esteem and social withdrawal by allowing athletes to focus on physical performance, according to the National Library of Medicine. Raymond has witnessed these impacts through the kickboxing classes she teaches, noting that "seeing people come out of their shell" is one of her favorite things.
"They come to these classes, and they may be a little intimidated or even timid," Raymond said. "I see them go from this person that's interested in exploring something new to this person that feels empowered and strong because they've accomplished something and learned a skill."
Alongside speaking to others and exercising, there are countless methods of stress relief that can be enacted within one's comfort zone.
Minimizing screen time, reducing caffeine intake, practicing self-care and spending time outdoors are methods of stress relief that can be practiced at any time individually — the only requirement is to take action.
"Whether it's Fitness and Recreation or Health Services, there's something on campus that can be helpful to students when they're feeling stressed, either at this point of the semester or others," Raymond said. "The university is proactive in encouraging students to take care of themselves and not just academics."
Finals week is just around the corner for Sooners, and by staying on top of one's workload and practicing stress relievers, a significant amount of stress can be lifted from studying shoulders.
This story was edited by Silas Bales and Emma Blakley. Nikkie Aisha copy edited this story.